Consigne à bagages Genova Piazza Principe Railway Station
Déposez vos valises dans un hôtel ou une boutique certifiés à partir de €0.95/heure
Ce que disent nos clients
Consigne à bagages Genova Piazza Principe Railway Station
Vous vous promenez et vous avez besoin de déposer vos bagages à proximité de Genova Piazza Principe Railway Station ? Ne vous inquiétez pas, on s'en occupe. 
Déposez vos affaires dans l'une de nos consignes à bagages LuggageHero situées au coin de la rue.
Chez LuggageHero, nous proposons une consigne à bagages sécurisée et pas chère. Toutes nos boutiques sont certifiées par LuggageHero. Et n'oubliez pas : LuggageHero est le seul service de consigne à bagages qui propose un tarif horaire et journalier pour une flexibilité maximale. 
You can store your bags with one of LuggageHero's luggage storage locations just around the corner from the station and explore Genova hassle-free.
LuggageHero storage sites are certified hotels, cafes, and shops. Advance bookings ensure space for your bags. The address and directions to our partner shops are available at the time of booking. All bags are insured up to once you have dropped off your bags and started our storage timer on your booking page.
Use our map to find the nearest certified shops in Genova Piazza Principe
Genova Piazza Principe Railway Station
Genova Piazza Principe (also known as Genova Principe) is a railway station located in Genoa which is the capital of Liguria and is just south of Milan. Approximately 66,000 travelers use the station daily, making it one of the busiest stations in the area.

The station can be found on Piazza Acquaverde and is only a short distance from Palazzo del Principe (where the station derives its name from, meaning "plaza of the prince.") The original station was constructed in 1853 with the opening of the tunnel in 1872 connecting with Brignole station. With an increase in traffic, the station was expanded and electricity was added in 1916.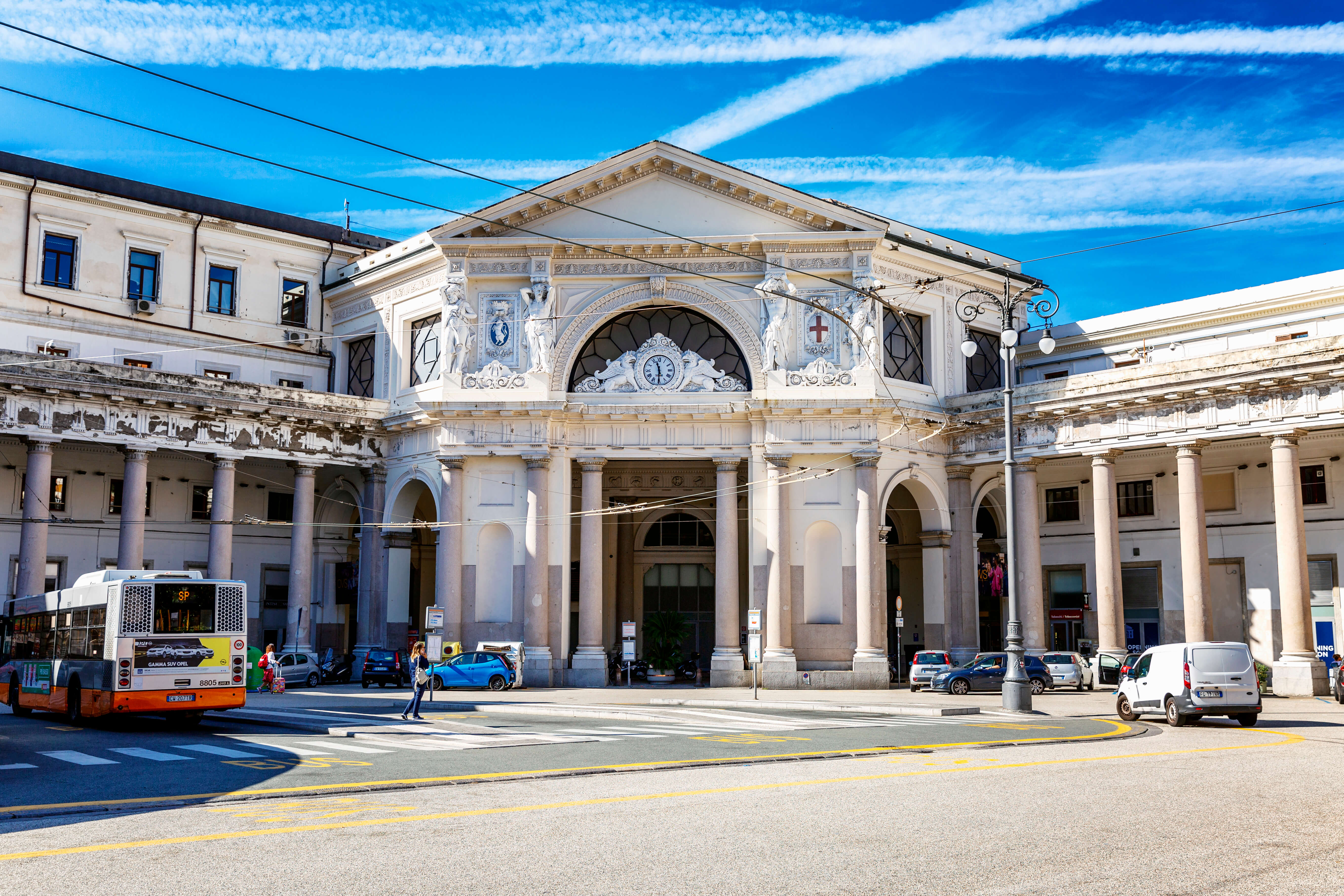 Today, the Genova Principe has an underground level and several other levels structured to suit the needs of passengers. There are utility rooms, commercial, retail, and catering services, as well as offices.

Train services provided are high-speed train service from Turin to Roma Termini, intercity Ventimiglia to Rome, EuroCity services to and from Marseille, Cannes, Nice, Monaco, Ventimiglia, Genoa, Milan and night services to and from Nice, Milan, Innsbruck, Vienna, Warsaw, Minsk, and Moscow.

If you find yourself at Genova Principe hours before your next train, there's no reason why you should be locked up in the station when you can store your bags at one of our luggage-storage locations, get some fresh air, and explore the city.

By letting the staff free you of luggage for as short or as long as you need the service, and considering the excellent transit connection from this station to Milan, you have access to several popular tourist locations in Milan. These include the Duomo Cathedral, Navigli, Castello Sforzesco, Porta Garibaldi and the San Siro Stadium.
You could also leave your luggage at one of our store locations in Milan and take the train to Genova to visit this marvelous city by the sea. So, feel free to create a booking and see more while carrying less. 
We provide the solution to your luggage storage problem 
LuggageHero is here to set you free from your luggage so you can explore Victoria Station without your bags. Just go to our Booking platform and find the nearest and most handy storage space inside a shop or another business. All our locations in Victoria Station, and in our other cities, are verified by us.
Tarif
LuggageHero est le SEUL service de consigne qui vous permet de choisir parmi des tarifs horaires ou journaliers à Genova Piazza Principe Railway Station.
Un tarif de €5 par jour et de €0.95 par heure vous permet de choisir l'option qui vous convient le mieux. Si vous ne prévoyez de ne rester que quelques heures dans une ville, pourquoi payer pour une journée entière, comme vous le feriez avec d'autres consignes à bagages ?
Moitié prix en comparaison des consignes des gares et des aéroports
Les casiers à bagages, également appelées consignes de ville, sont généralement au moins deux fois plus chers sur une base journalière que le service de consigne de LuggageHero. Jusqu'à récemment, les voyageurs ne pouvaient mettre leurs sacs que dans ces casiers à bagages offrant très peu de flexibilité quant aux prix et lieux de dépôt des bagages.
De plus, LuggageHero propose des boutiques dans de nombreux endroits afin que vous ayez toujours la possibilité de déposer vos bagages dans un environnement sûr. Contrairement aux consignes à bagages des gares et des aéroports, LuggageHero propose des tarifs horaires et journaliers. LuggageHero s'efforce de toujours offrir des consignes à bagages flexibles et bon marché près de vous. 
Nous acceptons toutes sortes de bagages, de toutes tailles et de toutes formes dans des boutiques vérifiées
Les utilisateurs de LuggageHero peuvent déposer des bagages de toutes tailles ou de toutes formes dans nos consignes. Peu importe qu'il s'agisse de matériel de ski, de matériel de photo ou de sacs à dos. Autrement dit, quel que soit le nom que nos clients satisfaits lui donnent – dépôt de bagages, entreposage de valises, consigne à bagages, etc. –, vous pouvez profiter de ce service en toute sécurité, car nous nous adaptons à tous vos besoins.
Les clients de LuggageHero peuvent choisir d'être facturés à l'heure ou d'opter pour notre tarif journalier, indépendamment de ce qu'ils déposent.
Vous pouvez laisser vos bagages pour plusieurs jours
LuggageHero propose également un dépôt de plusieurs jours parce que nous savons que la flexibilité est essentielle quand on voyage. LuggageHero diminue le tarif journalier lorsque vous déposez vos bagages pour une période plus longue.
À partir du deuxième jour, nos clients ne payent que €5 par bagage et par jour.
Téléchargez l'appli gratuite de consigne à bagages LuggageHero :
Pour plus de facilité, vous pouvez télécharger l'appli LuggageHero. Vous y trouverez tous les lieux que nous mettons à disposition autour de vous.
Horaires d'ouverture Nous avons une variété de boutiques avec différentes heures d'ouverture, donc choisissez celle qui vous convient le mieux.
Choisissez votre boutique ici
pour voir les horaires d'ouverture.
Quels sont les modes de paiement acceptés ? Nous acceptons les principales cartes bancaires.
Notez que les magasins n'acceptent pas les espèces lorsque vous utilisez LuggageHero, et rappelez-vous que l'assurance de vos bagages n'est valable que si le paiement a été effectué directement auprès de LuggageHero.
Annulation d'une réservation
Pour les annulations le jour-même ou en cas de non-présentation, les frais sont équivalents au tarif journalier de €5 par sac. Regardez pourquoi KnockKnock vous recommande de déposer vos bagages à l'aide de LuggageHero. Également cité dans leNew York Times, Lonely Planet et sur CNBC.
LuggageHero dans les médias
"LuggageHero, which offers online booking with a credit card — thus, eliminating the need for users to have local currency on hand — is one of the most recent players to expand its services. In December the company began operating in New York, where today it has some 250 locations."

"One solution is LuggageHero, which was already on the scene in Copenhagen and London, and has now expanded into New York. Its selling point is that it lets you store your luggage in a local shop, café or hotel, which is often more convenient than having to go to a storage facility at a train station."

"LuggageHero, which Jannik Lawaetz founded in 2016, currently has more than 300 storage locations in six cities (New York, London, Copenhagen, Lisbon, Madrid and Barcelona) and plans to expand to 39 cities by January 2020."

"LuggageHero founder and chief executive Jannik Lawaetz says that the concept was inspired by that mother of invention — necessity — and Airbnb. A couple of years ago, he and his girlfriend rented an apartment in Barcelona via the home-share service. They had a later flight on their day of departure and wanted to continue exploring the city, but didn't want to lug their suitcases around. "