Luggage Storage Genova
Only luggage storage to offer choice of hourly or daily rates in Genova
Deposito Bagagli Genova
You can stop searching for lockers to store your luggage in. The next time you're in Genova, remember that LuggageHero is here to save the day!
Drop off your bags by using LuggageHero's network of local shops located around Genova or simply download our app.
Let's say that you arrive from Genova Airport hours before your rental is ready and you want to check out the sights without pulling your luggage behind you. Maybe you want to enjoy a day downtown, visit the Aquarium of Genoa, Via Garibaldi, or Cattedrale De San Lorenzo. Whatever you choose, we're here to lighten your load.
Just go to the LuggageHero reservation platform or the app, to find a handy storage site inside a shop or other business – all verified by us. Using our map, you can locate the shops that are nearest to the stations you'll use or attractions you'll visit and store your luggage there.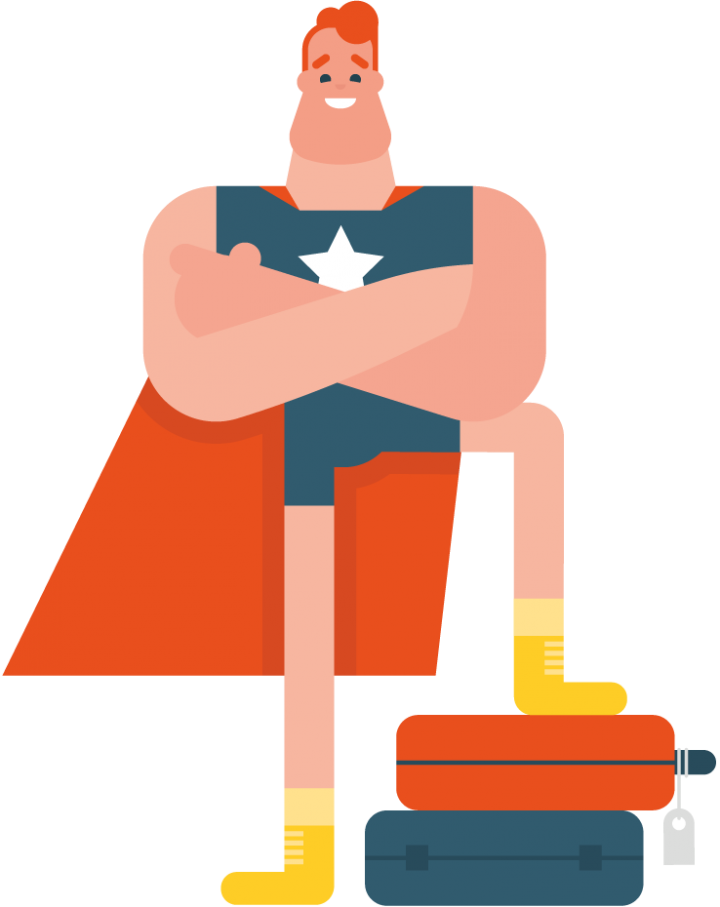 Storing luggage in Genova
You pay by the hour – unlike other services!
We offer a speedy, convenient, and low-cost service.
LuggageHero charges users only for each hour used , unlike most other luggage services, which make you pay for the entire day. If you want to store your luggage all day or longer, we offer you a low daily cap of .
We're looking out for you
Your safety and security are our priority. That's why we have LuggageHero employees review and certify all our shops in Genova. We also seal every piece of luggage to keep them tamper-free. On top of that, we ensure every bag and what's inside it for up to . If you need to talk to someone at LuggageHero, we're here for you 24/7 through our online chat system.
We store all kinds of luggage – any size and any shape
LuggageHero's users can store luggage of any size and/or shape in any of our store locations. It doesn't matter if it is ski equipment, photo equipment, or backpacks – our luggage stores can accommodate all. LuggageHero's customers can choose to be charged by the hour or choose our daily rate, no matter their left luggage.
We can store your luggage for several days
LuggageHero also provides multi-day storage to its customers because we know flexibility is essential when you travel. LuggageHero offers a lower daily rate when you store your luggage for a longer period. From the second day onwards, our customers pay only $5 per bag per day!
Are you ready to store your bags?
Safety
We carefully certify and educate the operators at all our LuggageHero Genova locations about how to safely handle your belongings.
All our shops in Genova have been reviewed by a LuggageHero employee, who also regularly performs quality checks to make sure customers' belongings are kept in a safe and secure manner.
In addition, we provide security seals for each piece of luggage. These will be provided to you when you arrive at the shop, which ensures that no one can access your bags.
Furthermore, each piece of luggage and its contents are insured up to .
If you need someone to turn to, remember that customer online chat support is available 24/7.
Book risk-free
We believe in making your travels as smooth and easy as possible, which is why it is important to us that NO FEES are charged to you until your luggage is dropped off.
Use our online booking service to choose a luggage storage site in Genova that is most convenient to your location and schedule. You can either book on arrival at the shop or book online in advance to secure your spot. Make an advance booking and you're guaranteed a space for your luggage in one of Luggagehero's many lockers.
But we know that sometimes plans change, especially when you're on the road. So if you don't show up, there's no charge. Nada. Zero. Zip. Zilch. Nothing! And no, you don't even have to cancel!
Costs and Discount Vouchers in Genova 
per hour + a one-time handling fee of – maximum for the first 24 hours and €5 for each additional day including your free luggage storage insurance
Want to know more about LuggageHero? Get to know the concept by reading this FAQ and or by reading about the team behind it here.
Discount Vouchers – Click here to see if we have any available at the moment.
Genova Piazza Principe – It is a railway station located in Genoa which is the capital of Liguria and is just south of Milan. Approximately 66,000 travelers use the station daily, making it one of the busiest stations in the area. The station can be found on Piazza Acquaverde and is only a short distance from Palazzo del Principe (where the station derives its name from, meaning "plaza of the prince.")
Download our free app
For even more comfort you can download our LuggageHero bag storage app where you can easily see all our locations around Genova. With our luggage storage app, you are able to store your bags anywhere in our 1,100+ locations.