2023 Guide: Luggage Storage in Los Angeles

Luggage Storage Los Angeles
Store your bags in a certified hotel or shop from $1/hour
A guide on how and where to find lockers and places to store your luggage in Los Angeles as of [year]
You saved all the sights you want to visit on your phone, looked up all the best restaurants and pubs, and checked out nightlife hotspots. But nothing kills the excitement of a holiday like carrying your luggage throughout the entire city.

No worries, LuggageHero is here to help. With several luggage storage locations around Los Angeles, conveniently close to all the main tourist attractions, LuggageHero is a quick, safe, and easy solution for storing your bags.
Claim your 1 Hour Free Luggage Storage Discount Voucher for Los Angeles
Best rated in Los Angeles: LuggageHero
Based on the chart below, LuggageHero is the best luggage storage option in Los Angeles. LuggageHero the only one that offers both hourly and daily prices with the possibility of insurance. Luggage storage in Los Angeles has never been so easy!
The chart is created based on the most popular luggage storage options.
Name
Pricing models
Insurance
Flexible arrival
Reviews
Name
Pricing models
Insurance
Flexible arrival
Reviews
LuggageHero
Daily, Hourly, & multi-day
Up to $3000
Yes
+140.000
Name
Pricing models
Insurance
Flexible arrival
Reviews
NannyBag
Daily
Up to $1100
No
27,802
Name
Pricing models
Insurance
Flexible arrival
Reviews
Vertoe
Daily
Up to $5000
No
4,708
Name
Pricing models
Insurance
Flexible arrival
Reviews
Radical Storage
Daily
No
No
900
Download LuggageHero's free luggage storage app
For even more comfort and ease, you can download LuggageHero's bag storage app where you can see all our locations around Los Angeles.
Use a local shop (coffee shops, souvenir shops, restaurants, and stores) in Los Angeles to store your luggage for as low as $0.95.
Also, LuggageHero uses only certified shops and provides insurance at over 25 different Luggage Storage Locations in Los Angeles
Luggage storage with LuggageHero
Featured in Lonely Planet and New York Times.
LuggageHero offers storage options in over 25 shops all over Los Angeles which means you can stow away your belongings for hours or even days if you need to.
Easy, quick, budget-friendly
When using LuggageHero in Los Angeles, you only pay / hour. No worries, we always keep your budget in mind – you never pay more than .
This includes insurance with coverage of up to for each bag. There are no other hidden fees.
If you store your luggage for several days, you only pay a maximum of /bag on the first day and only $5.95/ day afterward.
You will only pay for the time you actually store your luggage. You don't pay anything if you don't show up for your booking.
Book online and receive your directions OR download the app
Safety is our no. 1 priority
Don't leave your just bags behind, but also your worries. Each piece of luggage left in one of our LuggageHero locations in Los Angeles is insured for up to per bag, the highest insurance coverage in the industry.
Quality-checked partner locations
Luggage storage sites are located inside existing businesses, including retail outlets, hotels, cafes, and more. All are vetted by LuggageHero's local employee, who performs regular quality checks. Every piece of luggage is stored away from any public access.
Enjoy Los Angeles with no time limit
If anything, you should be the boss of your own schedule while on vacation. This is why we have partnered up with locations that are open around the clock so that you can make the most of your visit without having to think of closing times.
Traveling with friends and family made easy
Traveling with friends or family? Then don't pass up the chance to get a special discount for storing 10 or more pieces of luggage. Write us a quick message and you're all set to go.
Half the price of station lockers and airport lockers
Luggage lockers, also called city lockers, are generally at least twice as expensive on a daily basis as LuggageHero's luggage storage service. Until relatively recently, travelers could only stow their bags in these luggage lockers, which offer very little flexibility in regard to pricing and location. where to go and luggage deposit. Today, LuggageHero offers countless stores in various cities to ensure you always have the option of dropping off your luggage in a protected environment. Unlike luggage lockers in stations and airports, LuggageHero also offers both an hourly and daily rate for maximum flexibility. LuggageHero tries to offer safe and cheap luggage storage near you at all times. 
Luggage storage facility for suitcase, baggage and odd-sized luggage
We check all our hotels and local shops in order for us to be able to offer space for whatever you need; ski equipment, photo equipment, backpacks or whatever. This is simply another method for us to give you the most flexible baggage storage, suitcase storage and luggage deposit.  
Our service is similar to hotel luggage storage
Many travelers who have been customers at hotels have asked the staff at the reception if they could store their luggage until they depart the city later in the day. For the most part, we offer the same service for everyone – no matter if they stay at a hotel, Airbnb or anywhere else. We are always ready to help you out. 
Use our map to find the nearest certified shops
Click on the icons to get more info on locations, prices, and insurance. The map includes all locations from LuggageHero™.
Why are you searching for luggage storage in Los Angeles?
Maybe you have to check out of your Airbnb apartment, rental place, or hotel and your flight isn't until tonight?
Or… You just arrived in Los Angeles, ready to explore everything the city has to offer, but your rental place isn't ready for you for 5 more hours? Most travelers have been in similar situations and experienced the struggle of luggage first hand.
Los Angeles offers a range of possibilities when it comes to luggage storage and we have gathered everything into this guide to help you.
Sightseeing and attractions just aren't the same with a suitcase in each hand and a backpack on your shoulders. Free yourself from baggage to fully enjoy your time in Los Angeles.
Must-See Locations in LA and How to Get to Them
Koreatown
Koreatown, or K-town, is a neighborhood located west of Downtown LA and south of Hollywood. It's one of the most diverse districts in LA, with Korean and Latino populations contributing to multicultural diversity.
With a distinct residential area, Koreatown is known as an exotic city within a city. A fusion of East and West; a melting pot of Asia mixed with Los Angeles.  To get to Koreatown you can take the 20, 710, DASH, R7 busses or the PURPLE LINE subway. To get to Koreatown from:
Downtown Santa Monica, Santa Monica
You can take the E line subway following the 710 bus
J Paul Getty Museum, Los Angeles 734 bus and then bus number 20
Rodeo Drive, Beverly Hills take the bus 20
University of Southern California, Los Angeles take bus Riverside Line the Purple Line subway
Universal Studios
San Fernando Valley of Los Angeles is home to Universal Studios a theme park and film studio, where most of it is located on Universal City, an island founded in 1915.  Today daily tours of Universal Studios where you can get a close look into the movie sets of your favorite movies.
To get to Universal Studios you can take the US-101 N bus from LA Union Station. There is also a free shuttle bus on the Metro Red Line that takes you to CityWalk Hollywood and Universal Studios Hollywood. To get to Universal Studios Hollywood from:
Thousand Oaks you can take the 52 then 161 then 750 and finally the 224 bus and walk for approximately 20 minutes.
Huntington Beach you can take the 529 then the 460 bus and finally the Red Line subway.
Koreatown Plaza you can take the 207 bus the take the Red Line subway.
Venice Beach
Venice Beach is a two-mile coastline in Venice, in the Westside district of Los Angeles. Venice beach gets a key location that attracts a swarm of tourists daily. It offers amazing beaches, canals, surf spots which are every surfers' dream, and has a long pedestrian track known as Ocean Front Walk. It also offers children's playgrounds, skate platforms, and fishing piers which means that no matter how old you are, you can have fun at Venice Beach.
To get to Venice Beach you can take the 1, 33 and 733 busses. If you want to get to Venice Beach from:
North Hollywood Metro Station, North Hollywood you can take the Red Line subway
Dolby Theatre, Los Angeles the 212/312 or the 33 buses.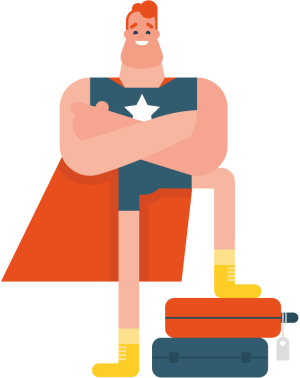 Four simple steps to leave your luggage with LuggageHero
When booking online you are always guaranteed space
Start the storage timer in your browser when arriving at the shop or use the link sent to you to access your booking page.
Enjoy yourself in Los Angeles!
Pick up your luggage and stop the storage timer on your booking page.
Costs and Discount Voucher
per hour – maximum for the first 24 hours and $5.95 for each additional day including your free luggage storage insurance
Want to know more about LuggageHero? Get to know the concept by reading this FAQ and or read about the team behind it here.
Discount Vouchers – Click here to see if we have any available at the moment.
Luggage storage in Los Angeles International Airport

LAX Luggage Storage
This luggage storage service charges $12 per day per piece of carry-on bags or $15 per day per average suitcase. For $18 per item per day, this company will also store any special-sized items, such as sports or musical equipment.
For an additional $5 per item, you can opt for luggage pick-up and drop-off at the Upper/ Departures level. You don't need to make a reservation beforehand, but it's highly recommended that you do.
Opening hours: 04:00 – 00:00 (Monday – Sunday)
Location: 8622 Bellanca Avenue, Suite G, Los Angeles, CA 90045 Open in Google Maps
LAX 24/7 Locker Rentals
The company's prices vary according to the size of the self-service locker you want to rent and to the rental period (minimum 2 hours). For this service, you'd pay for up to 4 hours between $8 and $16 for a medium locker, between $10 and $20 for a large one, or between $16 and $32 for a tall/closet-sized locker.
Renting for up to 5 days can cost between $15 and $19, $19 and $24 or &32 and $40 for the respective cabinet types. They don't require prior reservations and only accept credit card payments.
Opening hours: 24 hours/ day (Monday – Sunday)
Location: 8917 S Sepulveda Blvd b, Los Angeles, CA 90045 Open in Google Maps
Direct Courier Service
The price to stow a small briefcase or backpack is $8/ day, for a piece of carry-on luggage $10 per day, while an average-sized suitcase comes in at $12 per day. Large suitcases are $12, while special items such as bikes, sports equipment, or musical instruments cost between $15 and $22 per day. You will be charged an extra $7 per item if you pick the luggage pick-up or drop-off option.
Opening hours: 07:00 – 01:00 (Monday – Sunday)
Location: 440 Hindry Avenue, Of. 440D, Inglewood CA Open in Google Maps
Ray's Luggage Storage
To deposit a piece of carry-on luggage, Ray's Luggage Storage charges $15 per item per day, while for check-in luggage and large backpacks the price is $20 per item per day. Small bags, on the other hand, are $10 per item per day. Be advised that "per day" does not mean a 24-hor period, but is considered to run only until midnight. So, if you'd stow your belongings at 19:00, then "one day" would, in this case, mean the 5 hours until midnight. This service is available by reservation only.
Opening hours: 24 hours/ day (Monday – Sunday)
Location: 5901 W. Century Blvd., Suite 750, Los Angeles CA 90045 Open in Google Maps
Luggage storage in Los Angeles Train & Bus Stations
Los Angeles Union Station – Amtrak
If you have a valid Amtrak train ticket, you can store your suitcases at the station for up to 24 hours at the price of $10. As a non-customer, the price is $20.
Opening hours: 24 hours/ day (Monday – Sunday)
Address: 800 N Alameda St, Los Angeles, CA 90012 Open in Google Maps
Los Angeles Bus Station – Greyhound
You can store your bags at this station for up to 24 hours. Ask the Greyhound service agents for pricing details and luggage limitations.
Opening hours: 24 hours/ day (Monday – Sunday)
Address: 1716 E 7th St, Los Angeles, CA 90021 Open in Google Maps

Great Tip for how to get yourself luggage storage in Los Angeles:
TIP: The demand for luggage storage in Los Angeles is high and therefore it can be tricky to find places where you can store your belongings, but it is possible!
Travel Hack: Walk into a random hotel and act as you are staying there. Some hotels offer luggage storage for their guests and sometimes even for people who are not staying at the hotel, just ask! And remember to give a great tip in case they want to store it.
Alternative: Luggage storage at museums and galleries in Los Angeles
With countless sights to see, Los Angeles has a very rich and diverse cultural life. However, it might be more difficult to enjoy it, if you suddenly find yourself unable to enter a place you've been dying to visit because of your trolley.
We've made a quick list of all the main tourist attractions in Los Angeles and their locker situation so that you're up-to-speed:
Universal Studios Hollywood – only small bags and backpacks are permitted inside, as there is no bag deposit option on site.
Gerry Center – you can find the coat check in the Museum Entrance Hall.
Griffith Observatory – no storage option available.
Dodger Stadium – no storage options available.
Walt Disney Concert Hall – bag and coat check free of charge.
Petersen Automotive Museum – large backpacks can be left at the Security Office on the 1st floor, but no other suitcases are allowed.
The Broad – the museum offers a complimentary bag and coat check (found in the lobby).
Natural History Museum of Los Angeles County – no luggage storage options available.
Los Angeles County Museum of Art – there is a complimentary bag check service, however, be advised that storage space is limited.
The Nethercutt Collection – no bag deposit on site.
Hotels
Most hotels do offer to keep your bags for a few hours before your check-in or after checking out. Your best bet is to simply ask. If your hotel is a bit out of the way from your sightseeing itinerary or means of transportation, you'd want to consider a luggage storage service that is more conveniently located.
Don't forget to download LuggageHero's free luggage storage app:
This is the most convenient and easy way to always be sure to have luggage storage at your disposal.
+1M сумок надежно хранится
Frequently Asked Questions about Los Angeles
What is the best way to get around LA?
Most neighborhoods are walkable around LA, and very bike friendly. If you prefer, you can always rent a car or use Uber of Lyft.
Yes! Los Angeles has metro, that keeps growing. It is also very affordable, $1.75/ride.
When is the best time to visit Los Angeles?
With such a nice weather all year round, there isn't really a bad time to visit LA. March-May and Sep-Nov are the seaons with less touristic activity, if you're looking for some more relaxed trip.
Is Los Angeles expensive?
It is true that LA can be quite pricey, especially in places like Malibu or Beverly Hills. But LA is a big city! Not every neighborhood is as expensive, and it's worth to stay in places like Silver Lake or Echo Park to save a penny.
Are there any luggage lockers in LA?
LuggageHero provides a number of baggage storage sites in LA, where you can store your belongings with complete security and up to $3000 insurance coverage.
Is there a limit to the size of luggage that may be stored with LuggageHero?
LuggageHero's baggage storage network has no size restrictions. All sizes of luggage, big or small, can be accommodated.
Insurance and safe luggage storage
In the collaboration with First Marine Insurance Ltd., we are proud to be covering each piece of luggage free of charge every time you use our luggage service. The premium insurance is optional, you can easily add it when making your booking and it will cover your bags for up to $3,000/€2500 while being stored. On the other hand, if you decide not to add insurance, there is always a guarantee of $500. Make sure you do not pay cash in a drop-off/pick-up shop, because insurance will not cover any bookings that are not paid directly through LuggageHero
Luggage storage in Los Angeles