Luggage Storage Central Park
Only luggage storage to offer choice of hourly or daily rates in Central Park
Luggage storage Central Park
Need to store your luggage near Central Park? Drop off your items at one of LuggageHero's luggage storage locations just around the corner.
When storing with LuggageHero, local shops around Central Park will take care of your luggage.
Luggage storage in local shops will give you the convenience to explore New York City without dragging your luggage around. Don't plan your travel days on the terms of your luggage but turn your travel days into extra holidays.
Download our free bag storage app:
For even more ease you can get the LuggageHero bag storage app where you can easily see all our locations around Central Park. Download the app now and store your luggage with a few clicks wherever you are.
We store all kinds of luggage – any size and any shape
LuggageHero's users can store luggage of any size and/or shape in any of our storage locations. It doesn't matter if it is ski equipment, photo equipment, or backpacks – our luggage stores can accommodate all. LuggageHero's customers can choose to be charged by the hour or choose our daily rate – no matter of their left luggage.

We can store your luggage for several days
LuggageHero also provides multi-day storage to its customers because we know flexibility is an essential part when you travel. LuggageHero offers a lower daily rate when you store your luggage for a longer period. From the second day onwards, our customers pay only $5 per bag per day.
Is there a difference between left luggage and luggage storage?
Left luggage is luggage that people have left in a designated luggage locker facility. The term 'left luggage' is mostly being used in the UK. And luggage storage is a storage facility where people leave their luggage. Luggage storage is the most common name used internationally when referring to storing luggage. In other words, there is absolutely no difference between the two concepts. They are both defined by people's need of storing luggage which can be collected at a later time. So whether you are looking for left luggage or luggage storage, LugaggeHero is here to take care of your belongings.
Pricing
Luggagehero is the ONLY luggage storage service that offers you a choice of hourly or daily rates in the Grand Central terminal. A flat rate of €8 per day and €1 per hour allows you to pick an option that will suit your needs best. If you're only planning on staying for a few hours in a city, why pay for an entire day as you would with other luggage storage services. No hidden fees and no need to pay in advance, pay only if you show up at the luggage drop-off location. All luggage is insured against damage, loss, and theft & a security seal is provided.
Luggage Storage Central Park
With more than 140 LuggageHeroes around NYC, you have more than enough reasons to leave your luggage behind while you are on adventures.
All our shops are certified by LuggageHero and all bags are sealed off with our security seals insuring each piece of luggage up to .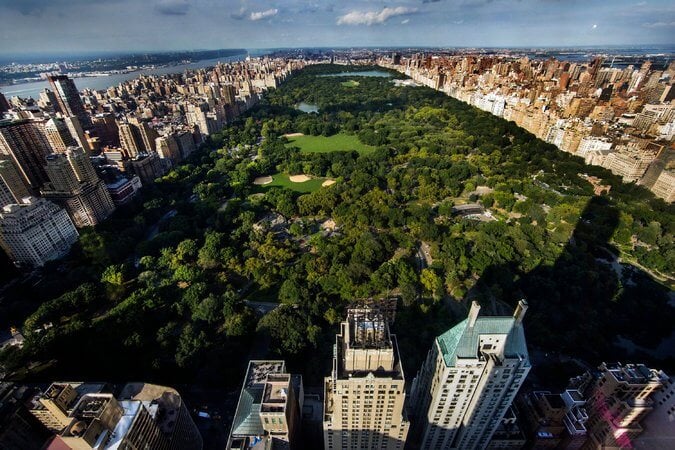 Central Park is located in Manhattan and compromises 843 acres between the Upper West Side and Upper East Side. The Columbus Circle Station among many other stations will give you direct access to Central Park. Leave your luggage with one of our LuggageHeroes and allow yourself to enjoy this extraordinary green spot in the middle of NYC without the weight of your luggage.
Central Park is full of attractions, from green meadow to sprawling waters, gardens and unique bridges, music and performance centers, educational facilities, classical architecture, and more. In fact, Central Park is so big that it has space for open-air concerts and theater productions — and it even has its own zoo! With over one million visitors each year, Central Park Zoo is a very popular attraction. The zoo can be found on the southeast corner of the park and it's not to be missed
On a bright sunny day, you'll have plenty to do in this wonderful park.
Keep in mind that Central Park is very large, by choosing the near me function when looking for luggage storage, the nearest available location will be displayed.
LuggageHero 
Lastly, if you want to read more about LuggageHero or the luggage storage business in general, then you can read the following article written by the New York Times here.
Check out why LuggageStorage recommends storing your baggage with LuggageHero here!
Luggage Storage Central Park
Can I store my baggage near Central Park?
With LuggageHero you can store your luggage in more than 140 locations in New York and we have made sure that we have also some in proximity of Central Park. Use our website (luggagehero.com) or our app to find the most convenient location for you!
How much does it cost to store luggage close to Central Park?
Store luggage with LuggageHero for only $1/hour and no more than $8 per day.
What if there is no space for my bags?
Book in advance through the website www.luggagehero.com or app, in order to be sure that there will be a spot for your bags! We will guarantee that, if you book online!