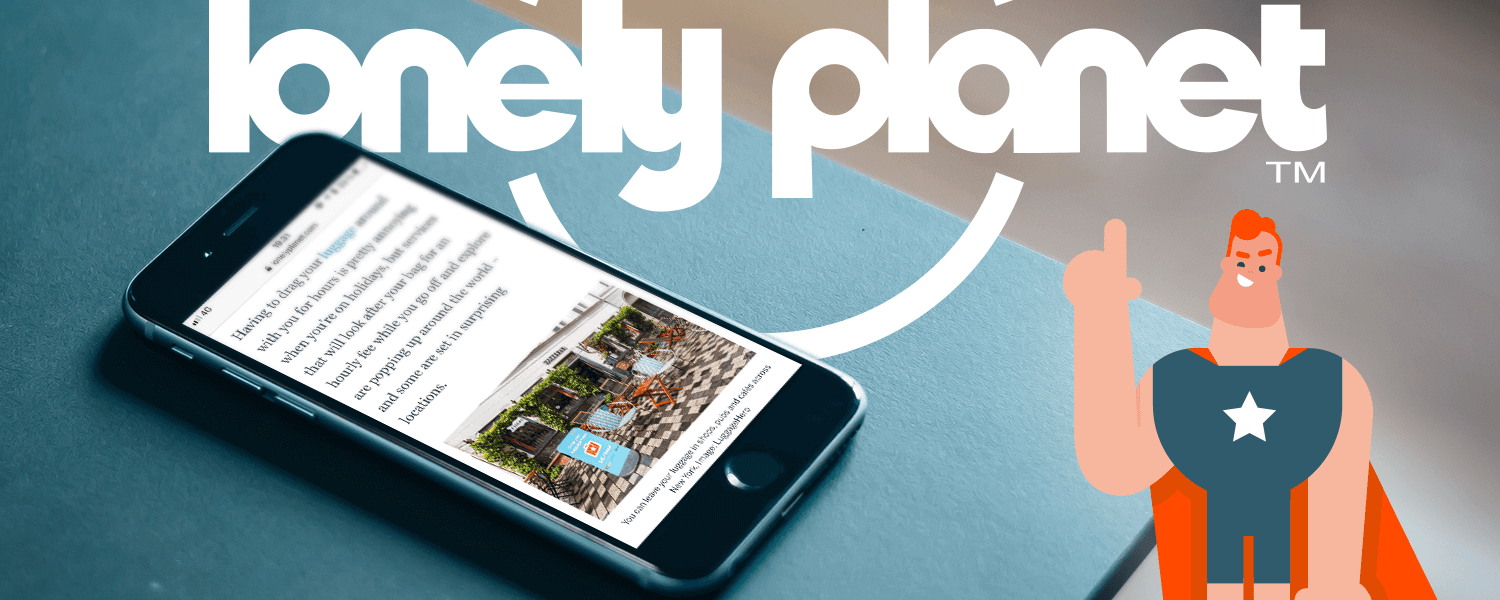 About LuggageHero
Startup in Spotlight: LuggageHero Helping Traveller's with their Luggage
Cloudways, Feb. 6, 2020
Don't Travel With a Rolling Bag: The True Cost of Bulky Luggage
Wirecutter, Nov. 5, 2019
Download these luggage storage apps and never lug your luggage around again
Fodor's Travel, Oct. 23, 2019
1.5 million hours of luggage storage and counting: Interview with LuggageHero CEO Jannik Lawaetz
EU-Startups.com, Oct. 18
LuggageHero, la start-up qui stocke vos bagages, arrive à Marseille
La Travel Tech, Oct. 15, 2019
Short Haul: LuggageHero launches in Dublin
The Irish Times, Sept. 15, 2019
Managing Acquisition: An Interview with Jannik Lawaetz and Selin Sonmez
Voyager HQ, Sept. 6, 2019
¡LuggageHero llega a Málaga al rescate del viajero!
Alhaurin.com, Sept. 3, 2019
Luggage-storage network, LuggageHero, launches in Dublin
Travel Daily News, Aug. 28, 2019
LuggageHero buys bag-storage competitor Knock Knock City
PhocusWire, Aug. 26, 2019
Miami Curated, Aug. 20, 2019
Publituris, Aug. 9, 2018
Opslag van koffers: de volgende uitwas van de toeristisering?
Het Parool, July 21, 2019
Start-up de la semaine : LuggageHero invente la bagagerie collaborative
Quotidien du Tourisme, July 5, 2019
Iværksættervirksomheden LuggageHero får 740 nye investorer på en måned
Berlingske, June 20, 2019
Le 10 migliori app per prenotare vacanze low cost
GQ Italia, June 5, 2019
Dove lasciare il bagaglio a Roma: bar e negozi diventano depositi bagagli
Si Viaggia Virgilio Italiaonline, May 9, 2019
Olvídate de las maletas cuando viajes, las consignas llegan al centro de las ciudades
Viajar, April 1, 2019
LuggageHero. Deixar a mala no café ou na loja em segurança
Diario de Noticias, April 1, 2019
Lose the baggage: New luggage storage option headed to Chicago
Chicago Tribune, March 20, 2019
Dansk iværksætter satser på Airbnb
Berlingske, November 9, 2018
The bag-storage industry is taking off
The Economist, October 31, 2018
Online Travel Agency Kiwi Has a Plan to Fight the Giants
Skift, October 18, 2018
You can now drop your luggage off for safe-keeping in shops, pubs and cafés across New York
Lonely Planet, May 18, 2018
New York Times, March 2, 2018
Luggage weighing you down? Drop-off and pickup services can streamline your trip.
Washington Post, December 7, 2017
Ditch the luggage and enjoy yourself
Boston Globe, July 30, 2017
LuggageHero: the Airbnb service for your luggage
Evening Standard, Aug. 2, 2017
Danish luggage storage success makes the leap to London
The Copenhagen Post, May 2, 2017
Danish baggage-drop service hits the ground running
The Copenhagen Post, Aug. 8, 2016
Iværksætter får millioner til at passe på turisters bagage
Borsen.dk, July 27, 2017
Iværksætter laver smart bagagekoncept for airbnb-gæster
Metroexpress, Aug. 8, 2016
Quoting LuggageHero
These airlines are least (and most) likely to lose your luggage during holiday season
Travel Daily News, Nov. 18, 2019
The airlines that are least (and most) likely to lose your luggage
iHeartradio.com, Nov. 19, 2019
The most awarded airlines of 2019
ReadersDigest.com, Nov. 2019
Top tips for travelling green revealed after climate protests in Spain
The Olive Press, Sept. 29, 2019
How can you reduce your carbon footprint when flying?
Airfarewatchdog.com, Sept. 19, 2019
TSA sees record summer with .25 billion people screened
Foxbusiness.com, Sept. 6, 2019
How to reduce your carbon footprint when travelling abroad
Good Housekeeping, Sept. 5, 2019
These are the airlines most likely to lose your luggage
MSN.com, May 8, 2019
This is the Worst Airline for Lost Luggage
Smarter Travel, May 7, 2019
The Surprising Foods You Can't Take on a Plane- and the Ones You Can
Oprah.com, November 20, 2018
Delta, July 31, 2018
The Worst Airlines For Lost Luggage
Smarter Travel, July 31, 2018
Budget Travel, July 31, 2018
Travel+Leisure, July 29, 2018
LonelyPlanet, July 17, 2018
Looking for more information about LuggageHero?