Do you own a business?
Whether you own a hotel, shop or cafe you can monetize on any unused space
Get started today
Start your new revenue stream today.
✔

Extra revenue

Turn spare space into profit with no direct expenses.
✔

100% Flexible

Free signup, no monthly fees, and no installments!
✔

 Increase foot traffic

Free marketing. Display your venue for travelers and locals on your schedule.
✔

 Reviews

Every review from a traveler is public and is a great way of spreading the word about your place
How does it work?
After you receive a booking notification, a customer will receive directions to your location. The date of your customers' arrival is clearly stated in your notification and can also be seen within your dashboard. The whole process, from drop-off to pick-up, is straightforward.
You need to…
Ask the customer to start a storage timer on their phone at drop-off!
Ask the customer to stop a storage timer on their phone at pick-up!
The customer can access their storage timer via:
Scanning a QR code at your location
Use the link they received by SMS
Access the link received by Email
Stopping the storage timer will automatically process payment for luggage storage. Ask the customer to show the pick-up confirmation screen to confirm payment.
Sign up here!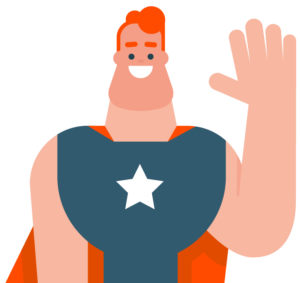 Generate more business with your location
LuggageHero is a platform that connects travelers with local businesses offering short-term luggage storage services. Over 800 businesses in 37 countries are already listed on our platform and have helped travelers store their bags for over 4.5 million hours.
By becoming a LuggageHero location, you can easily attract new customers and increase footfall by offering this convenient service whether you own a souvenir shop, cafe, or manage hotels.
Offering luggage storage is a simple and effective way to generate additional income and provide additional services for your existing customers. It's free to set up and requires no prior experience – utilize your existing resources and set a luggage capacity that fits your location.
Once you sign up and add a location you manage to your profile, our Account Manager will certify your profile and get you started.
Airbnb or Uber for retail space
LuggageHero can be compared to Airbnb or Uber for retail space. Airbnb allows homeowners to rent their homes or spare rooms, while Uber enables individuals to use their cars as a transportation service. LuggageHero allows local businesses to utilize their spare space to generate additional revenue.
You can quickly add a new monthly income stream without out-of-pocket expenses by listing your available space on our platform. This can lead to increased footfall and potentially additional sales for your business.
Whether you're a retailer, hotel, or hostel, becoming a LuggageHero location is a simple and effective way to generate additional income and attract new customers. Sign up now to get started!
Other benefits of becoming a LuggageHero location
In addition to the potential for increased footfall and additional revenue, there are several benefits to becoming a LuggageHero location.
Easy to set up: It's easy and free to sign up and become a LuggageHero location. Sign up, Add a location to your profile, and our Account Manager will certify you to get you started.
No upfront costs: There are no upfront costs or out-of-pocket expenses involved in becoming a LuggageHero location. You can utilize your existing resources and start generating additional income today.
Convenient for travelers: Luggage storage is a convenient service for travelers, allowing them to explore a destination without being weighed down by their luggage. By offering this service, you can attract more travelers to your business. Three out of 5 travelers often revisit a cafe, shop, or souvenir store multiple times during their vacation if they had a good experience the first time.
Free marketing: Promote your business and increase footfall at no cost. We will help you promote your new service on other online platforms, such as Google Maps, to increase your visibility and drive more traffic to your location.
Generous tips: Almost 50% of LuggageHero users leave a tip for the service provided after collecting their bags.
Smart pricing: Smart Pricing is based on the type and location of your business, along with the season, demand, and other factors. Our system monitors daily trends, seasonal shifts, and special events to ensure you make the most of your additional service.
A little more info…
Booking
The customer has most likely booked the storage beforehand on their phone. Once the customer has booked, directions will be sent to their email and SMS.
Most customers do show up for their bookings, but about 20 % do not due to changes in plans, etc. When your shop has a booking, you'll receive an email or text (Your preference) saying who booked storage, the number of bags, the date, etc.
Drop Off
You need to ensure they have started the storage timer using the "start storage timer" button on their phone.
When the customer has activated the counter clock, remind the customer to snap a picture of their bags for identification upon pick-up.
Pick Up
When the customer returns to pick up the luggage, you ask them to stop the storage timer by using the "stop storage timer" button on their booking page.
You'll receive a confirmation email and SMS once the customer has checked out. Before handing out the luggage, ensure that the picture of the bags matches the bags handed out.
+1M сумок надежно хранится
FAQ
I don't have any space to store luggage
Don't worry. Our system works with as little as 1 piece of luggage and you can always be put on standby if you don't have any available capacity for periods of time. If you can only receive 1 piece of luggage, you can still be part of the concept. However, we do recommend being able to store at least 5 pieces of luggage so that you will receive a higher income, as we pay you per piece of luggage.
Can a customer tip when completing their booking?
YES! We see a large percentage of our customers who tip after they collect their bags. This is, of course, always related to the experience the customer had when dropping off and collecting their bags.
How much income do I make per luggage?
It depends on how much time the person stores their luggage with you. On average people will store 2-3 pieces of luggage for 5-6 hours.
We give you a fixed commission per luggage per hour. On top of this, a large percentage of our LuggageHeroes make additional sales from their existing selection of products.
How does it work? Is there any cash handling involved?
No. Everything is online. When the tourists book their luggage into your place, they authorize LuggageHero to charge them for the hours spent storing their luggage. The moment you hand over their luggage and confirm a check-out, the receipt is sent to the customer online. There's no receipt or paperwork from your side.
What if the luggage gets lost, damaged or stolen?
We insure the luggage for you. Your only job is putting the luggage away from public access and we take all the risks. The only requirement is that bookings are checked-in via the LuggageHero App.
Is it safe being a LuggageHero?
We are a friendly service which has been serving hundreds of thousands of happy customers. We have done that by providing some of the best security for our LuggageHeroes and customers.

1. Every person who books with LuggageHero leaves a digital fingerprint which makes it possible for us to ID the person. We track and save all digital trace (IP) and ensure identity on all customers by demanding the use of Credit Card before being able to drop any luggage.

2. We provide Social Profile access or email, name and phone number. Besides this, every LuggageHero is entitled to ask for ID if they feel it's necessary and are always in their right to be shown the contents of the luggage to ensure no illegal items are being stored in the luggage before leaving it at the shop.

All these security measures ensure LuggageHero is a safe and convenient way to store luggage.
What if my place is closed some days?
The LuggageHero admin can handle irregular opening hours and you control this yourself.
What if my shop doesn't have scheduled opening hours?
Unfortunately we cannot have any LuggageHero with shifting opening hours on a day-to-day basis without any scheduled hours.
How can my employees be instructed in these procedures?
Our platform requires absolutely no administration from our LuggageHeroes. The system is a self-service for the customers. That means you can receive luggage from day one and thereby starting your new revenue stream today.
How much time is involved in receiving luggage?
We usually say, it takes no longer than making a cappuccino, but you earn more on receiving a piece of luggage. You don't even have any expenses besides the time putting the luggage away safe. Then you might end up selling a cappuccino anyway.

LuggageHero in the press
"LuggageHero, which offers online booking with a credit card — thus, eliminating the need for users to have local currency on hand — is one of the most recent players to expand its services. In December the company began operating in New York, where today it has some 250 locations."

"One solution is LuggageHero, which was already on the scene in Copenhagen and London, and has now expanded into New York. Its selling point is that it lets you store your luggage in a local shop, café or hotel, which is often more convenient than having to go to a storage facility at a train station."

"LuggageHero, which Jannik Lawaetz founded in 2016, currently has more than 300 storage locations in six cities (New York, London, Copenhagen, Lisbon, Madrid and Barcelona) and plans to expand to 39 cities by January 2020."

"LuggageHero founder and chief executive Jannik Lawaetz says that the concept was inspired by that mother of invention — necessity — and Airbnb. A couple of years ago, he and his girlfriend rented an apartment in Barcelona via the home-share service. They had a later flight on their day of departure and wanted to continue exploring the city, but didn't want to lug their suitcases around. "