Luggage Storage LA Union Station
Only luggage storage to offer choice of hourly or daily rates in LA Union Station
Более 55 000 путешественников оставили свои отзывы о LuggageHero
Luggage storage LA Union Station
Are you looking for luggage storage near LA Union Station? The questions: "Where can I store my luggage in LA?" or "Are there any luggage lockers in LA?" are finally over. You can store your luggage with one of our bag storage locations all around the station and explore LA hassle-free.
LuggageHero storage sites are certified hotels, cafes, and shops. Advance bookings ensure space for your bags. The address and directions to our store locations are available at the time of booking. All bags are sealed off with our security seals insuring each piece of luggage for once you have dropped off your bags and started our storage timer on your booking page. With LuggageHero you can find more than 25 luggage storage locations all around Los Angeles.
Download our free LA Union Station luggage storage app here:
You can download our LuggageHero luggage storage app where you can see all our locations around LA Union Station. Your days of wasting time searching for luggage lockers are over!
We store all kinds of luggage – any size and any shape
LuggageHero's users can store luggage of any size and/or shape in any of our storage locations. It doesn't matter if it is ski equipment, photo equipment, or backpacks – our luggage stores can accommodate all. LuggageHero's customers can choose to be charged by the hour or choose our daily rate – no matter of their left luggage.
Pricing
LuggageHero is the ONLY luggage storage service that offers you a choice of hourly or daily rates in LA. Flat rate of $8.3 per day and $0.95 per hour which allows you to pick an option that will suit your needs best. No hidden fees and no need to pay in advance, pay only if you show up to the luggage drop off location. All luggage is insured against damage, loss, and theft & security seal is provided.
We can store your luggage for several days
LuggageHero also provides multi-day storage to its customers because we know flexibility is an essential part when you travel.
LuggageHero offers a lower daily rate when you store your luggage for a longer period. From the second day onwards, our customers pay only $5 per bag per day.
Is there a difference between left luggage and luggage storage?
Left luggage is luggage that people have left in a designated luggage storage facility. The term 'left luggage' is mostly being used in the UK. And luggage storage is a storage facility where people leave their luggage. Luggage storage is the most common term used internationally when referring to storing luggage.
In other words, left luggage and luggage storage are synonyms, hence there is no difference between the two phrases. They are both defined by people's need of storing luggage, which can be collected at a later time. So whether you are looking for left luggage or luggage storage, LugaggeHero is here to take care of your belongings.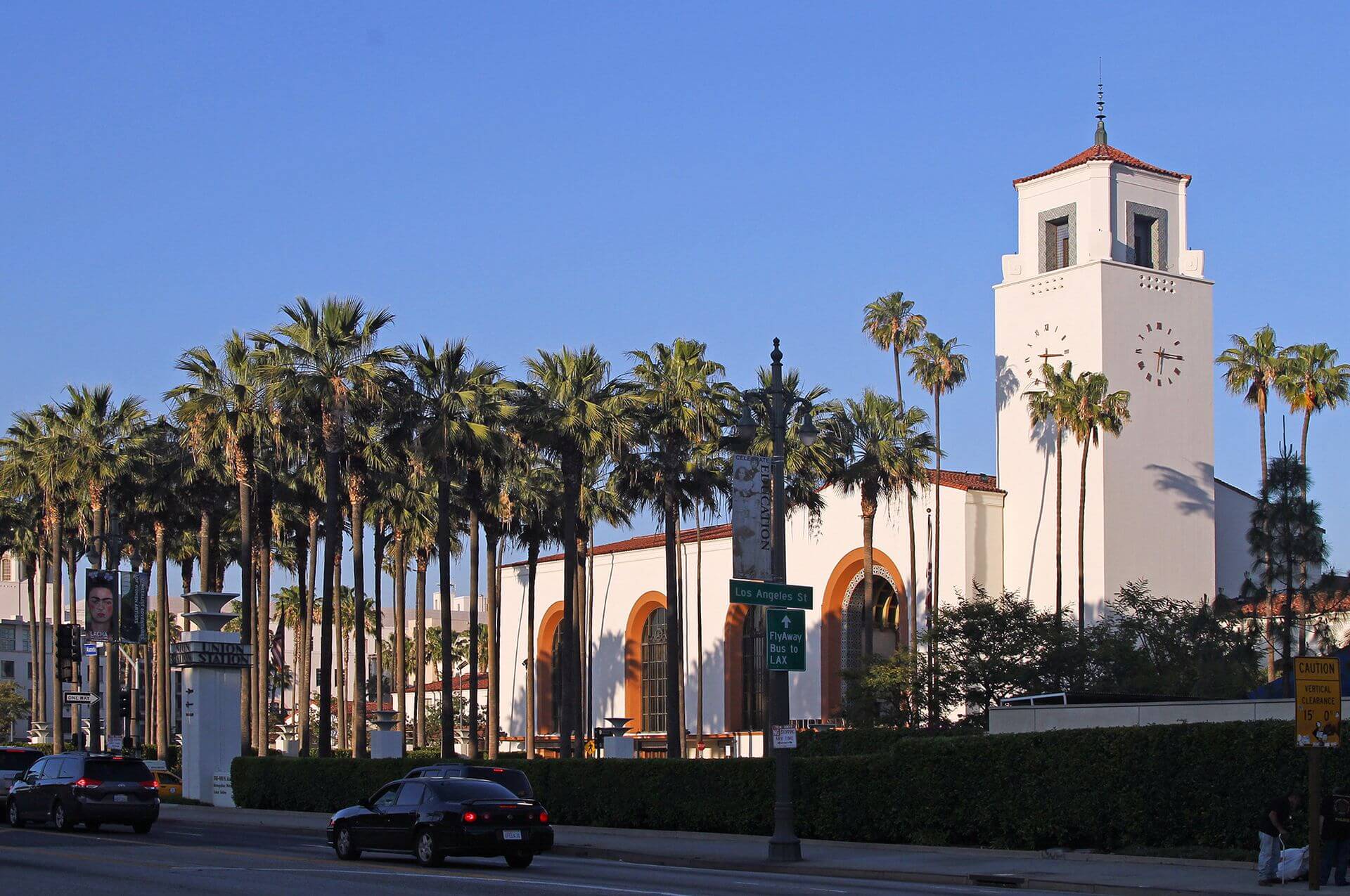 LA Union Station
LA Union Station is the main railway station of Los Angeles, as well as the largest rail station in all of western United States. As major transportation for southern California, it provides LA intercity and interstate service to more than 100,000 travelers daily. The Station is located in the northeastern corner of Downtown LA.

The Original Los Angeles Union Passenger Terminal opened in 1939. Today, it's one of the busiest stations in the country, and it operates daily Amtrak long-distance trains to Seattle, Chicago, New Orleans, and San Antonio. Metro Rail Lines also serve the station, along with bus and coach services. Architecturally, the building is a combination of Art Deco, Streamline Moderne style, and Mission Revival. As such, it's honored in the National Register of Historic Places.
If you find yourself at LA Union Station with hours between train rides and you wish to do some sightseeing in the meantime, you can leave your luggage with us and stroll around the city unencumbered.
Imagine having to remain sitting at the station for hours because your luggage is keeping you stuck in one place? The solution is easy and just steps away from the station. Our friendly staff at our storage location await your arrival and are always willing to hold onto your bags so you don't have to.
Storing your luggage at any of our drop-off locations gives you access to several other popular tourist LA locations such as Westwood Village, Beverly Hills, Universal Studios, LA City College, and Chinatown.
Next time you're at or near LA Union Station, feel free to count on us and we'll make sure you don't spend a minute dragging around your luggage when you travel. 
You can see all of our locations on the map below:
Frequently Asked Questions about LA Union Station
Where can I store my luggage in LA Union Station?
LuggageHero provides low-cost and easy luggage storage service near popular Union Station attractions. Visit LuggageHero website or download the app.
How long can I store my luggage at Union Station for?
You can store youre luggage for several days.
How much does it cost to store my luggage at Union Station?
The price for luggage storage at Union Station with LuggageHero is just $1/bag per hour.
I have a problem with my luggage storage booking at Union Station
If you encounter a problem with a luggage storage booking, you can email us at contact@luggagehero.com and we will get back to you and solve the problem as quickly as possible.
Is there a size limit for luggage storage with LuggageHero?
LuggageHero's baggage storage network has no size restrictions. All sizes of luggage, big or small, can be accommodated.
Is it safe to store luggage during COVID-19?
Storing luggage near LA Union Station during COVID-19 is safe if you are careful and keep up with the current rules and regulations in the area. We consider the health and safety of everyone to be our top priority, which is why we are offering contactless booking and luggage storage.
What can LuggageHero do, if something happens to my luggage?
When you choose us, you select a risk-free option. If something unexpected occurs, our insurance covers your luggage up to $3000.