Luggage Storage Venice Beach
Only luggage storage to offer choice of hourly or daily rates in Venice Beach
Более 55 000 путешественников оставили свои отзывы о LuggageHero
Luggage storage Venice Beach
Are you looking for luggage storage near Venice Beach? You can store your luggage with one of our bag storage locations all around the area and explore LA hassle-free.
Download our free Venice Beach luggage storage app here:
You can download our LuggageHero luggage storage app where you can see all our locations around Venice Beach. Your days of wasting time searching for luggage lockers are finally over!
LuggageHero storage sites are certified hotels, cafes, and shops. Advance bookings ensure space for your bags. The address and directions to our storage locations are available at the time of booking. All bags are sealed off with our security seals insuring each piece of luggage for once you have dropped off your bags and started our storage timer on your booking page. With LuggageHero you can find more than 25 luggage storage locations all around Los Angeles.
We store all kinds of luggage – any size and any shape
LuggageHero's users can store luggage of any size and/or shape in any of our storage locations. It doesn't matter if it is ski equipment, photo equipment, or backpacks – our luggage stores can accommodate all. LuggageHero's customers can choose to be charged by the hour or choose our daily rate – no matter of their left luggage.
Pricing
LuggageHero is the ONLY luggage storage service that offers you a choice of hourly or daily rates in LA. Flat rate of $8.3 per day and $0.95 per hour which allows you to pick an option that will suit your needs best. No hidden fees and no need to pay in advance, pay only if you show up to the luggage drop off location. All luggage is insured against damage, loss, and theft & security seal is provided.
We can store your luggage for several days
LuggageHero also provides multi-day storage to its customers because we know flexibility is an essential part when you travel.
LuggageHero offers a lower daily rate when you store your luggage for a longer period. From the second day onwards, our customers pay only $5 per bag per day.
Is there a difference between left luggage and luggage storage?
Left luggage is luggage that people have left in a designated luggage storage facility. The term 'left luggage' is mostly being used in the UK. And luggage storage is a storage facility where people leave their luggage. Luggage storage is the most common term used internationally when referring to storing luggage.
In other words, left luggage and luggage storage are synonyms, hence there is no difference between the two phrases. They are both defined by people's need of storing luggage, which can be collected at a later time. So whether you are looking for left luggage or luggage storage, LugaggeHero is here to take care of your belongings.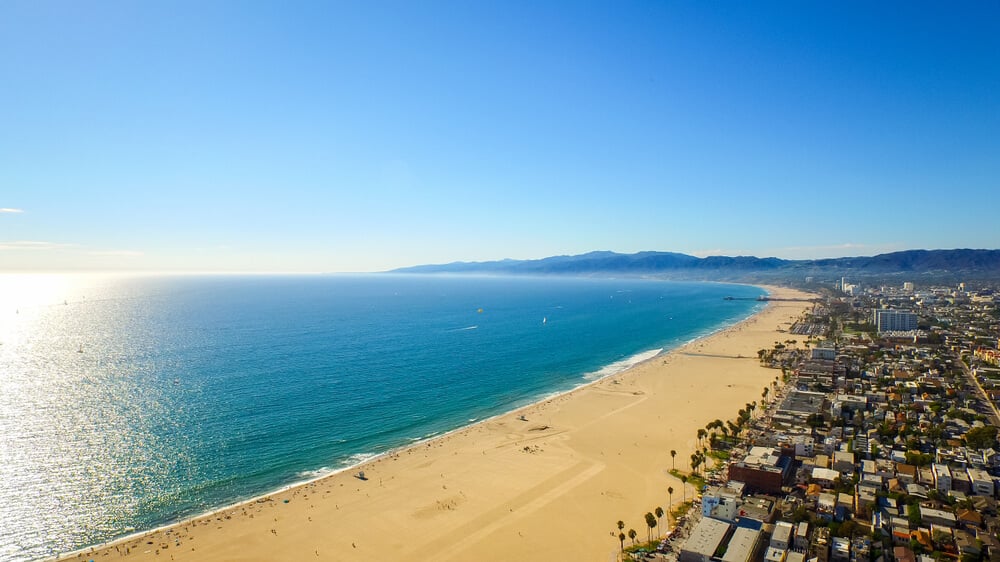 Venice Beach
Venice Beach is a famous beach along a two mile coastline in Venice, a district in Westside, Los Angeles. Historically, Venice was founded in 1905 as a residential and commercial beachfront neighborhood. The beach's attractions were the Amusement Pier, Venice Miniature Railway, the Racing Derby, with cottages for rent at every corner. 
Today, Venice Beach is a global tourist favorite and receives thousands of visitors daily. It's known for its beaches, canals, world famous surf spots and for its long pedestrian promenade (Ocean Front Walk). With its fishing piers, childrens' play areas and skate platforms, Venice Beach provides a variety of services for all age groups, all year round.
The Parks and Recreation Center is another favorite with its paddle, tennis and volleyball courts. Some of the country's most renowned basketball courts are located in Venice Beach, so if you love basketball, you don't want to skip the experience of playing ball here.

Whether you're planning on taking a stroll down Venice Beach, or you want to surf on the acclaimed Venice Breakwater, a surfers' favorite, feel free to leave your heavy bags with us and enjoy your beach day with your mind at ease. Conveniently, there is a location just steps away from the beach where our friendly staff awaits to help turn your travel day into a beach holiday.
Storing your luggage near Venice Beach gives you access to many other popular LA locations such as Santa Monica, Downtown LA, Hollywood, Beverly Hills, Universal Studios and Westwood Village and helps make your trip an unforgettable one!
Use our map to find the nearest certified shops near Venice Beach
Frequently asked Questions about Venice Beach
What makes Venice Beach unique?
Venice Beach is well-known across the world as a seaside playground for Southern Californians. It is particularly famous for its unique coastal boardwalk. The beach itself is ideal for surfing and sunbathing, as well as a variety of recreational activities and eateries.
Is Venice Beach worth visiting?
The beach section of Venice Beach is unquestionably noteworthy and unusual. You can make new friends and meet lots of street performers.
Are there any luggage lockers near Venice Beach?
Yes, there are plenty of luggage drop-off locations near Venice Beach. LuggageHero provides a number of baggage storage sites throughout Los Angeles where you can store your belongings with complete security and up to $3000 insurance coverage.
How can I find the nearest location for luggage storage near Venice Beach?
To find the nearest location to you, you can visit the LuggageHero website and click book now. Apart from that, you can download LuggageHero's app for even more convenience when booking your luggage storage on the go.
Where are my bags stored?
LuggageHero storage sites are certified hotels, cafés and shops. Advance bookings ensure space for your bags. The address and directions to our storage locations are available at the time of booking.
How much does it cost luggage storing with LuggageHero?
Most luggage services charge their customers for an entire day. However, LuggageHero provides its customers another pricing system - we charge by the hour, $1 per bag.
Is luggage storage with LuggageHero safe?
All luggage storage locations are verified for safety and carefully trained by our team before being listed on the site. Aside from that, we provide you with individually tagged tamper-proof seals for your baggage when you arrive. To offer an extra sense of security, every bag is covered by a $3000 insurance.