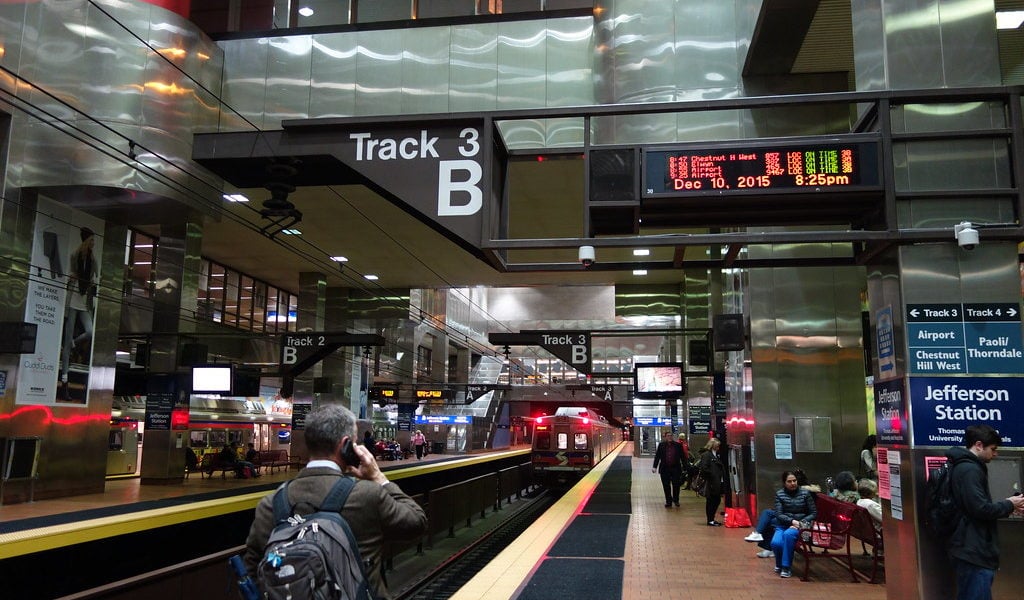 Luggage Storage Jefferson Station
Only luggage storage to offer choice of hourly or daily rates in Jefferson Station
Luggage storage Jefferson Station
Are you looking for luggage storage near Jefferson Station? You can store your bags with one of our luggage storage Philadelphia locations just around the corner and explore Philadelphia hassle-free.
We store all kinds of luggage – any size and any shape
LuggageHero's users can store luggage of any size and/or shape in any of our storage locations. It doesn't matter if it is ski equipment, photo equipment, or backpacks – our luggage stores can accommodate all. LuggageHero's customers can choose to be charged by the hour, or choose our daily rate – no matter their left luggage type.
We can store your luggage for several days
LuggageHero also provides multi-day storage to its customers because we know flexibility is essential when you travel. Daily rate is lower when you store your luggage for a longer period. From the second day onwards, our customers pay only $5 per bag per day.
Pricing
Luggagehero is the ONLY luggage storage service that offers you a choice of hourly or daily rates in Jefferson Station. Flat rate of $8.3 per day and $0.95 per hour which allows you to pick an option that will suit your needs best. If you're only planning on staying for a few hours in a city, why pay for an entire day as you would with other luggage storage services. No hidden fees and no need to pay in advance, pay only if you show up to the luggage drop off location.
All luggage is insured against damage, loss, and theft & security seal is provided.
Use our map to find the nearest certified shops near Jefferson Station
Jefferson Station
Travelers can leave luggage near Jefferson Station with LuggageHero by making use of its network of more than 25 local shops (coffee shop, souvenir shop, restaurant, bike shop, etc) spread across important traffic hubs.
Imagine that you arrive to Philadelphia and you want to explore the sights without dragging your luggage around the city. Maybe you want to visit Philadelphia Museum of Art, or enjoy a day walking in the City center. Whatever you choose, we're here to lighten your load.
No need to search for luggage lockers at Jefferson Station, simply download our app, and locate a convenient luggage storage site inside a verified shop or other business. From the map service, you can find the nearest subway stops and find the most convenient venue to store your luggage. It is easy and simple with just a few clicks.
Download our free Jefferson Station luggage storage app here:
You can download our LuggageHero luggage storage app where you can see all our locations around Jefferson Station. Your days of wasting time searching for luggage lockers are over!
LuggageHero storage sites are certified hotels, cafes, and shops. Advance bookings ensure space for your bags. The address and directions to our partner shops are available at the time of booking. All bags are sealed off with our security seals insuring each piece of luggage for  once you have dropped off your bags and started our storage timer on your booking page.
Check out why KnockKnock recommends storing your baggage with LuggageHero!
Luggage storage chart
Based on the chart below, LuggageHero is the best luggage storage option in Philadelphia. LuggageHero the only one that offers both hourly and daily prices with the possibility of insurance. Luggage storage in Philadelphia has never been so easy!
The chart is created based on the most popular luggage storage options.
Are there any luggage lockers at Jefferson Station?
LuggageHero provides a number of baggage storage sites around Jefferson Station and throughout Philadelphia where you can store your belongings with complete security and up to $3000 insurance coverage.
Is there a limit to the size of luggage that may be stored with LuggageHero?
LuggageHero's users can store luggage of any size and/or shape in any of our storage locations. It doesn't matter if it is ski equipment, photo equipment, or backpacks - our luggage stores can accommodate all.
If anything happens to my luggage, what can LuggageHero do?
When you choose us, you select a risk-free option. If something unexpected occurs, our insurance covers your luggage up to $3000.
Where are my bags stored?
Luggage storage sites are located inside existing businesses, including retail outlets, hotels, cafes, and more. All are vetted by LuggageHero's local employee, who performs regular quality checks. Every piece of luggage is stored away from any public access and secured with a security seal every time.
Is it safe to store luggage during COVID-19?
Storing luggage near Jefferson Station during COVID-19 is safe if you are careful and keep up with the current rules and regulations in the area. We consider the health and safety of everyone to be our top priority, which is why we are offering contactless booking and luggage storage.
How much does it cost to store luggage near Jefferson Station?
Most luggage services charge their customers for an entire day. However, LuggageHero provides its customers another pricing system - we charge by the hour, $1 per bag.