Luggage Storage Louvre
Only luggage storage to offer choice of hourly or daily rates in Louvre
Mais de 55.000 viajantes avaliaram LuggageHero
Luggage storage Louvre
Are you looking for luggage storage before visiting Louvre in Paris? You can store your bags with one of our luggage storage locations just around the corner from Louvre and enjoy your day at Louvre or in Paris hassle-free.
LuggageHero storage sites are certified hotels, cafes, and shops. Advance bookings ensure space for your bags. The address and directions to our storage locations are available at the time of booking. All bags are sealed off with our security seals ensuring each piece of luggage up to once you have dropped off your bags and started our storage timer on your booking page.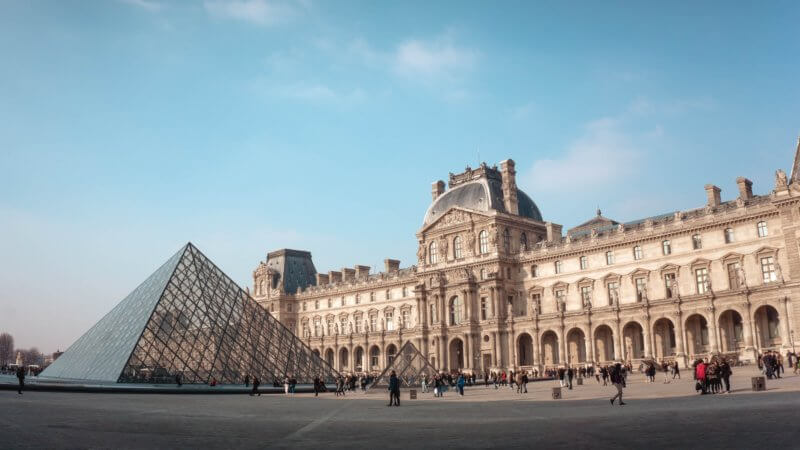 Louvre Museum
The Louvre, or the Louvre Museum, is the world's largest art museum and a historic monument in Paris. It's located at the Rue de Rivoli next to Louvre Rivoli metro station. The Louvre painting collection is one of the richest in the world, representing all periods of European art up to the revolutions of 1848. It also has many masterpieces by Italian Renaissance painters including Leonardo da Vinci's Mona Lisa and works by Flemish and Dutch painters of the Baroque.
Many tourists find their way to the Louvre Museum and with 10.2 million visitors a year it is one of the most popular tourist destinations in Paris. The most popular times to visit the Louvre is between 12 pm and 5 pm and tickets can be bought upon arrival. Buying tickets online at a set time will guarantee you entry within 30 minutes.
Louvre Bag Policy
Visitors with tickets or passes may use the Museum's coat and luggage checks free of charge. For safety and comfort reasons, voluminous bags are not allowed inside the museum galleries. Visitors are therefore advised not to bring large bags or cases to the Louvre. Luggage checks under the Pyramid are closed on Mondays and Tuesday.
Note: Any items exceeding 55 x 30 x 20 cm are not permitted in the museum.
Facts about the Louvre
The Louvre contains over 7500 paintings for you to explore!
During WWII the Louvre was used to store stolen art.
The Louvre was originally a fortress built in 1190.
Store your luggage near the Louvre with LuggageHero
Find the nearest certified shop using our map:
Pay for the hours spent
Once you arrive at the LuggageHero shop near the Louvre, you start your luggage storage timer using your own mobile phone. A link to your booking page is provided on both SMS and email.
Our insurance for up to €2500 is only valid once the luggage storage timer is activated, and it is the highest insurance in the industry!
Download our free bag storage app in Paris:
To find a luggage storage location near the Louvre with just a few clicks, you can use our luggage storage App.
How do I avoid lines at the Louvre?
1. Buy the Louvre tickets online. The first option to avoid the Louvre queue would be to buy your print-at-home ticket online. 2. Use the Porte des Lions entrance. 3. Take a Louvre Museum private tour or a normal guided tour.
Should I buy Louvre tickets in advance?
Buy your tickets in advance. The best thing to do before visiting the Louvre Museum is to buy your ticket before going to the museum, so that you won't have to wait in what can be super long line at the security entrance (30 minutes to 2 hours) and then wait in a ticket line (usually shorter) inside the lobby.
How much is the Louvre in Paris?
Entrance to the Louvre is €15. You can purchase tickets online for €17 which allows you quick entry, rather than waiting in the typically long queue. Entrance is free for everyone aged under 18 all year, and under 26s on Friday evenings.
Can I store big bags at the Louvre?
Any items exceeding 55 x 30 x 20 cm are not permitted in the museum which is why if you have a larger suitcase, you should use an alternative service like LuggageHero.