Luggage Storage in +20 shops around Venice
Store your luggage from €1/hour
A guide on how and where to find lockers and places to store your luggage in Venice as of 2022:
«La Serenissima», «Queen of the Adriatic», «The Floating City», and «City of Canals» – call it what you want, the city of Venice is unmistakable. This UNESCO World Heritage site, home to the world-renowned Carnevale di Venezia, is a must-see on most people's bucket lists. With its distinct romantic charm, Gothic architecture, and lacery of canals and bridges, it's easy to understand why.
But it can also be a nightmare to navigate, one of the most notoriously difficult cities to walk through when you have a bunch of bags to tug around with you.
LuggageHero is here to help. With several locations around Venice, conveniently close to all the main tourist attractions, LuggageHero is a quick, safe and easy solution for storing your bags.
Use a local shop (coffee shops, souvenir shops, restaurants, and stores) in Venice to store your luggage for as low as €1.
Use our map to find the nearest certified shops
Also, LuggageHero uses only certified shops and provides insurance and security seal at LuggageHero's Luggage Storage Locations in Venice
Download LuggageHero's free luggage storage app:
For even more comfort and ease, you can download LuggageHero's bag storage app where you can see all our locations around Venice.
Claim your 1 Hour Free Luggage Storage Discount Voucher for Venice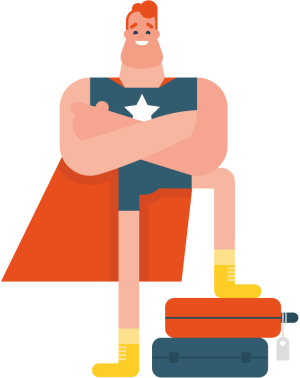 Luggage storage with LuggageHero

Featured in Lonely Planet and New York Times.
LuggageHero offers a storage option in over 20 shops all over Venice which means you can stow away your belongings for hours or even days if you need to.
Easy, quick, budget-friendly
When using LuggageHero in Venice, you only pay €1/ hour, with a one-time handling fee of €2. No worries, we always keep your budget in mind – you never pay more than €8/ day (handling fee included)
The handling fee includes security seals and insurance with coverage of up to €2500 for each bag. There are no other hidden fees.
If you store your luggage for several days, you only pay a maximum of €8/bag on the first day and only €5/ day afterward.
You will only pay for the time you actually store your luggage. You don't pay anything if you don't show up for your booking.
Book online and receive your directions. No app download is needed.
You're safe with us
Pack your camera with you, not your worries. Each piece of luggage left in one of our LuggageHero locations in Venice is insured for up to €2500 per bag, the highest insurance coverage in the industry.
More than that, we have designed a custom security seal that makes sure no one has tampered with your belongings. Click here to read about our specially designed security seal, which is provided for free at all our locations.
Quality-checked partner locations
Luggage storage sites are located inside existing businesses, including retail outlets, hotels, cafes, and more. All are vetted by LuggageHero's local employee, who performs regular quality checks. Every piece of luggage is stored away from any public access and secured with a security seal every time.
Venice after dark
Venice is a city to be enjoyed at a leisurely pace, so we make sure you don't have to always check your watch in order to be on time to pick up your stuff. LuggageHero has partnered up with several central locations in Venice that are open until the late hours of the night, even 24 hours per day, 7 days a week. Sit back in your gondola and soak in the history of this wonderful Italian city.
Friends and family stick together
Traveling in a group? Then don't pass up the chance to get a special discount for storing 10 or more pieces of luggage. Write us a quick message and you're all set to go.
Four simple steps to leave your luggage with LuggageHero
When booking online you are always guaranteed space
Start the storage timer in your browser when arriving at the shop or use the link sent to you to access your booking page.
Enjoy yourself in Venice!
Pick up your luggage and stop the storage timer on your booking page.
Costs and Discount Voucher
per hour + a one-time handling fee of – maximum for the first 24 hours and €5 for each additional day including your free luggage storage insurance
Want to know more about LuggageHero? Get to know the concept by reading this FAQ and or read about the team behind it here.
Discount Vouchers — Click here to see if we have any available at the moment.
Luggage storage with LuggageHero in Venice

All these companies can offer you bag storage in Venice — We've listed them below:
Piazza San Marco & Ponte Rialto
Stow your Bags
In this location, there is only one side of the locker where you can leave your suitcases, and booking it comes at €2,99/hour (prices vary for each additional hour) or €18,49/day. Be aware that you can only pay by credit card, regardless of whether your first book is online or just shows up on the spot.
Opening hours: 7:00 – 23:00 (Monday – Sunday)
Address: Calle de l'Orso, 5512 A, Venice. Open in Google Maps
Bagstop
Located near the Gran Canal, this service keeps your small bags for €0,98/ hour or €10,98/ day and your large ones for €1,98/ hour or €15,98/ day. They accept payment by credit card.
Opening hours: 5:30 – 23:00 (Monday – Sunday)
Address: Calle del Gambaro 527 A, Venice. Open in Google Maps
Venice Luggage Deposit
Venice Luggage Deposit offers their service on a daily basis and the prices are per suitcase. For your first bag, you pay €6, every additional one costing €5. If your baggage is larger than an airplane cabin size, then each piece will cost €10.
Opening hours: 9:30 – 19:30 (April – October) and 9:30 – 18:30 (November – March)
Address: 5496 Castello, 30122, Venice. Open in Google Maps
Vaise
You can find three different drop-off points:
San Marco – Fenice, Calle de Piscina de Frezzaria, 1657 Open in Google Maps— every day from 8.00 to 21.00, with a price of €2,60/ hour and a flat rate €13 for over 5 hours
Rialto Cannaregio — Calle Stretta Morosini, 30121 Open in Google Maps— every day from 8:00 – 21:00, with prices at €2,60/ hour or €13 for over 5 hours;
Rialto Mercato, Calle dei Botteri, 1651 Open in Google Maps— from 8:00 – 21:00, where you pay €2,60/ hour and a flat rate €13 for over 5 hours.
Cannaregio Area
Self Storage Luggage
Close to the Jewish Museum of Venice (Museo Ebraico di Venezia) and Campo Della Maddalena you can find "Self Storage Luggage", where you can deposit your bags. If you plan to book in advance, you can only book for a full day. The prices otherwise are:
— €4/ 2 hours (minimum)
— €6.50/ 4 hours
— €9.50/ 6 hours
— €12 for anything more than 6 hours
If you want to use the lockers for multiple days, the first day costs €12, with every additional day coming in at €10/day.
Opening hours: 09:00 – 23:00
Address: Fondamenta dei Ormesini, 2627, 30121 Cannaregio. Open in Google Maps
Piazzale Roma
Kuddus
Near Piazzale Roma and the Constitution Bridge (Ponte Della Constituzione) you can find the Kuddus left luggage service, where you can drop your suitcases for €1/hour (with a minimum of 2 hours) or €5/day. Be sure to reserve ahead of time (note: their website is only in Italian).
Opening hours: 8:00 – 22:00 (Monday to Sunday)
Address: Rio Terà Sant'Andrea, 468B, 30135. Open in Google Maps
Tronchetto Area
Easy Luggage, Cruise Port
You can find Easy Luggage close to the Vaporetto station, where they offer their service at a price of €5 per item. To book the service, you first need to register on their website.
Great Tip for how to get yourself luggage storage in Venice:
TIP: The demand for luggage storage in Venice is high and therefore it can be tricky to find places where you can store your belongings for free, but it is possible!
Travel Hack: Walk into a random hotel and act as you are staying there. Some hotels offer luggage storage for their guests and sometimes even for people who are not staying at the hotel, just ask! And remember to give a great tip in case they want to store it.
Alternative: Luggage storage at tourist attractions in Venice
Most museums and galleries offer the option to leave your bags at the cloakroom or even have designated lockers for their visitors. It's a convenient way to enjoy art without worries. However, be mindful of the fact that lockers in most places tend to be rather small in size.
Better safe than sorry – give them a call to make sure the option to leave some bags at the entrance is available at the moment of your visit.
Here's to the locker situation at Venice's top cultural tourist attractions:
St. Mark's Basilica (Basilica di San Marco) – you are not allowed to have a bag inside or even a small backpack, so be sure to leave it in their cloakroom before getting in line to enter. The cloakroom is located in Ateneo San Basso (Piazzetta dei Leoncini)
Doge's Palace (Palazzo Ducale) – provides storage facilities on-site, so be sure to leave all large items there
Peggy Guggenheim Collection – small handbags are allowed, but anything else must be stored in their lockers
Gallerie dell'Accademia (Fine Arts Museum) – larger items need to be stowed away. Make sure to have a €1 coin to use the service (you get it back when retrieving your things)
The Arsenal and the Naval History Museum (Arsenale di Venezia & Museo Storico Navale della Marina Militare) – lockers can be found on-site
An extra tip for when you're visiting places of worship: make sure to wear clothing or a scarf that covers your shoulders or legs, as otherwise you are not allowed inside.
Luggage storage in Venice Marco Polo Airport — Transbagagli Aeroporto Venezia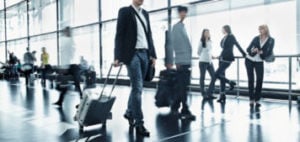 If you're flying to or from Venice, you can also leave your bags at the airport while you go on a duty-free shopping spree. The cost is €7/bag for the first 6 hours, with every additional hour costing €0.50.
Opening hours: 5:00 – 22:00 (summer schedule) or 05:00 — 21:00 (winter schedule)
Location: ground floor, in the arrivals hall, near the post office
Luggage storage in St. Lucia Train Station
Close to Venice's main train station, you can find a self-storage service called Stow Your Bags which offers self-service lockers. The prices for the cabinet vary according to size and time being used, and they include a €0,50 service fee:
— Standard: €1,99/hour (prices vary for each additional hour) or €13,49/day
— Large: €2,99/hour (prices vary for each additional hour) or €18,99/day
Opening hours: 7:00 – 23:00 (Monday – Sunday)
Location: Calle dello Spezier, 193. (Open in Google Maps)
Why are you searching for luggage storage in Venice?
Maybe you have to check out of your Airbnb apartment, rental place, or hotel and your flight isn't until tonight?
Or… You just arrived in Venice, ready to explore everything the city has to offer, but your rental place isn't ready for you for 5 more hours? Most travelers have been in similar situations and experienced the struggle of luggage first hand.
Venice offers a range of possibilities when it comes to luggage storage and we have gathered everything into this guide to help you.
Therefore there is no reason for you to carry around heavy luggage when you should be enjoying the canals and bridges.
Download LuggageHero's free luggage storage app:
For even more comfort and ease, you can download LuggageHero's bag storage app where you can see all our locations around Venice.
Более 55 000 путешественников оставили свои отзывы о LuggageHero
FAQ about luggage storage in Venice
Here are some of the most often asked questions and answers on storing luggage in Venice.
Where can I store my luggage in Venice?
There are many storage lockers in Venice. Most train and bus stations provide facilities to store luggage. Also, nowadays there are numerous luggage storage companies that provide storage lockers all over Venice. It is therefore easy to find luggage storage nearby if you have access to the internet.
Can you store luggage at Venice airport?
There is a left-luggage office available on the ground floor inside the airport terminal at access 1. Open from 5 am to 10 pm.
Is LuggageHero safe to use?
LuggageHero is very safe to use as each time you store your luggage, you have insurance for up to on your belongings.