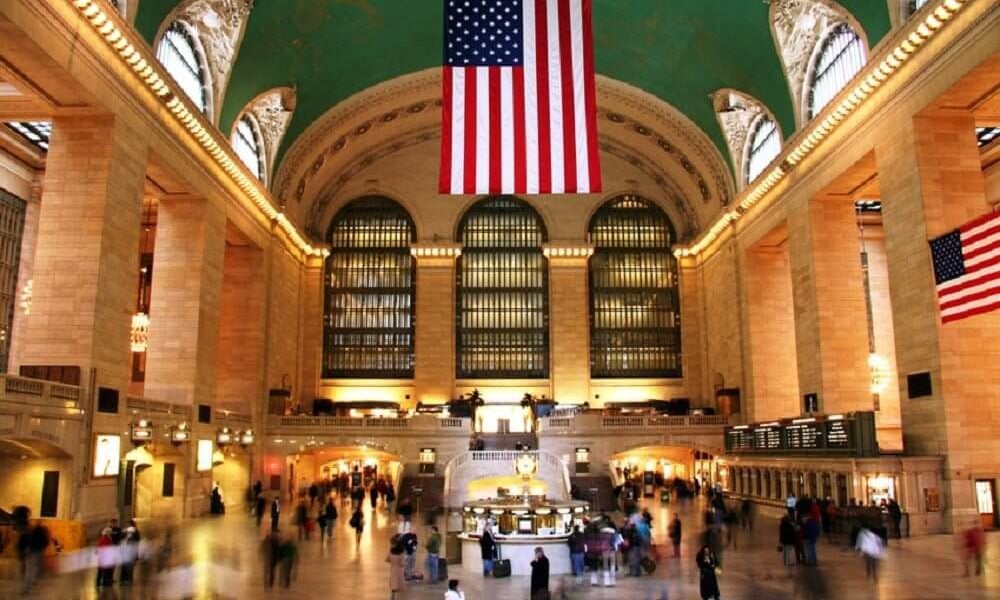 Luggage Storage Grand Central
Only luggage storage to offer choice of hourly or daily rates in Grand Central
Более 55 000 путешественников оставили свои отзывы о LuggageHero
Luggage storage Grand Central
Are you walking around and need to store your luggage near Grand Central? Don't worry, we got you! 
Drop off your items at one of LuggageHero's luggage storage locations just around the corner.
At LuggageHero, we offer secured and cheap luggage storage. All our shops are certified by LuggageHero and all bags are sealed off with our security seals insuring each piece of luggage for $3000.
A 3-step easy guide on storing luggage in Grand Central

Download LuggageHero's free luggage storage app:
For even more comfort and ease, you can download LuggageHero's bag storage app where you can see all our locations around you.
We store all kinds of luggage – any size and any shape
LuggageHero's users can store luggage of any size and/or shape in any of our storage locations. It doesn't matter if it is ski equipment, photo equipment, or backpacks – our luggage stores can accommodate all. LuggageHero's customers can choose to be charged by the hour, or choose our daily rate – no matter their left luggage type.
Pricing
Luggagehero is the ONLY luggage storage service that offers you a choice of hourly or daily rates in Grand Central. A flat rate of $7.95 per day and $0.95 per hour allows you to pick an option that will best suit your needs. If you're only planning on staying for a few hours in a city, why pay for an entire day as you would with other luggage storage services.
Half the price of station lockers and airport lockers
Luggage lockers, also called city lockers, are generally at least twice as expensive on a daily basis as LuggageHero's luggage storage service. Until relatively recently, travelers could only stow their bags in these luggage lockers, which offer very little flexibility in regard to pricing and location. where to go and luggage deposit. Today, LuggageHero offers countless stores in different cities in order for you to always have the option of dropping off your luggage in a safe environment. Unlike luggage lockers in stations and airports, LuggageHero also offers both an hourly and daily rate for maximum flexibility. LuggageHero strives to offer safe and cheap luggage storage near you at all times.
Luggage storage facility for suitcase, baggage and odd-sized luggage
We verify all our hotels and local shops in order for us to be able to offer space for whatever you need; ski equipment, photo equipment, backpacks or whatever. This is yet another way for us to give you the most flexible baggage storage, suitcase storage and luggage deposit. 
Our service is similar to hotel luggage storage
Many travelers who have been customers at hotels have asked the staff at the reception if they could store their luggage until they depart the city later in the day. We offer, more or less, the same service for everyone — no matter if they stay at a hotel, Airbnb or somewhere else. We are always ready to help you out.  
Stow your bags in verified stores with this discount code
We offer our loyal customers and new customers a discount code for two hours of FREE luggage storage. The discount code works the rest of 2022 in ALL cities and ALL stores — including Premium Partner stores! 
Simply use the following discount code when you are booking: 
LOVE2
We can store your luggage for several days
LuggageHero also provides multi-day storage, because we know flexibility is essential when you travel. LuggageHero offers a lower daily rate when you store your luggage for a longer period. From the second day onwards, our customers pay only $5.95 per bag per day.
Is there a difference between left luggage and luggage storage?
Left luggage is luggage that people have left in a designated luggage storage facility. The term 'left luggage' is mostly being used in the UK. And luggage storage is a storage facility where people leave their luggage. Luggage storage is the most common term used internationally when referring to storing luggage.
In other words, left luggage and luggage storage are synonyms, hence there is no difference between the two phrases. They are both defined by people's need of storing luggage, which can be collected at a later time. So whether you are looking for left luggage or luggage storage, LugaggeHero is here to take care of your belongings.
Opening hours
We have a variety of stores with different opening hours, so choose what fits you best! Go and pick the store here to see the opening hours.
Which payment methods are accepted?
All major credit cards are accepted. Be aware that the shops do not receive cash when using LuggageHero and remember that the insurance on your luggage is valid only if the payment has been made directly to LuggageHero.
Cancellation of booking
We know that plans can change, therefore our customers have the option to cancel their booking up until midnight of the day before without any charges.
For same-day cancellations and no-shows, there will be a fee equal to  the daily rate of $7.95 per bag.
Check out why KnockKnock recommends storing your baggage with LuggageHero. Also featured in The New York Times, Lonely Planet, CNBC.
Luggage storage chart
Based on the chart below, LuggageHero is the best luggage storage option in New York. LuggageHero the only one that offers both hourly and daily prices with the possibility of insurance. Luggage storage in New York has never been so easy!
The chart is created based on the most popular luggage storage options.
Download the LuggageHero app for quick Grand Central luggage storage options
You can download LuggageHero's free bag storage app and that way you make sure that wherever you are, you can always book storage with just a few clicks. The app allows you to check out nearby locations, book your storage and monitor how long your bags have been stored.
Store your luggage in local shops
Luggage storage in local shops will give you the convenience to explore New York City without dragging around your luggage. Don't plan your travel days on the terms of your luggage but turn your travel days into holidays.
With more than 140 LuggageHeroes around New York, you have more than enough reasons to leave your luggage behind while you are on adventures. Overnight storage can easily be handled.
All our shops are certified by LuggageHero and all bags are sealed off with our security seals. LuggageHero can also insure each piece of luggage for $3000.
Use our map to find the nearest certified shops at Grand Central
Grand Central
Grand Central is located at 89 E 42nd Street, New York City. It is a world-famous landmark in Midtown Manhattan and is not simply a transportation hub – it's also known as the grand central station shopping mall, with lots of different dinings, and cultural destinations with 60 shops, 35 places to eat, and a full calendar of events all under one magnificent roof.
If you are ready for a full day at Grand Central it isn't the worst place to be stuck with your luggage.
On the other side, with more than 140 LuggageHeroes around New York, you can easily find a location that suits your travel plans. Our trusted partners are local shops that wish to help travelers and take care of their luggage while they are out for adventures.  Don't hesitate to make the most of your day.
Parking: There are a number of public parking garages located close to the Terminal.
Public Restrooms:  You can find public restrooms located on the Lower Level of Grand Central. There are further ladies and family restrooms located in the Station Master's Office on the upper level next to Track 37.
Eating options: Grand Central offers over 35 dining options from fast food in the Dining Concourse, to casual sit-down eateries like Great Northern Food Hall and Prova Pizzabar, to world-famous fine dining, like Grand Central Oyster Bar & Restaurant, Cipriani Dolci, or Michelin-starred Agern.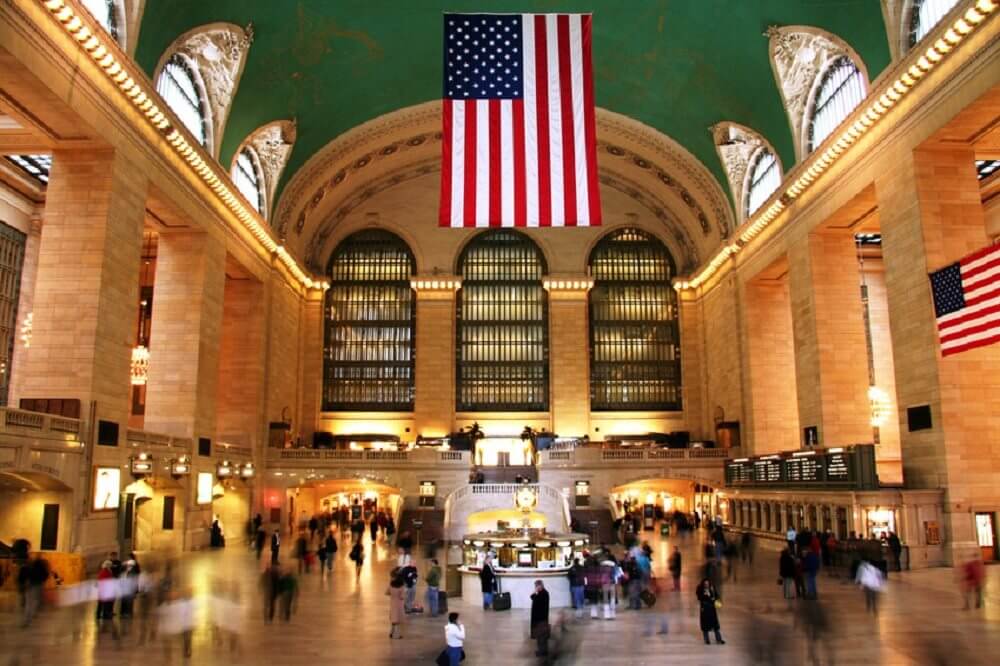 Grand Central Station Luggage storage NYC
Unfortunately, there are no locker rentals or options available inside Grand Central due to security measures. That is why the best option for your luggage storage is LuggageHero for the price of only $0.95 per hour!
Why choose LuggageHero for New York Grand Central luggage storage?
LuggageHero offers you flexible pricing of $0.95 per hour, you get a security seal on your bag, which can also ensure each of your bags up to [prici. With LuggageHero, your luggage is safely and conveniently stored at a location near you and you can pick it up any time you like. You can choose to store your bags from 130+ luggage storage locations in New York City. You can stop searching for lockers near Grand Central and simply book online or through our app — your luggage storage today.
With more than 130 storage options around New York, you have more than enough reasons to leave your luggage behind while you explore NYC. Overnight storage can also easily be handled so if you need to drop off your bags for a few days in NYC – no problem.
Check out why LuggageStorage and KnockKnock recommend storing your baggage with LuggageHero.
Things to do near Grand Central
Grand Central is just a minute or two away from Bryant Park. If you have time until your train, you can drop off your bags at a LuggageHero location and go enjoy some fresh air in the park.
In only 10 minutes walk, you can get to the Rockefeller Center, where you can see the iconic building and take some awesome pictures. If you happen to visit around Christmas, you can check out there the iconic Christmas tree and an ice skating rink!
In only 13 minutes, you can get to the Empire State Building, and see one of the most iconic landmarks of New York City! The tower was built in 1931 and you can even enjoy some art exhibitions inside, as well as see the beautiful view over NYC.  In only 13 minutes walk, you can also check out Madame Tussauds New York – the amazing museum chain for life-size wax replicas of famous Americans & historic icons in themed galleries.
There is a lot to explore near Grand Central so you should not let your bags drag you down. Store your luggage near Grand Central and enjoy the amazing city of New York!
Other popular destinations in New York
New York has many popular destinations to which you do not want to spend your energy carrying your luggage in and around: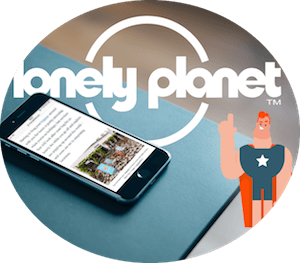 You can now drop your luggage off for safe-keeping in shops, pubs, and cafés across New York – 140 locations
"LuggageHero lets you store your luggage in a local shop, café, or hotel, which is often more convenient than having to go to a storage facility at a train station."
Frequently Asked Questions about Grand Central Terminal
Are there lockers at Grand Central Terminal?
No, there are no Grand Central lockers. You can use a LuggageHero storage location instead and book your luggage storage online.
How can I find the nearest LuggageHero storage location near Grand Central Terminal?
To find the nearest location to you, you can visit the LuggageHero website and click book now. Apart from that, you can download the LuggageHero app for even more convenience when booking your luggage storage on the go.
How do I know my bags will be safe near Grand Central Terminal with LuggageHero?
LuggageHero locations are all vetted and regular checks are performed on all of them to insure the safety and quality of the local shops. On top of that, you receive insurance for your bags for up to . Your luggage is completely safe with LuggageHero.
How do I get to Grand Central Terminal?
Grand Central Terminal is accessible by subway, bus, train, and airport shuttle depending on your location. Visit the official website of Grand Central Terminal for more information.
Is there a limit to the size of luggage that may be stored with LuggageHero?
LuggageHero's baggage storage network has no size restrictions. All sizes of luggage, big or small, can be accommodated.
LuggageHero is completely safe to use for luggage storage as the shops are monitored by our employees with regular checks performed. On top of that, you have the option to add insurance on your luggage and bags which covers up to $3000.
Can I cancel my booking with LuggageHero?
Of course! We know that plans can change, therefore our customers have the option to cancel their booking up until midnight of the day before without any charges. For same-day cancellations and no-shows, there will be a fee which equals the daily rate of $7.95.