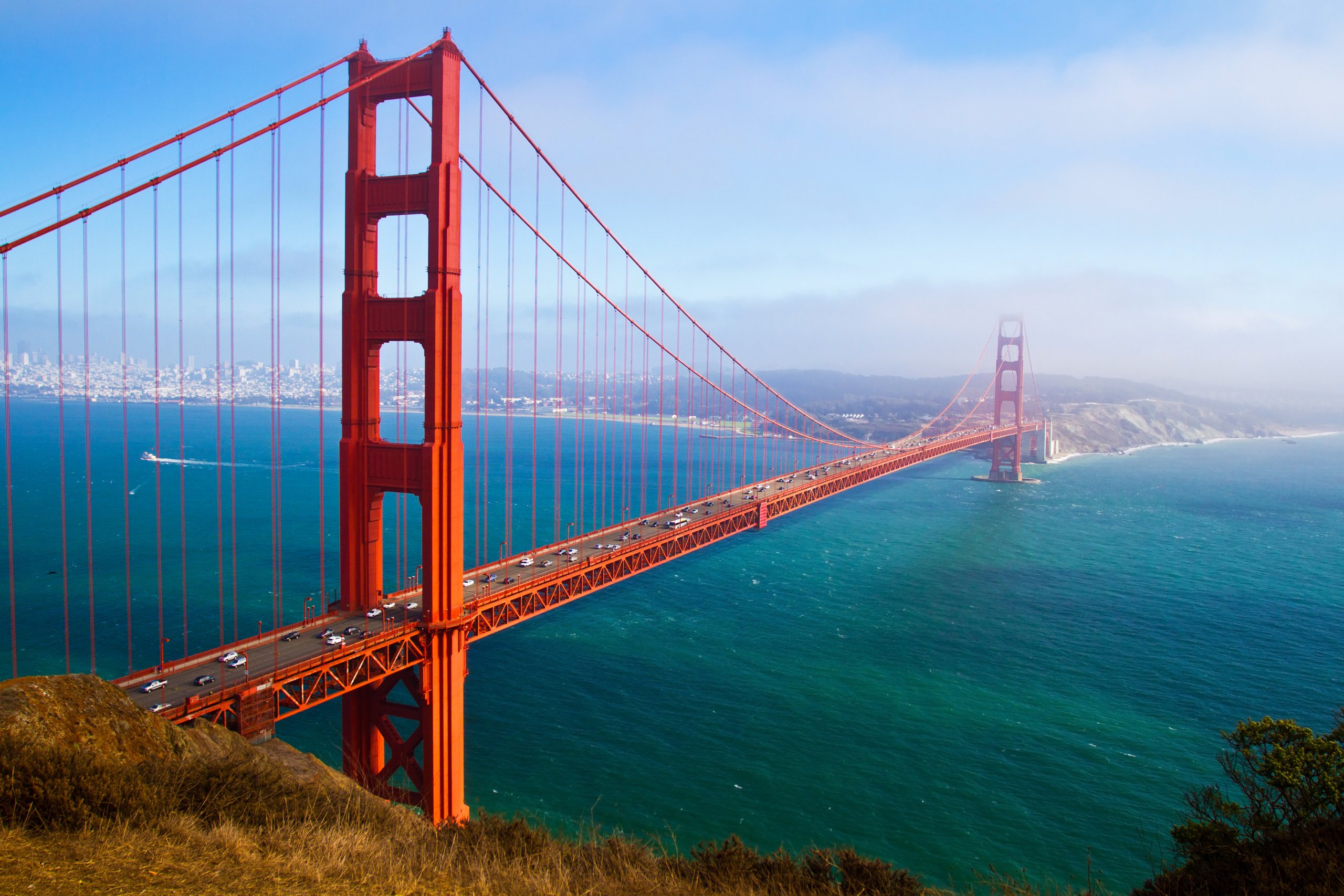 Luggage Storage in +20 locations around San Francisco
Only luggage storage to offer choice of hourly or daily rates in San Francisco
Более 55 000 путешественников оставили свои отзывы о LuggageHero
Luggage storage San Francisco
You can stop searching for lockers to store your luggage in. The next time you need luggage storage in San Francisco, keep in mind that LuggageHero is here to save the day!
Store your bags in San Francisco
Are you in need of luggage storage around San Francisco? Are you visiting the city and want to explore the attractions without the weight of your luggage?
Drop off your bags by using LuggageHero's network of more than 20 local shops located around crucial traffic hubs and popular districts. These include Union Square, San Francisco Station, Pier 39, Powell Street BART Station, and Montgomery Station. You can store luggage for the small price of $0.95 per hour with a maximum daily cap of $8.3 for a full day. Bag storage in San Francisco has never been this easy before.
LuggageHero offers you several locations around San Francisco which are all conveniently close to all the main tourist attractions and will make your trip significantly more pleasant. LuggageHero is a quick, safe and easy solution for storing your bags when you need to.
A 3-step easy guide on storing luggage in San Francisco

Download LuggageHero's free luggage storage app:
For greater convenience, you can download LuggageHero's app, where you can see all our locations near you.
We store all kinds of luggage — any size and any shape
LuggageHero's users can store luggage of any size and/or shape in any of our storage locations. It doesn't matter if it is ski equipment, photo equipment, or backpacks — our luggage stores can accommodate all. LuggageHero's customers can choose to be charged by the hour or choose our daily rate, regardless of what they store.
We can store your luggage for several days
LuggageHero also provides multi-day storage, because we know flexibility is essential when you travel. LuggageHero offers a lower daily rate when you store your luggage for a longer period. From the second day onwards, our customers pay only $5.95 per bag per day.
Pricing
Luggagehero is the ONLY luggage storage service that offers you a choice of hourly or daily rates in San Francisco. A flat rate of $8.3 per day and $0.95 per hour allows you to pick an option that will best suit your needs. If you're only planning on staying for a few hours in a city, why pay for an entire day as you would with other luggage storage services. 
Opening hours
We have a variety of stores with different opening hours, so choose what fits you best! Go and pick the store here to see the opening hours.
Which payment methods are accepted?
All major credit cards are accepted. Be aware that the shops do not receive cash when using LuggageHero and remember that the insurance on your luggage is valid only if the payment has been made directly to LuggageHero.
Cancellation of booking
We know that plans can change, therefore our customers have the option to cancel their booking up until midnight of the day before without any charges.
For same-day cancellations and no-shows, there will be a fee equal to  the daily rate of $8.3 per bag.
Check out why KnockKnock recommends storing your baggage with LuggageHero. Also featured in The New York Times, Lonely Planet, CNBC.
Half the price of station lockers and airport lockers
Luggage lockers, also called city lockers, are generally at least twice as expensive on a daily basis as LuggageHero's luggage storage service. Until relatively recently, travelers could only stow their bags in these luggage lockers, which offer very little flexibility in regard to pricing and location. where to go and luggage deposit. Today, LuggageHero offers countless stores in different cities in order for you to always have the option of dropping off your luggage in a safe environment. Unlike luggage lockers in stations and airports, LuggageHero also offers both an hourly and daily rate for maximum flexibility. LuggageHero strives to offer safe and cheap luggage storage near you at all times.
Luggage storage facility for suitcase, baggage and odd-sized luggage
We verify all our hotels and local shops in order for us to be able to offer space for whatever you need; ski equipment, photo equipment, backpacks or whatever. This is yet another way for us to give you the most flexible baggage storage, suitcase storage and luggage deposit. 
Our service is similar to hotel luggage storage
Many travelers who have been customers at hotels have asked the staff at the reception if they could store their luggage until they depart the city later in the day. We offer, more or less, the same service for everyone — no matter if they stay at a hotel, Airbnb or somewhere else. We are always ready to help you out.  
Stow your bags in verified stores with this discount code
We offer our loyal customers and new customers a discount code for two hours of FREE luggage storage. The discount code works the rest of 2022 in ALL cities and ALL stores — including Premium Partner stores! 
Simply use the following discount code when you are booking: 
LOVE2

Luggage storage San Francisco
Let's say that you arrive from San Francisco International Airport or Oakland International Airport hours before your rental is ready and you want to check out the sights without pulling your luggage behind you. Maybe you want to visit the Golden Gate Park for a relaxing walk, take a trip up Market Street, stroll around Fisherman's Wharf, San Francisco's most famous waterfront, or maybe watch a Baseball game at Oracle Park. Whatever you choose, we're here to lighten your load.
Just go to the LuggageHero reservation platform or download our app to find a handy storage site inside a shop or other business – all verified by us. Using our map, you can locate the shops that are nearest to the Stations you'll use or attractions you'll visit and store your luggage there.
San Francisco Airport Luggage Storage
You can store baggage at San Francisco Airport for a fee. The luggage storage facility can be found at the Airport Travel Agency in the International Terminal of San Francisco Airport (SFO). However, keep in mind that the prices for luggage storage in San Francisco Airport are quite high and are mostly used if you store your bags for only a short time.
Where can the lockers at San Francisco Airport be found?
SFO lockers can be found on the Departures hall of the International Terminal (gates G91-G102). The opening hours of the storage lockers are between 06:00-23:00.
How much does it cost to store luggage at San Francisco Airport? 
The cost for bag storage at SFO is between $15 to $35 per day depending on the size of items you are going to store.
Luggage storage Alcatraz Island in San Francisco
There is, unfortunately, no luggage storage at Alcatraz Island so your best option would be to try an alternative luggage storage option like LuggageHero.
Luggage storage California Palace of the Legion of Honor
If you have a large suitcase, you will need to search for alternative luggage storage options as you are only allowed to enter with a backpack.
Luggage storage Oracle Park
You can store your bags at Oracle Park by using lockers. However, the lockers can only fit items smaller than 40x40x20cm (less than 16x16x8 inches).
Luggage storage Exploratorium
Luckily, there is an option to store your items at the Exploratorium. You can store your items at the self-service luggage locker area in the Embarcadero area.
Luggage storage San Francisco Museum of Modern Art
Similar to the storage at the California Palace of the Legion of Honor, smaller items like a backpack can be stored. However, if you have a large suitcase, you need to look for alternative bag storage options. Only items smaller than this are allowed: 56x35x22cm (22x14x9 inches).
We're looking out for you
Your safety and security are our priority. That's why we have LuggageHero employees review and certify all our shops in San Francisco. We also seal every piece of luggage to keep them tamper-free. On top of that, we insure every bag and what's inside it for . If you need to talk to someone at LuggageHero, we're here for your 24/7 through our online chat system.
We store all kinds of luggage – any size and any shape
LuggageHero's users can store luggage of any size and/or shape in any of our store locations. It doesn't matter if it is ski equipment, photo equipment, or backpacks – our luggage stores can accommodate all. LuggageHero's customers can choose to be charged by the hour or choose our daily rate – no matter of their left luggage.
Are you ready to store your bags? Check out the map below 
Safety
We carefully certify and educate the operators at all our LuggageHero San Francisco locations about how to safely handle your belongings.
All our shops in San Francisco have been reviewed by a LuggageHero employee, who also regularly performs quality checks to make sure customers' belongings are kept in a safe and secure manner.
Furthermore, each piece of luggage and its contents are insured up to .
If you need someone to turn to, remember that customer online chat support is available 24/7.
Book risk-free
We believe in making your travels as smooth and easy as possible, which is why it is important to us that NO FEES are charged to you until your luggage is dropped off.
Use our online booking service to choose a luggage storage site in San Francisco that is most convenient to your location and schedule. You can either book on arrival at the shop or book online in advance to secure your spot. Make an advance booking and you're guaranteed a space for your luggage.
Check out why KnockKnock recommends storing your baggage with LuggageHero!
Download our free app
For even more comfort you can download our LuggageHero bag storage app where you can easily see all our locations around San Francisco. With our luggage storage app, you are able to store your bags anywhere in our 1000+ locations.
Major and popular stations in San Francisco
Oracle Park — Oracle Park is the home of the San Francisco Giants. The park has a breathtaking view of San Francisco Bay along with a classic Baseball Stadium design. If you have time on your hands watching a Baseball match in Oracle Park might be worth it
Pier 39 — This place should be put on your list of things to do in San Francisco, with sea lions, waterfront seafood restaurants, top shopping, attractions, and bay views. Pier 39 is the premier entertainment destination in the heart of the San Francisco waterfront.
Embarcadero — The Boulevard that runs all along the waterfront of San Francisco, from the Bay Bridge, past the Ferry Building, and down to Pier 39 and Fisherman's Wharf is named the Embarcadero.The street is a popular place for strolling as a number of San Francisco attractions are found along the way.
2022 Guide: Luggage Storage San Francisco
You may be confused with the rules and regulations and wonder where bags and luggage are allowed in your travel destination. LuggageHero understands your pain and is happy to give you a big help. You just simply click Find Luggage Storage & Lockers in San Francisco and have a quick look to find all the updated information for your amazing trip.
Luggage storage chart
Based on the chart below, LuggageHero is the best luggage storage option in San Francisco. LuggageHero the only one that offers both hourly and daily prices with the possibility of insurance. Luggage storage in San Francisco has never been so easy!
The chart is created based on the most popular luggage storage options.
Frequently Asked Questions about luggage storage in San Francisco
Where can I store my luggage in San Francisco?
You can store your luggage in over 20 locations around the city with LuggageHero. The storage locations are near major attractions and interesting points in San Francisco perfect for everyone visiting the city. Using the LuggageHero map, you can see all bag storage locations and pick the perfect one for you.
What is the price for storing luggage in San Francisco?
The price is only $1/hour for luggage storage in San Francisco if you use LuggageHero. Furthermore, it will never cost you more than $8 for a whole day!
For how long can you store luggage in San Francisco?
You can store your luggage in any of LuggageHero's shops for as few hours as you like or for as long as you like. You only pay $8 per full day of luggage storage and $1 per hour!
Is it safe to store luggage in San Francisco?
Your luggage is completely safe when you store it with LuggageHero. Not only do we guarantee the safety of your belongings with the highest insurance coverage in the industry, but we also make sure your stored possessions remain secure and undisturbed. Your luggage is insured for up to 3000$ in San Francisco!
I have a problem with my luggage storage booking in San Francisco. What can I do?
If you encounter a problem with a luggage storage booking, you can email us at contact@luggagehero.com and we will get back to you and solve the problem as quickly as possible.
Is it safe to store my luggage with LuggageHero?
All luggage storage locations are verified for safety and carefully trained by our team before being listed on the site. Aside from that, we provide you with individually tagged tamper-proof seals for your baggage when you arrive. To offer an extra sense of security, every bag is covered by insurance that is up to £2200 per bag if you chose if you chose to add it to your booking, but there is always a guarantee.
Can I cancel my booking with LuggageHero?
Of course! We know that plans can change, therefore our customers have the option to cancel their booking up until midnight of the day before without any charges. For same-day cancellations and no-shows, there will be a fee which equals to the daily rate of £8