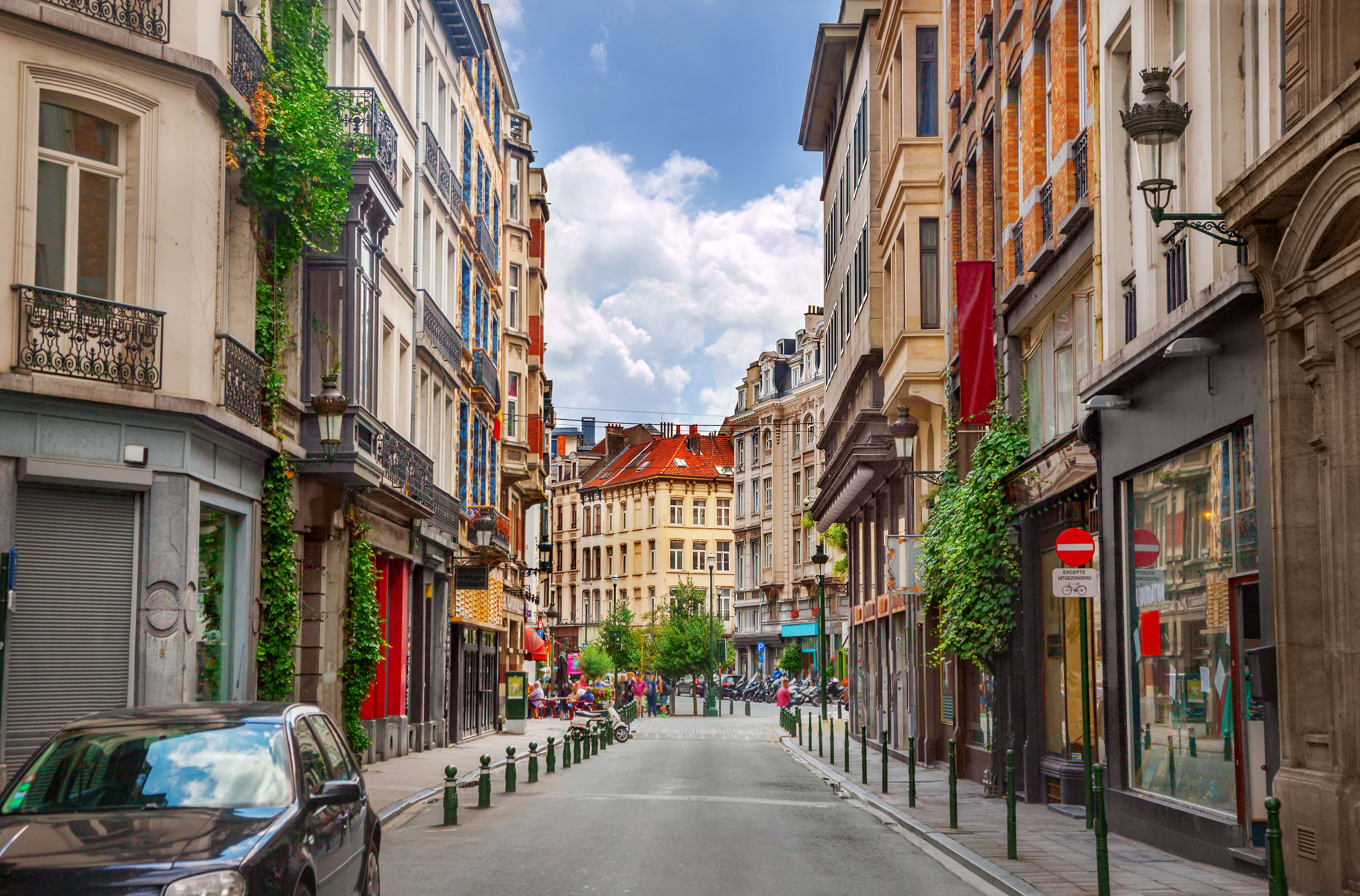 Luggage Storage in +20 locations around Brussels
Only luggage storage to offer choice of hourly or daily rates in Brussels
Det siger vores kunder om os
Bagageopbevaring Brussels
You've just arrived at Brussels airport and you want to start your day? That can be difficult if you can't check in at your rental or hotel right away and your suitcases are slowing you down. Instead, you can easily store your luggage  in Brussels. Next time you're in Brussels, remember that LuggageHero is here to save the day! You can check the map below to find the most convenient locations to store your luggage.
Drop off your bags by using LuggageHero's network of local shops located in  Brussels.
Luggage storage has never been easier! Just go to the LuggageHero reservation platform to find a handy storage site inside a shop or other business – all verified by us. Using our map, you can locate the shops close to transportation hubs and top visitor attractions and store your luggage there.
How Luggage Storage works:
A 3-step easy guide to storing luggage in Brussels

Download LuggageHero's free luggage storage app:
For even more comfort and ease, you can download LuggageHero's bag storage app. There you can see all our locations around you.
We provide the solution to your luggage storage problem 
LuggageHero is here to set you free from your luggage so you can explore Brussels without your bags. Just go to our Booking platform and find the nearest and most handy storage space inside a shop or another business. All our locations in Brussels, and in our other cities, are verified by us. Using the LuggageHero map, you can easily find the shops that are nearest to the metro stops and attractions and store your luggage there.
We store all kinds of luggage – any size and any shape
LuggageHero's users can store luggage of any size and/or shape in any of our storage locations. It doesn't matter if it is ski equipment, photo equipment, or backpacks – our luggage stores can accommodate it all. LuggageHero's customers can choose to be charged by the hour or choose our daily rate, regardless of what they store.
We can store your luggage for several days
LuggageHero also provides multi-day storage because we know flexibility is  essential when you travel. LuggageHero offers a lower daily rate when you store your luggage for a longer period. From the second day onwards, our customers pay only €5 per bag per day.
Pricing
Luggagehero is the ONLY luggage storage service that offers you a choice of hourly or daily rates in Brussels. A flat rate of €8 per day and €0.95 per hour allows you to pick an option that will best suit your needs. If you're only planning on staying for a few hours in a city, why pay for an entire day, as you would with other luggage storage services. No hidden fees and no need to pay in advance, pay only if you show up at the luggage drop-off location. All luggage is insured against damage, loss, and theft & a security seal is provided if you choose to add it to your booking. 
Opening hours
We have a variety of stores with different opening hours, so choose what fits you best! Go and pick the store here to see the opening hours.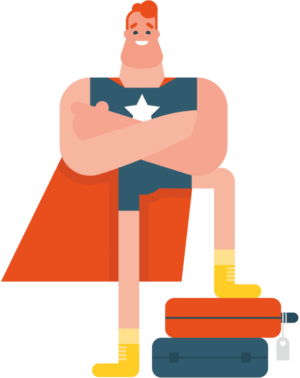 Which payment methods are accepted?
You don't need to worry about having the right currency on hand when paying online. All major credit cards are accepted. The shops do not receive cash when using LuggageHero. The insurance on your luggage is valid only if the payment has been made directly to LuggageHero.
Is there a difference between left luggage and luggage storage?
Left luggage and luggage storage are basically the same thing.  The term "left luggage" is mostly being used in the UK. Luggage storage is the most common name used internationally when referring to storing luggage. They are both defined by people's need of storing luggage that can be collected at a later time. So whether you are looking for "left luggage" or "luggage storage," LugaggeHero is here to take care of your belongings.
Safety
Unlike other luggage storage services, all our shops in Brussels have been reviewed by a LuggageHero employee, we provide optional security seals for each piece of luggage, and each piece of luggage and its contents can be insured for up to . You will not find any other luggage storage providers inBrussels that offer the same. Our customer online chat support is available 24/7.
We made it easy for you to compare companies offering luggage storage in Brussels – find the list here.
Half the price of station lockers and airport lockers
Luggage lockers, also called city lockers, are generally at least twice as expensive on a daily basis as LuggageHero's luggage storage service. Until relatively recently, travelers could only stow their bags in these luggage lockers, which offer very little flexibility in regard to pricing and location. where to go and luggage deposit. Today, LuggageHero offers countless stores in different cities in order for you to always have the option of dropping off your luggage in a safe environment. Unlike luggage lockers in stations and airports, LuggageHero also offers both an hourly and daily rate for maximum flexibility. LuggageHero strives to offer safe and cheap luggage storage near you at all times.
Luggage storage facility for suitcase, baggage and odd-sized luggage
We verify all our hotels and local shops in order for us to be able to offer space for whatever you need; ski equipment, photo equipment, backpacks or whatever. This is yet another way for us to give you the most flexible baggage storage, suitcase storage and luggage deposit.
Our service is similar to hotel luggage storage
Many travelers who have been customers at hotels have asked the staff at the reception if they could store their luggage until they depart the city later in the day. We offer, more or less, the same service for everyone – no matter if they stay at a hotel, Airbnb or somewhere else. We are always ready to help you out. 
Stow your bags in verified stores with this discount code
We offer our loyal customers and new customers a discount code for two hours of FREE luggage storage. The discount code works the rest of 2022 in ALL cities and ALL stores – including Premium Partner stores! 
Simply use the following discount code when you are booking:  LOVE2
Why book luggage storage in Brussels with LuggageHero?
Convenience:

We are the only service that offers both hourly and daily options,  so you can choose what best fits your plans for the most affordable price!

Flexibility:

From overnight storage to just a few hours, our luggage storage options are as flexible as it gets! We even have some stores where you don't need a reservation.  Click

here

to check which stores.

Affordability:

Our luggage storage facilities offer the best value for money

Safety:

All storage options are

fully insured up to
Trust:

Our service has the best and the most reviews around. With

more than 75,000 reviews, we have

an average rating of 4.8
Cancellation of booking
We know that plans can change, therefore our customers have the option to cancel their booking up until midnight of the day before without any charges.
For same-day cancellations and no-shows, there will be a fee which equals the daily rate of €8 per bag.
Luggage storage chart
Based on the chart below, LuggageHero is the best luggage storage option in Brussels. LuggageHero is the only one that offers both hourly and daily prices with the possibility of insurance. Luggage storage in Brussels has never been so easy!
The chart is created based on the most popular luggage storage options.
Download our free app
For greater convenience,  you can download our LuggageHero bag storage app, where you can easily see all our locations around Brussels. With our luggage storage app, you are able to store your bags anywhere in our 1000+ locations.
Discount Vouchers – Click here to see if we have any available at the moment for Brussels.
Check out why KnockKnock recommends storing your baggage with LuggageHero. Also featured in The New York Times, Lonely Planet, CNBC.
Frequently asked questions about your Brussels travels
If you are planning a trip to Brussels and there are things you want to know, check out the frequently asked questions below. Here are the FAQs about traveling to Brussels!
What is the best month to go to Brussels?
The best time to visit Brussels is between March and May and September and October, the shoulder seasons; this is when room rates are cheaper and the weather is mild.
Which airports are in Brussels?
Brussels only has two airports that serve people within and around the Belgian capital city namely; the Brussels Airport (BRU) and Brussels South Charleroi Airport or Charleroi Airport (CRL).
Where to stay in Brussels?
Many different areas of the city of Brussels offer attractive and comfortable accommodations for visitors, with something suitable for every preference and traveling budget. Neighborhoods such as the following welcome guests to friendly, appealing, desirable hotels, and more: The city centre, Sablon: elegant neighborhood close to city centre, Avenue Louise: upscale area with luxury shops, Ixelles: this neighborhood is one of the most diversified international neighborhoods in Brussels as well as one of the most centralized and Saint Gilles: popular and residential neighborhood.
What kind of plug adapter do I need in Brussels?
You'll need a power plug adapter. Type C - The standard European plug. Commonly used in Europe, South-America and Asia, but also in quite a few other countries. Plugs of type E and F will also fit in a type C outlet.
How long should I stay in Brussels?
As a minimum, we recommend 3-4 days in Belgium. With 3 days, you can briefly visit the most beautiful cities such as Brussels, Antwerp, Ghent, and Bruges.
What is Brussels famous for?
Brussels is world-famous for its chocolate, waffles, beer, and its national football team, the Red Devils. Belgium is also home to NATO headquarters and to the EU Commission and European Parliament. Brussels is often referred to as the capital of the EU.
Overall, Belgium is a safe country to travel to. Crime rates are low and anything happening to you on the streets of Belgium is unlikely. Overall risk: medium.
Is it safe to store my luggage with LuggageHero?
LuggageHero is completely safe to use for luggage storage as the shops are monitored by our employees with regular checks performed. On top of that, you have the option to add insurance on your luggage and bags which covers up to €2500.
Can I cancel my booking with LuggageHero?
Of course! We know that plans can change, therefore our customers have the option to cancel their booking up until midnight of the day before without any charges. For same-day cancellations and no-shows, there will be a fee which equals the daily rate of €8.