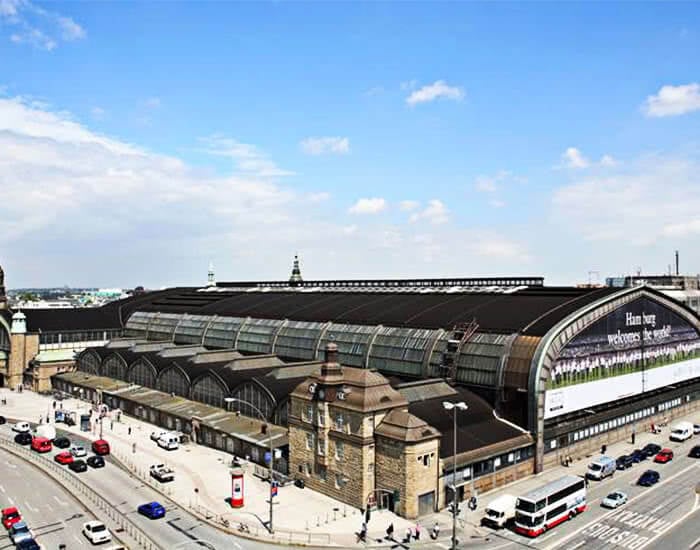 Consigne à bagages Hamburg Central Station
Déposez vos valises dans un hôtel ou une boutique certifiés à partir de €0.95/heure
Ce que disent nos clients
Consigne à bagages Hamburg Central Station
Vous vous promenez et vous avez besoin de déposer vos bagages à proximité de Hamburg Central Station ? Ne vous inquiétez pas, on s'en occupe. 
Déposez vos affaires dans l'une de nos consignes à bagages LuggageHero situées au coin de la rue.
Chez LuggageHero, nous proposons une consigne à bagages sécurisée et pas chère. Toutes nos boutiques sont certifiées par LuggageHero. Et n'oubliez pas : LuggageHero est le seul service de consigne à bagages qui propose un tarif horaire et journalier pour une flexibilité maximale. 
You can have a look at the map with all of our locations where you can store your luggage below:
LuggageHero storage sites are certified hotels, cafes, and shops. Advance bookings ensure space for your bags. The address and directions to our partner shops are available at the time of booking.

Hamburg Central Station
Hamburg Central Station, or also known as Hamburg Hauptbahnhof, is the main rail station of Hamburg, Germany. As one of Germany's major transportation hubs, it connects long-distance intercity routes and the U-Bahn and S-Bahn networks.

With an average of 550,000 passengers using the station per day, it can easily be said that HCS is Germany's busiest railway station.

The station is located in the Hamburg-Mitte area with the Wandelhalle Shopping Centre just north of the station.

Let's say you find yourself at the station with hours between train rides but you want to go out for some fresh air and explore Hamburg. With LuggageHero storage locations just outside the station, you can safely leave your luggage with us and you're all set.

With so much time on your hands (and the luggage out of your hands!) you're free to stroll around and visit some of the most popular Hamburg tourist attractions.

Panoptikum and Kunsthalle Hamburg are great places to start if you're feeling artsy. After that, you may want to get something to eat and get cozy in a cafe in Sternschanze, or if you're up for it, a sports match at Millerntor-Stadium would be fun to watch.
The options are endless, and you're free to choose what works best for you! You'll be back at the station in no time and on to the next city.

Feel free to drop by at any of our luggage-storage locations next time you're in Hamburg and you won't spend a minute dragging around your luggage. Let's make your Hamburg travel experience a memorable one! 
How to safely store luggage during COVID-19 in Hamburg
It's our common responsibility to try our best, and take care of each other. Remember that every little thing counts!
Remember to follow the current measures and guidlines to avoid the spread of the virus
Show consideration – keep distance when possible!
If you can, wear a mask before and after dropping your luggage
Wash your hands before and after visiting our certified shops – or use hand sanitizer!
If you are sick or think you might be infected – STAY HOME!
Download our app for more information
Tarif
LuggageHero est le SEUL service de consigne qui vous permet de choisir parmi des tarifs horaires ou journaliers à Hamburg Central Station.
Un tarif de €7 par jour et de €0.95 par heure vous permet de choisir l'option qui vous convient le mieux. Si vous ne prévoyez de ne rester que quelques heures dans une ville, pourquoi payer pour une journée entière, comme vous le feriez avec d'autres consignes à bagages ?
Moitié prix en comparaison des consignes des gares et des aéroports
Les casiers à bagages, également appelées consignes de ville, sont généralement au moins deux fois plus chers sur une base journalière que le service de consigne de LuggageHero. Jusqu'à récemment, les voyageurs ne pouvaient mettre leurs sacs que dans ces casiers à bagages offrant très peu de flexibilité quant aux prix et lieux de dépôt des bagages.
De plus, LuggageHero propose des boutiques dans de nombreux endroits afin que vous ayez toujours la possibilité de déposer vos bagages dans un environnement sûr. Contrairement aux consignes à bagages des gares et des aéroports, LuggageHero propose des tarifs horaires et journaliers. LuggageHero s'efforce de toujours offrir des consignes à bagages flexibles et bon marché près de vous. 
Nous acceptons toutes sortes de bagages, de toutes tailles et de toutes formes dans des boutiques vérifiées
Les utilisateurs de LuggageHero peuvent déposer des bagages de toutes tailles ou de toutes formes dans nos consignes. Peu importe qu'il s'agisse de matériel de ski, de matériel de photo ou de sacs à dos. Autrement dit, quel que soit le nom que nos clients satisfaits lui donnent – dépôt de bagages, entreposage de valises, consigne à bagages, etc. –, vous pouvez profiter de ce service en toute sécurité, car nous nous adaptons à tous vos besoins.
Les clients de LuggageHero peuvent choisir d'être facturés à l'heure ou d'opter pour notre tarif journalier, indépendamment de ce qu'ils déposent.
Vous pouvez laisser vos bagages pour plusieurs jours
LuggageHero propose également un dépôt de plusieurs jours parce que nous savons que la flexibilité est essentielle quand on voyage. LuggageHero diminue le tarif journalier lorsque vous déposez vos bagages pour une période plus longue.
À partir du deuxième jour, nos clients ne payent que €7 par bagage et par jour.
Téléchargez l'appli gratuite de consigne à bagages LuggageHero :
Pour plus de facilité, vous pouvez télécharger l'appli LuggageHero. Vous y trouverez tous les lieux que nous mettons à disposition autour de vous.
Horaires d'ouverture Nous avons une variété de boutiques avec différentes heures d'ouverture, donc choisissez celle qui vous convient le mieux.
Choisissez votre boutique ici
pour voir les horaires d'ouverture.
Quels sont les modes de paiement acceptés ? Nous acceptons les principales cartes bancaires.
Notez que les magasins n'acceptent pas les espèces lorsque vous utilisez LuggageHero, et rappelez-vous que l'assurance de vos bagages n'est valable que si le paiement a été effectué directement auprès de LuggageHero.
Annulation d'une réservation
Pour les annulations le jour-même ou en cas de non-présentation, les frais sont équivalents au tarif journalier de €7 par sac. Regardez pourquoi KnockKnock vous recommande de déposer vos bagages à l'aide de LuggageHero. Également cité dans leNew York Times, Lonely Planet et sur CNBC.
Frequently asked questions about Hamburg
Here are some of the most frequently asked questions about Hamburg and luggage storage.
Can you store luggage at Hamburg Hauptbahnhof?
Yes, you can store your luggage directly at the station. You can find both self-service lockers and Gepack center which is luggage storage with the service. Otherwise, you can use LuggageHero with its insurance included and free-cancellations policy.
Is it safe to store your luggage at Hamburg Hauptbahnhof?
It is totally safe to store your baggage with LuggageHero as the insurance is automatically included up to 2500€.
How much does it cost to store your luggage?
It is 1€ for an hour and it is never more than 8€ per day (24 hours). You may also use the official luggage storage of the station, which will cost you 5€ per item.
What are the opening hours of Hamburg Hauptbahnhof?
The Hamburg Hauptbahnhof is open 24 hours a day and 7 days of week.
When is the best time to visit Hamburg?
You can visit Hamburg all year round, but between May and September you get to enjoy the most sunshine which may encourage you to walk the city and explore more.
What is Hamburg famous for?
Hamburg has a wide variety of activities or things that could be done and seen. You can choose from its many museums and vibrant neighborhoods with the architecture from the 19th century. Hamburg is also famous for its Red Light District, where the Beatles made their first mark in 1960ies.
What currency is used in Hamburg?
The whole Germany uses Euro (€) as the national currency.
How much time do I need to explore Hamburg?
There is definitely a lot of things to be enjoyed in Hamburg, but 3 days should suffice to cover all the main attractions and some extra time to stop and enjoy the city in one of the many restaurants or cafés.
LuggageHero dans les médias
"LuggageHero, which offers online booking with a credit card — thus, eliminating the need for users to have local currency on hand — is one of the most recent players to expand its services. In December the company began operating in New York, where today it has some 250 locations."

"One solution is LuggageHero, which was already on the scene in Copenhagen and London, and has now expanded into New York. Its selling point is that it lets you store your luggage in a local shop, café or hotel, which is often more convenient than having to go to a storage facility at a train station."

"LuggageHero, which Jannik Lawaetz founded in 2016, currently has more than 300 storage locations in six cities (New York, London, Copenhagen, Lisbon, Madrid and Barcelona) and plans to expand to 39 cities by January 2020."

"LuggageHero founder and chief executive Jannik Lawaetz says that the concept was inspired by that mother of invention — necessity — and Airbnb. A couple of years ago, he and his girlfriend rented an apartment in Barcelona via the home-share service. They had a later flight on their day of departure and wanted to continue exploring the city, but didn't want to lug their suitcases around. "