Luggage Storage Tottenham Court Road Station
Only luggage storage to offer choice of hourly or daily rates in Tottenham Court Road Station
Ce que disent nos clients
Consignes à bagages Tottenham Court Road Station
Are you looking for luggage storage near Tottenham Court Road Station? You can store your bags with one of LuggageHero's luggage storage locations just around the corner and explore London hassle-free.

Download LuggageHero's free luggage storage app here:
You can download our LuggageHero luggage storage app where you can see all our locations around Tottenham Court Road Station. Your days of wasting time searching for luggage lockers are over!
You can see all of our luggage storage London locations on the map below:
LuggageHero storage sites are certified hotels, cafes, and shops. Advance bookings ensure space for your bags. The address and directions to our partner shops are available at the time of booking. All bags are sealed off with our security seals insuring each piece of luggage for  once you have dropped off your bags and started our storage timer on your booking page.
Check out why LuggageStorage recommends storing your baggage with LuggageHero.
Our storage location just around the corner from the station will enable you to enjoy a full day at the British Museum. If you are heading to the Dominion Theatre for a night out you can easily store your bags with our 24-hour location just next door.
We store all kinds of luggage – any size and any shape
LuggageHero's users can store luggage of any size and/or shape in any of our storage locations. It doesn't matter if it is ski equipment, photo equipment, or backpacks – our luggage stores can accommodate all. LuggageHero's customers can choose to be charged by the hour, or choose our daily rate – no matter their left luggage type.
We can store your luggage for several days
LuggageHero also provides multi-day storage to its customers because we know flexibility is essential when you travel.
LuggageHero offers a lower daily rate when you store your luggage for a longer period. From the second day onwards, our customers pay only £5 per bag per day.
Pricing
Luggagehero is the ONLY luggage storage service that offers you a choice of hourly or daily rates near Tottenham Court Road Station. Flat rate of £7 per day and £0.95 per hour which allows you to pick an option that will suit your needs best. If you're only planning on staying for a few hours in a city, why pay for an entire day as you would with other luggage storage services. No hidden fees and no need to pay in advance, pay only if you show up to the luggage drop off location.
Open daily 24/7. All luggage is insured against damage, loss, and theft & security seal is provided.
The difference between left luggage and luggage storage is the geographic location
Left luggage is luggage that people have left in a designated luggage storage facility. The term 'left luggage' is mostly being used in the UK. And luggage storage is a storage facility where people leave their luggage. Luggage storage is the most common name used internationally when referring to storing luggage.
In other words, there is absolutely no difference between the two concepts. They are both defined by people's need of storing luggage which can be collected at a later time. So whether you are looking for left luggage or luggage storage, LugaggeHero is here to take care of your belongings.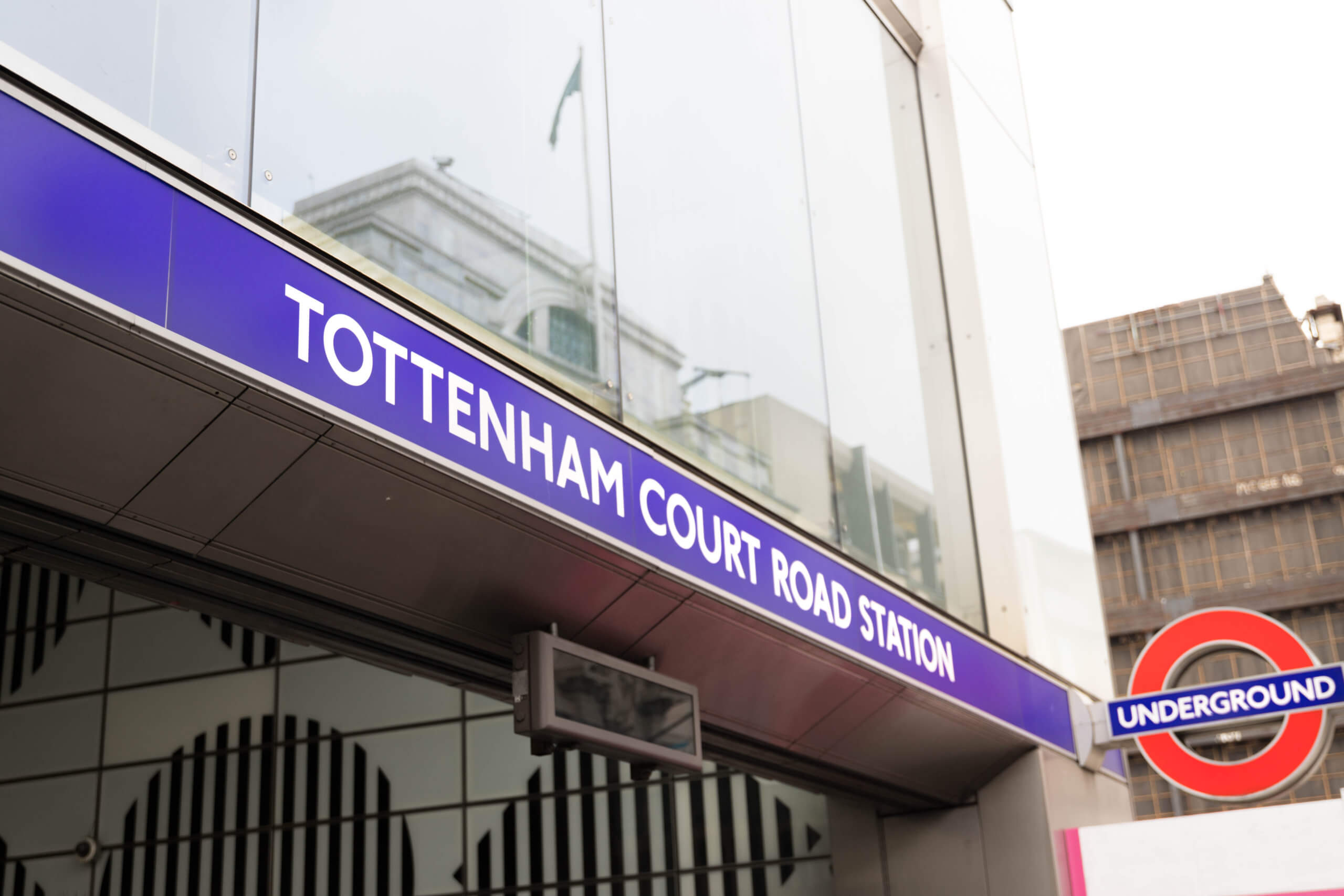 Tottenham Court Road Station
Tottenham Court Road Station is an underground station in St. Giles, West London. Served by the Central line and Charing Cross of Northern line, the station is located on the junction of Tottenham Court Road and Oxford Street.

The station was opened on July 30th, 1900 as part of the Central London Railway. Although modified, it still has some elements of the original facade. Most of the original station, like the nearby old buildings, has been demolished over time.

On January 12th, 2015, the new ticket hall opened for the first time and the station now has escalators to the Northern line level, one of the longest and fastest in the entire tube.

The next station eastbound on the Central Line from Tottenham Court Road Station is the British Museum Station. The station is close to attractions such as Dominion Theatre, St. Patrick's Church, and the famous Davenport's Magic Shop.

If your final destination is Tottenham Court Road Station and you have a few spare hours to check out the area, then you can store your luggage at our closest storage spot which is just 100 meters away from the station, and wander around hassle-free.

Leaving your luggage with us provides you with more time to explore and gives you the freedom of traveling care-free. By storing your bags near the station you have access to many other popular tourist locations such as the following:
Soho Square

Soho in central London is a great place to find live entertainment, interesting food, and a pulsing nightlife. This bustling area is best walked through and around without your luggage in order to get an authentic feel of London. The small streets all have something to offer and the "mood" changes from day to night within seconds. Soho is bordered by Oxford Street, Regent Street, Leicester Square, and Charing Cross Road.
Diverse, fun-loving, and never quiet, Soho attracts a wide mix of people. Its history, venues, and atmosphere make it a must-see place for tourists. You do not want to miss hanging out in Soho District on your visit to London. With several luggage-storage locations in Soho providing you with the convenience to explore the area, no matter if it is your arrival or departure day, you can walk around this beautiful part of London with your mind at ease.
Dominion Theatre
Dominion Theatre is a West End theatre, located on Tottenham Court Road. Gaining initial success with the premiere of Charlie Chaplin's City Lights in February 1931 and now home to the long-running musical We Will Rock You, Dominion Theatre is fit for theatre-lovers of all ages and genres. By storing your bags at our location near Tottenham Court Road Station, you can see a play at the theatre with your mind at ease. Treat yourself to a night out at the theatre while we hold onto your baggage.

With several luggage storage locations near Tottenham Court Road Station giving you the convenience to explore the area, no matter if it is your arrival or departure day, there is no reason why you shouldn't walk around and enjoy this beautiful part of London.
Luggage storage in a local shop is a fun and new service that saves you time on your travel days. LuggageHero teamed up with more than 120 shops around London to help out travelers with their luggage.
Luggage storage chart
Based on the chart below, LuggageHero is the best luggage storage option in London. LuggageHero the only one that offers both hourly and daily prices with the possibility of insurance. Luggage storage in London has never been so easy!
The chart is created based on the most popular luggage storage options.
Download our free app for leftluggage around Tottenham Court Road
For even more comfort you can download our LuggageHero bag storage app where you can easily see all our locations for Tottenham Court Road bag storage. With our luggage storage app, you are able to store your bags anywhere in our 1000+ locations. You can find more information on how to use the bag storage app in London right here. 
Frequently asked questions about Tottenham Court Road
Here are some of the most frequently asked questions about Tottenham Court Road
Does Tottenham Court Road Station have any luggage lockers?
No, there are no left luggage offices or lockers at Tottenham Court Road Station
How can I find the nearest location to Tottenham Court Road for storing luggage?
To find the nearest location to you, you can visit the LuggageHero website and click book now. Apart from that, you can download LuggageHero's app for even more convenience when booking your luggage storage on the go.
Is luggage storage with LuggageHero safe?
All luggage storage locations are verified for safety and carefully trained by our team before being listed on the site. Aside from that, we provide you with individually tagged tamper-proof seals for your baggage when you arrive. To offer an extra sense of security, every bag is covered by insurance that is up to £2200 per bag.
Where are my bags stored?
Luggage storage sites are located inside existing businesses, including retail outlets, hotels, cafes, and more. All are vetted by LuggageHero's local employee, who performs regular quality checks. Every piece of luggage is stored away from any public access and secured with a security seal every time.
Is there a size limit for the luggage?
LuggageHero's baggage storage network has no size restrictions. All sizes of luggage, big or small, can be accommodated.