Luggage Storage Santa Monica
Only luggage storage to offer choice of hourly or daily rates in Santa Monica
Ce que disent nos clients
Consignes à bagages Santa Monica
Are you looking for luggage storage around Santa Monica? You can store your luggage with one of our bag storage locations all around the area and explore LA hassle-free.
Download our free Santa Monica luggage storage app here:
You can download our LuggageHero luggage storage app where you can see all our locations around Santa Monica. Your days of wasting time searching for luggage lockers are finally over!
LuggageHero storage sites are certified hotels, cafes, and shops. Advance bookings ensure space for your bags. The address and directions to our storage locations are available at the time of booking. All bags are sealed off with our security seals insuring each piece of luggage for once you have dropped off your bags and started our storage timer on your booking page. With LuggageHero you can find more than 25 luggage storage locations all around Los Angeles.
We store all kinds of luggage – any size and any shape
LuggageHero's users can store luggage of any size and/or shape in any of our storage locations. It doesn't matter if it is ski equipment, photo equipment, or backpacks – our luggage stores can accommodate all. LuggageHero's customers can choose to be charged by the hour or choose our daily rate – no matter of their left luggage.
Pricing
LuggageHero is the ONLY luggage storage service that offers you a choice of hourly or daily rates in LA. Flat rate of $8.3 per day and $0.95 per hour which allows you to pick an option that will suit your needs best. No hidden fees and no need to pay in advance, pay only if you show up to the luggage drop off location. All luggage is insured against damage, loss, and theft & security seal is provided.
We can store your luggage for several days
LuggageHero also provides multi-day storage to its customers because we know flexibility is an essential part when you travel.
LuggageHero offers a lower daily rate when you store your luggage for a longer period. From the second day onwards, our customers pay only $5 per bag per day.
Is there a difference between left luggage and luggage storage?
Left luggage is luggage that people have left in a designated luggage storage facility. The term 'left luggage' is mostly being used in the UK. And luggage storage is a storage facility where people leave their luggage. Luggage storage is the most common term used internationally when referring to storing luggage.
In other words, left luggage and luggage storage are synonyms, hence there is no difference between the two phrases. They are both defined by people's need of storing luggage, which can be collected at a later time. So whether you are looking for left luggage or luggage storage, LugaggeHero is here to take care of your belongings.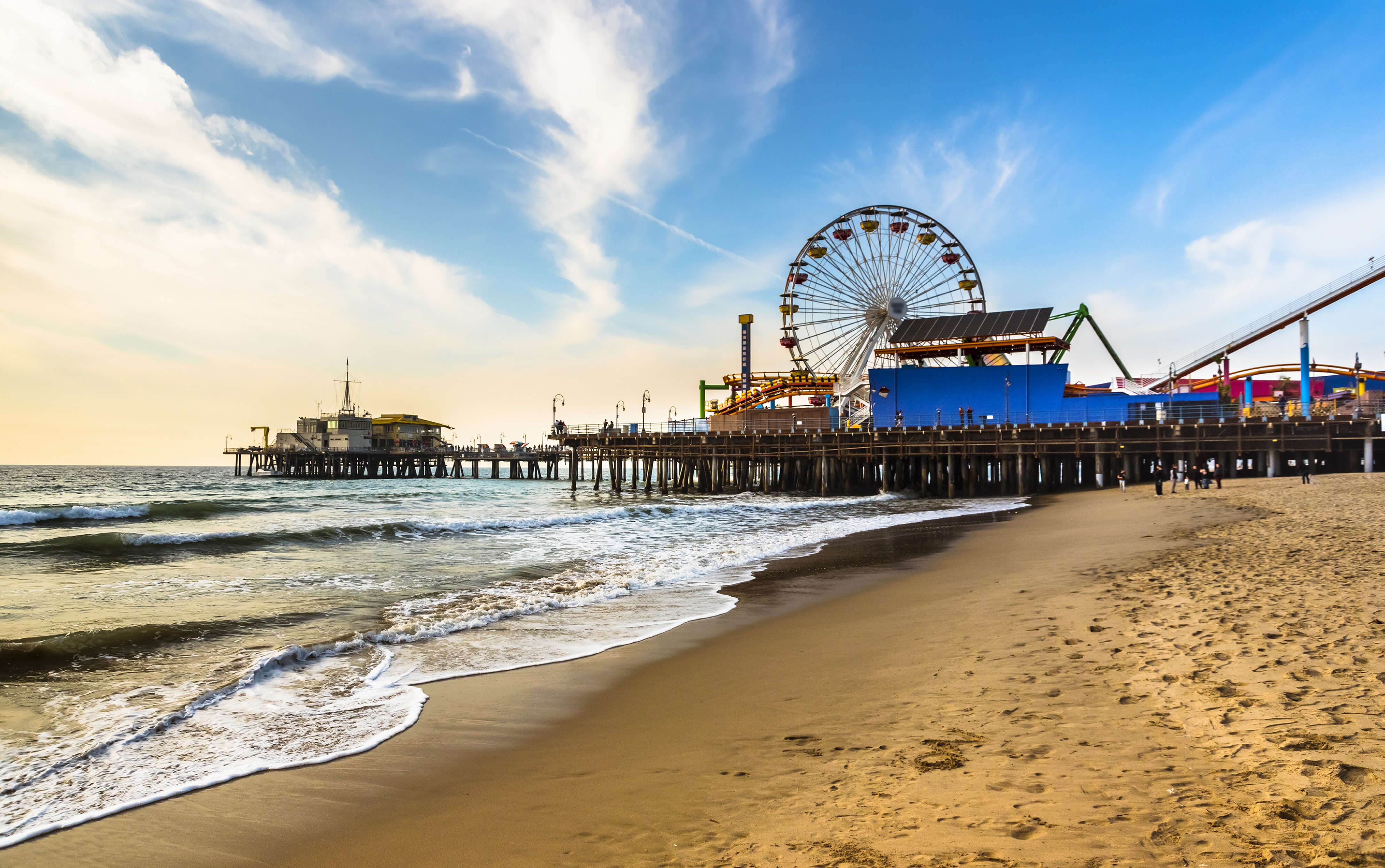 Santa Monica
Santa Monica is a beachfront city in western Los Angeles. 8.3 walkable miles situated on Santa Monica Bay, it's one of the most popular places to visit in the state.

Some of the most popular destinations here are the Santa Monica Pier and Pacific Park. Paying a visit to Santa Monica gives you access to Santa Monica Looff Hippodrome, a famous carousel in Santa Monica Pier. It was built in 1909 and is considered a National Historic Landmark.
Many New Year's Eve ballrooms and national broadcasts were aired from La Monica Ballroom on the pier. Close by is the Monica Civic Auditorium, a venue where the Academy Awards were hosted in the 1960s. The Santa Monica Museum of Art is another tourist favorite, and the list goes on.

Shoppers of the world also like to visit Santa Monica for its three main shopping districts: Montana Avenue, the Main Street district, and the Third Street Promenade. The Montana Avenue is made up of luxury boutiques and offers an upscale shopping experience, while the other two are more personal, unique, and outdoorsy, packed with street performances and a huge dining complex.

Storing your luggage at any of our locations across Santa Monica gives you access to all of the gems described above and more. You can stroll around, shop, hit the beach, and go back in time and visit some of the most famous historic places, and yes – all in one day – while we hold onto your luggage.

You also have the option of leaving your heavy bags with us for a bit longer so you can visit other popular tourist LA locations such as Hollywood, Beverly Hills, Universal Studios, and Venice Beach. The options are endless, so count on us to make your Santa Monica trip a special one.
Use our map to find the nearest certified shops near Santa Monica
Frequently Asked Questions about Santa Monica
How do I find luggage storage near me?
It is easy to find storage lockers nearby if you search online for a luggage storage company. You can find sites where you can quickly locate a storage locker nearby. This is easy to do because luggage storage companies have maps that show exactly where their different storage locations are throughout the relevant city.
Luggage storage sites are located inside existing businesses, including retail outlets, hotels, cafes, and more. All are vetted by LuggageHero's local employee, who performs regular quality checks. Every piece of luggage is secured with unique security seals provided for free at your local LuggageHero.
What is the price to store luggage in Downtown LA?
Most luggage services charge their customers for an entire day. However, LuggageHero provides its customers another pricing system - we charge by the hour, $1 per bag.
Where are my bags stored?
Luggage storage sites are located inside existing businesses, including retail outlets, hotels, cafes, and more. Every piece of luggage is stored away from any public access and secured with a security seal every time.
Is there a size limit to store a luggage with LuggageHero?
LuggageHero's users can store luggage of any size and/or shape in any of our storage locations. It doesn't matter if it is ski equipment, photo equipment, or backpacks - our luggage stores can accommodate all.
If anything happens to my luggage, what can LuggageHero do?
When you choose us, you select a risk-free option. If something unexpected occurs, our insurance covers your luggage up to $3000.
You don't pay unless you drop off your baggage at a LuggageHero shop. We do this because it's how we personally would like to be treated. Therefore, no amount will be charged if you fail to show up for your booking.
What will happen in case I have a problem with my booking?
If you encounter a problem with a luggage storage booking, you can email us at contact@luggagehero.com and we will get back to you and solve the problem as quickly as possible.