Luggage Storage in +10 locations around Brighton
Only luggage storage to offer choice of hourly or daily rates in Brighton
Deposito Bagagli Brighton
What's worse than arriving too early at an Airbnb check-in and not being able to enjoy the surroundings because of your luggage. Or to have a few hours ahead of your train at Brighton Station. Don't bother looking anymore for "Brighton station left luggage" or "Brighton station lockers". LuggageHero helps you enjoy 100% of your stay in Brighton. Our luggage storage locations in Brighton will help you enjoy the city without worrying about the weight and safety of your luggage.
Download LuggageHero's free app 
Download LuggageHero's app where you can easily see all our locations for luggage storage in Brighton. With our luggage storage app, you are able to store your bags anywhere in our locations.
Store your luggage in Brighton
Brighton is a seaside town in East Sussex County. It is also the green capital, the LGBTQ capital of Britain, and a unique place.
In the city, you can enjoy Street-Art easily. Find the Dead Rock Stars mural or stroll through the North Laine and London Road neighborhoods and enjoy the spectacular graffiti and performances.
If you are looking to shop or simply have a drink, you should visit the shopping streets of Bond St, Gardner St, Kensington Gardens, and Sydney St. From here, there are countless opportunities.
Brighton is next to a national park and is a perfect starting point for a trip to South Downs National Paérk.
The town is by the sea so it is mandatory to take a ride on its pebble beach and just enjoy the view.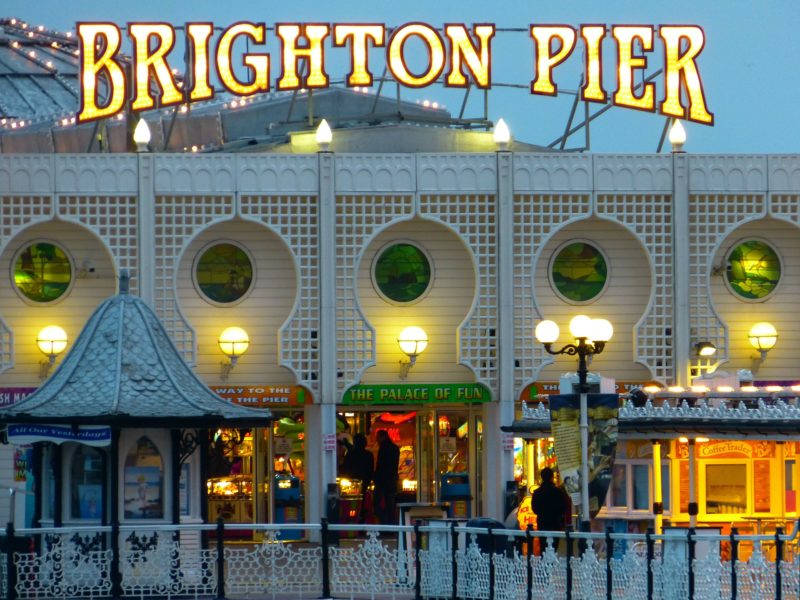 You can pay by the hour, unlike other services!
Our advice service is fast, convenient, and economical.
We offer our customers several payment methods. LuggageHero charges £1 only per hour used, unlike most other luggage storage services that charge per day. But if you want to drop off your luggage for the day or more, we guarantee a maximum limit per day at the attractive price of £8. That's how we think left luggage Brighton should be paid in 2021.
We store all kinds of luggage – any size and any shape
LuggageHero's users can store luggage of any size and/or shape in any of our store locations. It doesn't matter if it is ski equipment, photo equipment, or backpacks – our luggage stores can accommodate all. LuggageHero's customers can choose to be charged by the hour or choose our daily rate – no matter of their left luggage.
We can store your luggage for several days
LuggageHero also provides multi-day storage to its customers because we know flexibility is an essential part when you travel. LuggageHero offers a lower daily rate when you store your luggage for a longer period. From the second day onwards, our customers pay only $5 per bag per day!
Are you ready to drop off your bags?
Security
We carefully certify and train the operators of all our LuggageHero luggage storage locations in Brighton to handle your personal belongings to ensure maximum security.
All our stores in Brighton have been checked by a LuggageHero employee, who regularly conducts quality checks to ensure that our customers' luggage is stored safely and securely.
In addition, we provide a security seal for each piece of baggage. It is given to you when you arrive at the shop and guarantees that no one can access your belongings.
In addition, each bag and its contents can be insured for up to £2200.
If you need help, remember that our online support service is available 24/7.
Book safely
We make every effort to ensure that your trips are as simple and smooth as possible, which is why we do not charge you ANY FEES until you have left your luggage.
Use our online reservation service to choose the most convenient Brighton luggage storage for you, depending on where you are and your program. You can either book on arrival at the shop or book online in advance to secure your place. Make a reservation in advance and you will be sure to have a place for your luggage.
But we know that sometimes plans change, especially when you're traveling. So if you decide not to come, you don't pay anything at all. Nada. Zero. Niet. Tits. Nothing! And no, you don't even need to cancel! Pretty practical no.
Luggage Storage in Brighton during COVID-19:
Many places are still open for luggage storage in Brighton
Be responsible and do not forget to disinfect before and after using any type of locker service or luggage storage
If necessary, consider using a mask to drop off your luggage, to protect your surroundings
It is safe to store luggage as stores and museums follow the restrictions, but be very careful and don't forget to wash your hands (or disinfect)
When you drop off your luggage in LuggageHero's luggage storage areas, whether it's a hotel, restaurant, or bar, you help support local businesses during these challenging times.  Thank you!
Don't forget to download our app!