Luggage Storage Gare de l'Est
Store your bags in a certified local shop from /hour
Deposito Bagagli Gare de l'Est
Are you looking for luggage storage near Gare de l'Est in Paris? You can store your bags at one of our baggage storage locations just around the corner from the station and enjoy your day in Paris hassle-free.
LuggageHero storage sites are certified hotels, cafes, and shops. Advance bookings ensure space for your bags. The address and directions to our storage locations are available at the time of booking. All bags are sealed off with our security seals ensuring each piece of luggage up to once you have dropped off your bags and started our storage timer on your booking page.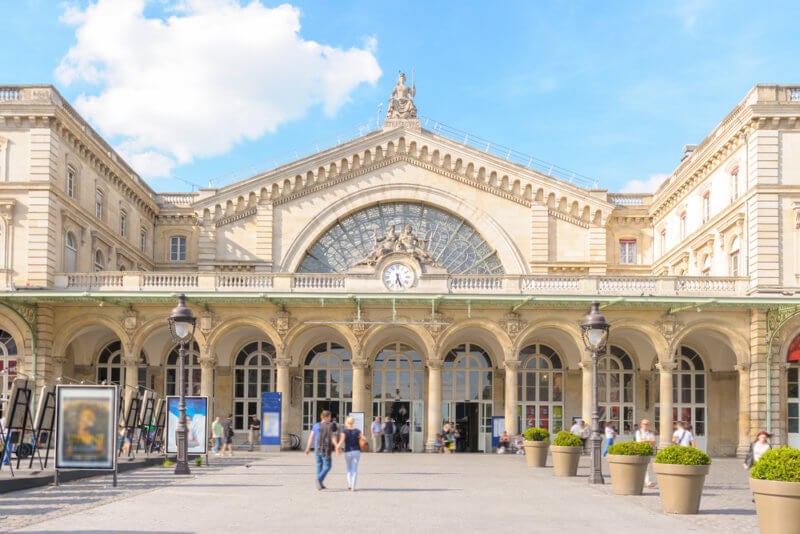 Gare de l´Est
In the eastern part of Paris, you'll find Gare de l´Est, officially the Paris-Est station and it is one of the largest and oldest railway stations in Paris. Conveniently, this station is close to the Gare du Nord and it faces the Boulevard de Strasbourg.
The Gare de l´Est is a terminus with easy, flat and level access between the taxi rank, concourse, and all platforms making it easy to navigate with wheeled luggage.
The Regional Express train departs every 7 to 15 minutes from 5 am to midnight. If you are heading to Charles de Gaulle Airport from Gare de L´Est you'll have to take a quick walk to Paris Nord Train Station and go from there.
Next time you're in or near Gare de l'est station and you need to store your luggage somewhere, feel free to drop off your bags at any of our luggage storage Paris locations available around the station.
Frequently Asked Questions about Gare de l'Est
Here are some of the most frequently asked questions and answers about Gare de l'Est.
Are there left-lockers at Gare de l'Est?
Luggage storage is available at Gare de l'Est every day from 7:30 h to 10:30 h on the metro level. The maximum length of time to store your luggage is 72 hours and locker fees vary from station to station. If you wish to leave your luggage for longer and at your convenience, you can store your bags at any luggage storage locations just outside the station.
How far is Gare de l'Est from the Eiffel Tower?
The distance between Gare de l'Est and Eiffel Tower is 5 km.
Do you need to book in advance to visit Gare de Paris-Est?
We recommend booking Gare de Paris-Est tours ahead of time to secure your spot. If you book with Tripadvisor, you can cancel up to 24 hours before your tour starts for a full refund.
How do you get from Gare de l'Est to Gare de Lyon?
You can take line 4 from Gare de l'Est to Châtelet and transfer to line 1 in order to get to Gare de Lyon. It will only take about 20 minutes.
What are the 10 best hotels close to Gare de l'Est?
1. Le Grand Quartier 2. Le Robinet d'Or 3. OKKO Hotels Paris Gare de l'Est 4. Hotel Whistler 5. Chambres de la Grande Porte Bed & Breakfast 6. A Room in Paris 7. Sweet Inn - Grands Boulevards - Enghien 8. Chambers de la Grande Porte Bed & Breakfast 9. 25 Hour Hotel Terminus Nord 10. Relais du Pré
What are the most popular things to do near Gare de l'Est?
10th Arrondissement, Eglise Saint Laurent, Le 29, Caves Bardou, Marché Saint Quentin, Le Manoir de Paris, cafe Moustache, Jardin Villemin,etc.
How far is The Eiffel Tower from Gare de l'Est?
The Eiffel Tower is approximately 22 minutes (6.6 km) away from Gare de l'Est via Avenue de New York.