Luggage Storage in +25 locations around San Diego
Only luggage storage to offer choice of hourly or daily rates in San Diego
Deposito Bagagli San Diego
Luggage storage San Diego
You can stop searching for lockers to store your luggage in San Diego. The next time you're in Californian Beach City, remember that LuggageHero is here to save the day!
Download LuggageHero's free luggage storage app here:
You can download our LuggageHero luggage storage app where you can see all our locations around San Diego. Your days wasting time searching for lockers are over!
Drop off your bags by using LuggageHero's network of stores located around crucial traffic hubs and popular districts. These include Santa Fe Train Station, Downtown San Diego, Old Town Station, and the Convention Center Station.
Let's say that you arrive from San Diego International Airport hours before your rental is ready and you want to check out the sights without pulling your luggage behind you. Maybe you want to visit the Convention Center or Gaslamp Quarter, hang out at the Marina, or maybe watch a game at Petco Park. Make all days count, we're here to store your luggage. Bear in mind, there are currently no luggage storage options at the airport!
Are you heading up the West Coast? You can store your bags at one of our locations near Pacific Beach and La Jolla.
About San Diego
You´ve surely heard about California and the characteristics assigned to this place – sunny, laid-back, or hip. San Diego is however more than that. Not only you can spend your time doing watersports such as surfing, kayaking or scuba diving. You can venture for a road trip, as the area has plenty of scenic routes, you can choose from the historic highway route to the coastal epic roadway. After a long day on the beach, you may hit Gaslamp District full of restaurants, bars, and even casinos. San Diego is known for its nightlife! If you want to keep low-key and you can visit USS Midway Museum which is the longest-serving aircraft carrier in US naval history. Today it is turned into a museum.
Luggage storage near me
Just go to the LuggageHero reservation platform to find a handy storage site inside a shop or other business – all verified by us. Using our map, you can locate the shops that are nearest to stations you'll use or attractions you'll visit and store your luggage there.
Pay by the hour – unlike other services!
We offer a speedy, convenient, and low-cost service.
In comparison to other luggage storage services where you pay for the entire day, you can choose to only pay for the hours spent with LuggageHero. If you want to store your luggage all day or longer, we offer you a low daily cap of .
We're looking out for you
Our top priority is your safety and security! All our shops in San Diego have been carefully reviewed and certified by the LuggageHero team and each bag stored is sealed with a unique security seal to keep them tamper-free. Every bag and its content can also be ensured for up to
If you need to talk to someone at LuggageHero, we're here for you 24/7 through our online chat.
We store all kinds of luggage – any size and any shape
LuggageHero's users can store luggage of any size and/or shape in any of our storage locations. It doesn't matter if it is ski equipment, photo equipment, or backpacks – our luggage stores can accommodate all. LuggageHero's customers can choose to be charged by the hour or choose our daily rate – no matter of their left luggage.
We can store your luggage for several days
LuggageHero also provides multi-day storage to its customers because we know flexibility is an essential part when you travel.
LuggageHero offers a lower daily rate when you store your luggage for a longer period. From the second day onwards, our customers pay only $5 per bag per day
Are you ready to store your bags in one of our many LuggageHero San Diego luggage storage locations?
Find your perfect place and choose between more than 25 locations throughout San Diego! 
Check out why KnockKnock recommends storing your baggage with LuggageHero.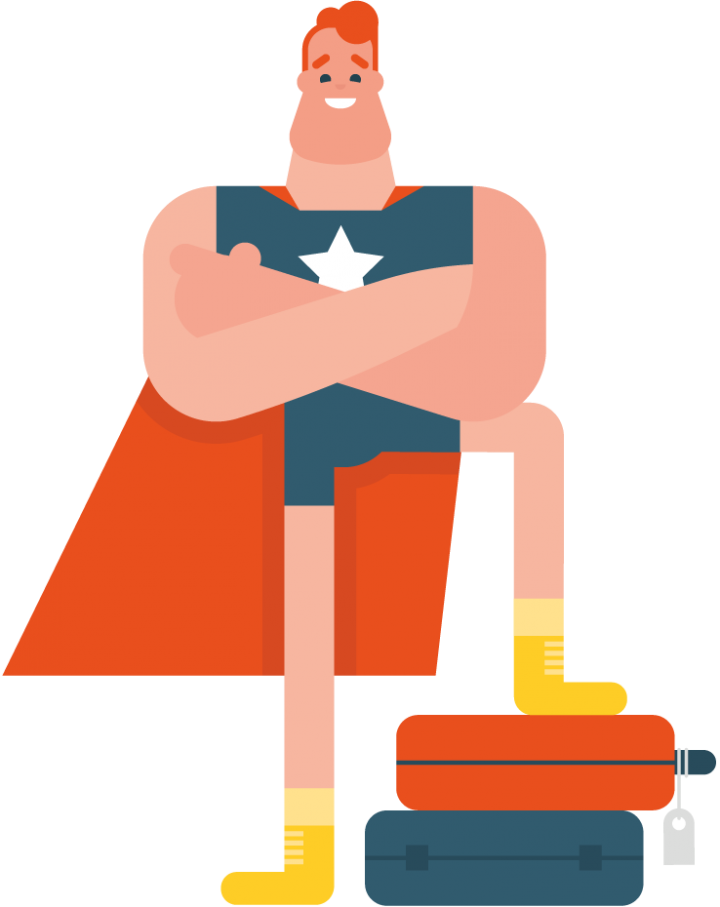 Book risk-free
Traveling has to be easy and convenient. This is why you only pay if you show – NO FEES are charged to you until your luggage is dropped off.
Find luggage storage sites all around San Diego that are most convenient to your location and schedule by using our online search engine. Book online in advance and you're guaranteed a space for your luggage.
Sometimes plans change, especially when you're on the road. If you don't show up, there's no charge.
Storing luggage in San Diego during COVID19:
Many shops and locations in San Diego are still open for storing luggage
Be responsible and remember to sanitize before and after using any kind of luggage storage service or locker in San Diego
When necessary, remember to use a face mask when dropping off your luggage in San Diego, to protect those around you
It is safe to store luggage in San Diego as shops are following restrictions, but be extra cautious and remember washing hands (or sanitizing)
When you store your luggage in local shops in San Diego, you are helping support local businesses in these difficult times. Thank you!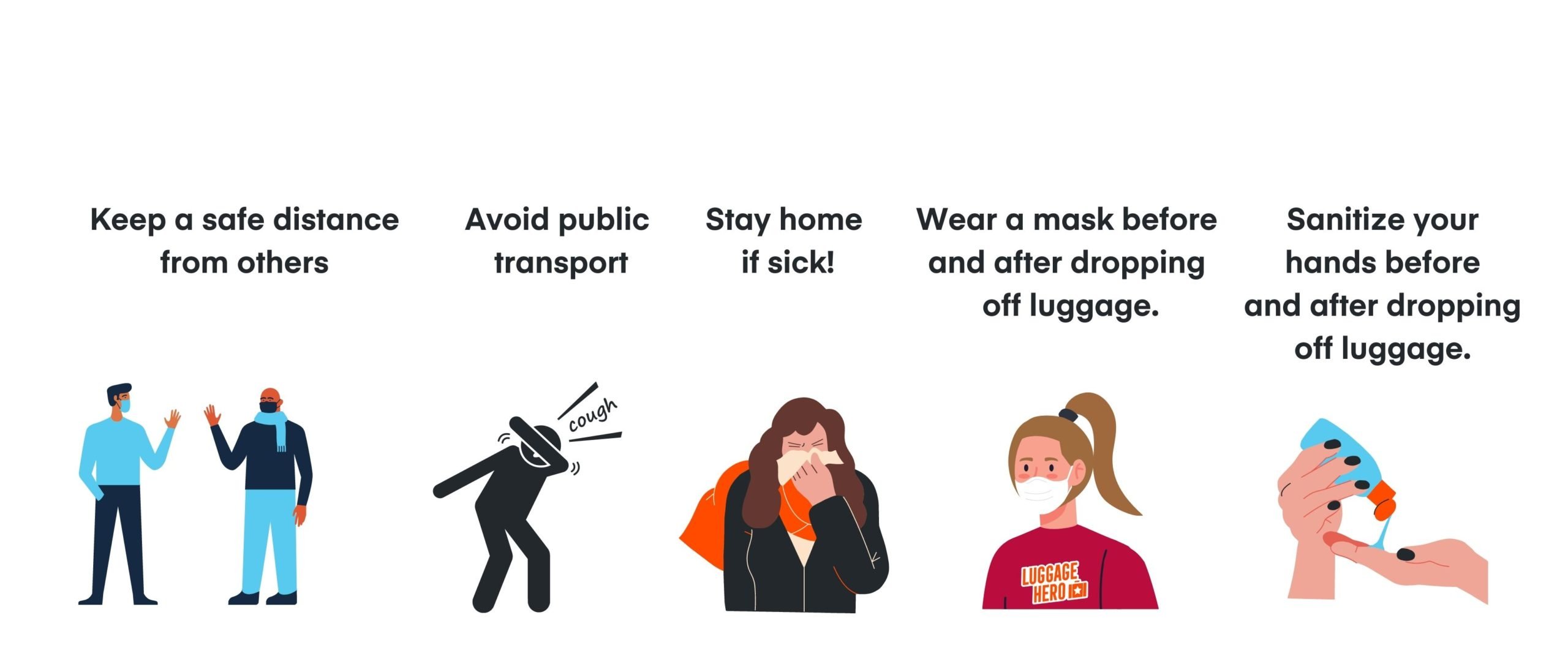 Download our free app
For even more comfort you can download our LuggageHero bag storage app where you can easily see all our locations around San Diego. With our luggage storage app, you are able to store your bags anywhere in our 1000+ locations.
2021 Guide: Luggage Storage San Diego
You may be confused with the rules and regulations and wonder where bags and luggage are allowed in your travel destination. LuggageHero understands your pain and is happy to give you a big help. You just simply click Find Luggage Storage & Lockers in San Diego and have a quick look to find all the updated information for your amazing trip.
FAQ
You can find the most common FAQ below
Where can I store my luggage in San Diego?
You can download LuggageHero app and see all the locations, where you can drop your luggage. There is more than 25 of them.
How much does storing of my luggage cost?
It will cost you $1/hour and $8 per day (24 hours).
Is luggage storage in San Diego safe?
Absolutely! We seal all the items with protective foil to prevent any damages and all your items are automatically insured up to $2500.
What is there to see/do in San Diego?
San Diego, also called Californian Beach City has a plenty to do and see! From outdoor activities, through water sports to road trip trails, San Diego is a place that pleases everyone! San Diego is also famous for its food scene, art & cultur, casinos and night life.
How many days do I need for San Diego?
We recommend you to stay in San Diego between 3-4 days.
What is the best time to visit San Diego?
Probably the best times to visit San Diego is either between March and May or between September and November. These times are the best because of the low season and better prices, but at the same the weather conditions are rather pleasant than too hot.