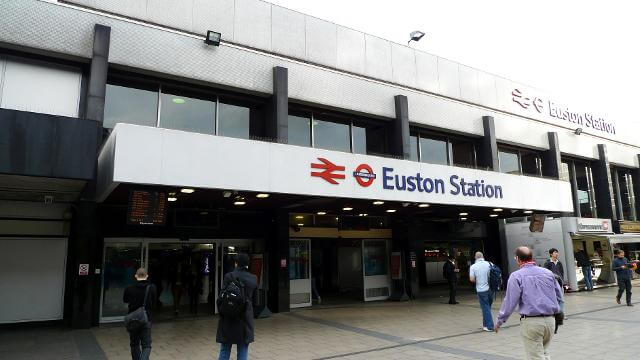 Luggage Storage Euston Station
Only luggage storage to offer choice of hourly or daily rates in Euston Station
Mais de 55.000 viajantes avaliaram LuggageHero
Luggage storage Euston Station
Need to store your luggage near Euston Station? Drop off your bags at one of our luggage storage locations just around the corner. When storing with LuggageHero, local certified shops around Euston station will take care of your luggage. All bags are sealed with our tamper-proof security seals and insured for up to . Left luggage Euston has never been so easy before.
LuggageHero is the cheapest, easiest, and most convenient baggage storage service in London, helping you turn your travel days into holidays. Our community of LuggageHeroes in London will take excellent care of your luggage while you explore the surroundings.
To suit your constantly changing plans, we have a risk-free booking policy, which means that you only pay if you show up. Drop off your luggage and pick it up when it suits you, without being overcharged. Activate our storage timer once you arrive at a LuggageHero location and end the storage timer once you come to collect your belongings.
Download our free luggage storage app here:
For even more comfort and ease, you can download our LuggageHero bag storage app where you can see all our locations for left luggage Euston.
Left luggage Euston costs and prices never cost more than 8 pounds per day! Luggage storage Euston has never been so simple and easy before.  Leave your bags with just a few clicks and enjoy your time in London.
If you don't want to download the app, you can also simply book through our website by clicking on the button below.
Skip booking and go straight to our store!
If visiting Euston Station was a spontaneous decision and did not get the chance to book luggage storage in advance, do not worry.
We offer a "walk-in" solution just 3 minutes away from the station. This means that there is no need for advanced booking, no change in price, and open 24/7.
Find your nearest certified shop using our map:
Euston Station Luggage Storage London
You'll find several tourist attractions around Euston Station such as The British Library and Regent's Park. The British Museum is only a 15-minute walk away.
Euston station is a major railway and underground station in London.  That is why Euston Station left luggage might be on a lot of people's minds. The station is in central London, close to Kings Cross, Regent's Park, Somers Town, and Bloomsbury. The station itself doesn't offer any luggage storage service or left lockers. From Euston station, you have a direct line to Victoria Station, Liverpool Street Station, Paddington Station, and King's Cross Station.
There are no self-storage lockers at Euston Station. As an alternative for storing your luggage, you can use Excess Baggage Co. which provides storage facilities. Storing your luggage for 3 hours will cost you £7.50 and 24 hours will cost £12.50. Although, this may end up more expensive than what LuggageHero offers! 
Left Luggage Euston Station prices with LuggageHero are never more than 8£ per day!
The difference between left luggage and luggage storage is the geographic location
Left luggage is luggage that people have left in a designated luggage storage facility. The term 'left luggage' is mostly being used in the UK. And luggage storage is a storage facility where people leave their luggage. Luggage storage is the most common name used internationally when referring to storing luggage.
In other words, there is absolutely no difference between the two concepts. They are both defined by people's need of storing luggage which can be collected at a later time. So whether you are looking for left luggage or luggage storage, LugaggeHero is here to take care of your belongings.
Tips on storing luggage near Euston Station during COVID19:
You can leave luggage at Euston or near the station in numerous shops that are open during the pandemic.
The shops are following regulations and are generally safe to use and leave luggage in.
Don't forget to sanitize your hands before and after dropping off your luggage at Euston Station or near.
Wear a mask whenever you are able to when dropping off and picking up luggage, in order to avoid the spread of the virus.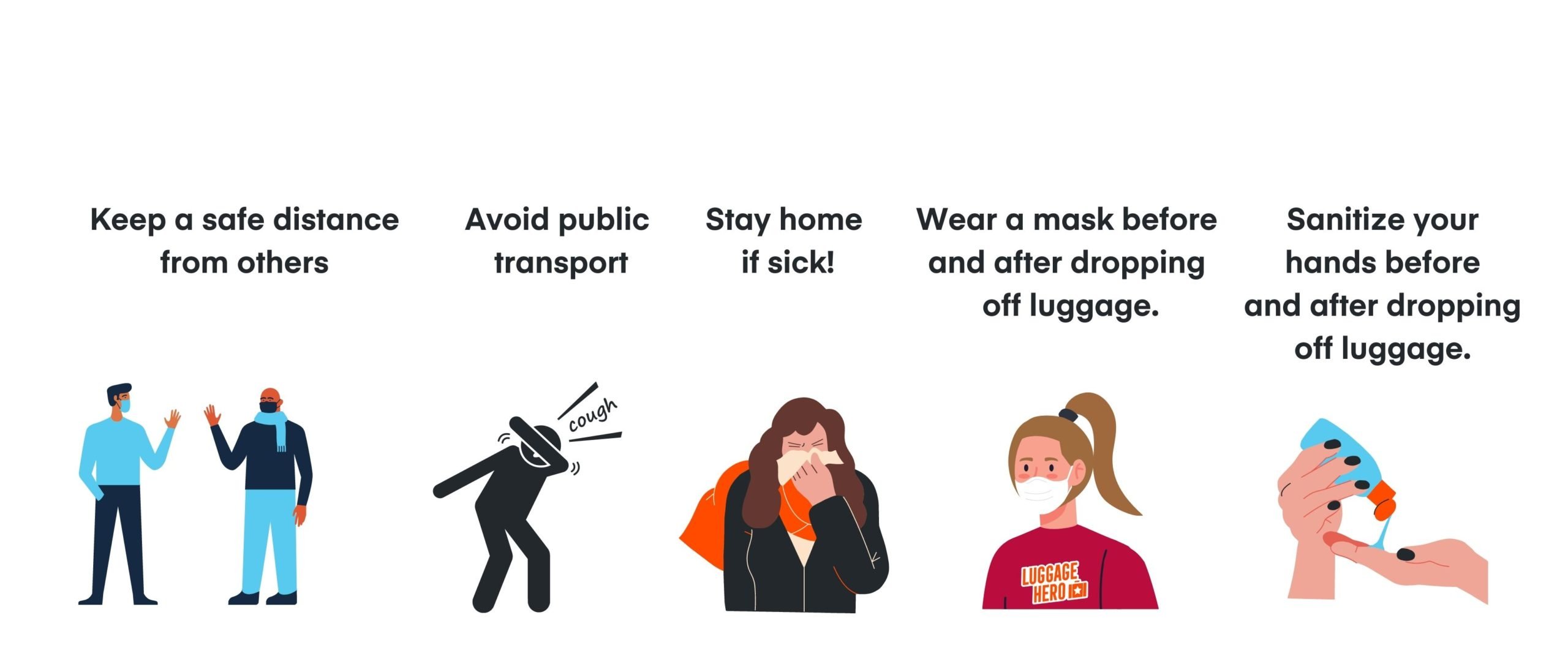 Frequently Asked Question about Euston Station.
Here are some of the most frequently asked questions about Euston Station.
What are Euston Station's opening hours?
The opening hours are Monday to Saturday: 04:30 – 01:34, Saturday: 04:30 – 02:00, Sunday: 05:15 – 01:34.
Where can taxis be found near Euston Station?
The taxi rank is outside the front of the station (formerly Euston Square Gardens West). The taxi rank is clearly sign-posted from the station. However, to get there, turn right onto Euston Road. (Access to the rank is off Euston Road into Melton Street) This location offers level access from the station concourse. Staff are on hand to assist customers with special mobility need.
Where can one take a bus from, near Euston Station?
There is a bus station at the front of the train station and there are bus stops on Eversholt Street. For more information on buses please visit the TfL buses website.
I need additional information about my train and cannot find it online, what should I do?
For information about trains to and from Euston station call 03457 48 49 50.
Which are the lines serving the Euston Underground station?
The lines serving the Euston Underground Station are Northern (Bank and Charing Cross branches) and Victoria Station. The entrance is opposite the main departures board. The ticket hall can be accessed by lift, stairs or escalator. Please not that there is no step-free access between the Undergorund ticket hall and their platforms – underground platforms can only be reached by escalator or stairs.
How can one get to Euston Square?
To get there, exit the western side of the station, walk through the taxi rank and turn right on Euston Road (in front of the station) and walk 150 metres.
Which lines are serving Euston Square?
The lines serving Euston Square are Hammersmith & City, Circle and Metropolitan.
Where can the accessible toilets be found?
The toilets can be found near the top of the ramp to platforms 1-3, opposite Starbucks. You will need a Radar key – please ask at the mobility reception by the ticket office if you do not have one.
Is there free WiFi at Euston Station?
Free Wifi at Euston Station is available at The Signal Box on the food terrace inside the train station. The Signal Box offers free and very fast Wifi, which is available to you while you are on the station.
Where does the 59 bus go?
The first stop of the 59 bus route is Telford Avenue (T) and the last stop is Euston Bus Station (AP). 59 (Direction: Euston) is operational during weekdays. On top of that, 59 has 34 stops and the total trip duration for this route is approximately 55 minutes.