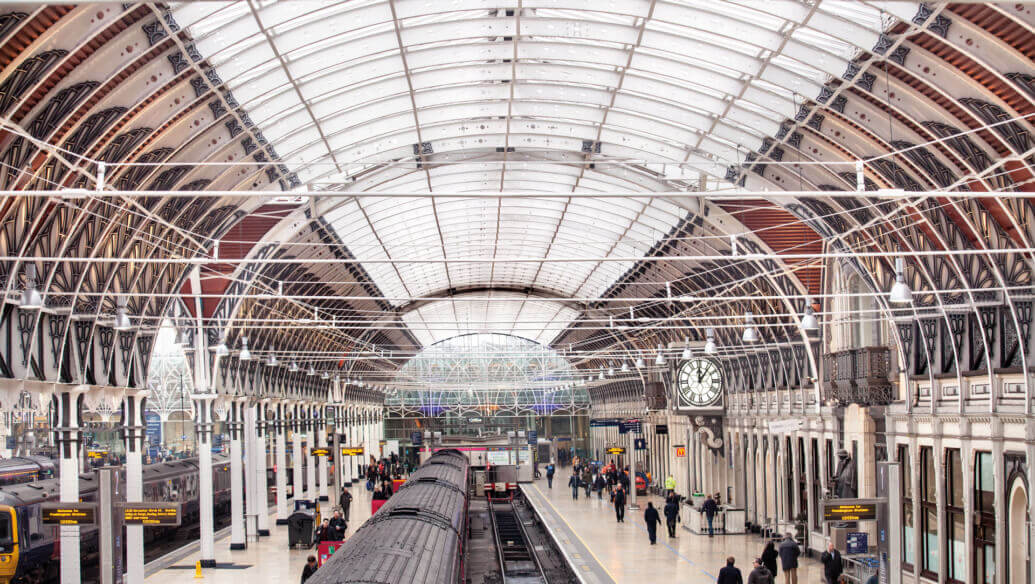 Luggage Storage Paddington Station
Only luggage storage to offer choice of hourly or daily rates in Paddington Station
Mais de 55.000 viajantes avaliaram LuggageHero
Luggage storage Paddington Station
Need luggage storage near Paddington Station? It's super easy!
Drop off your belongings at one of LuggageHero's luggage storage locations just around the corner. When leaving your luggage with LuggageHero, local shops around Paddington station will take good care of your bags. All bags are sealed with our tamper-proof security seals and insured for up to £2200. We easily handle overnight storage with our daily cap per bag. Luggage storage near Paddington station has never been this easy! Bag storage is going through a transformation and looking for luggage lockers near Paddington would be a waste of time.
Find and book luggage storage with one of our certified partners and turn your travel days into holidays. Our storage timer ensures that you only pay for the hours spent on luggage storage. Trying to find lockers near Paddington can be time-consuming which is where LuggageHero comes to help in a convenient and simple way.
Download our free luggage storage app:
For even more comfort, you can get our LuggageHero bag storage app where you can see all our locations for luggage storage near Paddington. Bag storage Paddington Station has never been this effortless.
Skip booking and go straight to our store!
If visiting Paddington Station was a spontaneous decision and did not get the chance to book luggage storage in advance, do not worry.
We offer a "walk-in" solution just 2 minutes away from Paddington Station. This means that there is no need for advanced booking and no change in price.
Check it out on our map:
Paddington Station luggage storage
Save your precious holiday time from standing in line at the old-fashioned luggage storage facility and save money when using a LuggageHero. We seal and cover your baggage for up to £2200 with First Insurance. Giving you the perfect solution to discover London without the weight of your luggage or without having to search for the usual lockers near Paddington station.
Paddington Station is a London terminus with two trains going to Heathrow Airport: The Heathrow Express travels non-stop at a premium fare, while Heathrow Connect takes the same route but calls at most intermediate stations. From Paddington Station, you have direct access to King's Cross Station, Victoria Station, Liverpool Street Station, and Waterloo Station. Paddington bag storage is often needed since it connects to so many other major stations.
Platforms 6 and 7 are dedicated to the Heathrow Express. Flight information display screens for airline passengers are provided at the Heathrow Express ticket office near these platforms.
Are you looking for luggage storage for several days, easily leave your luggage with us. You never pay more than /day per bag for left luggage Paddington Station.
The ticket office at Paddington Station is open 24 hours and is run by Great Western Railway. You'll find ticket machines are all around the concourse. The station also offers toilets and baby changing all cost 30p and are before the ticket barrier. Wi-Fi is available with, pay as you go, wireless internet access from BT Wi-Fi.
Alternative options for luggage storage at Paddington Station
You can also drop off your luggage at the Excess Baggage Company that can be found on platform 12.  The second option is called Left Luggage. The rates for luggage storage begin at £7.50 for the first 2 hours and end at £20 for 24 hours.
Read why LuggageStorage recommends storing your baggage with LuggageHero!
The difference between left luggage and luggage storage is the geographic location
Left luggage is luggage that people have left in a designated luggage storage facility. The term 'left luggage' is mostly being used in the UK. And luggage storage is a storage facility where people leave their luggage. Luggage storage is the most common name used internationally when referring to storing luggage.
In other words, there is absolutely no difference between the two concepts. They are both defined by people's need of storing luggage which can be collected at a later time. So whether you are looking for left luggage or luggage storage, LugaggeHero is here to take care of your belongings.
We store all kinds of luggage – any size and any shape
LuggageHero's users can store luggage of any size and/or shape in any of our storage locations. It doesn't matter if it is ski equipment, photo equipment, or backpacks – our luggage stores can accommodate all. LuggageHero's customers can choose to be charged by the hour or choose our daily rate – no matter of their left luggage.
We can store your luggage for several days
LuggageHero also provides multi-day storage to its customers because we know flexibility is an essential part when you travel.
LuggageHero offers a lower daily rate when you store your luggage for a longer period. From the second day onwards, our customers pay only £5 per bag per day.
Pricing
LuggageHero is the ONLY luggage storage service that offers you a choice of hourly or daily rates in London. Flat rate of £8 per day and £1 per hour which allows you to pick an option that will suit your needs best. No hidden fees and no need to pay in advance, pay only if you show up to the luggage drop off location. All luggage is insured against damage, loss, and theft & security seal is provided.
Other popular stations you might want to know:
How to safely store luggage near Paddington Station during COVID-19

Download the LuggaHero app to find out more about luggage storage in London
You can also simply book through our website by clicking the button below.
Frequently Asked Questions for Paddington Station
Here are some of the most frequently asked questions about Paddington Station and the answers.
Does Paddington Station have free WiFi?
There is free Wi-Fi at Paddington Central. There is free, fast and reliable Wi-Fi, so you can catch up on emails or social media, and maybe even book your luggage storage.
Is Paddington Station step free?
It is step free only on certain lines, for example at Paddington Station there is step-free access to the Circle and Metropolitan lines, but not to the Bakerloo line.
How to get to Paddington Station from London Bridge?
To get to Paddington from London Bridge, you should take the Jubilee line Westbound to Baker Street. Change at Baker Street and take the Bakerloo line Northbound to Paddington.
Is London Paddington Station open 24 hours?
The ticket office is open 24 hours. It is run by Great Western Railway. Machines are round the concourse and are run by Great Western Railway. There is no ticket office, please use self service ticket machines.
How far is Paddington from London?
The distance between London Paddington Station and Big Ben is 3 miles.
How many platforms does Paddington station have?
The station has 13 terminal platforms, numbered 1 to 12 and 14 from south-west to north-east (left to right as seen from the concourse). Platforms 1 to 8 are below the original three spans of Brunel's train shed, platforms 9 to 12 beneath the later fourth span.
Is Paddington Station accessible?
Yes, the station is accessible.
Where are the waiting rooms in Paddington Station?
Platform 12. The First Class Lounge is on platform 1.
Are there photo booths in Paddington Station?
There are booths in The Lawn and near to platform 9 entrance.
Are toilets at Paddington Station free?
Toilets are now free of charge and are before the ticket barrier.
Where can I get a taxi from at Paddington Station?
The taxi rank is above platform 12, escalators and lifts provide access from the station.
Which lines serve Paddington Underground?
The lines serving Paddington Underground are Bakerloo Circle, District, Hammersmith & City.