Хранение багажа Gare du Nord
Храните свои сумки в сертифицированном отеле или магазине от €0.95/час
Более 55 000 путешественников оставили свои отзывы о LuggageHero
Хранение багажа Gare du Nord
Хотите погулять и нужно сдать на хранение багаж в районе Gare du Nord? Не беспокойтесь, мы о вас позаботимся! 
Сдайте свои вещи в один из пунктов хранения багажа LuggageHero совсем неподалеку.
LuggageHero предлагает безопасное и недорогое хранение багажа. Все наши пункты хранения сертифицированы LuggageHero. И помните: LuggageHero – единственный сервис хранения багажа, предлагающий максимально гибкие тарифы – как с почасовой, так и с посуточной оплатой. 
Check it out on our map:
Gare du Nord
Also known as Paris-Nord, Gare du Nord train station is one of the six large terminus stations of the SNCF mainline network for Paris. It serves train lines heading towards regions north of Paris. It is the largest station in Paris and was opened in 1846. The building itself was designed by architect Jacques Hittorf in 1861 and has a majestic facade decorated with 23 statues by famous sculptors.
Gare du Nord is served by both Metro and RER lines as well as a number of bus routes. Trains going from Paris-Gare du Nord to Charles de Gaulle airport run daily with departures every 6 to 15 minutes, and an average journey time of 35 minutes from the station to the airport.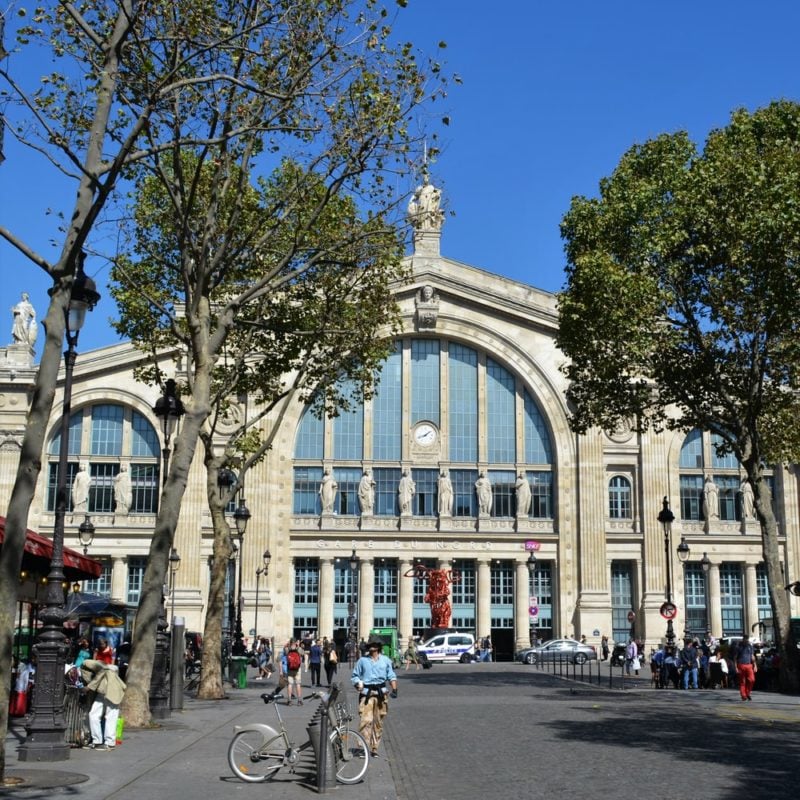 Several other destinations around France and Europe can be reached by train from Gare du Nord such as:
The Eurostar Terminal for departures to London is on the first floor, located just above and alongside platform 3.
LuggageHero is highly recommended by various luggage storage guides as a reliable and secure option, check them out here:
Luggagestorage.paris, Luggagestorage.info, Knock Knock
Traveling with heavy luggage can be a hassle and can take away from the enjoyment of your awaited Paris trip. Luggage storage and city locker services in Paris provide a convenient solution when it comes to your heavy luggage. Luggage lockers allow travelers to store their bags safely and securely in a convenient location while they explore the city. City locker services in Paris are located in convenient locations such as train stations or central parts of the city.
Luggage storage at Gare du Nord
Trying to find bag storage at Gare du Nord can be stressful but with just a few clicks you can find a place nearby easily.
Pay by the hour near Gare du Nord 
We believe in offering our customers various payment solutions. Therefore, LuggageHero charges users for each hour, unlike most other luggage services, which make you pay for the entire day. However, if you want to store your luggage near Gare du Nord (or anywhere else) for the whole day or longer, we offer you a low daily cap. This is how we believe payment for luggage storage should be affordable and simple in the year 2023. That way you can explore Paris hands-free and enjoy the beautiful city of lights.
Events near Gare du Nord in spring 2023
The Valentin's day race
The Course de la Saint Valentin is a Valentine's Day race taking place on February 11th, 2023 in the park «Parc des Buttes Chaumont.» Participants can run either a 5km or 10km race, and the event is open to couples, duos, and singles. It is a fun and sporty way to celebrate Valentine's Day.
Cinéma du Réel
The Cinéma du Réel is an annual documentary film festival first held in 1978 and held annually from March 24th to April 2nd. The festival's goal is to promote and showcase the best of international documentary films.
It attracts around 20,000 film enthusiasts and features hundreds of documentaries screened in the Beaubourg neighborhood and at the Centre Pompidou close to Gare du nord. The festival also includes workshops, seminars, and retrospectives that highlight the best of documentary films throughout history.
Schneider Electric Marathon de Paris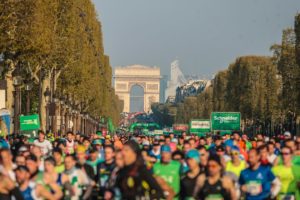 The Schneider Electric Marathon de Paris is a marathon race starting on April 2nd, 2023 from Avenue des Champs-Élysées which is close to both Gare du Nord and Gare de L'est. It offers a unique opportunity to participate in one of the most prestigious marathons, over the distance of 42.195 km. It is now one of the biggest marathons in the world, both for the size of its field and the performances of its runners. Each finisher comes home with incredible memories.
Are you planning to visit Stade de France or Stade Bauer?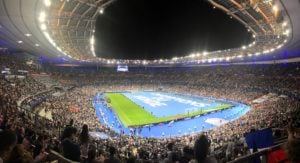 Check out the bag policy as well as the best luggage storage in the area in the links below:
Цены
LuggageHero – ЕДИНСТВЕННЫЙ сервис хранения багажа в Gare du Nord, предлагающий на выбор почасовые или посуточные тарифы.
Фиксированная ставка в сумме €7.9 в день или €0.95 в час позволяет выбрать наиболее подходящий вам вариант. Если вы планируете быть в городе всего несколько часов, зачем платить за весь день, как в других сервисах хранения багажа? 
Цена вдвое меньше по сравнению с камерами хранения на вокзалах и в аэропортах
Суточные тарифы городских камер хранения обычно дороже сервиса хранения багажа от LuggageHero по крайней мере в два раза. До недавнего времени путешественники могли сдавать свой багаж только в эти камеры хранения, которые не отличаются гибкой политикой в вопросах ценообразования и расположения мест для сдачи багажа.
Кроме того, LuggageHero предлагает на выбор множество различных мест, где можно спокойно оставить свой багаж. В отличие от камер хранения на вокзалах и в аэропортах, LuggageHero предлагает и почасовой, и дневной тариф. LuggageHero стремится предоставить гибкие условия недорогого хранения багажа в любое время. 
Мы храним багаж любого размера и формы в проверенных местах
В любой из точек хранения LuggageHero наши пользователи могут оставить багаж любого размера и формы. Неважно, что это – лыжный комплект, фотооборудование или рюкзаки. Иными словами, у нас можно сдать на безопасное хранение сумки, чемоданы, ручную кладь, или любой другой багаж, который готовы оставить наши довольные клиенты. Клиенты LuggageHero могут выбирать оплату на почасовой основе или за день, независимо от того, что сдают на хранение.
Мы можем хранить ваш багаж несколько дней
LuggageHero также предоставляет услуги длительного хранения, ведь мы знаем, что во время поездок очень важна свобода действий.
При длительном хранении багажа LuggageHero предлагает более низкий суточный тариф. Начиная со второго дня хранения наши клиенты платят всего €5 за единицу багажа в сутки.
Скачайте бесплатное приложение для хранения багажа LuggageHero:
Для дополнительного удобства вы можете скачать наше приложение для хранения багажа LuggageHero, в котором можно увидеть все наши точки поблизости.
Часы работы
У нас есть множество точек с разными часами работы, поэтому вы можете выбрать ту, что подходит вам больше всего! Перейдите по ссылке, чтобы выбрать точку хранения и посмотреть часы работы.
Какие способы оплаты принимаются?
Принимаются все основные типы банковских карт. Имейте в виду, что при пользовании LuggageHero вы не производите плату в пункте хранения, и помните, что страхование вашего багажа действует только в том случае, если оплата была произведена напрямую LuggageHero.
Отмена бронирования
За отмену в день забронированной услуги и за неявку при подтвержденном бронировании взымается сбор в размере дневного тарифа в сумме €7.9 за одно место.
Узнайте, почему веб-сайт KnockKnock рекомендует хранить багаж у LuggageHero. Нас также советуют The New York Times, Lonely Planet и CNBC.
Frequently Asked Questions about Gare du Nord
Here are some of the most frequently asked questions and answers about Gare du Nord.
Is there luggage storage at Gare du Nord?
Yes, luggage storage is available at Gare du Nord as well as at all major Paris train stations. The locker room at Gare du Nord is open from 6:30 h to 22:00 h. However, the maximum length of storage time is 72 hours and there is only a flat pay-per-day fee identical for all stations, with no option of paying by the hour. Many luggage storage companies offer locations near Gare du Nord where customers can store their luggage and pay on an hourly basis, which you cannot do at Gare du Nord.
Is Gare du Nord and Paris Nord the same?
Yes. Same station, different words. The majority of people call it Gare du Nord, while train authority call it Paris Nord and use this name on the tickets.
Is there a metro station at Gare du Nord?
Platforms 40-44 are RER express metro platforms located underground. Otherwise, The Gare du Nord is a terminus with flat and level access between concourse and mainline platforms.
Are there first class lounges in Gare du Nord?
The Eurostar business lounge is upstairs inside the Eurostar terminal, but only for passengers with the most expensive Business Premier tickets, not Standard Premier. There's an SNCF Grand Voyageur first class lounge but this is only for holders of SNCF's (or other Railteam members) frequent traveller loyalty card, which you probably don't have, so of no use for most visitors even if you have a first class ticket.
Where can you get tickets in Gare du Nord?
The main ticket office windows open onto the main concourse, opposite platforms 3-6. There are plenty of SNCF ticket machines here, too. The Eurostar ticket office is upstairs on the balcony, accessed by an escalator opposite platform 17.
How can you find a taxi near Gare du Nord?
There's a well-organised taxi rank on the station forecourt in front of the station, usually with staff helping allocate people to taxis. Even if the queue looks long, it moves fast and it won't take much more than 10 minutes to get into a taxi.
Which are the best hotels near Gare du Nord?
If you need to stop overnight, suggested hotels near the station with good reviews include the Libertel Gare du Nord Suede (5 min walk from Gare du Nord, 2-sta), Mercure Terminus Nord (3-star, directly across the road from the station); Art Hotel (3-star); Avalon Hotel (2-star); Hotel Cambrai (5 min walk from Gare du Nord, 1-star).
Where is Gare du Nord located?
112 Rue de Maubeuge, 75010 Paris, France.
Paris Gare du Nord is "quite" safe. There are a lot of people there and even late at night I never had to worry about safety. However, it is always a good idea to be careful and not attract too much attention with expensive items.
What zone is Gare du Nord?
Gare du Nord is a station on Line 4 and Line 5 of the Paris Métro.
How far is Gare du Nord from the Eiffel Tower?
The distance between Gare du Nord and Eiffel Tower is 5 km.
Opening hours for Gare du Nord?
Gare du Nord station is open every day (including public holidays) from 4.30am to 1am in the morning.
How do you get from the Eiffel Tower to Gare du Nord?
You can take a train from Eiffel Tower to Gare du Nord via Tour Eiffel, Bir Hakeim, Champ De Mars Tour Eiffel, Saint-Michel-Notre-Dame, and Paris Nord in around 35 min. Alternatively, Bus RATP operates a bus from Eiffel Tower to Gare du Nord every 15 minutes. Tickets cost 2€ and the journey takes 31 min.
Insurance and safe luggage storage
In the collaboration with First Marine Insurance Ltd., we are proud to be covering each piece of luggage free of charge every time you use our luggage service. The premium insurance is optional, you can easily add it when making your booking and it will cover your bags for up to $3,000/€2500 while being stored. On the other hand, if you decide not to add insurance, there is always a guarantee of $500. Make sure you do not pay cash in a drop-off/pick-up shop, because insurance will not cover any bookings that are not paid directly through LuggageHero
Can I cancel my booking with LuggageHero?
Of course! We know that plans can change, therefore our customers have the option to cancel their booking up until midnight of the day before without any charges. For same-day cancellations and no-shows, there will be a fee which equals the daily rate of €7.9.