Bagageopslag Gare du Nord
Bewaar je bagage op een gecertificeerde locatie vanaf €0.95 per uur
Meer dan 55.000 reizigers hebben LuggageHero beoordeeld
Bagageopslag Gare du Nord
Loop je door Gare du Nord en wil je je bagage ergens kwijt? Geen zorgen! 
Breng je spullen naar een van de dichtstbijzijnde locaties van LuggageHero.
Bij LuggageHero sla je je bagage veilig en betaalbaar op. Al onze partners zijn gecertificeerd door LuggageHero. Bovendien is LuggageHero de enige aanbieder van bagageopslag waarbij je de keuze hebt uit een uur- of dagtarief voor maximale flexibiliteit. 
Skip booking and go straight to our store!
If visiting Gare du Nord was a spontaneous decision and did not get the chance to book luggage storage in advance, do not worry.
We offer a "walk-in" solution just 4 minutes away from Gare du Nord station. This means that there is no need for advanced booking and no change in price.
Check it out on our map:
Check out why LuggageStorage recommends storing your baggage with LuggageHero here!
Gare du Nord
Also known as Paris-Nord, Gare du Nord train station is one of the six large terminus stations of the SNCF mainline network for Paris. It serves train lines heading towards regions north of Paris. It is the largest station in Paris and was opened in 1846. The building itself was designed by architect Jacques Hittorf in 1861 and has a majestic facade decorated with 23 statues by famous sculptors.
Gare du Nord is served by both Metro and RER lines as well as a number of bus routes. Trains going from Paris-Gare du Nord to Charles de Gaulle airport run daily with departures every 6 to 15 minutes, and an average journey time of 35 minutes from the station to the airport.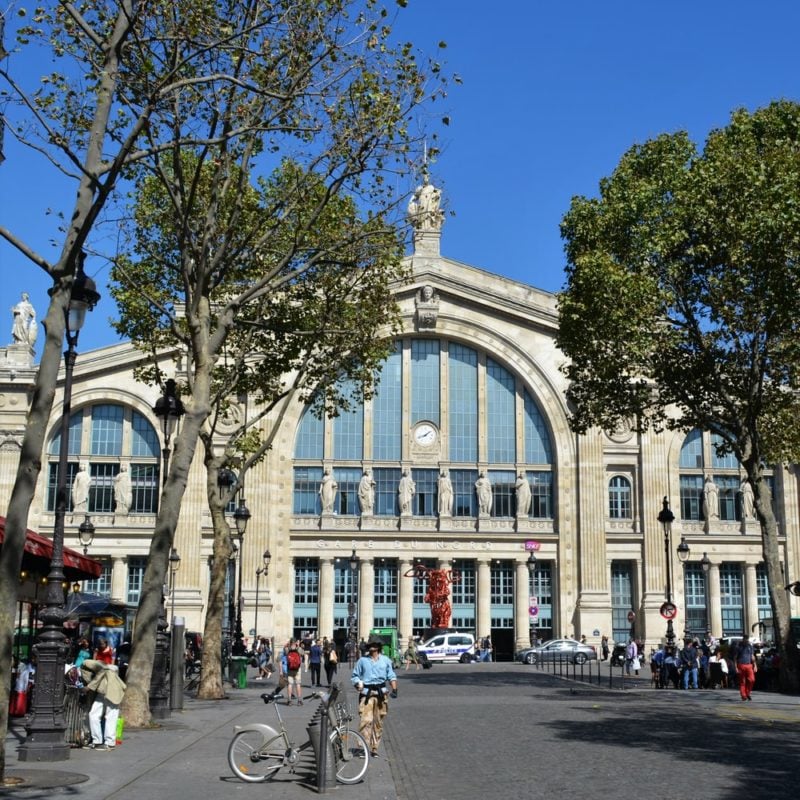 Several other destinations around France and Europe can be reached by train from Gare du Nord such as:
The Eurostar Terminal for departures to London is on the first floor, located just above and alongside platform 3.
Luggage storage at Gare du Nord
Trying to find bag storage Gare du Nord can be stressful but with just a few clicks you can find a place nearby easily.
Pay by the hour near Gare du Nord 
Gare du Nord luggage storage by the hour:
We believe in offering our customers various payment solutions. Therefore, LuggageHero charges users for each hour , unlike most other luggage services, which make you pay for the entire day. However, if you want to store your luggage near Gare du Nord (or anywhere else) for the whole day or longer, we offer you a low daily cap. This is how we believe payment of luggage storage should be in the year 2022 – affordable and simple. That way you can explore Paris hands-free and enjoy the beautiful city of lights.
There are also automatic coin lockers at the Gare du Nord station where you can safely store your luggage. It is open daily from 6.15 am to 23.15 pm including weekends. The prices vary according to the size of your luggage.
Our service is similar to hotel luggage storage
Many travelers who have been customers at hotels have asked the staff at the reception if they could store their luggage until they depart the city later in the day. We offer, more or less, the same service for everyone – no matter if they stay at a hotel, Airbnb or somewhere else. We are always ready to help you out.  
Prijzen
LuggageHero is de ENIGE aanbieder van bagageopslag waarbij je kunt kiezen uit uur- en dagtarieven in Gare du Nord.
Dankzij de vaste prijs van €5.95 per dag of €0.95 per uur kun je altijd kiezen voor de optie die het best bij je past. Blijf je ergens maar een paar uur, dan wil je natuurlijk niet voor een hele dag betalen – zoals je bij andere aanbieders van bagageopslag wel zou doen. 
De helft van de prijs vergeleken met kluisjes op het treinstation en vliegveld
Bagagekluisjes of stadskluisjes zijn per dag meestal twee keer zo duur als het bewaren van je bagage bij LuggageHero. Tot voor kort konden reizigers hun bagage alleen in deze kluisjes opbergen. Dat betekende dat er weinig keuze was als het aankwam op prijs en locatie.
De bij LuggageHero aangesloten winkels bevinden zich overal in de stad, zodat je altijd de mogelijkheid hebt om je bagage op een veilige locatie te bewaren. In tegenstelling tot kluisjes op het treinstation en vliegveld, heb je bij LuggageHero de keuze uit uur- en dagtarieven. De missie van LuggageHero is om flexibele en goedkope opties voor bagageopslag te bieden, waar je ook bent. 
Wij bewaren alle soorten bagage, in elke vorm en van elke grootte, op geverifieerde locaties
Gebruikers van LuggageHero kunnen alle soorten bagage bewaren bij een van onze opslaglocaties. Het maakt niet uit of het om skispullen, fotoapparatuur of rugtassen gaat. Met andere woorden: je kunt onze bagageopslag, kofferopslag, bagagedepot of hoe onze tevreden klanten het ook noemen, altijd op een veilige manier gebruiken. Klanten van LuggageHero kunnen kiezen uit uur- of dagtarieven, ongeacht hun type bagage.
We kunnen je bagage meerdere dagen bewaren
LuggageHero biedt bovendien de mogelijkheid om je bagage meerdere dagen te bewaren. We weten namelijk hoe belangrijk flexibiliteit is als je op reis bent.
Sla je je bagage voor langere tijd op, dan profiteer je van een lager dagtarief. Vanaf de tweede dag betalen klanten van LuggageHero slechts €5 per bagagestuk per dag.
Download de gratis app van LuggageHero:
Voor maximaal gemak download je onze LuggageHero-app. In de app vind je alle locaties bij jou in de buurt in één oogopslag.
Openingstijden
We werken met verschillende winkels met verschillende openingstijden. Kies de partner die het beste bij je past! Klik hier om de openingstijden van onze partners te zien.
Welke betaalmethodes worden geaccepteerd?
We accepteren de meest gangbare creditcards. Let op dat je onze partner niet contant betaalt voor het gebruiken van LuggageHero en dat je bagage alleen verzekerd is als je de betaling direct aan LuggageHero hebt gedaan.
Boekingen annuleren
Voor annuleringen op dezelfde dag of als je niet komt opdagen, wordt een vergoeding gerekend gelijk aan het dagtarief van €5.95 per bagagestuk.
Lees waarom KnockKnock aanraadt om bagage te bewaren met LuggageHero. Ook bekend van The New York Times, Lonely Planet en CNBC.
Frequently Asked Questions about Gare du Nord
Here are some of the most frequently asked questions and answers about Gare du Nord.
Is there luggage storage at Gare du Nord?
Yes, luggage storage is available at Gare du Nord as well as at all major Paris train stations. The locker room at Gare du Nord is open from 6:30 h to 22:00 h. However, the maximum length of storage time is 72 hours and there is only a flat pay-per-day fee identical for all stations, with no option of paying by the hour. Many luggage storage companies offer locations near Gare du Nord where customers can store their luggage and pay on an hourly basis, which you cannot do at Gare du Nord.
Is Gare du Nord and Paris Nord the same?
Yes. Same station, different words. The majority of people call it Gare du Nord, while train authority call it Paris Nord and use this name on the tickets.
Is there a metro station at Gare du Nord?
Platforms 40-44 are RER express metro platforms located underground. Otherwise, The Gare du Nord is a terminus with flat and level access between concourse and mainline platforms.
Are there first class lounges in Gare du Nord?
The Eurostar business lounge is upstairs inside the Eurostar terminal, but only for passengers with the most expensive Business Premier tickets, not Standard Premier. There's an SNCF Grand Voyageur first class lounge but this is only for holders of SNCF's (or other Railteam members) frequent traveller loyalty card, which you probably don't have, so of no use for most visitors even if you have a first class ticket.
Where can you get tickets in Gare du Nord?
The main ticket office windows open onto the main concourse, opposite platforms 3-6. There are plenty of SNCF ticket machines here, too. The Eurostar ticket office is upstairs on the balcony, accessed by an escalator opposite platform 17.
How can you find a taxi near Gare du Nord?
There's a well-organised taxi rank on the station forecourt in front of the station, usually with staff helping allocate people to taxis. Even if the queue looks long, it moves fast and it won't take much more than 10 minutes to get into a taxi.
Which are the best hotels near Gare du Nord?
If you need to stop overnight, suggested hotels near the station with good reviews include the Libertel Gare du Nord Suede (5 min walk from Gare du Nord, 2-sta), Mercure Terminus Nord (3-star, directly across the road from the station); Art Hotel (3-star); Avalon Hotel (2-star); Hotel Cambrai (5 min walk from Gare du Nord, 1-star).
Where is Gare du Nord located?
112 Rue de Maubeuge, 75010 Paris, France.
Paris Gare du Nord is "quite" safe. There are a lot of people there and even late at night I never had to worry about safety. However, it is always a good idea to be careful and not attract too much attention with expensive items.
What zone is Gare du Nord?
Gare du Nord is a station on Line 4 and Line 5 of the Paris Métro.
How far is Gare du Nord from the Eiffel Tower?
The distance between Gare du Nord and Eiffel Tower is 5 km.
Opening hours for Gare du Nord?
Gare du Nord station is open every day (including public holidays) from 4.30am to 1am in the morning.
How do you get from the Eiffel Tower to Gare du Nord?
You can take a train from Eiffel Tower to Gare du Nord via Tour Eiffel, Bir Hakeim, Champ De Mars Tour Eiffel, Saint-Michel-Notre-Dame, and Paris Nord in around 35 min. Alternatively, Bus RATP operates a bus from Eiffel Tower to Gare du Nord every 15 minutes. Tickets cost 2€ and the journey takes 31 min.
LuggageHero is completely safe to use for luggage storage as the shops are monitored by our employees with regular checks performed. On top of that, you have the option to add insurance on your luggage and bags which covers up to €2500.
Can I cancel my booking with LuggageHero?
Of course! We know that plans can change, therefore our customers have the option to cancel their booking up until midnight of the day before without any charges. For same-day cancellations and no-shows, there will be a fee which equals the daily rate of €5.95.