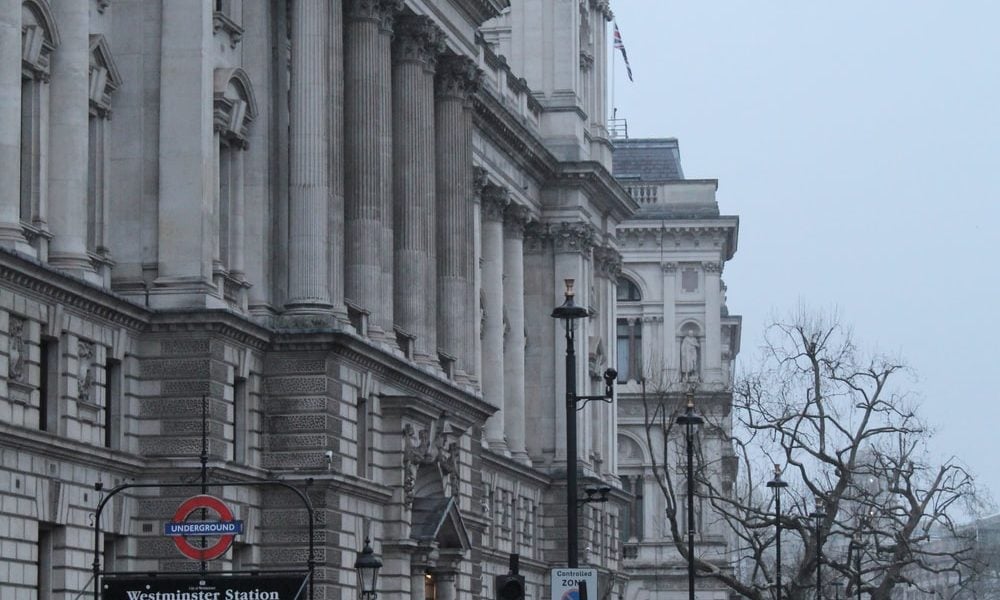 Luggage Storage Westminster Station
Only luggage storage to offer choice of hourly or daily rates in Westminster Station
Det siger vores kunder om os
Bagageopbevaring Westminster Station
LuggageHero has several locations in the area around the station where you can store your luggage. When storing your bags with LuggageHero, local shops around Westminster Station will take good care of all your left luggage while you explore the surroundings or any part of London.
Download LuggageHero's free luggage storage app here:
You can download our LuggageHero luggage storage app where you can see all our locations around Westminster Station. Your days of wasting time searching for luggage lockers are over!
You can see all of our locations on the map below:
LuggageHero bag storage sites are certified hotels, cafes, and shops. Making an advanced booking ensures space for your bags, should your travel plans change you can easily cancel your booking any time. If you ever asked yourself "Is there luggage storage near me?" or "store luggage London" you'd be happy to know that the address and directions are available at the time of booking and are emailed to you so that you can find your way around with ease.
Check out why LuggageStorage recommends storing your baggage with LuggageHero.
All bags are sealed off with our tamper-proof security seals and  insured for £2200. That way if your left luggage is ever lost, you're covered.
We store all kinds of luggage – any size and any shape
LuggageHero's users can store luggage of any size and/or shape in any of our storage locations. It doesn't matter if it is ski equipment, photo equipment, or backpacks – our luggage stores can accommodate all. LuggageHero's customers can choose to be charged by the hour, or choose our daily rate – no matter their left luggage type.
We can store your luggage for several days
LuggageHero also provides multi-day storage to its customers because we know flexibility is essential when you travel.
LuggageHero offers a lower daily rate when you store your luggage for a longer period. From the second day onwards, our customers pay only £5 per bag per day.
Pricing
Luggagehero is the ONLY luggage storage service that offers you a choice of hourly or daily rates near Westminster Station. Flat rate of £7 per day and £0.95 per hour which allows you to pick an option that will suit your needs best. If you're only planning on staying for a few hours in a city, why pay for an entire day as you would with other luggage storage services. No hidden fees and no need to pay in advance, pay only if you show up to the luggage drop off location.
Open daily 24/7. All luggage is insured against damage, loss, and theft & security seal is provided.
Is there a difference between left luggage and luggage storage?
Left luggage is luggage that people have left in a designated luggage storage facility. The term 'left luggage' is mostly being used in the UK. And luggage storage is a storage facility where people leave their luggage. Luggage storage is the most common name used internationally when referring to storing luggage.
In other words, there is absolutely no difference between the two concepts. They are both defined by people's need of storing luggage which can be collected at a later time. So whether you are looking for leftluggage or luggage storage, LugaggeHero is here to take care of your belongings.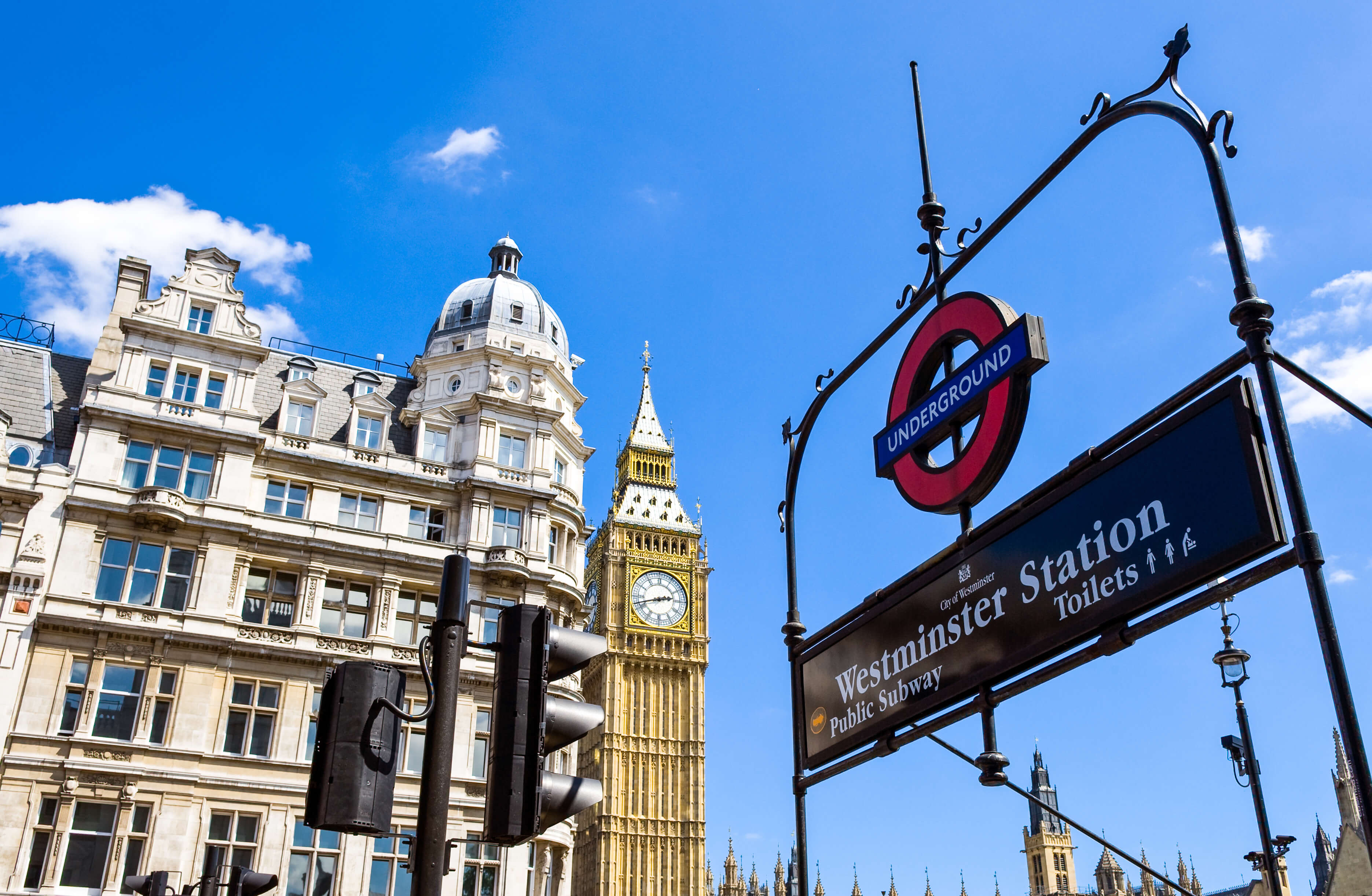 Westminster Station
Westminster Station is an underground station in London. It's located in the city of Westminster in Zone 1 on the Jubilee, District, and Circle lines. The station lies between St. James Park and Embankment, as well as between Green Park and Waterloo on the Jubilee line.

If Westminster station is your stop, then you are steps away from some of the most prominent London locations such as Westminster Abbey, Parliament Square, Whitehall, and Westminster Bridge. London Eye and Big Ben are also close by.

By storing your baggage at one of our locations near Westminster Station, you can visit the following sites in the blink of an eye without having to carry around your heavy bags. Suitcase storage in London has never been so easy before!

Westminster Abbey
The Abbey is a Gothic coronation church located in the City of Westminster. It's one of the country's notable religious monuments and is the resting place of 17 monarchs. Founded in 960AD, the construction of the present church as we know it today was begun by Henry III in 1245.
Travelers from all over the world come to London to visit Westminster Abbey, the place where 16 royal weddings have been held since 1100. By dropping off your bags at one of our storage locations near the church, you can experience the beauty and history of Westminster Abbey all while we hold onto your luggage in London.

Parliament Square
Parliament Square is a square at the northwest end of the Palace of Westminster in the City of Westminster. Surrounded by statues of notable people and greenery all around, it's a place where many protests and demonstrations are held. The square is also overlooked by the House of Parliament, Whitehall, the Supreme Court, and Westminster Abbey to the south.
You can spend an entire day exploring this part of London but make sure your stroll is bag-free and carefree, and it can be when you leave your bags to us at one of our locations near Parliament Square, London.

Whitehall
Whitehall is a road in the City of Westminster which forms the road from Trafalgar Square to Chelsea, towards Parliament Square. It's lined with buildings of the Government of the United Kingdom such as the Ministry of Defence, Horse Guards, and the Cabinet Office. The street is also famous for its monuments and statues and the well-known Whitehall Theatre which opened in 1930.
Being located in the center of the British government, the theatre was naturally inclined to act out political comedies and satires. If you're a theatergoer, a politics enthusiast, or both, Whitehall is the place to visit. And when you store your bags with us, you're in for the perfect London experience.
Westminster Bridge
Westminster Bridge is a famous, foot-and-road bridge over the River Thames, with Westminster on one side and Lambeth on the other. This green bridge is the shade of the seats in the House of Commons (in contrast to Lambeth Bridge, which is red mimicking the seats in the House of Lords.)
A great sight to have behind you on a selfie, the bridge is considered a London must-see, and storing your luggage nearby at one of our drop-off locations will allow you to stroll around freehandedly and take as many pictures too!

London Eye
London Eye is a giant Ferris wheel on the South Bank of the River Thames and is one of the best-known tourist attractions in the world. Taking a ride on the London Eye gives you a complete view of London, leaving you breathless. Their luggage policy however doesn't permit larger bags and suitcases, so your best bet is to drop off your belongings at either London Waterloo Station or Westminster Station as they are close by.

Big Ben
Another gem of Westminster is the Great Bell or Big Ben (nickname for the striking clock) located at the north end of the Palace of Westminster. The tower is designed in neo-Gothic style and stands as the largest of the tower's five bells. A British cultural icon recognized throughout the world, it's on every tourists' must-see list. Leaving your luggage close to Big Ben is a great option if you don't feel like dragging your luggage around the area, and conveniently, we have luggage storage nearby.
You can also leave your bags by Westminster station and you're still a short walking distance away from Big Ben and many other London tourist attractions.
Luggage storage chart
Based on the chart below, LuggageHero is the best luggage storage option in London. LuggageHero the only one that offers both hourly and daily prices with the possibility of insurance. Luggage storage in London has never been so easy!
The chart is created based on the most popular luggage storage options.
Download our free app for left luggage around Westminster Station
For even more comfort you can download our LuggageHero bag storage app where you can easily see all our locations for Westminster Station bag storage. With our luggage storage app, you are able to store your bags anywhere in our 1000+ locations. You can find more information on how to use the bag storage app in London right here. 
Frequently Asked Questions about Westminster Station
Here are some of the most frequently asked questions about Westminster Station.
Which lines is Westminster Station served by?
The station is served by the Circle, District and Jubilee lines. On the Circle and District lines, the station is between St. James's Park and Embankment, and on the Jubilee line it is between Green Park and Waterloo.
Which zone is Westminster Station in?
The station is in Travelcard Zone 1.
How often are trains going to and from Westminster Station?
Train frequencies vary throughout the day, but generally District line trains operate every 2–6 minutes from approximately 05:25 to 00:38 eastbound and 05:49 to 00:37 westbound; they are supplemented by Circle line trains every 8–12 minutes from approximately 05:49 to 00:24 clockwise and 05:36 to 00:19 anticlockwise. Jubilee line trains operate every 2–5 minutes from approximately 05:28 to 00:48 eastbound and 05:38 to 00:31 northbound.
Which bus connections serve Westminster Station?
London Buses routes 3, 11, 12, 24, 53, 87, 88, 148, 159, 211 and 453 and night routes N2, N3, N11, N44, N52, N87, N109, N136, N155 and N381 serve the station.
How can I find the nearest location to Westminster Station for storing luggage?
To find the nearest location to you, you can visit the LuggageHero website and click book now. Apart from that, you can download LuggageHero's app for even more convenience when booking your luggage storage on the go.
How much does it cost to store luggage near Westminster Station?
The price for luggage storage near Westminster Station with LuggageHero is just £1/bag per hour.
How long can you store luggage near Westminster Station?
You can store your luggage for several days! Just select the pick-up and drop-off dates and the hours of your choice on the LuggageHero website/app.
What will happen in case I have a problem with my booking?
If you encounter a problem with a luggage storage booking, you can email us at contact@luggagehero.com and we will get back to you and solve the problem as quickly as possible.
Is luggage storage with LuggageHero safe?
All luggage storage locations are verified for safety and carefully trained by our team before being listed on the site. Aside from that, we provide you with individually tagged tamper-proof seals for your baggage when you arrive. To offer an extra sense of security, every bag is covered by a £2200 insurance.