Luggage Storage Oxford Circus Underground Station
Only luggage storage to offer choice of hourly or daily rates in Oxford Circus Underground Station
Qué dicen nuestros clientes
Consigna de equipaje Oxford Circus Underground Station
Need to store your luggage near Oxford Circus? Drop off your items at one of LuggageHero's luggage storage London locations just around the corner. Our LuggageHeroes will take good care of your luggage while you explore Oxford Circus and its surrounding areas. Overnight storage can easily be handled.
Download our free LuggageHero storage app here:
You can download our LuggageHero luggage storage app where you can see all our locations around Oxford Circus. Your days wasting time searching for lockers are over!
Storing your luggage locally with LuggageHero will save you time commuting back and forth to the traditional storage facilities. You book online or through our app, start the storage timer upon arrival at our LuggageHero, and off you go.
Luggage storage has never been as easy as now. You don't need to search for «luggage storage near me» anymore. Just simply download LuggageHero app and pick location that suits you best.
Our security seals provided in the shop activates insurance on your bags and our storage timer will make sure you only pay for the hours spent.
Explore Oxford Circus hassle-free and turn your travel day into a holiday.
All our shops are certified by LuggageHero and all bags are sealed off with our security seals ensuring each piece of luggage is up to £2200.
The difference between left luggage and luggage storage is the geographic location
Left luggage is luggage that people have left in a designated luggage storage facility. The term 'left luggage' is mostly being used in the UK. And luggage storage is a storage facility where people leave their luggage. Luggage storage is the most common name used internationally when referring to storing luggage.
In other words, there is absolutely no difference between the two concepts. They are both defined by people's need of storing luggage which can be collected at a later time. So whether you are looking for left luggage or luggage storage, LugaggeHero is here to take care of your belongings.
Check out why LuggageStorage recommends storing your baggage with LuggageHero.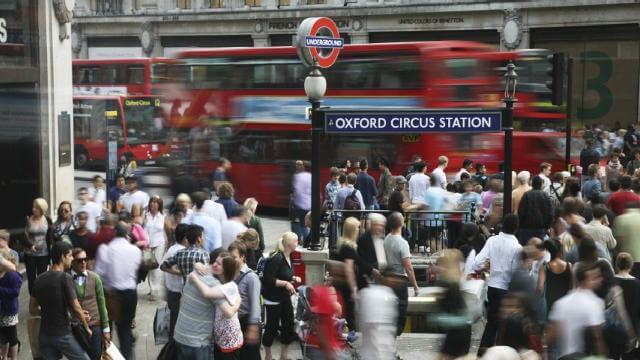 Oxford Circus
Oxford Circus is a London Underground station serving Oxford Circus at the junction of Regent Street and Oxford Street, with entrances on all four corners of the intersection. The station is an interchange between the Bakerloo, Central, and Victoria Lines.
Getting off at Oxford Circus tube station will place you directly on Oxford Street a shopping paradise. However, there are a few hidden gems dotted around Oxford Street, that we think you'll like.
"Ain't Nothin' But" on Kingly Street, a stone's throw from Oxford Circus is arguably London's best blues bar and is probably in the running to one of the best blues bars in Europe.
Shopping might be the main activity around Oxford Circus and has changed the immediate surroundings to become quite consumerist, but moving to the backstreet, such as Margaret Street and Henrietta Place will give some lovely boutique cafés and foodie cafeterias. You'll also find a few secret cinemas dotted around, as this is where most of the agencies that represent the worlds' biggest acting talents have offices here.
Download our free app for left luggage around Oxford Circus Underground Station
For even more comfort you can download our LuggageHero bag storage app where you can easily see all our locations for Camden Town baggage storage. With our luggage storage app, you are able to store your bags anywhere in our 1000+ locations. You can find more information on how to use the bag storage app in London right here.
Frequently asked question about Oxford Circus Underground Station
Here are some answers of the most frequently asked questions about Oxford Circus Underground Station
Which lines go to Oxford Circus station?
The Bakerloo, Central and Victoria lines all stop at Oxford Circus station.
Does Oxford Circus Station have any luggage lockers?
Unfortunately, there are no locker rooms or left luggage facilities either at Oxford Circus station or on Oxford street
How can I find the nearest location to Oxford Circus Underground station for storing luggage?
To find the nearest location to you, you can visit the LuggageHero website and click book now. Apart from that, you can download LuggageHero's app for even more convenience when booking your luggage storage on the go.
Is luggage storage with LuggageHero safe?
Luggage storage with LuggageHero is completely safe. What makes it safe is the high insurance you get for your belongings. On top of that, all our locations are regularly checked by LuggageHero employees.