Luggage Storage Arc De Triomphe
Only luggage storage to offer choice of hourly or daily rates in Arc De Triomphe
Qué dicen nuestros clientes
Consigna de equipaje Arc De Triomphe
Are you looking for luggage storage before visiting Arc De Triomphe in Paris? You can store your bags with one of LuggageHero's luggage storage locations just around the corner from Arc De Triomphe and enjoy your day in its surroundings or anywhere in Paris hassle-free.
LuggageHero storage sites are certified hotels, cafes, and shops. Advance bookings ensure space for your bags. The address and directions to our storage locations are available at the time of booking. All bags are sealed off with our security seals ensuring each piece of luggage up to €2500 once you have dropped off your bags and started our storage timer on your booking page.
Download LuggageHero's luggage storage app here:
You can download our LuggageHero luggage storage app where you can see all our locations around Arc De Triomphe. Your days wasting time searching for lockers are over!
To suit your constantly changing plans we have a risk-free booking policy, you only pay if you show up, and you pay for luggage storage for a low hourly rate. Drop your luggage and pick it up when it suits you without being overcharged.
All our shops are certified by LuggageHero and all bags are sealed off with our security seals ensuring each piece of luggage is up to .
Skip booking and go straight to our store!
If visiting Arc De Triomphe was a spontaneous decision and did not get the chance to book luggage storage in advance, do not worry.
We offer a «walk-in» solution just 10 minutes away from Arc De Triomphe. This means that there is no need for advanced booking and no change in price.
Check it out on our map:
Arc de Triomphe
The Arc de Triomphe is one of the most famous monuments in Paris. This massive arch stands to honor those who fought and died for France during the French Revolutionary and Napoleonic wars.
It's located at the center of the Place Charles de Gaulle, on the western end of the Avenue des Champs-Élysées. The circular juncture that the monument stands on has twelve avenues sprouting from it in all directions. This makes the juncture look like a star when looked at from above; hence the name Arch of Triumph of the Star.
As ordered by Napoleon in honor of the Grande Army, the construction of this famous arch began in 1806 and it took 30 years to build. Standing as the symbol of French national identity, the Arch de Triumph also qualifies as the world's tallest arch.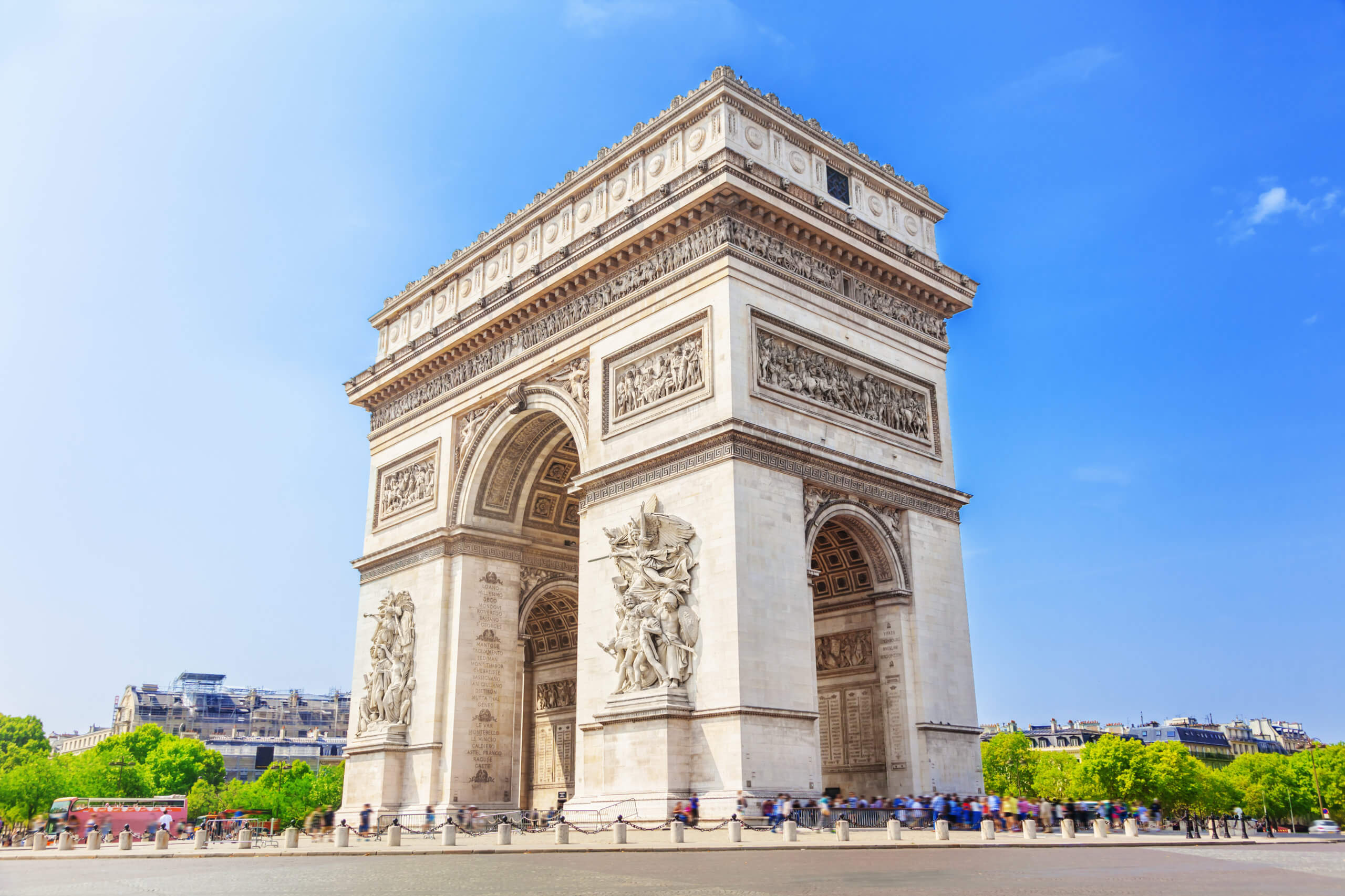 This monument has been drawing visitors for hundreds of years. The annual military parade, also known as Bastille Day or French National Day, begins at the iconic arch each and every July 14th. You too can start your Parisian journey at the arch and let us take care of your bags for you.
When you store your bags at one of our Paris luggage storage locations near the arch, you're free to visit many other popular Paris tourist attractions such as the Louvre Museum and the Notre-Dame Cathedral (next to Notre-Dame – Saint Michel station) which are in close proximity to Arc de Triomphe. You can also climb to the top of the Arch de Triumph and treat yourself to some beautiful views of Paris. Just make sure you leave your bags with us. Having to carry them up the 240 steps to the top of the arch would be no fun at all.
There's no better way to take in all the beauty and grandeur of Paris than to see it from above. Feel free to store your luggage at one of our storage locations located near the Arc de Triomph for a couple of hours, or for as long as you need to, and enjoy the wonders of Paris hassle-free.
Arc de Triomphe Bag Policy
For safety and comfort purposes, voluminous bags are not allowed inside. Visitors are advised not to bring large bags or suitcases when going inside the Arc de Triomphe. The maximum size of baggage allowed inside per person is 40x40x20 cm.