Luggage Storage Wembley Stadium
Only luggage storage to offer choice of hourly or daily rates in Wembley Stadium
Ponad 55 000 podróżników podzieliło się opiniami o LuggageHero
Luggage storage Wembley Stadium
Need to store your luggage near Wembley Stadium? Drop off your items at one of LuggageHero's luggage storage locations just around the corner. Our LuggageHeroes are open from 07:00 in the morning to 12:00 at night. Overnight storage can easily be handled.
Wembley Stadium is located in Wembley, London and it hosts major football matches including matches of the England National Football Team and the FA Cup Final. It also hosts Rugby League's challenge cup, NFL London Games, and music concerts.
Wembley Stadium can be reached very easily. It is only two stops from Baker Street (Metropolitan Line) and nine minutes from London Marylebone (Chiltern Railways).
Wembley Stadium has a strict No Luggage policy. You can read more at the bottom of the page.
All our shops are certified by LuggageHero and all bags are sealed off with our security seals ensuring each piece of luggage is up to .
Download our free luggage storage app here:
You can download our LuggageHero app where you can see all our locations around Wembley Stadium. Your days wasting time searching for lockers are over!
We store all kinds of luggage – any size and any shape
LuggageHero's users can store luggage of any size and/or shape in any of our storage locations. It doesn't matter if it is ski equipment, photo equipment, or backpacks – our luggage stores can accommodate all. LuggageHero's customers can choose to be charged by the hour or choose our daily rate – no matter of their left luggage.
We can store your luggage for several days
LuggageHero also provides multi-day storage to its customers because we know flexibility is an essential part when you travel.
LuggageHero offers a lower daily rate when you store your luggage for a longer period. From the second day onwards, our customers pay only £5 per bag per day.
Pricing
LuggageHero is the ONLY luggage storage service that offers you a choice of hourly or daily rates in London. Flat rate of £8 per day and £1 per hour which allows you to pick an option that will suit your needs best. No hidden fees and no need to pay in advance, pay only if you show up to the luggage drop off location.
Over 120 luggage storage locations to choose from that are open daily 24/7. All luggage is insured against damage, loss, and theft & security seal is provided.
The difference between left luggage and luggage storage is the geographic location
Left luggage is luggage that people have left in a designated luggage storage facility. The term 'left luggage' is mostly being used in the UK. And luggage storage is a storage facility where people leave their luggage. Luggage storage is the most common name used internationally when referring to storing luggage.
In other words, there is absolutely no difference between the two concepts. They are both defined by people's need of storing luggage which can be collected at a later time. So whether you are looking for left luggage or luggage storage, LugaggeHero is here to take care of your belongings.
Wembley Stadium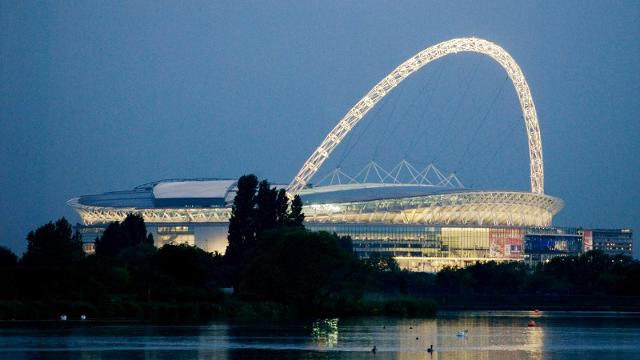 Wembley Stadium: home of English football and the prestigious FA Cup. But more than just football ignites this cauldron of entertainment, with events attracting more than five million visitors every year.
The venue is also called the European Home of the National Football League (NFL) and both laws of rugby are hosted here every year as well.
Wembley Stadium is on the Jubilee and Metropolitan lines, 12 minutes from Baker Street. The Wembley Stadium station provided mainline trains to Marylebone. Wembley Central offers the Overground and Bakerloo line.
Wembley Stadium Bag Policy
To ensure a safe fan environment and the best possible fan experience, Wembley Stadium has a rather strict bag policy. They encourage all guests not to bring any bags to the Stadium. Small bags or rucksacks (30x30cm) are permitted into the stadium. However, they do not have locker facilities for guests to store their items during their visit.
For your safety and the safety of all guests, a friendly Search team may search your bags on entry.
Due to safety issues, they do not have a luggage storage facility. Find more on the Wembley Stadium bag policy here.
Luggage storage chart
Based on the chart below, LuggageHero is the best luggage storage option in London. LuggageHero the only one that offers both hourly and daily prices with the possibility of insurance. Luggage storage in London has never been so easy!
The chart is created based on the most popular luggage storage options.
Frequently asked questions about Wembley Stadium
Here are some of the answers of the most frequently asked questions about Wembley.
Which are the lines serving the Wembley station?
The station is served by the Underground's Metropolitan and Jubilee Lines and is in Travelcard Zone 4.
Can I visit Wembley Stadium?
Please be aware that the stadium tour is only accessible through a guided tour. You will not be able to explore the stadium on your own. You can access the two new exhibitions individually without a guide before or after the tour, but the main stadium tour is fully guided.
What are the opening hours at Wembley Stadium?
The Stadium Tour Cafe is open from 9:30 a.m. to 3 p.m. every day of the week, and the Wembley Stadium Store is open from 10 a.m. to 5 p.m. (from Monday to Saturday) and 11 a.m. to 5 p.m. on Sundays.
How can I find the nearest location to Wembley Stadium for storing luggage?
To find the nearest location to you, you can visit the LuggageHero website and click book now. Apart from that, you can download LuggageHero's app for even more convenience when booking your luggage storage on the go.