10 Destinations to Visit in Summer 2023
1. Queenstown, New Zealand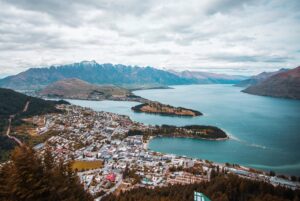 If you're planning a trip to New Zealand's South Island this summer, don't miss out on visiting Queenstown. Known as the adventure capital of the world, this place is like no other! If you're looking for an adrenaline rush, you'll love activities like bungee jumping, skydiving, and white-water rafting. 
But if that's not your thing, there are plenty of other outdoor activities to enjoy, such as hiking, mountain biking, and water sports on Lake Wakatipu. Plus, the town itself is super cool, with many excellent restaurants, cafes, and bars to check out. The scenery is also out of this world, with majestic alpine peaks and crystal-clear lakes. Queenstown is also an excellent base for exploring other nearby attractions, such as Milford Sound. Trust me, if you're seeking a summer adventure in 2023, Queenstown is the place to be!
2. Prague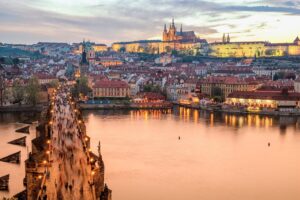 Prague, the capital city of the Czech Republic, is a fantastic destination to visit during the summer of 2023! The city's stunning architecture, rich cultural heritage, and vibrant atmosphere make it an ideal place to explore during the warm months. With long days and comfortable temperatures, you can take advantage of the city's many outdoor attractions, including wandering through its beautiful parks, strolling along the Vltava River, or enjoying a picnic in one of its many green spaces. 
Prague is also home to many world-famous cultural events and festivals in the summer, such as the Prague International Jazz Festival and the Prague Fringe Festival, where you can enjoy music, theater, and art performances. Additionally, you can taste the local cuisine and enjoy a refreshing Czech beer while sitting in one of the city's charming outdoor cafes. Whether you are interested in history, culture, or just want to soak up the atmosphere of this enchanting city, Prague is a must-visit destination in the summer of 2023!
3. Cappadocia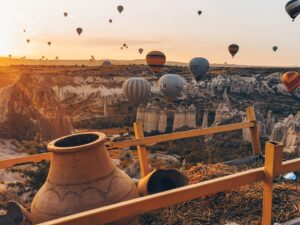 Cappadocia, a region located in central Turkey, is an absolutely fascinating destination to visit during the summer of 2023. It's known for its unique landscapes and underground cities, which will leave you in awe. During the summer months, you can take a hot air balloon ride over the region's striking rock formations that were formed millions of years ago due to volcanic activity. You can also explore the many ancient underground cities that were once used as shelters and storage spaces, or hike through the region's stunning valleys and canyons. 
Cappadocia is also home to many charming towns and villages where you can experience traditional Turkish hospitality and cuisine. Overall, if you're looking for an unforgettable summer adventure in 2023, Cappadocia should definitely be at the top of your list of must-visit destinations.
4. Dubrovnik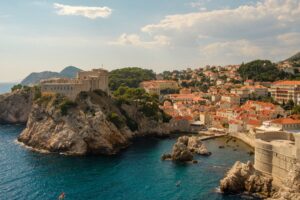 Dubrovnik is an amazing destination to visit during the summer of 2023. Located on the coast of Croatia, this city is known as the "Pearl of the Adriatic." It offers plenty of exciting activities to explore, including its well-preserved medieval old town surrounded by towering walls. The narrow streets, beautiful squares, and stunning architecture will leave you in awe. Dubrovnik hosts a wide range of cultural events during the summer months, such as the Dubrovnik Summer Festival, which features music, theater, and dance performances. The city also boasts many museums, galleries, and churches that you can visit to learn more about its rich cultural heritage. 
Moreover, you can head to one of its many beaches and relax while enjoying the crystal-clear waters of the Adriatic Sea. Don't miss the opportunity to take a boat trip to the nearby islands of Lokrum or Elafiti, where you can hike, swim, and explore hidden coves and beaches. Overall, Dubrovnik is a must-visit destination in the summer of 2023, offering a perfect blend of stunning scenery, rich culture, and lively atmosphere that will create unforgettable memories.
5. Alentejo, Portugal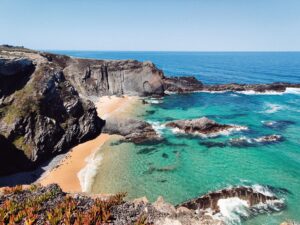 Alentejo, a stunning region located in the south of Portugal, is the perfect destination for visitors looking for an authentic Portuguese experience. With its breathtaking coastline, rolling hills, and charming towns, Alentejo has something for everyone. During the summer months, you can explore the region's many historic towns and villages, including Évora, Monsaraz, and Elvas. These towns are home to beautiful churches, castles, and other historic landmarks that will transport you back in time. 
If you love the outdoors, you can hike, cycle, or horseback ride through the region's stunning countryside and take in its natural beauty. The region's beaches are also a highlight, with many secluded coves and pristine stretches of sand, such as the beaches of Comporta and Zambujeira do Mar. 
And let's not forget about the food and wine! Alentejo is renowned for its traditional dishes and local wines, including the famous Alentejo wine. Whether you're a history buff, nature lover, or just want to relax in a peaceful and picturesque setting, Alentejo is a must-visit destination in the summer of 2023. So pack your bags and get ready for an unforgettable trip!
6. Crete, Greece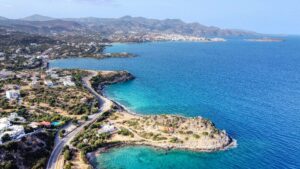 Crete, the largest Greek island, is one of the most popular tourist destinations. It has a rich history, amazing landscapes, and unique culture.
The island's main attractions are the Palace of Knossos, Samaria Gorge, Elafonisi Beach, Chania Old Town, and Spinalonga Island.
The Palace of Knossos is the best-preserved palace on the island and was the center of Minoan civilization.
Samaria Gorge is found in the White Mountains National Park. It is the longest gorge in Europe and a popular destination for hikers and nature lovers.
Elafonisi Beach is known for its pink sand and crystal-clear water. Located on the southwestern coast of Crete and is a popular spot for swimming and sunbathing.
The old town of Chania is a splendid maze of narrow streets, historic buildings, lively cafes, and restaurants. Tourists can explore the Venetian harbor, visit the museums and admire the colorful markets.
Spinalonga Island was once a colony, but it became a tourist attraction. Visitors can explore the abandoned buildings and learn about the island's history.
In conclusion, Crete is a fascinating and beautiful island that offers something for everyone.
Crete has it all if you are interested in history, nature, or simply relaxing on the beach. 
With a rich culinary tradition and stunning landscapes, Crete is a must-visit destination for anyone traveling to Greece.
7. Barcelona
Barcelona is a vibrant and exciting city on Spain's northeastern coast. The city is known for its stunning architecture, rich culture, and beautiful beaches. It also got iconic tourist attractions that should be visited while exploring Spain.
Sagrada Familia is one of the most famous landmarks in Barcelona and is a must-visit destination for any tourist. Antoni Gaudi designed the basilica, which has been under construction since 1882. Its unique architecture and intricate designs make it a truly awe-inspiring sight.
Another masterpiece of Gaudi's creations is the Park Guell. It is home to several unique sculptures, beautiful gardens, and fantastic panoramic views of Barcelona.
La Rambla is also a famous street popular among tourist destinations and is lined with restaurants, cafes, and shops. It is a great place to shop for souvenirs and enjoy shows performed by local street artists.
Barcelona is a must-visit destination if you are interested in history, culture, and culinary experiences. Offering stunning architecture, great food, and beautiful beaches, Barcelona will leave a lasting impression on anyone who visits.
8. Playa del Carmen
Located on the eastern coast of Mexico's Yucatan Peninsula, Playa del Carmen is a beautiful, vibrant beach town that offers something for everyone.
The town offers unique experiences such as the famous Day of the Dead festival, the eco-archeological park Xcaret, well-preserved temples and pyramids near the city, and diving opportunities.
Known initially as a small fishing town, it became a famous scuba diving destination. Playa del Carmen is a city that saw significant development in the past years that became more luxurious and with a higher capability in terms of tourism and experiences offered to tourists.
9. Cape Town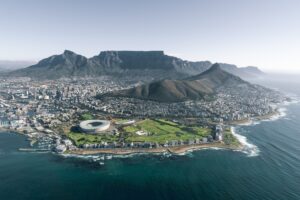 Cape Town is a diverse city in the southern part of Africa.
The city is known for its surrounding nature and landmarks such as Table Mountain, Robben Island, Cape of Good Hope, and Cape Winelands.
Table Mountain is one of Cape Town's most iconic landmarks and a must-visit attraction.
Visitors can hike to the top of the mountain or take a cable car to enjoy the panoramic views. 
Robben Island, a small island off the coast of Cape Town, is famous for its former prison, which housed Nelson Mandela during his years of captivity. Visitors can take a ferry to the island and tour the prison, learning about the history and the struggles of South Africa's past.
Cape of Good Hope is a beautiful natural landmark on the southernmost tip of the Cape Peninsula. Visitors can hike to the top of the Cape for stunning views of the ocean and landscape.
The unique and diverse city of Cape Town is a great vacation destination for its natural beauty and variety of attractions.
10. Tahiti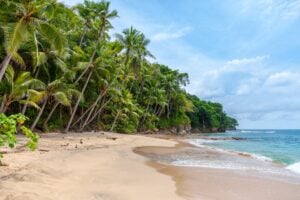 Tahiti is the largest island in French Polynesia. 
It is located in the central part of the Pacific Ocean and is split in two. Tahiti Nui and Tahiti Iti.
The tropical paradise offers tourists an unforgettable experience through nearby attractions such as Moorea, Papenoo Beach, and the Tahiti Lagoonarium.
Moorea is a beautiful island located just a short ferry ride from Tahiti. The island is known for its lush mountains, pristine beaches, and crystal-clear lagoons. Visitors can explore the island by hiking, taking a boat tour, or swimming in the lagoons. Moorea is also a popular tourist destination for surfing and other water sports.
Papenoo Beach is unique due to its black sand. It is known for its stunning natural beauty, including waterfalls and cliffs. Visitors can swim, surf and relax on the beach.
The Tahiti Lagoonarium is impressive through the variety of marine life native to the region. Tourists can see sharks, stingrays, and a variety of tropical fish in their natural habitat.
Tahiti is a beautiful and unique destination that offers many activities in its surroundings. The stunning natural scenery makes Tahiti a must-visit destination for anyone traveling to French Polynesia.