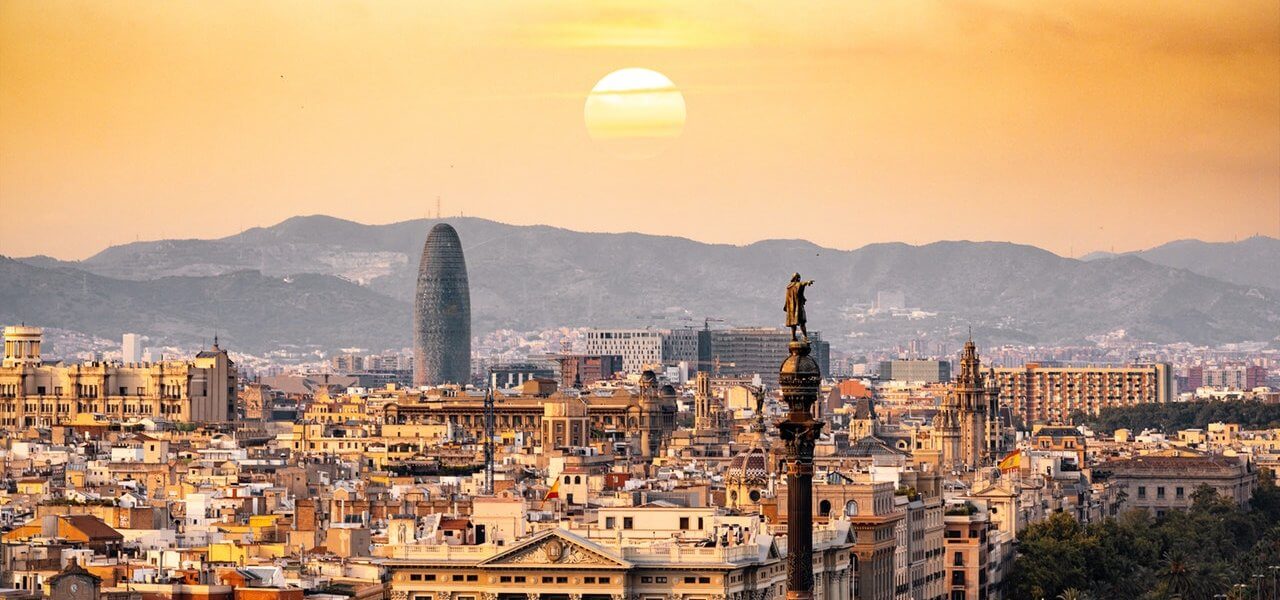 Luggage Storage in +80 locations around Barcelona
Only luggage storage to offer choice of hourly or daily rates in Barcelona
Most-reviewed luggage storage service
Luggage storage Barcelona
You've just arrived at Barcelona airport and you want to start your day? That can be difficult if you can't check in at your rental or hotel right away and your suitcases are slowing you down. Instead, you can easily store your luggage  in Barcelona. Next time you're in Barcelona, remember that LuggageHero is here to save the day! You can check the map below to find the most convenient locations to store your luggage.
How Luggage Storage works:
A 3-step easy guide to storing luggage in Barcelona

Download LuggageHero's free luggage storage app:
For even more comfort and ease, you can download LuggageHero's bag storage app. There you can see all our locations around you.
We provide the solution to your luggage storage problem 
LuggageHero is here to set you free from your luggage so you can explore Barcelona without your bags. Just go to our Booking platform and find the nearest and most handy storage space inside a shop or another business. All our locations in Barcelona, and in our other cities, are verified by us. Using the LuggageHero map, you can easily find the shops that are nearest to the metro stops and attractions and store your luggage there.
We store all kinds of luggage – any size and any shape
LuggageHero's users can store luggage of any size and/or shape in any of our storage locations. It doesn't matter if it is ski equipment, photo equipment, or backpacks – our luggage stores can accommodate it all. LuggageHero's customers can choose to be charged by the hour or choose our daily rate, regardless of what they store.
We can store your luggage for several days
LuggageHero also provides multi-day storage because we know flexibility is  essential when you travel. LuggageHero offers a lower daily rate when you store your luggage for a longer period. From the second day onwards, our customers pay only €5 per bag per day.
Opening hours
We have a variety of stores with different opening hours, so choose what fits you best! Go and pick the store here to see the opening hours.
Pricing
Luggagehero is the ONLY luggage storage service that offers you a choice of hourly or daily rates in Barcelona. A flat rate of €7 per day and €0.95 per hour allows you to pick an option that will best suit your needs. If you're only planning on staying for a few hours in a city, why pay for an entire day, as you would with other luggage storage services. No hidden fees and no need to pay in advance, pay only if you show up at the luggage drop-off location. All luggage is insured against damage, loss, and theft & a security seal is provided if you choose to add it to your booking. 
Half the price of  station lockers and airport lockers
Luggage lockers, also called city lockers, are generally at least twice as expensive on a daily basis as LuggageHero's luggage storage service. Until relatively recently, travelers could only stow their bags in these luggage lockers, which offer very little flexibility in regard to pricing and location. where to go and luggage deposit. Today, LuggageHero offers countless stores in various cities to ensure you always have the option of dropping off your luggage in a protected environment. Unlike luggage lockers in stations and airports, LuggageHero also offers both an hourly and daily rate for maximum flexibility. LuggageHero tries to offer safe and cheap luggage storage near you at all times.
Luggage storage facility for suitcase, baggage and odd-sized luggage
We check all our hotels and local shops in order for us to be able to offer space for whatever you need; ski equipment, photo equipment, backpacks or whatever. This is simply another method for us to give you the most flexible baggage storage, suitcase storage and luggage deposit. 
Our service is similar to hotel luggage storage
Many travelers who have been customers at hotels have asked the staff at the reception if they could store their luggage until they depart the city later in the day. For the most part, we offer the same service for everyone – no matter if they stay at a hotel, Airbnb or anywhere else. We are always ready to help you out.
Stow your bags in verified stores with this discount code
We offer our loyal customers and new customers a discount code for two hours of FREE luggage storage. The discount code works the rest of 2022 in ALL cities and ALL stores – including Premium Partner stores! 
Just use the following discount code when you are booking: 
LOVE2
Drop off your bags by using LuggageHero's network of local shops located in  Barcelona.
Luggage storage has never been easier! Just go to the LuggageHero reservation platform to find a handy storage site inside a shop or other business – all verified by us. Using our map, you can locate the shops close to transportation hubs and top visitor attractions and store your luggage there.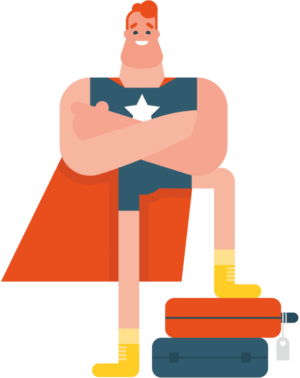 Which payment methods are accepted?
You don't need to worry about having the right currency on hand when paying online. All major credit cards are accepted. The shops do not receive cash when using LuggageHero. The insurance on your luggage is valid only if the payment has been made directly to LuggageHero.
Is there a difference between left luggage and luggage storage?
Left luggage and luggage storage are basically the same thing.  The term "left luggage" is mostly being used in the UK. Luggage storage is the most common name used internationally when referring to storing luggage. They are both defined by people's need of storing luggage that can be collected at a later time. So whether you are looking for "left luggage" or "luggage storage," LugaggeHero is here to take care of your belongings.
Safety
Unlike other luggage storage services, all our shops in Barcelona have been reviewed by a LuggageHero employee, we provide optional security seals for each piece of luggage, and each piece of luggage and its contents can be insured for up to . You will not find any other luggage storage providers inBarcelona that offer the same. Our customer online chat support is available 24/7.
We made it easy for you to compare companies offering luggage storage in Barcelona – find the list here.
Why book luggage storage in Barcelona with LuggageHero?
Convenience:

We are the only service that offers both hourly and daily options,  so you can choose what best fits your plans for the most affordable price!

Flexibility:

From overnight storage to just a few hours, our luggage storage options are as flexible as it gets! We even have some stores where you don't need a reservation.  Click

here

to check which stores.

Affordability:

Our luggage storage facilities offer the best value for money

Safety:

All storage options are

fully insured up to
Trust:

Our service has the best and the most reviews around. With

more than 75,000 reviews, we have

an average rating of 4.8
Cancellation of booking
We know that plans can change, therefore our customers have the option to cancel their booking up until midnight of the day before without any charges.
For same-day cancellations and no-shows, there will be a fee which equals to the daily rate of €7 per bag.
Luggage storage chart
Based on the chart below, LuggageHero is the best luggage storage option in Barcelona. LuggageHero is the only one that offers both hourly and daily prices with the possibility of insurance. Luggage storage in Barcelona has never been so easy!
The chart is created based on the most popular luggage storage options.
Name
Price
Insurance
Flexible arrival
Reviews
Name
Price
Insurance
Flexible arrival
Reviews
LuggageHero
$0.95/hour or $7.95/day
Up to $3000
Yes
67.050
Name
Price
Insurance
Flexible arrival
Reviews
NannyBag
$6 day & no hourly option
Up to $1100
No
27,802
Name
Price
Insurance
Flexible arrival
Reviews
Vertoe
$5.95 day & no hourly option
Up to $5000
No
4,708
Name
Price
Insurance
Flexible arrival
Reviews
Radical Storage
$5 day & no hourly option
No
No
900
Download our free app
For greater convenience,  you can download our LuggageHero bag storage app, where you can easily see all our locations around Barcelona. With our luggage storage app, you are able to store your bags anywhere in our 1000+ locations.
Discount Vouchers – Click here to see if we have any available at the moment for Barcelona.
Check out why KnockKnock recommends storing your baggage with LuggageHero. Also featured in The New York Times, Lonely Planet, CNBC.
2022 Guide: Luggage Storage Barcelona
You may be confused with the rules and regulations and wonder where bags and luggage are allowed in your travel destination. LuggageHero understands your pain and is happy to give you a big help. You just simply click Find Luggage Storage & Lockers in Barcelona and have a quick look to find all the updated information for your amazing trip.
Frequently asked questions about your Barcelona travels
If you are planning a trip to Barcelona and there are things you want to know, check out the frequently asked questions below. Here are the FAQs about traveling to Barcelona!
What is the best month to go to Barcelona?
The best months to visit Barcelona May to June when balmy temperatures in the low to mid-70s mesh with a flurry of festivals that trumpet the advent of summer.
Which airports are in Barcelona?
There are a total of three airports in and around Barcelona named El Prat de Llobregat Aeropuerto, Reus International Airport and Girona-Costa Brava Airport.
Where to stay in Barcelona?
Barcelona's best things to do are spread around the town, so there is no universal answer to this question. The nice areas to stay in Barcelona are Barri Gòtic, La Rambla, on the other side of Barri Gòtic is El Born, another maze of medieval streets with popular attractions of its own. Bordering the Old City to the northwest is Eixample, where you'll find most of Barcelona's striking Modernist buildings, including Gaudi's Sagrada Familia, as well as the most upscale shopping. There are much more places to stay, so your choice where to stay in will make a difference in what you see and how you get there.
What kind of plug adapter do I need in Barcelona?
For Spain there are two associated plug types, types C and F. Plug type C is the plug which has two round pins and plug type F is the plug which has two round pins with two earth clips on the side. Spain operates on a 230V supply voltage and 50Hz.
How long should I stay in Barcelona?
Most visitors spend in London about 3 to 5 days. This is a city of late-night dinners, late morning, and afternoon siestas.
What is Barcelona famous for?
Barcelona is famous for its outstanding football team, stunning architecture, lively nightlife, sandy beaches, and world-class cuisine. Not to mention a vibrant cultural heritage and colourful neighbourhood festivals that attract visitors from around the world.
Is Barcelona a safe city?
Barcelona is very safe to visit. Apart from the pickpockets, which are common in this city, tourists should encounter no other problems. Use your common sense and your trip should go smoothly.
Is it safe to store my luggage with LuggageHero?
All luggage storage locations are verified for safety and carefully trained by our team before being listed on the site. Aside from that, we provide you with individually tagged tamper-proof seals for your baggage when you arrive. To offer an extra sense of security, every bag is covered by insurance that is up to £2200 per bag if you chose if you chose to add it to your booking, but there is always a guarantee.
Can I cancel my booking with LuggageHero?
Of course! We know that plans can change, therefore our customers have the option to cancel their booking up until midnight of the day before without any charges. For same-day cancellations and no-shows, there will be a fee which equals to the daily rate of €7.