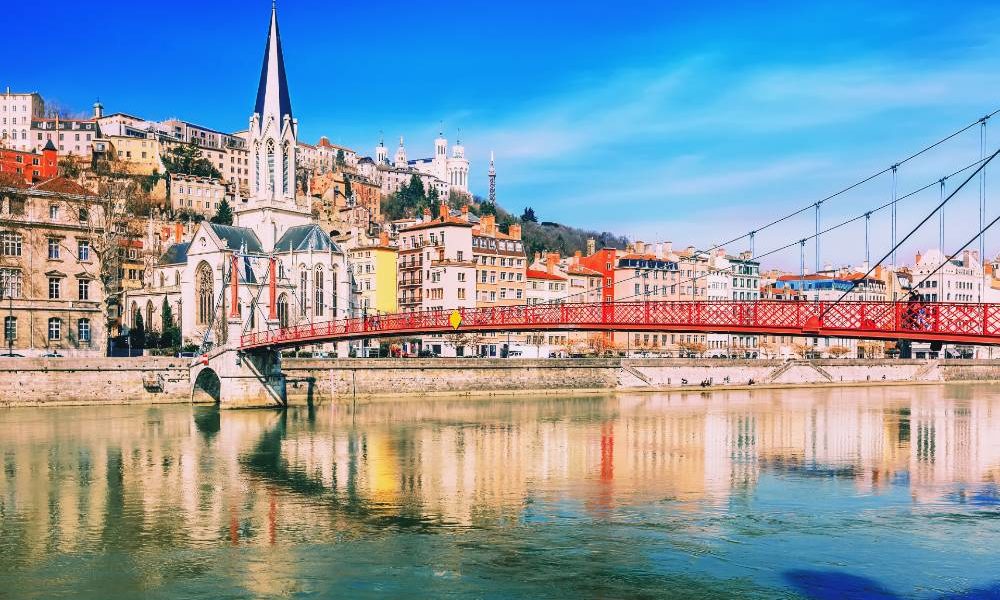 Bagageopbevaring Lyon
Opbevar dine tasker på et certificeret hotel eller i en butik fra €0.95/time
Det siger vores kunder om os
Bagageopbevaring i Lyon
Du er lige landet i Lyon lufthavn, og du vil i gang med din dag? Det kan være svært, hvis du ikke kan tjekke ind på dit opholdssted eller hotel med det samme, og dine kufferter er en klods om benet på dig. I stedet kan du nemt opbevare din bagage hos Lyon.
Næste gang du er i Lyon, så husk at LuggageHero er her for at redde din dag! Tjek kortet nedenfor for at finde de mest belejlige steder at opbevare din bagage, og husk LuggageHero er den eneste bagageopbevaringsservice, der tilbyder time- og dagspriser for maksimal fleksibilitet. 
Aflever dine kufferter ved at bruge LuggageHeros netværk af lokale butikker og hoteller beliggende i Lyon. 
Bagageopbevaring har aldrig været nemmere! Bare gå til LuggageHeros reservationsside for at finde et praktisk opbevaringssted i en butik eller en anden virksomhed – alt sammen verificeret af os. Ved hjælp af vores kort kan du finde butikker tæt på transportknudepunkter og de største turistattraktioner og opbevare din bagage der.
You can stop searching for lockers to store your luggage. The next time you're in Lyon, remember that LuggageHero is here to save the day! Drop off your bags by using LuggageHero's vast network of local shops located around crucial traffic hubs and popular districts.
Use our map to find the nearest certified shops in Lyon
The Luggage Storage Problem
Let's say that you arrive at the city center hours before your rental is ready and you want to check out the sights without pulling your luggage behind you. Maybe you want to visit the Grand Theatre or The Basilica of Notre-Dame de Fourvière? Whatever you choose, we're here to storage your luggage.
Just go to the LuggageHero reservation platform to find a handy storage site inside a shop or other business – all verified by us. Using our map, you can locate the shops that are nearest to the stations you'll use or attractions you'll visit and store your luggage there.
We have the solution to your luggage storage in Lyon
LuggageHero is here to lighten your load so you can go out and explore the city without your bags. Just go to our LuggageHero reservation platform to find a nearby Lyon Luggage Hero storage space inside a shop or another business. All our locations in Lyon, and in our other cities, are verified by us. Using our up-to-date map, you can locate the shops that are nearest to you and store your luggage there. There have never been so many Storage lockers options in Lyon before.
You pay by the hour – unlike other services!
We offer a speedy, convenient, and low-cost service.
We believe in offering our customers various payment solutions. Therefore, LuggageHero charges users for each hour using only €1, unlike most other luggage services, which make you pay for the entire day. However, if you want to store your luggage in Lyon (or anywhere else) for the whole day or longer, we offer you a low daily cap of €8. This is how we believe payment of luggage storage should be in the year 2021 – affordable and simple.
We're looking out for you
Your safety and security are our priority. That's why we have LuggageHero employees review and certify all our shops for luggage storage in Lyon. On top of that, we ensure every bag and what's inside it for up to €2500. If you need to talk to someone at LuggageHero about your luggage storage in Paris, you may do so through our online chat system. We're here for you 24/7!
Major stations in Lyon 
Lyon, being the third-largest city in France, is very well-connected to the rest of France and other European countries. The stations are centrally located, well-accessible, and offer various services and amenities.
Below are listed several stations that are being frequently visited by tourists and visitors:
Gare de Lyon Part Dieu is the main railway station carrying the name of the district Part-Dieu where it is located. The district is a gateway to the city and the station had been operating since 1983, however, it has been rebuilt in 1995 and 2001 in order to cater to the increasing weight of travel. Nowadays, one can enjoy its modern character and 11 platforms, this station operates. The station is a cross-road of tram lines, bus lines, railways, TGV (high-speed train), or The Rhonexpress, which, among others, connects Part-Dieu with Saint Exupéry Airport. The luggage drop-off can be found in Hall 3, marked as Consignes (baggage room).
Gare de Lyon St. Exupéry is the station located at the Airport. This station opened in 1994 and has been designed by famous architect Santiago Calatrava! Some would say that the station itself is an attraction due to its unusual look and futuristic architecture that resembles a bird-like figure.
Gare de Lyon Perrache is a large railway station located in the Perrache district.  Perrache used to be the main city station, however, Part Dieu gained its popularity and Perrache is considered secondary now.  This station is well-connected with trains, buses, metro A-line and is even more conveniently located in the old city than Part-Dieu. Fun fact: this station was built in only 18 months.
Book risk-free
We believe in making your travels as smooth and easy as possible, which is why it is important to us that NO FEES are charged to you until your luggage is dropped off.
Use our online booking service to choose a luggage storage site in Lyon that is most convenient to your location and schedule. You can either book on arrival at the shop or book online in advance to secure your spot. Make an advance booking and you're guaranteed a space for your luggage.
But we know that sometimes plans change, especially when you're on the road. So if you don't show up, there's no charge. Nada. Zero. Zip. Zilch. Nothing! And no, you don't even have to cancel!
Priser
LuggageHero er den ENESTE bagageopbevaringsservice, der tilbyder dig et udvalg af time- eller dagspriser i Lyon. En fast sats på €7.9 pr. dag og €0.95 pr. time giver dig mulighed for at vælge en mulighed, der passer bedst til dine behov. Hvis du kun planlægger at blive et par timer i en by, hvorfor så betale for en hel dag, som du ville gøre hos andre bagageopbevaringstjenester.  Al bagage er dækket mod skader, tab og tyveri, og du får en sikkerhedsplombering, hvis du vælger at tilføje det til din reservation. 
Halv pris sammenlignet med skabe på stationer og i lufthavne
Bagageskabe, også kaldet byskabe, er generelt mindst dobbelt så dyre på daglig basis sammenlignet med LuggageHeros bagageopbevaringsservice.
Indtil for nylig har rejsende kun kunne opbevare deres kufferter i disse bagageskabe, hvilket giver meget lidt fleksibilitet med hensyn til priser, hvor de skal hen og bagagedeponering. LuggageHero tilbyder også butikker utallige steder, så du altid har mulighed for at aflevere din bagage i sikre omgivelser. I modsætning til bagageskabe på stationer og i lufthavne tilbyder LuggageHero både time- og dagspriser. LuggageHero stræber efter at tilbyde fleksibel og billig bagageopbevaring i nærheden af dig til enhver tid. 
Vi leverer løsningen på dit problem med opbevaring af din bagage i verificerede butikker
LuggageHero er her for at frigøre dig fra din bagage, så du kan udforske Lyon uden dine tasker. Bare gå til vores bookingplatform og find det nærmeste og mest praktiske opbevaringssted i en butik, på et hotel eller en anden virksomhed.
Alle vores lokationer i Lyon og vores andre byer er verificeret af os. Ved hjælp af LuggageHero-kortet kan du nemt finde de butikker, der er tættest på metrostationer og attraktioner og opbevare din bagage der. 
Vi opbevarer al slags bagage – enhver størrelse og enhver form
LuggageHeros brugere kan opbevare bagage af enhver størrelse og/eller form i enhver af vores butikslokationer. Det er lige meget, om det er skiudstyr, fotoudstyr eller rygsække. Du kan med andre ord få bagageopbevaring, kuffertopbevaring, bagagedepot eller hvad end vores tilfredse kunder kalder det på en sikker måde, da vi tilbyder det hele. LuggageHeros kunder kan vælge at blive opkrævet pr. time eller vælge vores dagspris, uanset hvad de vil have opbevaret.
Vi kan opbevare din bagage i flere dage
LuggageHero tilbyder også flere dages opbevaring, fordi vi ved, at fleksibilitet er afgørende, når du rejser.
LuggageHero tilbyder en lavere dagspris, når du opbevarer din bagage i en længere periode. Fra dag to og efterfølgende betaler vores kunder kun €5 pr. taske pr. dag.
Download LuggageHeros gratis bagageopbevaringsapp:
For endnu mere komfort og nemhed kan du downloade LuggageHeros bagageopbevaringsapp. Der kan du se alle vores lokationer i nærheden af dig.
Åbningstider
Vi har en række butikker med forskellige åbningstider, så vælg den, der passer dig bedst! Vælg en butik her for at se åbningstiderne.
Hvilke betalingsmetoder accepterer I?
Du behøver ikke bekymre dig om at have den rigtige valuta ved hånden, når du betaler online. Vi accepterer alle gængse kreditkort. Butikkerne modtager ikke kontanter ved brug af LuggageHero. Forsikring af din bagage er kun gyldig, hvis betalingen er sket direkte til LuggageHero.
Er der forskel på bagageopbevaring og opmagasinering af bagage?
Opmagasinering af bagage og bagageopbevaring er grundlæggende det samme.  Opmagasinering af bagage bruges kun få steder. Bagageopbevaring er det mest almindelige navn, der bruges når der henvises til opbevaring af bagage. De er begge defineret af folks behov for at opbevare bagage, der kan afhentes på et senere tidspunkt. Så uanset om du leder efter "opmagasinering af bagage" eller "bagageopbevaring", er LuggageHero her for at tage sig af dine ejendele.
Sikkerhed
I modsætning til andre bagageopbevaringstjenester er alle vores butikker i Lyon blevet gennemgået af en LuggageHero-medarbejder. Vi leverer valgfrie sikkerhedsplomberinger til hvert stykke bagage, og hvert stykke bagage og dets indhold kan forsikres for op til .
Du finder ikke andre udbydere af bagageopbevaring i Lyon, der tilbyder det samme.
Hvorfor booke bagageopbevaring i Lyon med LuggageHero?
Bekvemmelighed:

Vi er den eneste service, der tilbyder både time- og dagsmuligheder, så du kan vælge det, der passer bedst til dine planer, til den mest overkommelige pris!

Fleksibilitet: Fra opbevaring natten over til blot et par timer, er vores bagageopbevaringsmuligheder så fleksible, som de kan blive! Vi har endda nogle butikker, hvor du ikke behøver en reservation.  Klik her

 for at tjekke hvilke butikker.

Overkommelige priser:

Vores bagageopbevaringsfaciliteter tilbyder den bedste værdi for pengene

Tillid:

Vores service har de bedste og de fleste anmeldelser på markedet. 
Annullering af booking
Ved annullering og udeblivelser samme dag vil der være et gebyr svarende til dagstaksten på €7.9 pr. taske.
Skema over bagageopbevaring
Baseret på skemaet nedenfor er LuggageHero den bedste bagageopbevaringsmulighed i Lyon. LuggageHero er de eneste, der tilbyder både time- og dagspriser med mulighed for forsikring. Bagageopbevaring i Lyon har aldrig været så nemt!
Skemaet er lavet ud fra de mest populære muligheder for opbevaring af bagage.
Name
Prices from
Insurance
Flexible arrival
Reviews
Name
Prices from
Insurance
Flexible arrival
Reviews
LuggageHero
€0.95/hour or €7.9/day
Up to $3000
Yes
102.250
Name
Prices from
Insurance
Flexible arrival
Reviews
NannyBag
$6 day & no hourly option
Up to $1100
No
27,802
Name
Prices from
Insurance
Flexible arrival
Reviews
Vertoe
$5.95 day & no hourly option
Up to $5000
No
4,708
Name
Prices from
Insurance
Flexible arrival
Reviews
Radical Storage
$5 day & no hourly option
No
No
900
Download vores gratis app
For at gøre det nemmere kan du downloade vores LuggageHero bagageopbevaringsapp, hvor du nemt kan se alle vores lokationer i Lyon. Med vores bagageopbevaringsapp er du i stand til at opbevare dine kufferter hvor som helst på vores 1000+ lokationer.
Rabatkoder – Klik her for at se, om vi har nogen tilgængelige i øjeblikket til Lyon.
Se hvorfor, KnockKnock anbefaler at opbevare din bagage med LuggageHero. Også omtalt i The New York Times, Lonely Planet og CNBC.