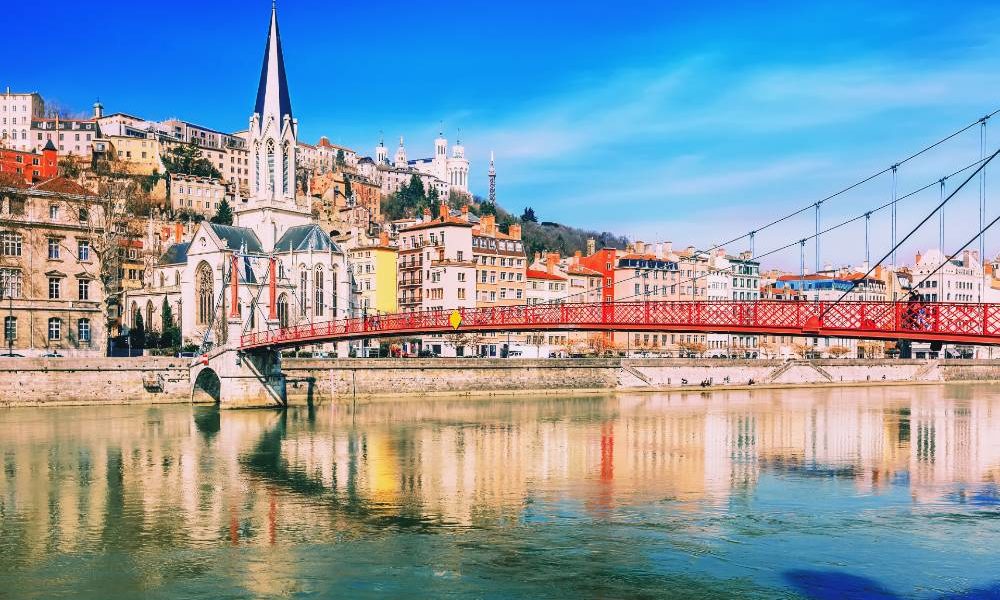 Luggage Storage Lyon
Only luggage storage to offer choice of hourly or daily rates in Lyon
Det siger vores kunder om os
Bagageopbevaring Lyon
You can stop searching for lockers to store your luggage. The next time you're in Lyon, remember that LuggageHero is here to save the day! Drop off your bags by using LuggageHero's vast network of local shops located around crucial traffic hubs and popular districts.
The Luggage Storage Problem
Let's say that you arrive at the city center hours before your rental is ready and you want to check out the sights without pulling your luggage behind you. Maybe you want to visit the Grand Theatre or The Basilica of Notre-Dame de Fourvière? Whatever you choose, we're here to storage your luggage.
Just go to the LuggageHero reservation platform to find a handy storage site inside a shop or other business – all verified by us. Using our map, you can locate the shops that are nearest to the stations you'll use or attractions you'll visit and store your luggage there.
We have the solution to your luggage storage in Lyon
LuggageHero is here to lighten your load so you can go out and explore the city without your bags. Just go to our LuggageHero reservation platform to find a nearby Lyon Luggage Hero storage space inside a shop or another business. All our locations in Lyon, and in our other cities, are verified by us. Using our up-to-date map, you can locate the shops that are nearest to you and store your luggage there. There have never been so many Storage lockers options in Lyon before.
You pay by the hour – unlike other services!
We offer a speedy, convenient, and low-cost service.
We believe in offering our customers various payment solutions. Therefore, LuggageHero charges users for each hour using only €1, unlike most other luggage services, which make you pay for the entire day. However, if you want to store your luggage in Lyon (or anywhere else) for the whole day or longer, we offer you a low daily cap of €8. This is how we believe payment of luggage storage should be in the year 2021 – affordable and simple.
We're looking out for you
Your safety and security are our priority. That's why we have LuggageHero employees review and certify all our shops for luggage storage in Lyon. We also seal every piece of luggage to keep them tamper-free. On top of that, we ensure every bag and what's inside it for up to €2500. If you need to talk to someone at LuggageHero about your luggage storage in Paris, you may do so through our online chat system. We're here for you 24/7!
We store all kinds of luggage – any size and any shape
LuggageHero's users can store luggage of any size and/or shape in any of our store locations. It doesn't matter if it is ski equipment, photo equipment, or backpacks – our luggage stores can accommodate all. LuggageHero's customers can choose to be charged by the hour or choose our daily rate, no matter their left luggage.
We can store your luggage for several days
LuggageHero also provides multi-day storage to its customers because we know flexibility is essential when you travel. LuggageHero offers a lower daily rate when you store your luggage for a longer period. From the second day onwards, our customers pay only $5 per bag per day!
Major stations in Lyon 
Lyon, being the third-largest city in France, is very well-connected to the rest of France and other European countries. The stations are centrally located, well-accessible, and offer various services and amenities.
Below are listed several stations that are being frequently visited by tourists and visitors:
Gare de Lyon Part Dieu is the main railway station carrying the name of the district Part-Dieu where it is located. The district is a gateway to the city and the station had been operating since 1983, however, it has been rebuilt in 1995 and 2001 in order to cater to the increasing weight of travel. Nowadays, one can enjoy its modern character and 11 platforms, this station operates. The station is a cross-road of tram lines, bus lines, railways, TGV (high-speed train), or The Rhonexpress, which, among others, connects Part-Dieu with Saint Exupéry Airport. The luggage drop-off can be found in Hall 3, marked as Consignes (baggage room).
Gare de Lyon St. Exupéry is the station located at the Airport. This station opened in 1994 and has been designed by famous architect Santiago Calatrava! Some would say that the station itself is an attraction due to its unusual look and futuristic architecture that resembles a bird-like figure.
Gare de Lyon Perrache is a large railway station located in the Perrache district.  Perrache used to be the main city station, however, Part Dieu gained its popularity and Perrache is considered secondary now.  This station is well-connected with trains, buses, metro A-line and is even more conveniently located in the old city than Part-Dieu. Fun fact: this station was built in only 18 months.
Are you ready to store your bags in one of our many Lyon Locations?
Find your perfect place and choose one of many locations throughout Lyon!
Safety
We carefully certify and educate the operators at all our LuggageHero locations in Lyon about how to safely handle your belongings.
All our shops in Lyon have been reviewed by a LuggageHero employee, who also regularly performs quality checks to make sure customers' belongings are kept in a safe and secure manner.
In addition, we provide security seals for each piece of luggage. These will be provided to you when you arrive at the shop, which ensures that no one can access your bags.
Furthermore, each piece of luggage and its contents are insured up to €2500.
If you need someone to turn to, remember that customer online chat support is available 24/7.
Book risk-free
We believe in making your travels as smooth and easy as possible, which is why it is important to us that NO FEES are charged to you until your luggage is dropped off.
Use our online booking service to choose a luggage storage site in Lyon that is most convenient to your location and schedule. You can either book on arrival at the shop or book online in advance to secure your spot. Make an advance booking and you're guaranteed a space for your luggage.
But we know that sometimes plans change, especially when you're on the road. So if you don't show up, there's no charge. Nada. Zero. Zip. Zilch. Nothing! And no, you don't even have to cancel!
Storing luggage in Lyon during COVID19:
Many shops and locations in Lyon are still open for storing luggage
Be responsible and remember to sanitize before and after using any kind of luggage storage service or locker in Lyon
When necessary, remember to use a face mask when dropping off your luggage in Lyon, to protect those around you
It is safe to store luggage in Lyon as shops are following restrictions, but be extra cautious and remember washing hands (or sanitizing)
When you store your luggage in local shops in Lyon you are helping support local businesses in these difficult times. Thank you

Download our free app
For even more comfort you can download our LuggageHero bag storage app where you can easily see all our locations for luggage storage in Lyon. With our luggage storage app, you are able to store your bags anywhere in our 1000+ locations.