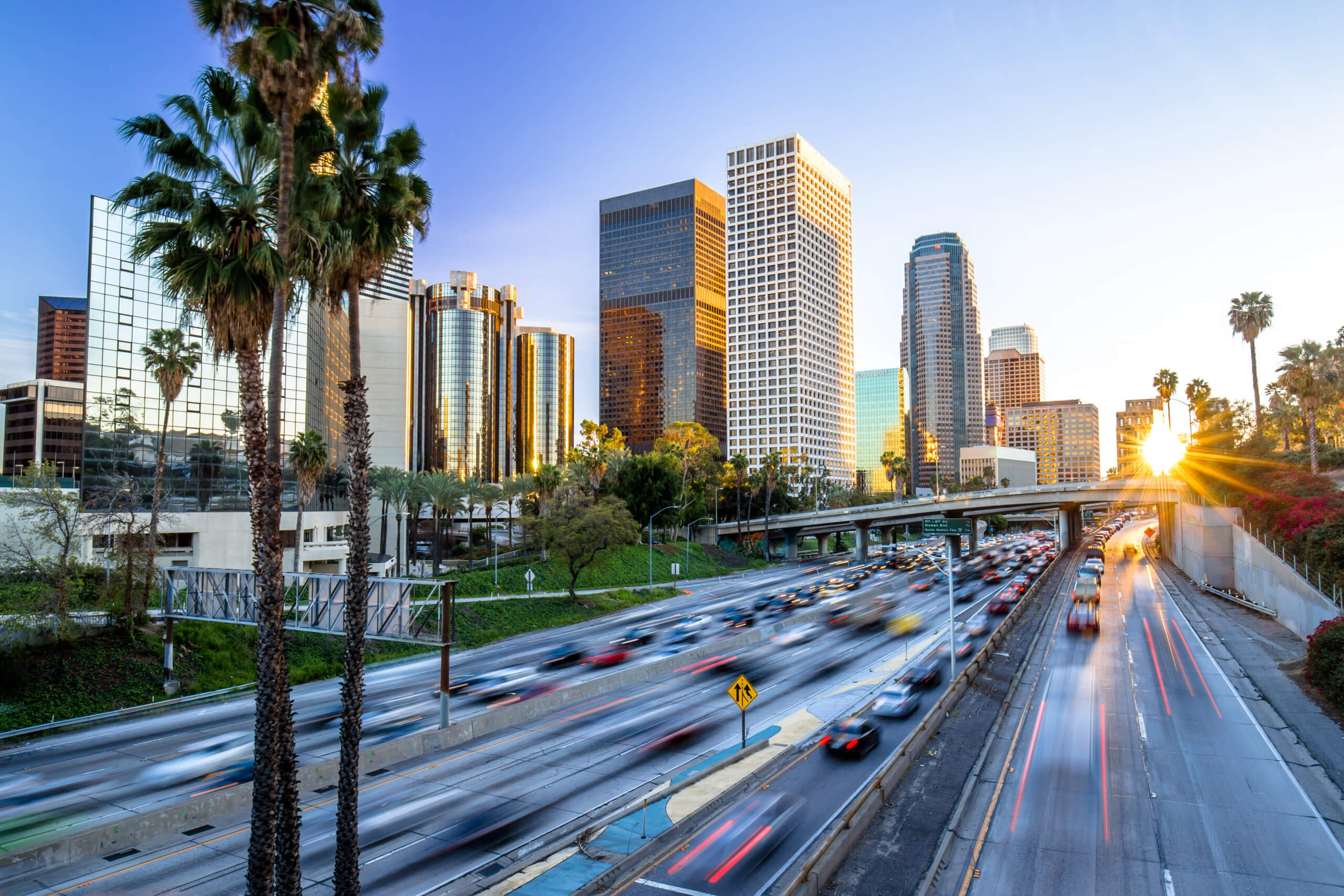 Gepäckaufbewahrung Los Angeles
Lagern Sie Ihr Gepäck in einem zertifizierten Hotel oder Geschäft ab $0.95 pro Stunde
+1M Taschen sicher gelagert
Gepäckaufbewahrung Los Angeles
Sie sind gerade am Flughafen Los Angeles angekommen und Sie möchten in den Tag starten? Das kann schwierig werden, wenn Sie nicht direkt ins Hotel oder in die Ferienwohnung einchecken können und Ihre Koffer Sie zurückhalten. Statt dessen können Sie Ihr Gepäck auch einfach in Los Angeles lagern.
Denken Sie das nächste Mal wenn Sie in Los Angeles sind, dass LuggageHero Ihren Tag rettet! Sie können auf der Karte die besten Orte sehen, um Ihr Gepäck zu lagern. LuggageHero ist der einzige Anbieter von Gepäckaufbewahrungsmöglichkeiten, der Stunden- oder Tagesraten für maximale Flexibilität anbietet. 
Geben Sie Ihr Gepäck in einem der lokalen Geschäfte oder Hotels aus dem Netzwerk von LuggageHero in Los Angeles ab. 
Gepäckaufbewahrung war noch nie einfacher! Gehen Sie einfach auf die Reservierungsplattform von LuggageHero, um einen praktischen Lagerort in einem Geschäft zu finden – alles von uns verifiziert. Mit unserer Karte können Sie die Geschäfte finden, die am nächsten an großen Transportdrehscheiben und den beliebtesten Besucherattraktionen sind, und dort Ihr Gepäck lagern.
Drop off your bags by using LuggageHero's network of more than 25 shops located around crucial traffic hubs and popular districts. These include Union Station, Greyhound Hollywood Station, LA City College, Chinatown, Koreatown, and Downtown LA.
Let's say that you arrive from Los Angeles International Airport hours before your rental is ready and you want to check out the sights without pulling your luggage behind you. Maybe you want to visit Venice Beach, Hollywood, hang out in Beverly Hills, or maybe take a tour in Universal Studios. Make all days count, we're here with storage for luggage for you.
Are you heading to the NOHO Arts District or Westwood village? Don't you worry, we got you covered there as well.
Are you ready to store your bags in one of our many Los Angeles bag storage locations?
You can even store your luggage when enjoying a match at Dodger Stadium, Angel Stadium of Anaheim and SoFi Stadium.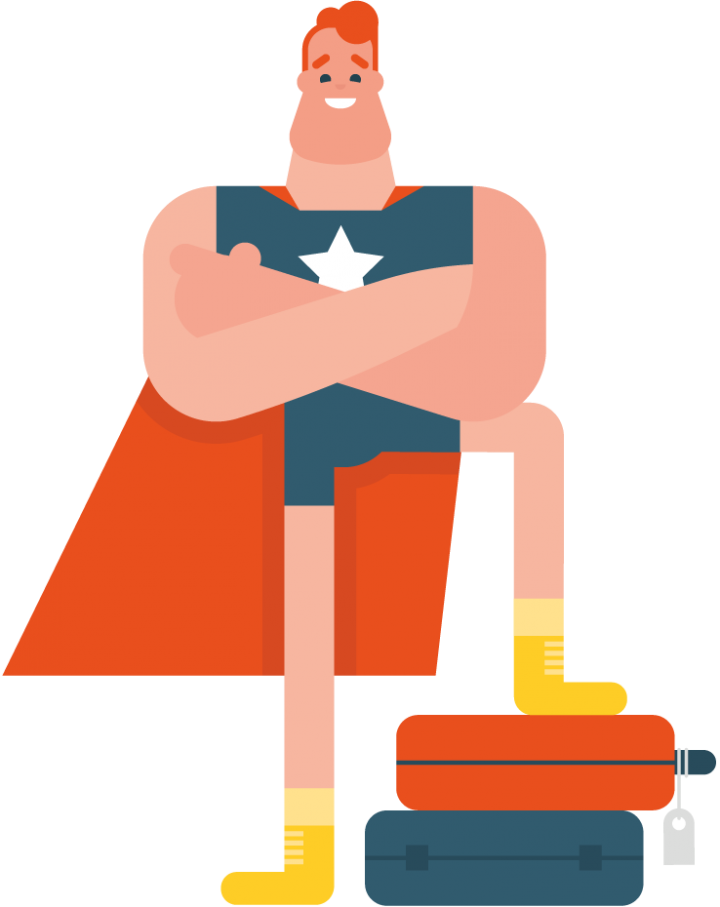 Remember to be careful when storing your luggage in LA! See the full guide here.
Must-See Locations in LA and How to Get to Them
Chinatown
Chinatown is a beautiful space where sound, sight, and taste come together and paint a colorful canvas of culture. It is a place that draws travelers from all around the world to itself. Historically Chinatown was located near Union Station however, by 1938 relocated and the Central Plaza was built, planned, and owned by the Chinese. Chinatown is also home to many events that pay homage to Chinese cultures such as the Chinese New Year, Chinatown Summer nights and CicLAvia, and the Moon Festival.
To get to Chinatown by public transport you can take 28, 76 and 83 busses. 91 Perris Valley Line, San Bernardino Line and Ventura County Line trains, the Red Line Subway, and the Gold Line Light Rail. To get to Chinatown from:
Echo Park Avenue, Los Angeles take bus number 4 followed with bus number 28
Gayley Avenue, Los Angeles take bus 20 and then bus 28
Beverly Hills
Beverly Hills the home to many celebrities is a city in Los Angeles County that is neighbors the cities of Los Angeles and West Hollywood. Beverly Hills is very rich with pop culture and many people visit Beverly Hills to see beautiful mega-mansions and take a stroll down Rodeo Drive which is a well-known shopping district.
To get to Beverly Hills you can take the 20, 4, and 720 buses, the Orange County Line train, and the Red Line subway. To get to Beverly Hills from:
Norwalk Station you can take the Green Line subway, then the 210-bus followed by the 20 bus.
Union Station you can take the Red Line subway and then bus number 20
North Hollywood Station 237/656 then bus number 4
Pacific Park Santa Monica bus 20
If you want to learn more about LuggageHero or the storage luggage business in general then you are welcome to check out this article by the New York Times.
Discount Vouchers – Click here to see if we have any available at the moment.
Major and popular stations in LA
Union Station – is the main railway station in Los Angeles, California, and the largest railroad passenger terminal in the Western United States. Los Angeles Union Station is marked by colorful tiles, shady arcades, fountains, and towering palms—the epitome of Southern California glamour.
Downtown LA – a residential and business district of Central Los Angeles. It's also the hub for the city's rail and metro transit systems for Southern California, as well as home to many open parks and gardens such as Grand Park, Maguire Gardens, and the Japanese Garden.
Universal Studios – is a theme park and film studio located in the San Fernando Valley of Los Angeles Country. It's one of the oldest film studios still used today.
2023 Guide: Luggage Storage Facility in Los Angeles
You may be confused with the rules and regulations and wonder where bags and luggage are allowed in your travel destination. LuggageHero understands your pain and is happy to give you a big help. You just simply click Find Luggage Storage & Lockers in Los Angeles and have a quick look to find all the updated information for your amazing trip.
Preise
LuggageHero ist der EINZIGE Gepäckaufbewahrungsdienst, der Ihnen die Wahl zwischen Stunden- und Tagesrate in Los Angeles bietet. Eine feste Rate von $5.95 pro Tag und $0.95 pro Stunde erlaubt es Ihnen, die Option auszuwählen, die Ihnen am besten zu Ihren Bedürfnissen passt. Warum sollten Sie für einen ganzen Tag bezahlen, so wie Sie es bei anderen Gepäckaufbewahrungsdiensten machen müssten, wenn Sie planen nur ein paar Stunden in einer Stadt zu sein?  Alle Gepäckstücke sind gegen Beschädigung, Verlust und Diebstahl versichert und Sie können bei der Buchung die Verwendung eines Sicherheitssiegels für Ihr Gepäck mit auswählen. 
Halber Preis im Vergleich zu Busbahnhof- und Flughafen-Schließfächern
Gepäckschließfächer kosten im Vergleich zum Aufbewahrungsdienst von LuggageHero in der Regel pro Tag das Doppelte.
Bis vor kurzem konnten Reisende Ihr Taschen nur in diesen Gepäckschließfächern unterbringen, was sehr unflexibel war, was die Preise und die Ablageorte angeht. Außerdem bietet LuggageHero Geschäfte an vielen verschiedenen Orten, sodass Sie immer die Möglichkeit haben, Ihr Gepäck an einem sicheren Ort zu verstauen. Anders als Gepäckschließfächer an Busbahnhöfen oder Flughäfen, bietet LuggageHero Stunden- und Tagesraten an. LuggageHero strebt danach eine günstige und flexible Gepäckaufbewahrung anzubieten, die immer in Ihrer Nähe ist. 
Wir bieten mit geprüften Geschäften die Lösung für Ihr Problem mit der Gepäckaufbewahrung
LuggageHero ist hier, um Sie von Ihrem Gepäck zu befreien, sodass Sie Los Angeles ohne Ihre Taschen erkunden können. Gehen Sie einfach auf unsere Buchungsplattform und finden Sie den nächsten und praktischsten Lagerort in einem Laden, einem Hotel oder einem anderen Geschäft.
Alle unsere Standorte in Los Angeles und in unseren anderen Städten sind von uns geprüft. Mit der LuggageHero-Karte können Sie einfach die Geschäfte finden, die in der Nähe von U-bahn-Haltestellen oder Attraktionen sind, und dort Ihr Gepäck lagern. 
Wir lagern alle Arten Gepäck – jede Größe und jede Form
Die Nutzer von LuggageHero können Ihr Gepäck aller Größen und Formen in jeder unserer Standorte lagern. Es ist egal, ob es die Skiausrüstung, das Photo-Equipment oder Rucksäcke sind. Anders gesagt, können Sie Gepäck, Koffer, Taschen oder wie auch immer unsere zufriedenen Kunden das nennen, sicher bei uns aufbewahren, da wir alles unterbringen. LuggageHero-Kunden können wählen, ob die Abrechnung nach Stunden erfolgen soll oder ob Sie unsere Tagesrate haben möchten, egal was Sie lagern möchten.
Wir können Ihr Gepäck für mehrere Tage verstauen
LuggageHero bietet außerdem die Möglichkeit, Gepäck mehrere Tage zu lagern, weil wir wissen, wie wichtig Flexibilität beim Reisen ist.
LuggageHero bietet eine niedrigere Tagesrate, wenn Sie Ihr Gepäck für einen längeren Zeitraum bei uns lassen wollen. Ab dem zweiten Tag bezahlen unsere Kunden nur $5.95 pro Gepäckstück pro Tag.
Laden Sie sich die kostenlose Gepäckaufbewahrungs-App von LuggageHero herunter:
Mit der Gepäckaufbewahrungs-App von LuggageHero geht es noch bequemer und einfacher. Dort können Sie alle Standorte in Ihrer Nähe sehen.
Öffnungszeiten
Wir haben eine Reihe von Geschäften mit verschiedenen Öffnungszeiten, sodass Sie wählen können, was Ihnen am besten passt! Wählen Sie hier das Geschäft aus, um die Öffnungszeiten zu sehen.
Welche Bezahlmethoden werden akzeptiert?
Sie brauchen sich keine Sorgen zu machen, ob Sie die richtige Währung zur Hand haben, wenn Sie online bezahlen. Alle gängigen Kreditkarten werden akzeptiert. Die Geschäfte erhalten kein Bargeld, wenn Sie Ihr Gepäck aufbewahren. Die Versicherung Ihres Gepäcks ist nur gültig, wenn die Zahlung direkt an LuggageHero erfolgt ist.
Gibt es einen Unterschied zwischen Gepäckaufbewahrung und Gepäcklagerung?
Gepäckaufbewahrung und Gepäcklagerung sind im Grunde das Gleiche.  Der Begriff Gepäcklagerung wird eher selten genutzt. Gepäckaufbewahrung dagegen wird es in der Regel international genannt, wenn es um die Aufbewahrung von Gepäck geht. Bei beiden geht es um das Bedürfnis der Menschen, ihr Gepäck abzugeben und es später wieder abholen zu können. Ob Sie also nun nach Gepäckaufbewahrung oder Gepäcklagerung suchen, LuggageHero ist hier, um sich um Ihre Habseligkeiten zu kümmern.
Sicherheit
Im Gegensatz zu den meisten anderen Gepäckaufbewahrungsanbietern, wurden alle unsere Geschäfte in Los Angeles von einem LuggageHero-Mitarbeiter überprüft. Wir versehen jedes Gepäckstück mit einem Sicherheitssiegel und jedes Gepäckstück und sein Inhalt kann bis zu versichert werden.
Sie werden in Los Angeles keinen anderen Gepäckaufbewahrungsanbieter finden, der dasselbe bietet.
Warum sollten Sie Gepäckaufbewahrung in Los Angeles mit LuggageHero buchen?
Bequem:

Wir sind der einzige Anbieter, der Stunden- und Tagesoptionen anbietet, sodass Sie sich für das entscheiden können, was am besten zu Ihren Plänen passt, zum besten Preis!

Flexibel: Von der Aufbewahrung über Nacht bis zu nur wenigen Stunden, unsere Gepäckaufbewahrungs-Optionen sind so flexibel, wie es nur geht! Wir haben sogar einige Geschäfte, in den Sie keine Reservierung brauchen.  Klicken Sie hier

, um herauszufinden, welche Geschäfte das sind.

Erschwinglich:

Unsere Gepäckaufbewahrungs-Einrichtungen bieten das beste Preis-Leistungs-Verhältnis

Vertrauen:

Unser Dienst hat die besten und die meisten Rezensionen. 
Buchungsstornierung
Für Stornierungen am gleichen Tag oder bei Nichterscheinen wird eine Gebühr in Höhe der Tagesrate von $5.95 pro Gepäckstück fällig.
Gepäckaufbewahrungs-Chart
Auf Basis des unten stehenden Charts, ist LuggageHero die beste Option für Gepäckaufbewahrung in Los Angeles. LuggageHero ist die einzige, die sowohl Stunden- wie auch Tagespreise anbietet mit der Möglichkeit der Versicherung. Gepäckaufbewahrung in Los Angeles war noch nie so einfach!
Der Graph basiert auf den beliebtesten Gepäckaufbewahrungs-Optionen.
Name
Pricing models
Insurance
Flexible arrival
Reviews
Name
Pricing models
Insurance
Flexible arrival
Reviews
LuggageHero
Daily, Hourly, & multi-day
Up to $3000
Yes
+140.000
Name
Pricing models
Insurance
Flexible arrival
Reviews
NannyBag
Daily
Up to $1100
No
27,802
Name
Pricing models
Insurance
Flexible arrival
Reviews
Vertoe
Daily
Up to $5000
No
4,708
Name
Pricing models
Insurance
Flexible arrival
Reviews
Radical Storage
Daily
No
No
900
Laden Sie sich unsere kostenlose App herunter
Um es noch bequemer und einfacher zu haben, laden Sie unsere Gepäckaufbewahrungs-App von LuggageHero herunter, mit der Sie ganz einfach alle unsere Standorte in der Nähe von Los Angeles sehen können. Mit unserer Gepäckaufbewahrungs-App können Sie Ihre Taschen in jedem unserer mehr als 1000 Standorte unterbringen.
Rabatt-Gutscheine – Klicken Sie hierum zu sehen, ob wir aktuell für Los Angeles noch welche haben.
Erfahren Sie, warum KnockKnock empfiehlt, Ihr Gepäck mit LuggageHero zu verstauen. Auch erschienen in der The New York Times, Lonely Planet und CNBC.
Frequently Asked Questions about Los Angeles
What is the best way to get around LA?
Most neighborhoods are walkable around LA, and very bike friendly. If you prefer, you can always rent a car or use Uber of Lyft.
Yes! Los Angeles has metro, that keeps growing. It is also very affordable, $1.75/ride.
When is the best time to visit Los Angeles?
With such a nice weather all year round, there isn't really a bad time to visit LA. March-May and Sep-Nov are the seaons with less touristic activity, if you're looking for some more relaxed trip.
Is Los Angeles expensive?
It is true that LA can be quite pricey, especially in places like Malibu or Beverly Hills. But LA is a big city! Not every neighborhood is as expensive, and it's worth to stay in places like Silver Lake or Echo Park to save a penny.
Where can I store my luggage in LA?
You can find many luggage storage locations in Los Angeles. We recommend LuggageHero - it provides low-cost, easy luggage storage near popular Los Angeles sites.
How much does it cost to store luggage in Los Angeles?
The price for luggage storage in Los Angeles with LuggageHero is from $0.95/bag per hour.
Is there a limit to the size of luggage that may be stored with LuggageHero?
LuggageHero's users can store luggage of any size and/or shape in any of our storage locations. It doesn't matter if it is ski equipment, photo equipment, or backpacks - our luggage stores can accommodate all. LuggageHero's customers can choose to be charged by the hour, or choose our daily rate - no matter their left luggage type.
Insurance and safe luggage storage
In the collaboration with First Marine Insurance Ltd., we are proud to be covering each piece of luggage free of charge every time you use our luggage service. The premium insurance is optional, you can easily add it when making your booking and it will cover your bags for up to $3,000/€2500 while being stored. On the other hand, if you decide not to add insurance, there is always a guarantee of $500. Make sure you do not pay cash in a drop-off/pick-up shop, because insurance will not cover any bookings that are not paid directly through LuggageHero
If anything happens to my luggage, what can LuggageHero do?
When you choose us, you select a risk-free option. If something unexpected occurs, our insurance covers your luggage up to $3000.
What will happen in case I have a problem with my booking?
If you encounter a problem with a luggage storage booking, you can email us at contact@luggagehero.com and we will get back to you and solve the problem as quickly as possible.
LuggageHero in der Presse
"LuggageHero, which offers online booking with a credit card — thus, eliminating the need for users to have local currency on hand — is one of the most recent players to expand its services. In December the company began operating in New York, where today it has some 250 locations."

"One solution is LuggageHero, which was already on the scene in Copenhagen and London, and has now expanded into New York. Its selling point is that it lets you store your luggage in a local shop, café or hotel, which is often more convenient than having to go to a storage facility at a train station."

"LuggageHero, which Jannik Lawaetz founded in 2016, currently has more than 300 storage locations in six cities (New York, London, Copenhagen, Lisbon, Madrid and Barcelona) and plans to expand to 39 cities by January 2020."

"LuggageHero founder and chief executive Jannik Lawaetz says that the concept was inspired by that mother of invention — necessity — and Airbnb. A couple of years ago, he and his girlfriend rented an apartment in Barcelona via the home-share service. They had a later flight on their day of departure and wanted to continue exploring the city, but didn't want to lug their suitcases around. "