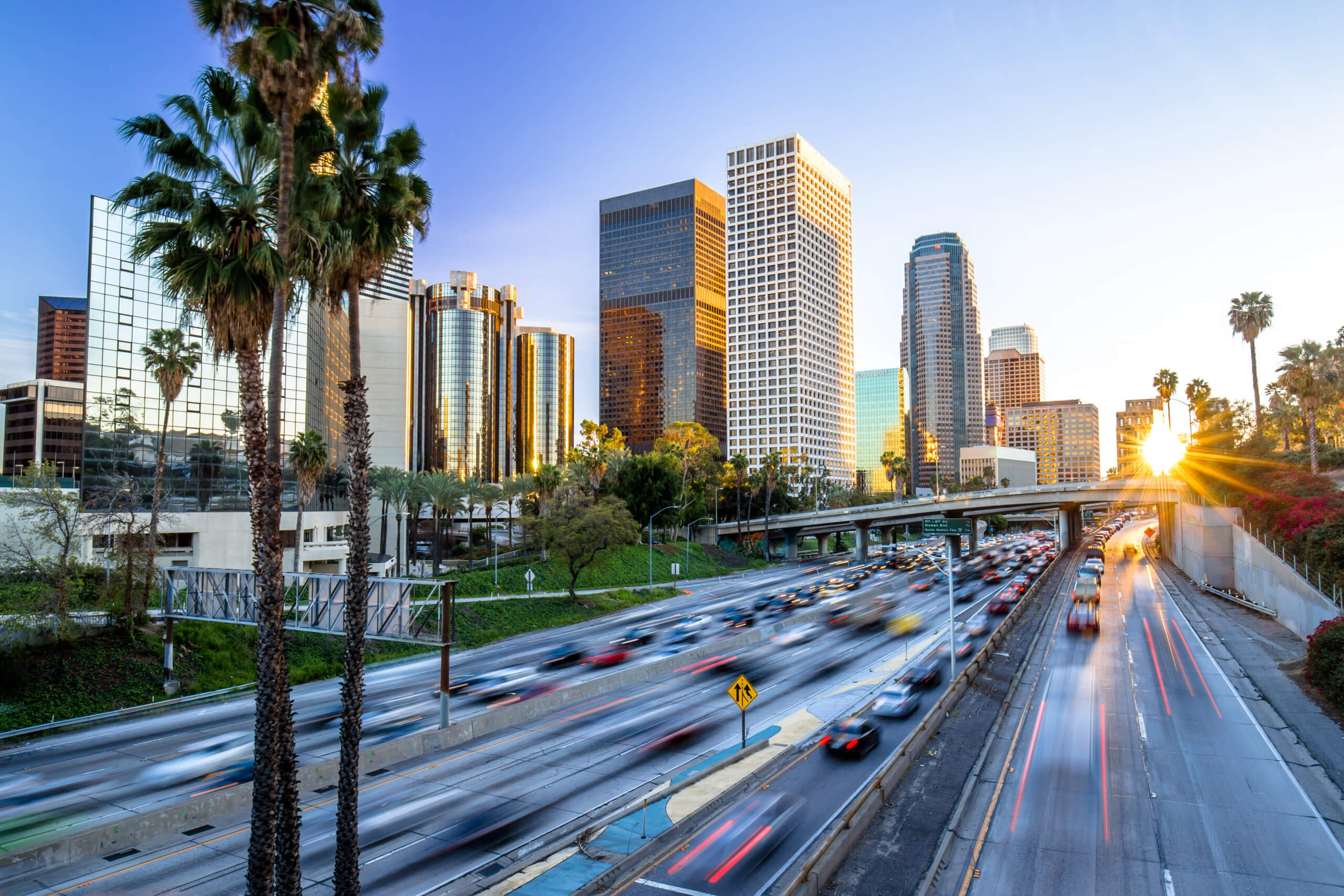 Consigne à bagages Los Angeles
Déposez vos valises dans un hôtel ou une boutique certifiés à partir de $0.95/heure
+1M de sacs stockés en toute sécurité
Consigne à bagages Los Angeles
Vous venez tout juste d'arriver à l'aéroport de Los Angeles et vous voulez commencez votre journée ? Cela peut être compliqué si vous ne pouvez pas vous présenter tout de suite à votre location ou à votre hôtel et que vos valises vous ralentissent. Mais vous pouvez facilement laisser vos bagages à Los Angeles.
La prochaine fois que vous êtes à Los Angeles, rappelez-vous que LuggageHero est là pour vous simplifier la vie ! Vous pouvez consulter le plan ci-dessous pour trouver les endroits les plus pratiques pour laisser vos bagages. N'oubliez pas que LuggageHero est le seul service de consigne à bagages qui propose des tarifs horaires et journaliers pour une flexibilité maximale. 
Déposez vos valises à l'aide du réseau d'hôtels ou de boutiques LuggageHero situés à Los Angeles. 
Les consignes à bagages n'ont jamais été aussi simples d'accès ! Rendez-vous sur la plateforme de réservation LuggageHero pour trouver une consigne dans une boutique ou un autre type de commerce, tous vérifiés par nos soins. En utilisant notre plan, vous pouvez localiser les boutiques proches des gares, aéroports et principaux sites touristiques pour y déposer vos bagages.
Drop off your bags by using LuggageHero's network of more than 25 shops located around crucial traffic hubs and popular districts. These include Union Station, Greyhound Hollywood Station, LA City College, Chinatown, Koreatown, and Downtown LA.
Let's say that you arrive from Los Angeles International Airport hours before your rental is ready and you want to check out the sights without pulling your luggage behind you. Maybe you want to visit Venice Beach, Hollywood, hang out in Beverly Hills, or maybe take a tour in Universal Studios. Make all days count, we're here with storage for luggage for you.
Are you heading to the NOHO Arts District or Westwood village? Don't you worry, we got you covered there as well.
Are you ready to store your bags in one of our many Los Angeles bag storage locations?
You can even store your luggage when enjoying a match at Dodger Stadium, Angel Stadium of Anaheim and SoFi Stadium.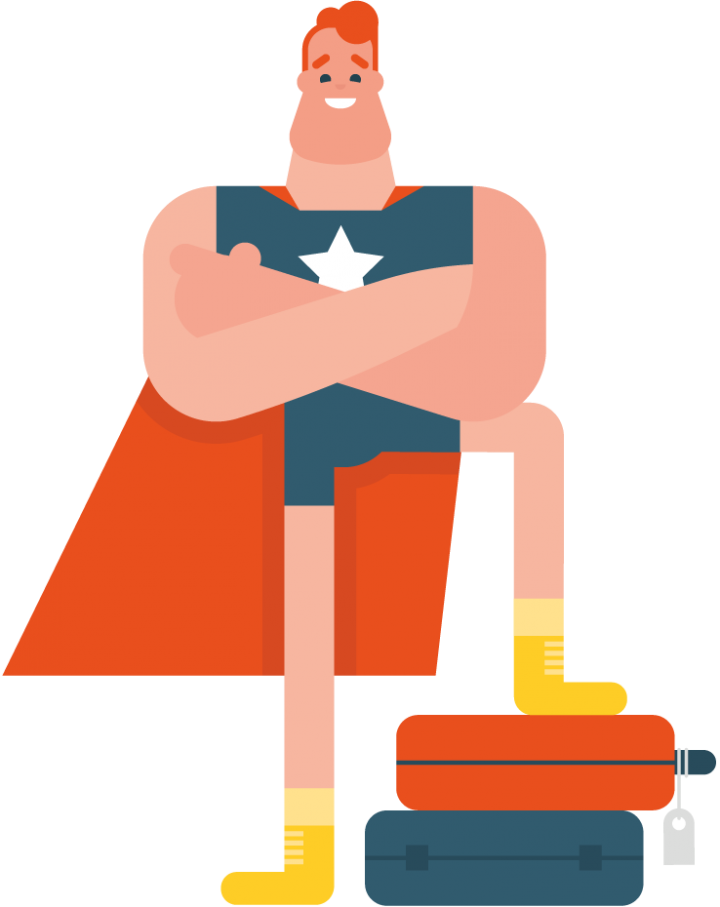 Remember to be careful when storing your luggage in LA! See the full guide here.
Must-See Locations in LA and How to Get to Them
Chinatown
Chinatown is a beautiful space where sound, sight, and taste come together and paint a colorful canvas of culture. It is a place that draws travelers from all around the world to itself. Historically Chinatown was located near Union Station however, by 1938 relocated and the Central Plaza was built, planned, and owned by the Chinese. Chinatown is also home to many events that pay homage to Chinese cultures such as the Chinese New Year, Chinatown Summer nights and CicLAvia, and the Moon Festival.
To get to Chinatown by public transport you can take 28, 76 and 83 busses. 91 Perris Valley Line, San Bernardino Line and Ventura County Line trains, the Red Line Subway, and the Gold Line Light Rail. To get to Chinatown from:
Echo Park Avenue, Los Angeles take bus number 4 followed with bus number 28
Gayley Avenue, Los Angeles take bus 20 and then bus 28
Beverly Hills
Beverly Hills the home to many celebrities is a city in Los Angeles County that is neighbors the cities of Los Angeles and West Hollywood. Beverly Hills is very rich with pop culture and many people visit Beverly Hills to see beautiful mega-mansions and take a stroll down Rodeo Drive which is a well-known shopping district.
To get to Beverly Hills you can take the 20, 4, and 720 buses, the Orange County Line train, and the Red Line subway. To get to Beverly Hills from:
Norwalk Station you can take the Green Line subway, then the 210-bus followed by the 20 bus.
Union Station you can take the Red Line subway and then bus number 20
North Hollywood Station 237/656 then bus number 4
Pacific Park Santa Monica bus 20
If you want to learn more about LuggageHero or the storage luggage business in general then you are welcome to check out this article by the New York Times.
Discount Vouchers – Click here to see if we have any available at the moment.
Major and popular stations in LA
Union Station – is the main railway station in Los Angeles, California, and the largest railroad passenger terminal in the Western United States. Los Angeles Union Station is marked by colorful tiles, shady arcades, fountains, and towering palms—the epitome of Southern California glamour.
Downtown LA – a residential and business district of Central Los Angeles. It's also the hub for the city's rail and metro transit systems for Southern California, as well as home to many open parks and gardens such as Grand Park, Maguire Gardens, and the Japanese Garden.
Universal Studios – is a theme park and film studio located in the San Fernando Valley of Los Angeles Country. It's one of the oldest film studios still used today.
2023 Guide: Luggage Storage Facility in Los Angeles
You may be confused with the rules and regulations and wonder where bags and luggage are allowed in your travel destination. LuggageHero understands your pain and is happy to give you a big help. You just simply click Find Luggage Storage & Lockers in Los Angeles and have a quick look to find all the updated information for your amazing trip.
Tarif
LuggageHero est le SEUL service de consigne qui vous permet de choisir parmi des tarifs horaires ou journaliers à Los Angeles. Un tarif de $5.95 par jour et de $0.95 par heure vous permet de choisir l'option qui vous convient le mieux. Si vous ne prévoyez de ne rester que quelques heures dans une ville, pourquoi payer pour une journée entière, comme vous le feriez avec d'autres consignes à bagages ?  Tous les bagages sont couverts contre les dommages, pertes et vols et un sceau de sécurité est fourni si vous choisissez de l'ajouter à votre réservation. 
Moitié prix en comparaison des consignes des gares et des aéroports
Les casiers à bagages, également appelés consignes de ville, sont généralement au moins deux fois plus chers sur une base journalière que le service de consigne de LuggageHero.
Jusqu'à récemment, les voyageurs ne pouvaient mettre leurs sacs que dans ces casiers à bagages offrant très peu de flexibilité quant aux prix et lieux de dépôt des bagages. De plus, LuggageHero propose des magasins dans de nombreux endroits afin que vous ayez toujours la possibilité de déposer vos bagages dans un environnement sûr. Contrairement aux consignes à bagages des gares et des aéroports, LuggageHero propose des tarifs horaires et journaliers. LuggageHero s'efforce de toujours offrir des consignes à bagages flexibles et bon marché près de vous. 
Nous apportons la solution à votre problème de d'entrepôt de bagages dans des magasins vérifiés
LuggageHero est là pour vous libérer de vos bagages et vous permettre d'aller et venir Los Angeles sans vos sacs. Il vous suffit de vous rendre sur notre plateforme de réservation et de trouver la consigne la plus proche et la plus pratique, dans un magasin, un hôtel ou un autre type de commerce. 
Tous nos emplacements à Los Angeles et dans d'autres villes sont vérifiés par nos soins. En utilisant le plan LuggageHero, vous pouvez facilement trouver les magasins les plus proches des stations de métro et des sites touristiques et y déposer vos bagages. 
Nous acceptons toutes sortes de bagages, de toutes tailles et de toutes formes
Les utilisateurs de LuggageHero peuvent mettre des bagages de n'importe quelle taille ou forme dans n'importe laquelle de nos consignes. Peu importe qu'il s'agisse de matériel de ski, de matériel de photo ou de sacs à dos. Autrement dit, quel que soit le nom que nos clients satisfaits lui donnent – dépôt de bagages, entreposage de valises, consigne à bagages, etc. –, vous pouvez profiter de ce service en toute sécurité, car nous nous adaptons à tous vos besoins.
Les clients de LuggageHero peuvent choisir d'être facturés à l'heure ou d'opter pour notre tarif journalier, indépendamment de ce qu'ils déposent.
Vous pouvez laisser vos bagages pour plusieurs jours
LuggageHero propose également un dépôt de plusieurs jours parce que nous savons que la flexibilité est essentielle quand on voyage. LuggageHero diminue le tarif journalier lorsque vous déposez vos bagages pour une période plus longue.
À partir du deuxième jour, nos clients ne payent que $5.95 par bagage et par jour.
Téléchargez l'appli gratuite de consigne à bagages LuggageHero : Pour encore plus de confort et de facilité, vous pouvez télécharger l'application de consigne à bagages de LuggageHero.
Vous pourrez alors voir tous les lieux que nous mettons à disposition autour de vous.
Horaires d'ouverture Nous avons une variété de boutiques avec différentes heures d'ouverture, donc choisissez celle qui vous convient le mieux.
Choisissez votre boutique ici
pour voir les horaires d'ouverture.
Quels sont les modes de paiement acceptés ? Avec le paiement en ligne, vous n'avez plus besoin de vous soucier d'avoir de l'argent dans la devise du pays. Nous acceptons les principales cartes bancaires. Les boutiques n'acceptent pas les espèces lorsque vous utilisez LuggageHero.
L'assurance de vos bagages est valable uniquement si le paiement a été effectué directement auprès de LuggageHero.
Existe-t-il une différence entre le dépôt de bagages et la consigne à bagages ?  Le dépôt de bagages et la consigne à bagages sont globalement la même chose. Il s'agit de deux termes synonymes que l'on peut utiliser indifféremment. Consigne à bagages est le terme le plus utilisé dans le monde pour désigner le stockage de bagages. Ils se définissent tous les deux par le besoin des gens de déposer leurs bagages avant de les récupérer plus tard.
Donc, que vous cherchiez un « dépôt de bagages » ou une « consigne à bagages »,

LuggageHero
est là pour s'occuper de vos affaires.
Sécurité
Contrairement à d'autres services de consigne, toutes nos boutiques à Los Angeles ont été vérifiées par un employé de LuggageHero. De plus, nous fournissons un scellé de sécurité en option pour chaque bagage, et chaque bagage et son contenu peuvent être assurés jusqu'à un montant de .
Vous ne trouverez à Los Angeles aucun autre service de consigne à bagages offrant les mêmes conditions.
Pourquoi réserver une consigne à bagages à Los Angeles avec LuggageHero ?
Pratique: 

Nous sommes le seul service à proposer des tarifs horaires ou journaliers, de sorte que vous pouvez choisir ce qui répond le mieux à vos besoins, au prix le plus abordable !

Flexible :

Qu'il s'agisse de déposer vos bagages pour quelques heures ou jusqu'au lendemain, nos options de consigne à bagages sont aussi flexibles que possible.  Nous avons même des magasins où il n'est pas nécessaire de réserver. 

Cliquez ici

 pour voir dans quels magasins.

Abordable: 

Notre service de consigne à bagages offre le meilleur rapport qualité/prix

Fiable: 

Notre service a reçu à la fois les meilleurs avis et le plus grand nombre d'avis. 
Annulation d'une réservation
Pour les annulations le jour-même ou en cas de non-présentation, les frais sont équivalents au tarif journalier de $5.95 par sac.
Classement des consignes à bagages D'après le classement ci-dessous, LuggageHero est la meilleure consigne à bagages à Los Angeles. LuggageHero est le seul à proposer des prix à l'heure et à la journée avec possibilité d'assurance.
Le dépôt de bagages à Los Angeles n'a jamais été aussi facile !
Le classement a été établi en fonction des consignes à bagages les plus utilisées.
Name
Pricing models
Insurance
Flexible arrival
Reviews

Name
Pricing models
Insurance
Flexible arrival
Reviews

LuggageHero
Daily, Hourly, & multi-day
Up to $3000
Yes
+140.000

Name
Pricing models
Insurance
Flexible arrival
Reviews

NannyBag
Daily
Up to $1100
No
27,802

Name
Pricing models
Insurance
Flexible arrival
Reviews

Vertoe
Daily
Up to $5000
No
4,708

Name
Pricing models
Insurance
Flexible arrival
Reviews

Radical Storage
Daily
No
No
900
Téléchargez notre appli gratuite Pour plus de facilité, vous pouvez télécharger notre appli de consigne à bagages LuggageHero. Vous y trouverez tous les lieux que nous mettons à disposition autour de vous Los Angeles.
Avec notre appli de consigne, vous pouvez déposer vos bagages dans plus de 1000 lieux.
Bons de réduction – Cliquez ici pour consulter nos disponibilités en Los Angeles ce moment. Regardez pourquoi KnockKnock vous recommande de déposer vos bagages avec LuggageHero. Également cité dans le The New York Times, Lonely Planet et sur CNBC.
Frequently Asked Questions about Los Angeles
What is the best way to get around LA?
Most neighborhoods are walkable around LA, and very bike friendly. If you prefer, you can always rent a car or use Uber of Lyft.
Yes! Los Angeles has metro, that keeps growing. It is also very affordable, $1.75/ride.
When is the best time to visit Los Angeles?
With such a nice weather all year round, there isn't really a bad time to visit LA. March-May and Sep-Nov are the seaons with less touristic activity, if you're looking for some more relaxed trip.
Is Los Angeles expensive?
It is true that LA can be quite pricey, especially in places like Malibu or Beverly Hills. But LA is a big city! Not every neighborhood is as expensive, and it's worth to stay in places like Silver Lake or Echo Park to save a penny.
Where can I store my luggage in LA?
You can find many luggage storage locations in Los Angeles. We recommend LuggageHero - it provides low-cost, easy luggage storage near popular Los Angeles sites.
How much does it cost to store luggage in Los Angeles?
The price for luggage storage in Los Angeles with LuggageHero is from $0.95/bag per hour.
Is there a limit to the size of luggage that may be stored with LuggageHero?
LuggageHero's users can store luggage of any size and/or shape in any of our storage locations. It doesn't matter if it is ski equipment, photo equipment, or backpacks - our luggage stores can accommodate all. LuggageHero's customers can choose to be charged by the hour, or choose our daily rate - no matter their left luggage type.
Insurance and safe luggage storage
In the collaboration with First Marine Insurance Ltd., we are proud to be covering each piece of luggage free of charge every time you use our luggage service. The premium insurance is optional, you can easily add it when making your booking and it will cover your bags for up to $3,000/€2500 while being stored. On the other hand, if you decide not to add insurance, there is always a guarantee of $500. Make sure you do not pay cash in a drop-off/pick-up shop, because insurance will not cover any bookings that are not paid directly through LuggageHero
If anything happens to my luggage, what can LuggageHero do?
When you choose us, you select a risk-free option. If something unexpected occurs, our insurance covers your luggage up to $3000.
What will happen in case I have a problem with my booking?
If you encounter a problem with a luggage storage booking, you can email us at contact@luggagehero.com and we will get back to you and solve the problem as quickly as possible.
LuggageHero dans les médias
"LuggageHero, which offers online booking with a credit card — thus, eliminating the need for users to have local currency on hand — is one of the most recent players to expand its services. In December the company began operating in New York, where today it has some 250 locations."

"One solution is LuggageHero, which was already on the scene in Copenhagen and London, and has now expanded into New York. Its selling point is that it lets you store your luggage in a local shop, café or hotel, which is often more convenient than having to go to a storage facility at a train station."

"LuggageHero, which Jannik Lawaetz founded in 2016, currently has more than 300 storage locations in six cities (New York, London, Copenhagen, Lisbon, Madrid and Barcelona) and plans to expand to 39 cities by January 2020."

"LuggageHero founder and chief executive Jannik Lawaetz says that the concept was inspired by that mother of invention — necessity — and Airbnb. A couple of years ago, he and his girlfriend rented an apartment in Barcelona via the home-share service. They had a later flight on their day of departure and wanted to continue exploring the city, but didn't want to lug their suitcases around. "