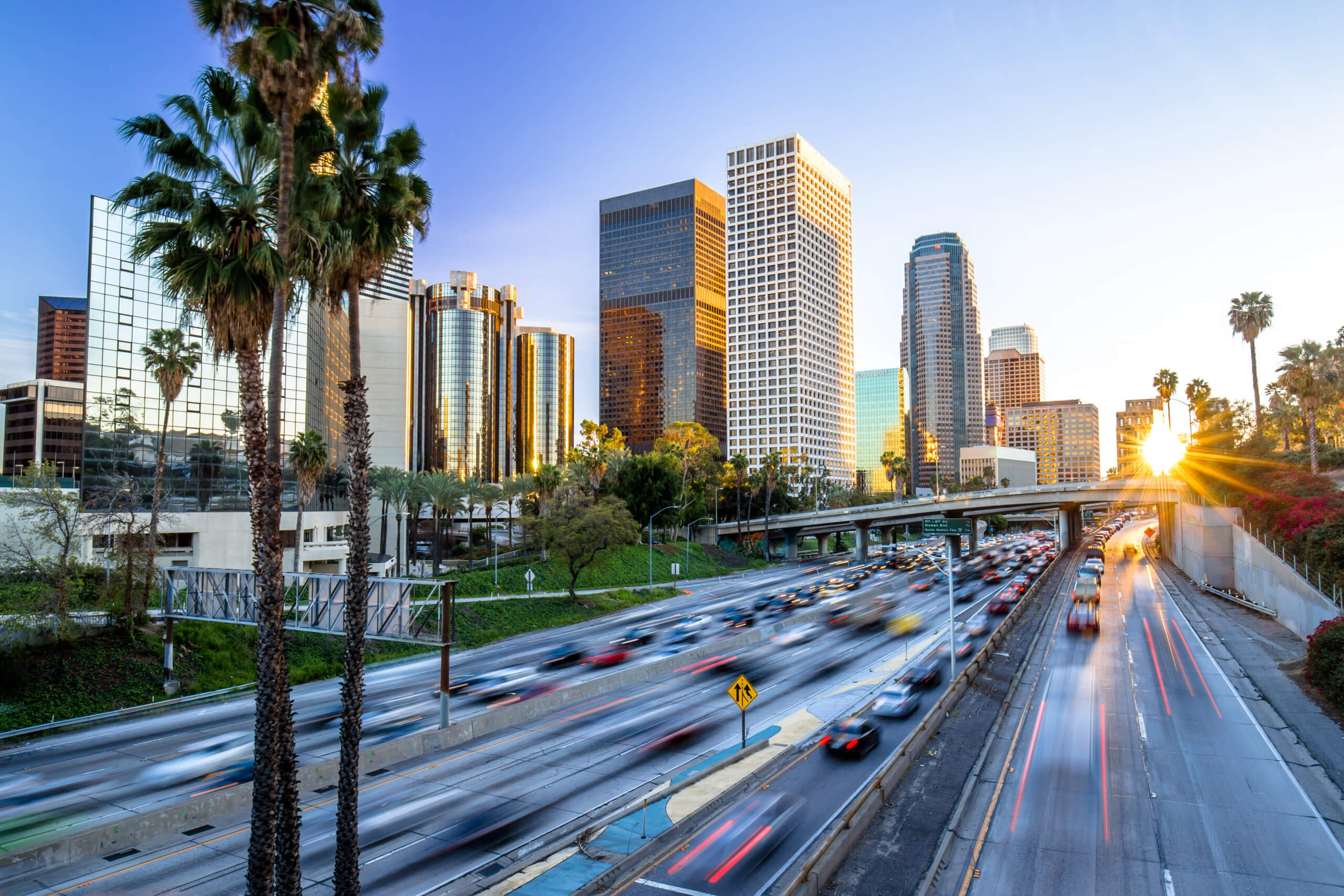 Luggage Storage Los Angeles
Store your bags in a certified hotel or shop from $0.95/hour
Most-reviewed luggage storage service
Luggage Storage Los Angeles
You've just arrived at Los Angeles airport, and you want to start your day? That can be difficult if you can't check in at your rental or hotel right away, and your suitcases are slowing you down. Instead, you can easily store your luggage in Los Angeles.
Next time you're in Los Angeles, remember that LuggageHero is here to save the day! You can check the map below to find the most convenient locations to store your luggage, and remember, LuggageHero is the only luggage storage service that offers hourly and daily rates for maximum flexibility. 
Drop off your bags by using LuggageHero's network of local shops and hotels located in Los Angeles. 
Luggage storage has never been more accessible! Just go to the LuggageHero reservation platform to find a handy storage site inside a shop or other business – all verified by us. Using our map, you can locate the shops close to transportation hubs and top visitor attractions and store your luggage there.
Drop off your bags by using LuggageHero's network of more than 25 shops located around crucial traffic hubs and popular districts. These include Union Station, Greyhound Hollywood Station, LA City College, Chinatown, Koreatown, and Downtown LA.
Let's say that you arrive from Los Angeles International Airport hours before your rental is ready and you want to check out the sights without pulling your luggage behind you. Maybe you want to visit Venice Beach, Hollywood, hang out in Beverly Hills, or maybe take a tour in Universal Studios. Make all days count, we're here with storage for luggage for you.
Are you heading to the NOHO Arts District or Westwood village? Don't you worry, we got you covered there as well.
Are you ready to store your bags in one of our many Los Angeles bag storage locations?
You can even store your luggage when enjoying a match at Dodger Stadium, Angel Stadium of Anaheim and SoFi Stadium.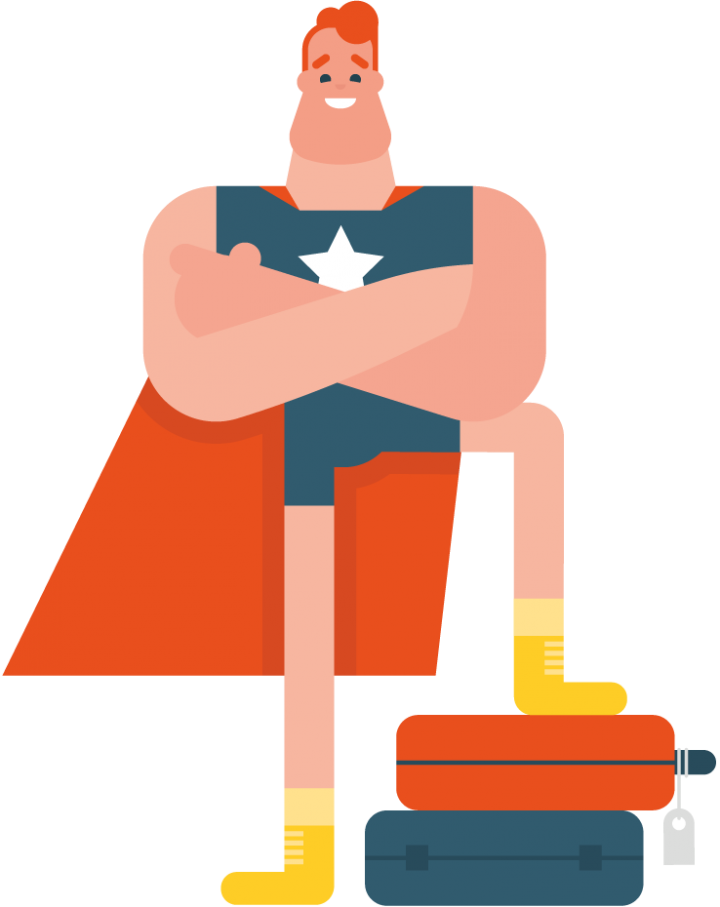 Remember to be careful when storing your luggage in LA! See the full guide here.
Must-See Locations in LA and How to Get to Them
Chinatown
Chinatown is a beautiful space where sound, sight, and taste come together and paint a colorful canvas of culture. It is a place that draws travelers from all around the world to itself. Historically Chinatown was located near Union Station however, by 1938 relocated and the Central Plaza was built, planned, and owned by the Chinese. Chinatown is also home to many events that pay homage to Chinese cultures such as the Chinese New Year, Chinatown Summer nights and CicLAvia, and the Moon Festival.
To get to Chinatown by public transport you can take 28, 76 and 83 busses. 91 Perris Valley Line, San Bernardino Line and Ventura County Line trains, the Red Line Subway, and the Gold Line Light Rail. To get to Chinatown from:
Echo Park Avenue, Los Angeles take bus number 4 followed with bus number 28
Gayley Avenue, Los Angeles take bus 20 and then bus 28
Beverly Hills
Beverly Hills the home to many celebrities is a city in Los Angeles County that is neighbors the cities of Los Angeles and West Hollywood. Beverly Hills is very rich with pop culture and many people visit Beverly Hills to see beautiful mega-mansions and take a stroll down Rodeo Drive which is a well-known shopping district.
To get to Beverly Hills you can take the 20, 4, and 720 buses, the Orange County Line train, and the Red Line subway. To get to Beverly Hills from:
Norwalk Station you can take the Green Line subway, then the 210-bus followed by the 20 bus.
Union Station you can take the Red Line subway and then bus number 20
North Hollywood Station 237/656 then bus number 4
Pacific Park Santa Monica bus 20
If you want to learn more about LuggageHero or the storage luggage business in general then you are welcome to check out this article by the New York Times.
Discount Vouchers – Click here to see if we have any available at the moment.
Major and popular stations in LA
Union Station – is the main railway station in Los Angeles, California, and the largest railroad passenger terminal in the Western United States. Los Angeles Union Station is marked by colorful tiles, shady arcades, fountains, and towering palms—the epitome of Southern California glamour.
Downtown LA – a residential and business district of Central Los Angeles. It's also the hub for the city's rail and metro transit systems for Southern California, as well as home to many open parks and gardens such as Grand Park, Maguire Gardens, and the Japanese Garden.
Universal Studios – is a theme park and film studio located in the San Fernando Valley of Los Angeles Country. It's one of the oldest film studios still used today.
2023 Guide: Luggage Storage Facility in Los Angeles
You may be confused with the rules and regulations and wonder where bags and luggage are allowed in your travel destination. LuggageHero understands your pain and is happy to give you a big help. You just simply click Find Luggage Storage & Lockers in Los Angeles and have a quick look to find all the updated information for your amazing trip.
Pricing
Luggagehero is the ONLY luggage storage service that offers you a choice of hourly or daily rates in Los Angeles. A flat rate starting at $7.95 per day and from $0.95 per hour allows you to pick an option that will best suit your needs. If you're only planning on staying for a few hours in a city, why pay for an entire day, as you would with other luggage storage services?  All luggage is covered against damage, loss, and theft.
Half price compared to station lockers and airport lockers
Luggage lockers, also called city lockers, are generally at least double as expensive on a daily basis compared to LuggageHero's luggage storage service.
Until recently, travelers could only stow their bags in these luggage lockers offering very little flexibility in regard to pricing and where to go, and luggage deposit. Also, LuggageHero offers stores in countless places in order for you to always have the option of dropping off your luggage in a safe environment. Unlike luggage lockers in stations and airports, LuggageHero offers both hourly and daily rates. LuggageHero strives to offer flexible and cheap luggage storage nearby you at all times. 
We store all kinds of luggage – any size and any shape
LuggageHero's users can store luggage of any size and/or shape in any of our store locations. It doesn't matter if it is ski equipment, photo equipment, or backpacks. In other words, you can get baggage storage, suitcase storage, luggage deposit, or whatever our satisfied customers call it in a safe way as we accommodate it all. LuggageHero's customers can choose to be charged by the hour or choose our daily rate, regardless of what they store.
We can stow your bags for several days
LuggageHero also provides multi-day storage because we know flexibility is essential when you travel.
LuggageHero offers a lower daily rate when you store your luggage for longer. From the second day onwards, our customers pay from only $7.95 per bag per day.
Download LuggageHero's free luggage storage app
For even more comfort and ease, you can download LuggageHero's bag storage app. There you can see all our locations around you.
Opening hours
We have a variety of stores with different opening hours, so choose what fits you best! Go and pick the store here to see the opening hours.
Which payment methods are accepted?
You don't need to worry about having the right currency on hand when paying online. All major credit cards are accepted. The shops do not receive cash when using LuggageHero. The insurance on your luggage is valid only if the payment has been made directly to LuggageHero.
We provide the solution to your luggage storage problem in verified shops
LuggageHero is here to set you free from your luggage so you can explore Los Angeles without your bags. Just go to our booking platform and find the nearest and most handy storage space inside a shop, hotel, or another business.
All our luggage storage locations in Los Angeles and in our other cities are verified by us. Using the LuggageHero map, you can easily find the shops that are nearest to the metro stops and attractions and store your luggage there. 
Is there a difference between left luggage and luggage storage?
Left luggage and luggage storage are basically the same things.  The term "left luggage" is mostly used in the UK. Luggage storage is the most common name used internationally when referring to storing luggage. They are both defined by people's need to store luggage that can be collected at a later time. So whether you are looking for "left luggage" or "luggage storage," LugaggeHero is here to take care of your belongings.
Safety
Unlike other luggage storage services, all our shops in Los Angeles have been reviewed by a LuggageHero employee, and each piece of luggage and its contents can be insured for up to .
You will not find any other luggage storage providers in Los Angeles that offer the same.
Why book luggage storage in Los Angeles with LuggageHero?
Convenience:

We are the only service that offers both hourly and daily options,  so you can choose what best fits your plans for the most affordable price!

Flexibility: From overnight storage to just a few hours, our luggage storage options are as flexible as it gets! We even have some stores where you don't need a reservation.  Click here

 to check which stores.

Affordability:

Our luggage storage facilities offer the best value for money

Trust:

Our service has the best and the most reviews around. 
Cancellation of booking
For same-day cancellations, a fee of €5.00/$5.00/£5.00/DKK30.00 per bag will be charged for the booking, and for no-shows, there will be a fee that equals the daily rate at the selected storage location starting at $7.95 per bag.
Luggage storage chart
Based on the chart below, LuggageHero is the best luggage storage option in Los Angeles. LuggageHero is the only one that offers both hourly and daily prices with the possibility of insurance. Luggage storage in Los Angeles has never been so easy!
The chart is created based on the most popular luggage storage options.
Name
Prices from
Insurance
Flexible arrival
Reviews
Name
Prices from
Insurance
Flexible arrival
Reviews
LuggageHero
$0.95/hour or $7.95/day
Up to $3000
Yes
+116.000
Name
Prices from
Insurance
Flexible arrival
Reviews
NannyBag
$6 day & no hourly option
Up to $1100
No
27,802
Name
Prices from
Insurance
Flexible arrival
Reviews
Vertoe
$5.95 day & no hourly option
Up to $5000
No
4,708
Name
Prices from
Insurance
Flexible arrival
Reviews
Radical Storage
$5 day & no hourly option
No
No
900
Download our free app
For greater convenience,  you can download our LuggageHero bag storage app, where you can easily see all our locations around Los Angeles. With our luggage storage app, you are able to store your bags anywhere in our 1000+ locations.
Discount Vouchers – Click here to see if we have any available at the moment for Los Angeles.
Also been featured in The New York Times, Lonely Planet, and CNBC.
Frequently Asked Questions about Los Angeles
What is the best way to get around LA?
Most neighborhoods are walkable around LA, and very bike friendly. If you prefer, you can always rent a car or use Uber of Lyft.
Yes! Los Angeles has metro, that keeps growing. It is also very affordable, $1.75/ride.
When is the best time to visit Los Angeles?
With such a nice weather all year round, there isn't really a bad time to visit LA. March-May and Sep-Nov are the seaons with less touristic activity, if you're looking for some more relaxed trip.
Is Los Angeles expensive?
It is true that LA can be quite pricey, especially in places like Malibu or Beverly Hills. But LA is a big city! Not every neighborhood is as expensive, and it's worth to stay in places like Silver Lake or Echo Park to save a penny.
Where can I store my luggage in LA?
You can find many luggage storage locations in Los Angeles. We recommend LuggageHero - it provides low-cost, easy luggage storage near popular Los Angeles sites.
How much does it cost to store luggage in Los Angeles?
The price for luggage storage in Los Angeles with LuggageHero is from $0.95/bag per hour.
Is there a limit to the size of luggage that may be stored with LuggageHero?
LuggageHero's users can store luggage of any size and/or shape in any of our storage locations. It doesn't matter if it is ski equipment, photo equipment, or backpacks - our luggage stores can accommodate all. LuggageHero's customers can choose to be charged by the hour, or choose our daily rate - no matter their left luggage type.
Insurance and safe luggage storage
In the collaboration with First Marine Insurance Ltd., we are proud to be covering each piece of luggage free of charge every time you use our luggage service. The premium insurance is optional, you can easily add it when making your booking and it will cover your bags for up to $3,000/€2500 while being stored. On the other hand, if you decide not to add insurance, there is always a guarantee of $500. Make sure you do not pay cash in a drop-off/pick-up shop, because insurance will not cover any bookings that are not paid directly through LuggageHero
If anything happens to my luggage, what can LuggageHero do?
When you choose us, you select a risk-free option. If something unexpected occurs, our insurance covers your luggage up to $3000.
What will happen in case I have a problem with my booking?
If you encounter a problem with a luggage storage booking, you can email us at contact@luggagehero.com and we will get back to you and solve the problem as quickly as possible.
LuggageHero in the press
"LuggageHero, which offers online booking with a credit card — thus, eliminating the need for users to have local currency on hand — is one of the most recent players to expand its services. In December the company began operating in New York, where today it has some 250 locations."

"One solution is LuggageHero, which was already on the scene in Copenhagen and London, and has now expanded into New York. Its selling point is that it lets you store your luggage in a local shop, café or hotel, which is often more convenient than having to go to a storage facility at a train station."

"LuggageHero, which Jannik Lawaetz founded in 2016, currently has more than 300 storage locations in six cities (New York, London, Copenhagen, Lisbon, Madrid and Barcelona) and plans to expand to 39 cities by January 2020."

"LuggageHero founder and chief executive Jannik Lawaetz says that the concept was inspired by that mother of invention — necessity — and Airbnb. A couple of years ago, he and his girlfriend rented an apartment in Barcelona via the home-share service. They had a later flight on their day of departure and wanted to continue exploring the city, but didn't want to lug their suitcases around. "