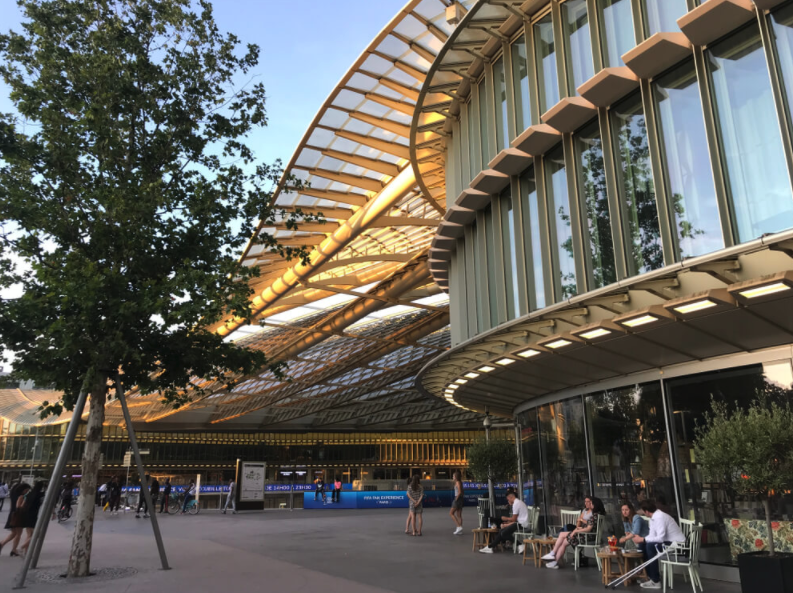 Luggage Storage Châtelet–Les Halles
Only luggage storage to offer choice of hourly or daily rates in Châtelet–Les Halles
Qué dicen nuestros clientes
Consigna de equipaje Châtelet–Les Halles
Are you looking for Paris luggage storage near Châtelet–Les Halles? You can store your bags with one of LuggageHero's luggage storage locations just around the corner from the station and enjoy your day in Paris hassle-free.
Download our LuggageHero App and avoid looking for luggage lockers in Paris:
The app makes luggage storage in Paris easy and convenient, whether you need storage near Châtelet–Les Halles or anywhere else around Paris and many other cities.
LuggageHero storage sites are certified hotels, cafes, and shops. Advance bookings ensure space for your bags. The address and directions to our storage locations are made available to you at the time of booking. All bags are sealed off with our security seals insuring each piece of luggage for  once you have dropped off your bags and started our storage timer on your booking page.
On this interactive map, you can explore the areas where you can store your luggage.
If you have searched "where to store luggage in Paris," search no more. LuggageHero is here to save your day!

How to safely store luggage during COVID-19
Remember to comply with the guidelines when storing luggage near Chatelet Les Halles. It is important to make sure you and those around you are protected from the virus and avoid unnecessary risk. Even though it is generally safe to store luggage during the pandemic, you still need to be careful and help avoid the spread of the virus as much as possible.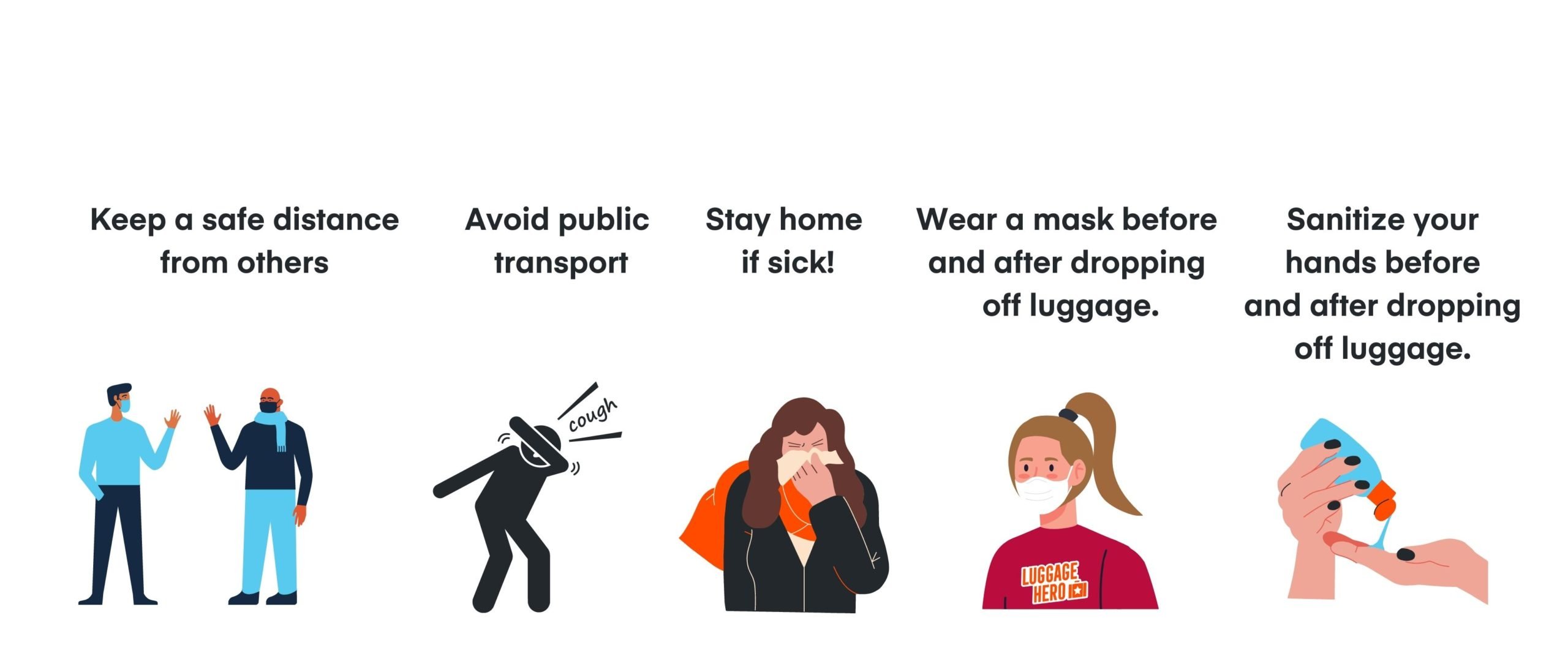 Chatelet Les Halles Luggage Storage
Châtelet–Les Halles is one of the most famous stations in Paris and the largest metro station in the world – yes, you read that right! It's linked to three regional city lines and five metro lines, covering almost all of inner Paris and outside areas. Being connected to 302 other stations with 54 transfer points, this station is one of the densest transit systems worldwide. 

The station opened in 1977 on a site occupied by Halles Centrales which is a major food wholesale market, hence the neighborhood's and station's name. No other station in Paris attracts tourists and locals quite like the Châtelet–Les Halles with its visual grandeur and speedy network – one train every two seconds!

Let's say you arrive in Paris and you have a day or two free to yourself. With so much to see and experience, dragging your luggage around shouldn't be the case. And it doesn't have to be when you drop off your bags at any one of our local shops located around some of the most popular stations such as Gare du Nord, Gare de L'est, Gare Saint-Lazare, Gare de Lyon, and Gare Montparnasse.
Storing luggage at Chatelet Les Halles
There are currently no luggage storage or lockers at Chatelet Les Halles but you can find options just around the corner by using LuggageHero. The options start at only  an hour with a maximum daily fee of . That's right, even if you keep your items for 24 hours, you only pay €8! You can find a location only 237 meters away from Chatelet Les Halles where you can store your belongings. If your plans change – no problem: with LuggageHero you may cancel without penalty – we understand that plans change when you are a traveler.
Your bags are safe with LuggageHero near Chatelet Les Halles 
| | |
| --- | --- |
| ✔ | Your luggage is insured against damage, loss, and theft |
| ✔ | Only certified local shops approved by LuggageHero |
| ✔ | Every bag is secured with a unique one-time seal |
| ✔ | Online customer service is on hand to assist 24/7 |
With our luggage storage locations just steps away from the Châtelet–Les Halles station, you can leave your bags upon arrival and visit many famous Paris tourists attractions like the Louvre, Eiffel Tower and Place de la Bastille. 
Instead of endlessly searching "luggage storage near me," "store bag" or "leave luggage" feel free to leave your luggage at one of our Paris, Châtelet–Les Halles luggage lockers and let us lighten your load. We're here to offer left luggage near Châtelet–Les Halles so you can admire the beauty of Paris.
We store all kinds of luggage – any size and any shape
LuggageHero's users can store luggage of any size and/or shape in any of our store locations. It doesn't matter if it is ski equipment, photo equipment, or backpacks – our luggage stores can accommodate all. LuggageHero's customers can choose to be charged by the hour or choose our daily rate, no matter their left luggage.
Pricing
LuggageHero is the ONLY luggage storage service that offers you a choice of hourly or daily rates in Paris. Flat rate of  per day and  per hour which allows you to pick an option that will suit your needs best. No hidden fees and no need to pay in advance, pay only if you show up to the luggage drop off location.
More than 40 luggage storage locations all around Paris. All luggage is insured against damage, loss, and theft & security seal is provided.
We can store your luggage for several days
LuggageHero also provides multi-day storage to its customers because we know flexibility is essential when you travel. LuggageHero offers a lower daily rate when you store your luggage for a longer period. From the second day onwards, our customers pay only €5 per bag per day!
Check out why LuggageStorage recommends storing your baggage with LuggageHero!
Luggage storage chart
Based on the chart below, LuggageHero is the best luggage storage option near Louvre.  LuggageHero is the only one that offers both hourly and daily prices with the possibility of insurance. Luggage storage in New York has never been so easy!
The chart is created based on the most popular luggage storage options.
Is there a difference between left luggage and luggage storage?
Left luggage is luggage that people have left in a designated luggage storage facility. The term 'left luggage' is mostly being used in the UK. And luggage storage is a storage facility where people leave their luggage. Luggage storage is the most common term used internationally when referring to storing luggage.
In other words, left luggage and luggage storage are synonyms, hence there is no difference between the two phrases. They are both defined by people's need of storing luggage, which can be collected at a later time. So whether you are looking for left luggage or luggage storage, LugaggeHero is here to take care of your belongings.
Is there luggage storage at Chatalet-Les Halles?
There is no luggage storage at Chatalet-Les Halles, however, you may safely and conveniently store your luggage with one of many luggage storage companies just around Chatalet-les Halles.
Where can you store luggage near Chatalet-Les-Halles Station?
You can find many luggage storage shops near Chatalet-Les-Halles Station. We recommend LuggageHero.
How much is it to store luggage near Chatalet-Les-Halles Station?
The price for luggage storage near Chatalet-Les-Halles Station with LuggageHero is just €1/bag per hour.
How long can you store your luggage for near Chatalet-Les-Halles Station?
You can store your luggage for as long as you want! Just select the pick-up and drop-off dates and the hours of your choice on the LuggageHero app/website.
Where else can I store my luggage in Paris?
There are many places to store luggage in Paris. Most Paris train stations and airports provide luggage storage facilities. Luggage storage companies that have several luggage storage locations in and around Paris are becoming increasingly popular and are very convenient. You can safely store your bags at a luggage storage facility in the city close to your desired Paris location.
How do I find luggage storage near me?
It is easy to find storage lockers nearby if you search online for a luggage storage company. You can find sites where you can quickly locate a storage locker nearby. This is easy to do because luggage storage companies have maps that show exactly where their different storage locations are throughout the relevant city.
Sun - Sat 12:00 AM - 11:59 PM Buy tickets in advance on Tripadvisor. If you book with Tripadvisor, you can cancel at least 24 hours before the start date of your tour for a full refund.
What are some of the most popular destinations around Chatalet-Les Halles?
Westfield Forum des Halles, Sculpture Point de Rencontre, Le Chocolat Alain Ducasse - Comptoir Canopee, FNAC, Hema, Millesiwine Wine Tasting, Église Saint-Eustache, Rue Montorgueil, Fontaine des Innocents, Les Halles, etc.
Do you need to book in advance to visit Les Halles?
We recommend booking Les Halles tours ahead of time to secure your spot. If you book with Tripadvisor, you can cancel up to 24 hours before your tour starts for a full refund.
What's the best way to see Les Halles?
According to Tripadvisor travelers, these are the best ways to experience Les Halles: (1) Heart of Paris Bike Tour (2) 6-Hour Private Custom Tour of Paris (3) Jazz Walking Tour (4) Paris Small-Group Gourmet Food Tour With Optional Lunch and Wine Tasting (5) Marais semi private walking tour
Can I store my luggage at the Louvre?
The Louvre does offer luggage storage, however, you cannot bring any large bags or suitcases into the museum for safety and comfort purposes. The smaller bags you store must be picked up on the same day as The Louvre does not offer overnight luggage storage. If you have larger bags with you and you don't want to be confined with time, it's best to store your luggage with one of the many luggage storage companies just around Chatalet-Les Halles.
Will my luggage be safe with LuggageHero?
All luggage storage locations are verified for safety and carefully trained by our team before being listed on the site. Aside from that, we provide you with individually tagged tamper-proof seals for your baggage when you arrive. To offer an extra sense of security, every bag is covered by a €2500 per bag insurance.