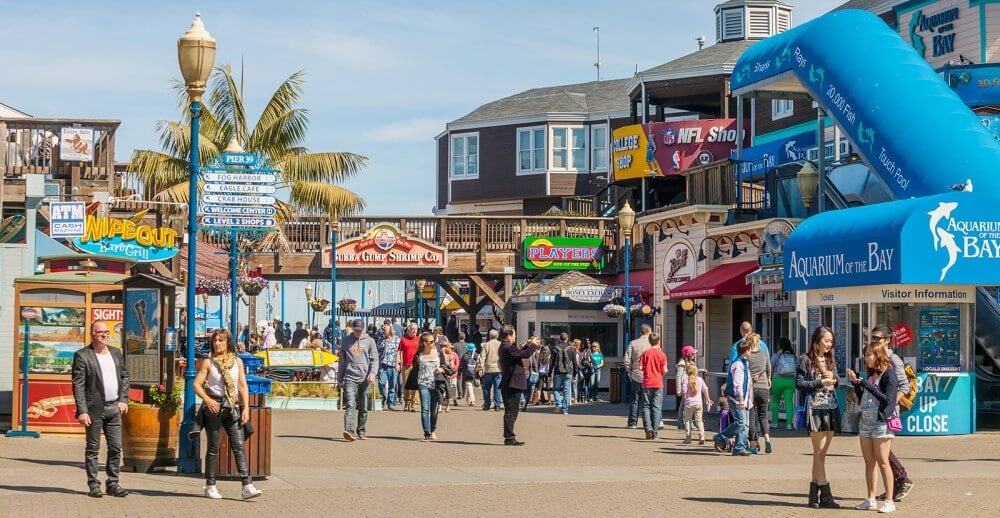 Luggage Storage Pier 39
Only luggage storage to offer choice of hourly or daily rates in Pier 39
Qué dicen nuestros clientes
Consigna de equipaje Pier 39
Are you looking for luggage storage near Pier 39? You can store your bags with one of LuggageHero's bag storage locations nearby and explore San Francisco and all the attractions hassle-free.
Download LuggageHero's free luggage storage app here:
You can download our LuggageHero luggage storage app where you can see all our locations around Pier 39. Your days of wasting time searching for luggage lockers are over!
LuggageHero storage sites are certified hotels, cafes, and shops. Advance bookings ensure space for your bags. The address and directions to our partner shops are available at the time of booking. All bags are sealed off with our security seals and each piece of luggage can be insured for once you have dropped off your bags and started our storage timer on your booking page. If you need to talk to someone at LuggageHero, we're here for you 24/7 through our online chat system.
We store all kinds of luggage – any size and any shape
LuggageHero's users can store luggage of any size and/or shape in any of our storage locations. It doesn't matter if it is ski equipment, photo equipment, or backpacks – our luggage stores can accommodate all. LuggageHero's customers can choose to be charged by the hour or choose our daily rate – no matter of their left luggage.
Pricing
LuggageHero is the ONLY luggage storage service that offers you a choice of hourly or daily rates in San Francisco. Flat rate of  per day and  per hour which allows you to pick an option that will suit your needs best. No hidden fees and no need to pay in advance, pay only if you show up to the luggage drop off location.
More than 20 luggage storage locations all around San Francisco. All luggage is insured against damage, loss, and theft & security seal is provided.
We can store your luggage for several days
LuggageHero also provides multi-day storage to its customers because we know flexibility is an essential part when you travel.
LuggageHero offers a lower daily rate when you store your luggage for a longer period. From the second day onwards, our customers pay only $5 per bag per day.
Is there a difference between left luggage and luggage storage?
Left luggage is luggage that people have left in a designated luggage storage facility. The term 'left luggage' is mostly being used in the UK. And luggage storage is a storage facility where people leave their luggage. Luggage storage is the most common term used internationally when referring to storing luggage.
In other words, left luggage and luggage storage are synonyms, hence there is no difference between the two phrases. They are both defined by people's need of storing luggage, which can be collected at a later time. So whether you are looking for left luggage or luggage storage, LugaggeHero is here to take care of your belongings.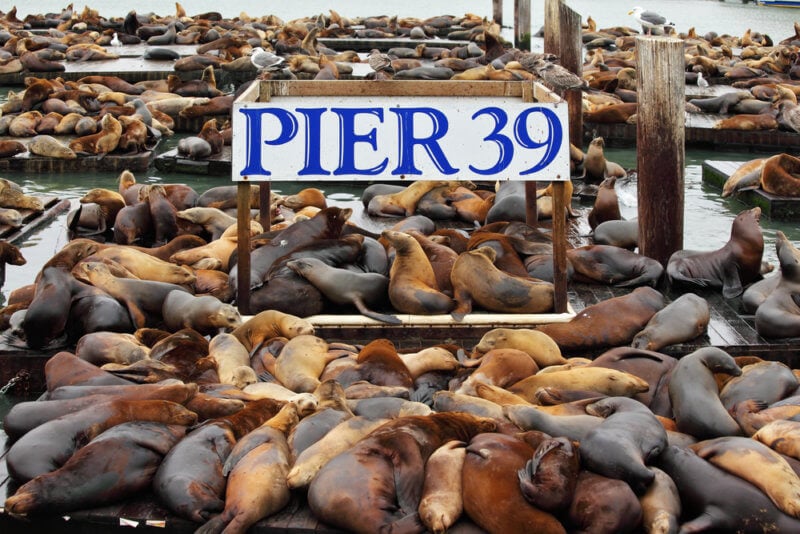 Pier 39
Close to Fisherman's Wharf, you'll find the well-known Pier 39 in San Francisco. This place should be put on your list of things to do in San Francisco, with sea lions, waterfront seafood restaurants, top shopping, attractions, and bay views. Pier 39 is the premier entertainment destination in the heart of the San Francisco waterfront.
If you head towards the Embarcadero Ferry Building you'll find the Alcatraz Cruises at Pier 33 just a 7-minute walk from Pier 39. From here tickets can be bought for a trip to the famous Alcatraz Island.
You can grab a train from Powell Street BART station or walk from the Embarcadero Ferry Building to Pier 39.
Use our map to find the nearest certified shops near Pier 39
Luggage storage chart
Based on the chart below, LuggageHero is the best luggage storage option in San Francisco. LuggageHero the only one that offers both hourly and daily prices with the possibility of insurance. Luggage storage in San Francisco has never been so easy!
The chart is created based on the most popular luggage storage options.
What is the most famous pier in San Francisco?
PIER 39 is San Francisco's most popular attraction.
What draws sea lions to PIER 39?
The experts at the Marine Mammal Center believe the sea lions picked PIER 39's K-Dock, because there is abundance of food in the harbor and ocean nearby.
Where can I store my luggage at Pier-39?
You can store your luggage in over 20 locations around the city with LuggageHero. The storage locations are near major attractions and interesting points in San Francisco, perfect for everyone visiting the city. Using the LuggageHero map, you can see all bag storage locations and pick the perfect one for you.
How to store your luggage at LuggageHero?
Visit the website. Use the search bar, top of the page to start browsing your ideal spot for your luggage or click "My location". Use the map or browse the list of shops. 

Once you've booked, you simply show up, click "start storage timer" on your smartphone or follow the link provided on email or SMS. Directions are available once you have made a booking.

Upon pick-up, click "stop storage timer" which will process payment.
How much does it cost to store luggage at Pier-39?
Most luggage services charge their customers for an entire day. However, LuggageHero provides its customers another pricing system - we charge by the hour, $1 per bag.
If anything happens to my luggage, what can LuggageHero do?
When you choose us, you select a risk-free option. If something unexpected occurs, our insurance covers your luggage up to $3000.