Find luggage storage near you
LuggageHero is live in more than 45 cities
Luggage storage near me
When you are standing in front of the airport, about to wait 8 hours for your next life, or for the AirBnb check-in to be available, the last thing you want is to have to drag your luggage around. In that case, you are probably hoping to store your bags around the city so that you can make the most of your time.
You are probably finding yourself opening your phone and searching for "luggage storage near me", and hoping to find the closest location to you where you can store your bags.
LuggageHero is the best solution to improve your traveling
LuggageHero gives you the possibility to simply use a local shop (coffee shops, souvenir shops, restaurants, and stores) to store your luggage for as low as €/$/£1/hour. Luggage storage has never been so easy before!
Using the app to find luggage storage near you
The easiest way to always find luggage storage near you is to have access to the LuggageHero app. How it works is that the app will always provide you with the closest location near you so that you can conveniently store your bags nearby.
Finding nearby luggage storage on the homepage
Another option for easily finding nearby luggage storage is to go to the LuggageHero homepage and click the "GO" button. The webpage will use your location to find you the closest luggage storage locations to you with just one click!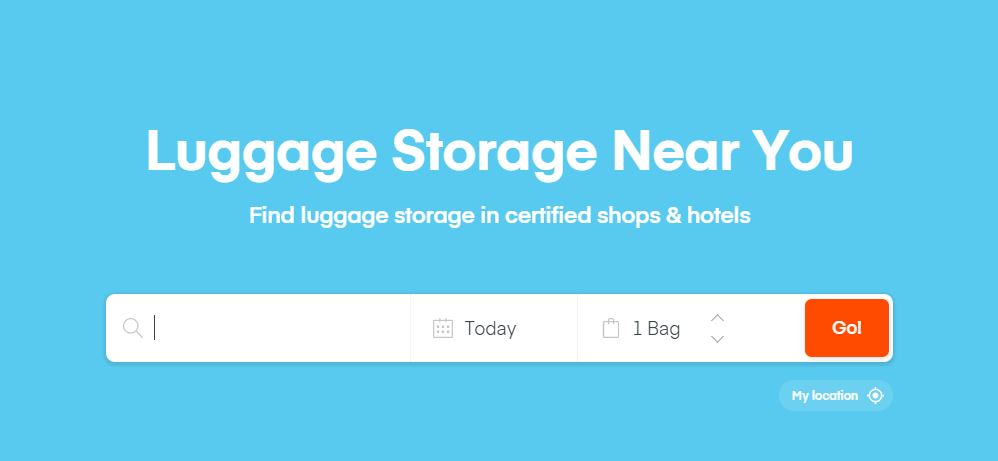 When using this option to find luggage storage near you, you can pick a date in advance and choose the amount of bags to store. On top of that, you can also search for a location that you are not in right now. If you are traveling to London tomorrow, simply write London Victoria Station in the search field and you will find the closest bag storage location to the station.
Pricing
Depending on where you are located, luggage storage near you will only cost per hour! On top of that all of your bags will be covered for up to . However, if you choose to store your bags for longer than a day it will always be maximum .
Temporary luggage storage 
All luggage stored with LuggageHero is short-term or temporarily stored. Storing your bags temporarily allows you to pick them up whenever you feel like it. Your bags can stay for multiple hours or multiple days depending on your needs.
Day storage near me
Finding day storage near you for your bags is the same as all the other options. Storing your bags for the whole day will cost you a total of per day, per bag. Storing your bags for only a few hours at a time allows you to save up by not paying a fee for storing them for a full day.
Overnight luggage storage near me 
As there is no time limit for how long your bags can stay at a storage location with LuggageHero, then overnight luggage storage is a possibility. Remember to make sure to check what time the location opens and closes if you need to pick up your bags at a specifically late or early time. If you visit a location outside of its normal opening times, you will not be able to pick up your luggage.
Frequently asked questions
Where can I find luggage storage near me?
Use the app or the map above to find luggage storage near you. You can find multiple options but the one closest to you will always be shown first.
Will my bags be safely stored?
We are proud to be covering of piece of luggage free of charge every time you use our luggage service thanks to our partnership with First Marine Insurance Ltd., cover holders for Lloyd's of London, one of the world's largest insurance companies. During storage, the policy will cover your bags for up to 3000$.
Closest luggage storage option near me?
The closest options for luggage storage near you will always be shown when you search for luggage storage locations through the app or LuggageHero homepage.
Unfortunately, we do not show closest lockers to you, but only vetted and certified LuggageHero bag storage locations. That option is a lot safer for you than if you used regular lockers.
Bag storage pricing near me?
Wherever you are, the bag storage pricing is similar. Storing your bags will cost you only 1$ per hour providing you also with insurance for each one of your bags.
Where to store luggage when traveling?
Store your bags in any of the storage locations around the city when traveling. LuggageHero is particularly tailored for travelers and locals the same, as the luggage storage options offer flexibility with the hourly price model (only 1$ per hour), as well as the free cancellation of bag storage which will be useful as a traveler your plans may often change.