Luggage Storage Caesars Superdome
Only luggage storage to offer choice of hourly or daily rates in Caesars Superdome
Ce que disent nos clients
Consignes à bagages Caesars Superdome
Are you looking for luggage storage near the Caesars Superdome? You can store your bags with one of our luggage storage locations all around the city and near the stadium. Watch a football game or explore New Orleans hassle-free.
Download our free Caesars Superdome luggage storage app here:
You can download our LuggageHero luggage storage app where you can see all our locations around Caesars Superdome. Your days of wasting time searching for luggage lockers are over!
We store all kinds of luggage – any size and any shape
LuggageHero's users can store luggage of any size and/or shape in any of our luggage lockers locations. It doesn't matter if it is ski equipment, photo equipment, or backpacks – our luggage stores can accommodate all. LuggageHero's customers can choose to be charged by the hour, or choose our daily rate – no matter their left luggage type.
Pricing
Luggagehero is the ONLY luggage storage service that offers you a choice of hourly or daily rates in New Orleans. Flat rate of  per day and  per hour which allows you to pick an option that will suit your needs best. No hidden fees and no need to pay in advance, pay only if you show up to the luggage drop off location. All luggage is insured against damage, loss, and theft & security seal is provided.
We can store your luggage for several days
LuggageHero also provides multi-day storage to its customers because we know flexibility is an essential part when you travel.
LuggageHero offers a lower daily rate when you store your luggage for a longer period. From the second day onwards, our customers pay only $5 per bag per day.
Is there a difference between left luggage and luggage storage?
Left luggage is luggage that people have left in a designated luggage storage facility. The term 'left luggage' is mostly being used in the UK. And luggage storage is a storage facility where people leave their luggage. Luggage storage is the most common term used internationally when referring to storing luggage.
In other words, left luggage and luggage storage are synonyms, hence there is no difference between the two phrases. They are both defined by people's need of storing luggage, which can be collected at a later time. So whether you are looking for left luggage or luggage storage, LugaggeHero is here to take care of your belongings.
LuggageHero storage sites are certified hotels, cafes, and shops. Advance bookings ensure space for your bags. The address and directions to our storage locations are available at the time of booking. All bags are sealed off with our security seals insuring each piece of luggage for once you have dropped off your bags and started our storage timer on your booking page. With LuggageHero you can find more than 20 luggage storage locations all around New Orleans.
Caesars Superdome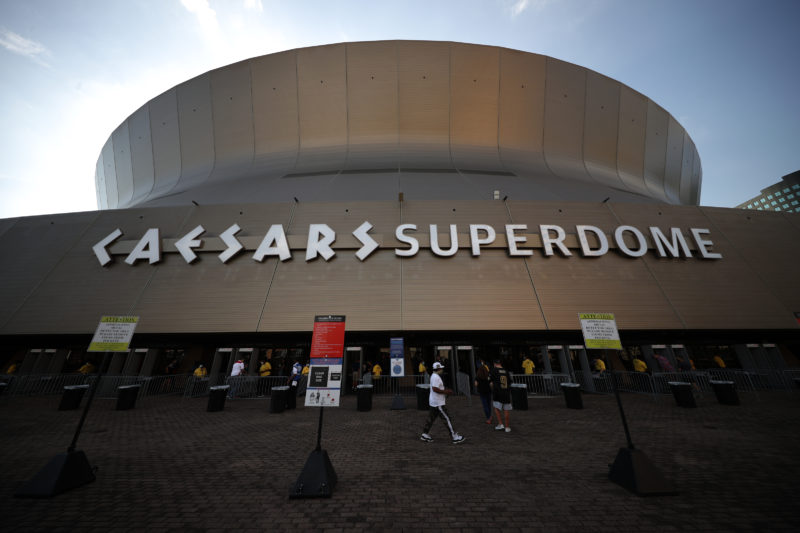 Ceasars Superdome is a sport and exhibition stadium in New Orleans and it's located in the Central Business District of the city.

The Superdome opened in 1975 under the name Louisiana Superdome and in 2011, German automaker Mercedes-Benz purchased the naming rights to the stadium. In July 20, 2020, Louisiana lawmakers approved the naming rights for the Superdome to be held by Caesars Entertainment for a period of 10 years.

The capacity of the stadium is 73,208 and is expandable to just over 76,000, depending on the construction organization of the event held.

The stadium serves as the home venue for the New Orleans Saints of the NFL, as well as for the New Orleans Bowl college football, Sugar Bowl. It also hosts sporting events for Major League Baseball games, NBA Basketball games, boxing matches, gymnastics events, soccer, and wrestling.

Many world-famous singers, entertainers, and bands have held concerts at the Dome such as Price, Celine Dion, Beyonce, and The Rolling Stones.

Since the dome hosts sporting events and plays host to some of the most memorable entertainment shows almost daily, make sure you pay a visit to the Stadium next time you're in New Orleans and treat yourself to a special event of your choice.

Storing your luggage at any of our drop-off locations near the stadium gives you the freedom of enjoying a game or a music event without having to take all your heavy bags in with you. Once the event is over, you can pick them up and carry on with your day or travels.

You also have the option of leaving your luggage with us for longer and step out into the beautiful city after your visit to the stadium. After all, you're already in downtown New Orleans, next to all the other tourist faves.

From here, you can visit NOLA, French Quarter, Bourbon Street and Garden District. The choices are endless when you leave your bags with us. Exploring a city has never been easier, and you're left with everlasting memories of Crescent City. 

Check out why KnockKnock recommends storing your baggage with LuggageHero!
Use our map to find the nearest certified shops near Caesars Superdome
Luggage storage chart
Based on the chart below, LuggageHero is the best luggage storage option in New Orleans. LuggageHero the only one that offers both hourly and daily prices with the possibility of insurance. Luggage storage in New Orleans has never been so easy!
The chart is created based on the most popular luggage storage options.
Frequently Asked Questions about Caesars Superdome New Orleans
Can I store my luggage near Caesars Superdome?
Yes, LuggageHero provides +20 luggage storage locations across New Orleans, where you can store your belongings with complete security and up to $3000 insurance coverage.
How to store your luggage at LuggageHero?
Visit the website. Use the search bar, top of the page to start browsing your ideal spot for your luggage or click "My location". Use the map or browse the list of shops. 

Once you've booked, you simply show up, click "start storage timer" on your smartphone or follow the link provided on email or SMS. Directions are available once you have made a booking.

Upon pick-up, click "stop storage timer" which will process payment.
How much does storing luggage with LuggageHero cost?
Most luggage services charge their customers for an entire day. However, LuggageHero provides its customers another pricing system - we charge by the hour, $1 per bag.
Is it safe to store luggage during COVID-19?
Storing luggage near Caesars Superdome during COVID-19 is safe if you are careful and keep up with the current rules and regulations in the area. We consider the health and safety of everyone to be our top priority, which is why we are offering contactless booking and luggage storage.
Where are my bags stored?
LuggageHero storage sites are certified hotels, cafes, and shops. Advance bookings ensure space for your bags. The address and directions to our storage locations are available at the time of booking. All bags are sealed off with our security seals, ensuring each piece of luggage up to $3000 once you have dropped off your bags and started our storage timer on your booking page.
What will happen in case I have a problem with my booking?
If you encounter a problem with a luggage storage booking, you can email us at contact@luggagehero.com and we will get back to you and solve the problem as quickly as possible.