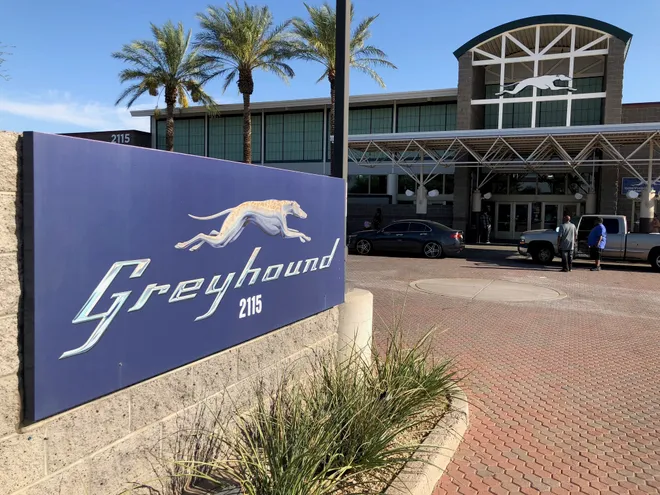 Consigne à bagages Greyhound Bus Station
Déposez vos valises dans un hôtel ou une boutique certifiés à partir de $1.29/heure
Ce que disent nos clients
Consigne à bagages Greyhound Bus Station
Vous vous promenez et vous avez besoin de déposer vos bagages à proximité de Greyhound Bus Station ? Ne vous inquiétez pas, on s'en occupe. 
Déposez vos affaires dans l'une de nos consignes à bagages LuggageHero situées au coin de la rue.
Chez LuggageHero, nous proposons une consigne à bagages sécurisée et pas chère. Toutes nos boutiques sont certifiées par LuggageHero. Et n'oubliez pas : LuggageHero est le seul service de consigne à bagages qui propose un tarif horaire et journalier pour une flexibilité maximale. 
Tarif
LuggageHero est le SEUL service de consigne qui vous permet de choisir parmi des tarifs horaires ou journaliers à Greyhound Bus Station.
Un tarif de $8.95 par jour et de $1.29 par heure vous permet de choisir l'option qui vous convient le mieux. Si vous ne prévoyez de ne rester que quelques heures dans une ville, pourquoi payer pour une journée entière, comme vous le feriez avec d'autres consignes à bagages ?
Moitié prix en comparaison des consignes des gares et des aéroports
Les casiers à bagages, également appelées consignes de ville, sont généralement au moins deux fois plus chers sur une base journalière que le service de consigne de LuggageHero. Jusqu'à récemment, les voyageurs ne pouvaient mettre leurs sacs que dans ces casiers à bagages offrant très peu de flexibilité quant aux prix et lieux de dépôt des bagages.
De plus, LuggageHero propose des boutiques dans de nombreux endroits afin que vous ayez toujours la possibilité de déposer vos bagages dans un environnement sûr. Contrairement aux consignes à bagages des gares et des aéroports, LuggageHero propose des tarifs horaires et journaliers. LuggageHero s'efforce de toujours offrir des consignes à bagages flexibles et bon marché près de vous. 
Nous acceptons toutes sortes de bagages, de toutes tailles et de toutes formes dans des boutiques vérifiées
Les utilisateurs de LuggageHero peuvent déposer des bagages de toutes tailles ou de toutes formes dans nos consignes. Peu importe qu'il s'agisse de matériel de ski, de matériel de photo ou de sacs à dos. Autrement dit, quel que soit le nom que nos clients satisfaits lui donnent – dépôt de bagages, entreposage de valises, consigne à bagages, etc. –, vous pouvez profiter de ce service en toute sécurité, car nous nous adaptons à tous vos besoins.
Les clients de LuggageHero peuvent choisir d'être facturés à l'heure ou d'opter pour notre tarif journalier, indépendamment de ce qu'ils déposent.
Vous pouvez laisser vos bagages pour plusieurs jours
LuggageHero propose également un dépôt de plusieurs jours parce que nous savons que la flexibilité est essentielle quand on voyage. LuggageHero diminue le tarif journalier lorsque vous déposez vos bagages pour une période plus longue.
À partir du deuxième jour, nos clients ne payent que $8.95 par bagage et par jour.
Téléchargez l'appli gratuite de consigne à bagages LuggageHero :
Pour plus de facilité, vous pouvez télécharger l'appli LuggageHero. Vous y trouverez tous les lieux que nous mettons à disposition autour de vous.
Horaires d'ouverture Nous avons une variété de boutiques avec différentes heures d'ouverture, donc choisissez celle qui vous convient le mieux.
Choisissez votre boutique ici
pour voir les horaires d'ouverture.
Quels sont les modes de paiement acceptés ? Nous acceptons les principales cartes bancaires.
Notez que les magasins n'acceptent pas les espèces lorsque vous utilisez LuggageHero, et rappelez-vous que l'assurance de vos bagages n'est valable que si le paiement a été effectué directement auprès de LuggageHero.
Annulation d'une réservation
Pour les annulations le jour-même ou en cas de non-présentation, les frais sont équivalents au tarif journalier de $8.95 par sac. Regardez pourquoi KnockKnock vous recommande de déposer vos bagages à l'aide de LuggageHero. Également cité dans leNew York Times, Lonely Planet et sur CNBC.
Frequently Asked Questions about Greyhound Bus Station
Are there any luggage lockers near Greyhound Bus Station?
Yes, the Greyhound Bus Station neighborhood has luggage lockers and several other drop-off locations. LuggageHero provides a number of baggage storage sites throughout Washington DC, where you can store your belongings with complete security and up to $3000 insurance.
Luggage storage sites are located inside existing businesses, including retail outlets, hotels, cafes, and more. All are vetted by LuggageHero's local employee, who performs regular quality checks. Every piece of luggage is secured with unique security seals provided for free at your local LuggageHero.
How do I calculate the price?
LuggageHero is the only luggage storage service in the world to only charge you for the hours you spend storing your luggage -- and at a low hourly rate. No more pre-paying for hours not spent. The price is listed on each shop profile before booking and includes insurance. To ensure that you don't pay too much we have a daily cap.
Is there a limit to the size of luggage that may be stored with LuggageHero?
LuggageHero's baggage storage network has no size restrictions. All sizes of luggage, big or small, can be accommodated.
Is it safe to store luggage during COVID-19?
Storing luggage near Bank Station during COVID-19 is safe if you are careful and keep up with the current rules and regulations in the area. We consider the health and safety of everyone to be our top priority, which is why we are offering contactless booking and luggage storage.
If anything happens to my luggage, what can LuggageHero do?
When you choose us, you select a risk-free option. If something unexpected occurs, our insurance covers your luggage up to $3000.
Insurance and safe luggage storage
In the collaboration with First Marine Insurance Ltd., we are proud to be covering each piece of luggage free of charge every time you use our luggage service. The premium insurance is optional, you can easily add it when making your booking and it will cover your bags for up to $3,000/€2500 while being stored. On the other hand, if you decide not to add insurance, there is always a guarantee of $500. Make sure you do not pay cash in a drop-off/pick-up shop, because insurance will not cover any bookings that are not paid directly through LuggageHero
LuggageHero dans les médias
"LuggageHero, which offers online booking with a credit card — thus, eliminating the need for users to have local currency on hand — is one of the most recent players to expand its services. In December the company began operating in New York, where today it has some 250 locations."

"One solution is LuggageHero, which was already on the scene in Copenhagen and London, and has now expanded into New York. Its selling point is that it lets you store your luggage in a local shop, café or hotel, which is often more convenient than having to go to a storage facility at a train station."

"LuggageHero, which Jannik Lawaetz founded in 2016, currently has more than 300 storage locations in six cities (New York, London, Copenhagen, Lisbon, Madrid and Barcelona) and plans to expand to 39 cities by January 2020."

"LuggageHero founder and chief executive Jannik Lawaetz says that the concept was inspired by that mother of invention — necessity — and Airbnb. A couple of years ago, he and his girlfriend rented an apartment in Barcelona via the home-share service. They had a later flight on their day of departure and wanted to continue exploring the city, but didn't want to lug their suitcases around. "