Luggage Storage in +20 shops around Nice
Store your luggage from €1/hour
A guide on how and where to find lockers and places to store your luggage in Nice as of [year]
The French city of Nice offers all the best ingredients to make a vacation memorable: beautiful beaches and weather, mouth-watering cuisine, and some of the most impressive art museums around.
However, something no vacation photos should include are backpacks, suitcases, and trolleys keeping you back from having the time of your life on the coast of France.
Left luggage service will have you breathing out a sigh of relief so that you can breathe in the fresh breeze. LuggageHero is here to help. With several locations around Nice, conveniently close to all the main tourist attractions, LuggageHero is a quick, safe and easy solution for storing your bags.
Based on the chart below, LuggageHero is the best luggage storage option in Nice. LuggageHero the only one that offers both hourly and daily prices with the possibility of insurance. Luggage storage in Nice has never been so easy!
The chart is created based on the most popular luggage storage options.
Name
Pricing models
Insurance
Flexible arrival
Reviews
Name
Pricing models
Insurance
Flexible arrival
Reviews
LuggageHero
Daily, Hourly, & multi-day
Up to €2500
Yes
+140.000
Name
Pricing models
Insurance
Flexible arrival
Reviews
NannyBag
Daily
Up to $1100
No
27,802
Name
Pricing models
Insurance
Flexible arrival
Reviews
Vertoe
Daily
Up to $5000
No
4,708
Name
Pricing models
Insurance
Flexible arrival
Reviews
Radical Storage
Daily
No
No
900
Use our map to find the nearest certified shop
LuggageHero uses only certified local shops and hotels. Insurance and security seals are provided at over 20 different luggage storage locations in nice.
Download LuggageHero's free luggage storage app:
For even more comfort and ease, you can download LuggageHero's bag storage app where you can see all our locations around NYC.
Claim your 1 Hour Free luggage storage discount voucher for Nice here.
Luggage storage with LuggageHero

Featured in Lonely Planet and New York Times.
LuggageHero offers a storage option in over 20 shops all over Nice which means you can stow away your belongings for hours or even days if you need to.
Easy, quick, budget-friendly
When using LuggageHero in Nice, you only pay €0.95/ hour. No worries, we always keep your budget in mind – you never pay more than €5/ day
This includes security seals and insurance with coverage of up to for each bag if you choose to add it on. There are no other hidden fees.
If you store your luggage for several days, you only pay a maximum of €5/bag on the first day and only €5/ day afterward.
You will only pay for the time you actually store your luggage. You don't pay anything if you don't show up for your booking.
Book online and receive your directions OR download our app.
Save on money, not on safety
Don't just leave your bags behind, but also your worries. Each piece of luggage left in one of our LuggageHero locations in Nice can be insured up to per bag, the highest insurance coverage in the industry.
More than that, we have designed a custom security seal that makes sure no one has tampered with your belongings. Click here to read about our specially designed security seal, which is provided for free at all our locations.
Quality-checked partner locations
Luggage storage sites are located inside existing businesses, including retail outlets, hotels, cafes, and more. All are vetted by LuggageHero's local employee, who performs regular quality checks. Every piece of luggage is stored away from any public access and secured with a security seal every time.
Enjoy Nice with no time limit
You don't want to rush to pick up your bag before the location closes and you're not a fan of leaving it behind overnight? We've got just what you're looking for! LuggageHero has partnered up with several central locations in Nice that are open until later in the evening, even 24 hours. Enjoy your chilled Chardonnay without the stress of having to rush and pick up your bag. À vôtre santé!
It's Nicer with friends
Traveling in a group? Then don't pass up the chance to get a special discount for storing 10 or more pieces of luggage. Write us a quick message and you're all set to go.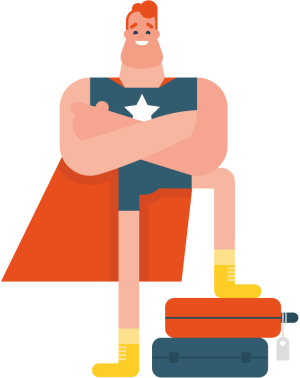 Half the price of station lockers in Nice and airport lockers
Luggage lockers, also called city lockers, are generally at least twice as expensive on a daily basis as LuggageHero's luggage storage service. Until relatively recently, travelers could only stow their bags in these luggage lockers, which offer very little flexibility in regard to pricing and location. where to go and luggage deposit. Today, LuggageHero offers countless stores in various cities to ensure you always have the option of dropping off your luggage in a protected environment. Unlike luggage lockers in stations and airports, LuggageHero also offers both an hourly and daily rate for maximum flexibility. LuggageHero tries to offer safe and cheap luggage storage near you at all times. 
Luggage storage facility for suitcase, baggage and odd-sized luggage
We check all our hotels and local shops in order for us to be able to offer space for whatever you need; ski equipment, photo equipment, backpacks or whatever. This is simply another method for us to give you the most flexible baggage storage, suitcase storage and luggage deposit.  
Our service is similar to hotel luggage storage
Many travelers who have been customers at hotels have asked the staff at the reception if they could store their luggage until they depart the city later in the day. For the most part, we offer the same service for everyone – no matter if they stay at a hotel, Airbnb or anywhere else. We are always ready to help you out. 
Costs and Discount Voucher
per hour – maximum for the first 24 hours and €5 for each additional day including your free luggage storage insurance
Why are you searching for luggage storage in Nice?
Maybe you have to check out of your Airbnb apartment, rental place, or hotel and your flight isn't until tonight?
Or… You just arrived in Nice, ready to explore everything the city has to offer, but your rental place isn't ready for you for 5 more hours? Most travelers have been in similar situations and experienced the struggle of luggage first hand.
Nice offers a range of possibilities when it comes to luggage storage and we have gathered everything into this guide to help you.
Therefore there is no reason for you to carry around heavy luggage when you should be enjoying the French Riviera.
All these companies can offer you bag storage in Nice – We've listed them below:
Friend in France
The sightseeing tour operator "Friend in France" also offers airport transfers and luggage storage services. There is a flat fee of €6/bag for using the service for less than 4 hours or €10/bag for 5 or more hours.
Opening hours: 10:00 – 13:00 and 14:00 – 18:00 (Monday to Saturday)
Address: 9 rue Gubernatis, Nice. Open in Google Maps
Bag Guys Nice
At a flat fee of €8/bag/day, the Bag Guys is another good option. To be on the safe side, we'd recommend a call before, to make sure they still have free space.
Opening hours: 10:00 – 19:00 (Monday to Sunday)
Address: 34 Rue Centrale, Nice. Open in Google Maps
My bag in Nice
Offering accommodation and concierge services, my bag in Nice additionally provides tourists with a left luggage service. Storage for one to three hours, costs €5/bag, €6/bag for four or five hours. You pay €7/bag when using the service less than 12 hours or €8/bag for 24-hour service.
Opening hours: 10:00 – 18:00 (Monday to Sunday)
Address: 7 rue Jules Gilly, Nice. Open in Google Maps
Hotel de Berne
At €6/bag, Hotel de Berne also offers visitors the chance to leave their suitcases behind while going out to explore the city. However, it's best to call before, as they have limited storage capacity.
Great Tip for how to get yourself luggage storage in Nice:
TIP: The demand for luggage storage Nice is high and therefore it can be tricky to find places where you can store your belongings, but it is possible!
Travel Hack: Walk into a random hotel and act as you are staying there. Some hotels offer luggage storage for their guests and sometimes even for people who are not staying at the hotel, just ask! And remember to give a great tip in case they want to store it.
Alternative: Luggage storage at museums and galleries
Most museums and galleries offer the option to leave your bags at the cloakroom or even have designated lockers for their visitors. It's a convenient way to enjoy art without worries. However, be mindful of the fact that lockers in most places tend to be rather small in size.
Better safe than sorry – give them a call to make sure the option to leave some bags at the entrance is available at the moment of your visit.
Here's to the locker situation at Nice's top cultural tourist attractions:
Luggage storage in Nice Airport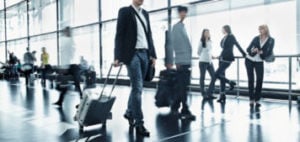 If you want to get rid of your luggage as soon as you land, you can do so at the Nice Airport.
Be aware, that all bags will be checked by the security officers of the Airport Nice Cote d'Azur, and you will have to present your ID or passport, as well as leave a phone number you can be reached at. You cannot store any perishable goods, valuables, dangerous items, animals, or plants, so keep that in mind if you want to explore some more after you've already bought that rosé wine you want to bring home with you.
There is a flat fee of €14/bag/day for bags and trolleys, and €18/bag/day in the case of bikes, skis, or other sports equipment. Storing more than 15 bags will cost €10/bag/day. For you, motorcyclists out there, keeping your helmets locked away will entail a fee of €5/day.
Opening hours: 6:00 – 23:00 (Monday to Sunday)
Location: Terminal 2, Arrivals level, ground floor between A03 & A04 gates
Luggage storage in Nice Central Train Station
In the SNFC Avenue Thiers station, you can find "La Consigne", a left luggage service that charges a €5 fee for 24 hours. Their respective prices depend on the size of your luggage
– €5,5/day for a handbag
– €7,5/day for a cabin bag
– €9,5/day for a suitcase
Opening hours: 9:00 – 19:00 (October to June) / 8:00 – 20:00 (June to September)
Location: Avenue Thiers, 06008 (open in Google Maps)
Four simple steps to leave your luggage with LuggageHero
When booking online you are always guaranteed space
Start the storage timer in your browser when arriving at the shop or use the link sent to you to access your booking page.
Enjoy yourself in Nice!
Pick up your luggage and stop the storage timer on your booking page.
Want to know more about LuggageHero? Get to know the concept by reading this FAQ and or read about the team behind it here.
Discount Vouchers – Click here to see if we have any available at the moment.
Luggage storage with LuggageHero in Nice

Download LuggageHero's free luggage storage app:
For even more comfort and ease, you can download LuggageHero's bag storage app where you can see all our locations around Nice.
LuggageHero is waiting for you
+1M tassen veilig opgeslagen
FAQ about luggage storage Nice
Here are some of the most often asked questions and answers on storing luggage in Nice
Does Nice airport have lockers?
You can store luggage at the airport in Terminal 2 on the ground floor arrivals area near the fish tank.
Can I store my bags at Nice train station?
Yes, the Nice train station has a modern luggage storage service. Just follow the signs to 'bagage cognsigne' and you can securely store your bags for a couple of hours to couple of days.
Can I find a LuggageHero store near Promenade des Anglais
Yes, LuggageHero can offer few locations where you can store your luggage and they are within a walking distance from Promenade des Anglais.