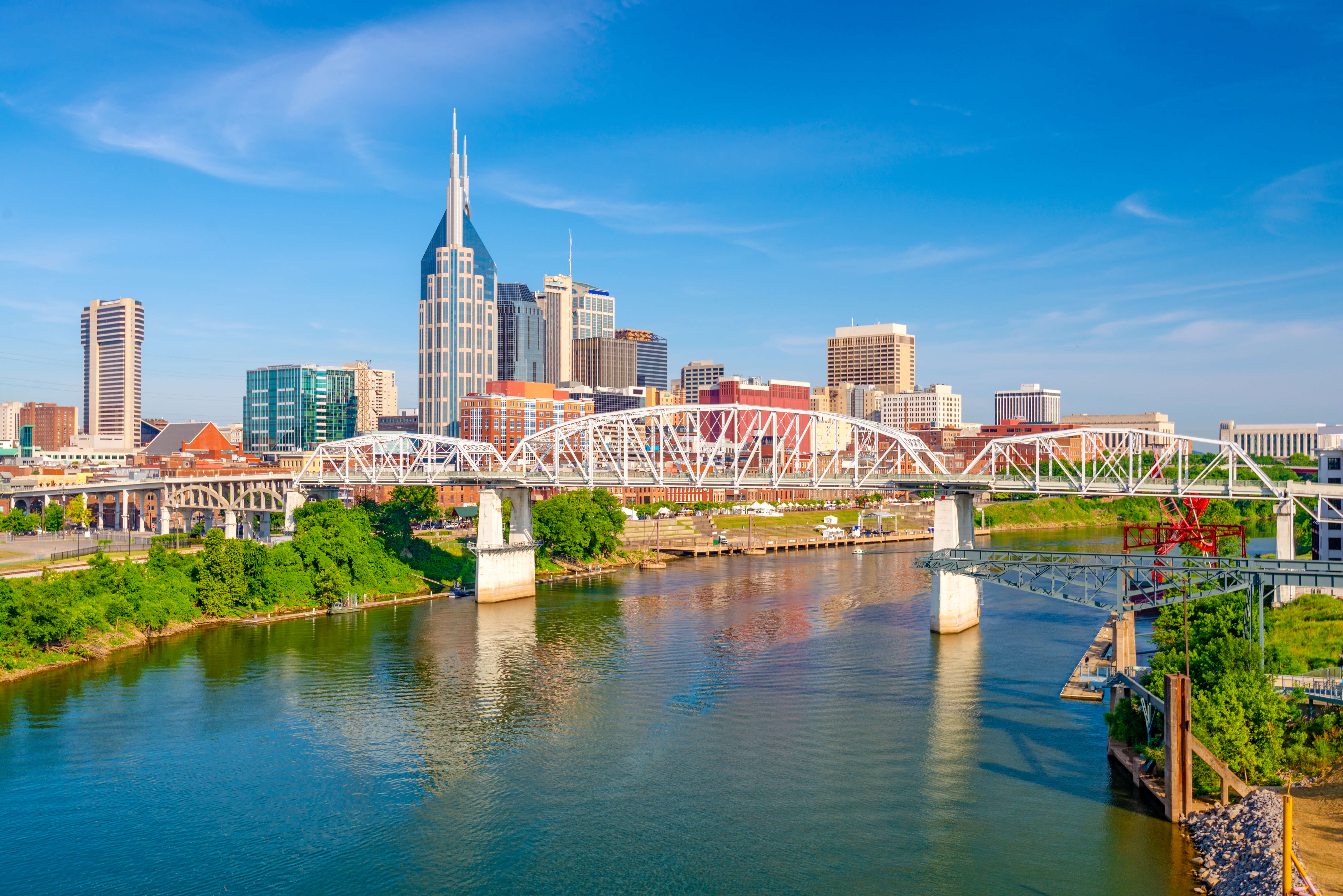 Luggage storage in +25 shops around Nashville
Only luggage storage to offer choice of hourly or daily rates in Nashville
Meer dan 55.000 reizigers hebben LuggageHero beoordeeld
Luggage storage Nashville
Luggage storage Nashville
You can stop searching for lockers to store your luggage. The next time you're in Nashville, keep in mind that LuggageHero is here to save the day!
Drop off your bags by using LuggageHero's network of more than 25 certified local shops located around Nashville and close to the Union Station.
Download our free Nashville luggage storage app here:
You can download our LuggageHero luggage storage app where you can see all our locations around Nashville. Your days of wasting time searching for luggage lockers are over!
Let's say that you arrive from Nashville International Airport hours before your rental is ready and you want to check out the sights without pulling your luggage behind you. Maybe you want to enjoy a day downtown, visit the Frist Art Museum, the Johnny Cash Museum, or the famous Country Music Hall of Fame and Museum. Or maybe you just want to enjoy one of the many live concerts, Nashville, the music city, offers! You surely, want to unwind, immerse yourself in the music, and dance instead of looking after your luggage, right? Whatever you choose, we're here to lighten your load.
Luggage storage near me
Just go to the LuggageHero reservation platform to find a handy storage site inside a shop or other business – all verified by us. Using our map, you can locate the shops that are nearest to you. We are located at the most frequented spots, such as Union Station or Sobro neighborhood.
You pay by the hour – unlike other services!
We offer a speedy, convenient, and low-cost service.
LuggageHero charges users only for each hour used , unlike most other luggage services, which make you pay for the entire day. If you want to store your luggage all day or longer, we offer you a low daily cap of .
We store all kinds of luggage – any size and any shape
LuggageHero's users can store luggage of any size and/or shape in any of our store locations. It doesn't matter if it is ski equipment, photo equipment, or backpacks – our luggage stores can accommodate all. LuggageHero's customers can choose to be charged by the hour or choose our daily rate – no matter of their left luggage.
Pricing
LuggageHero is the ONLY luggage storage service that offers you a choice of hourly or daily rates in Nashville. Flat rate of  per day and  per hour which allows you to pick an option that will suit your needs best. No hidden fees and no need to pay in advance, pay only if you show up to the luggage drop off location. All luggage is insured against damage, loss, and theft & a security seal is provided.
We can store your luggage for several days
LuggageHero also provides multi-day storage to its customers because we know flexibility is an essential part when you travel. LuggageHero offers a lower daily rate when you store your luggage for a longer period. From the second day onwards, our customers pay only $5 per bag per day!
We're looking out for you
Your safety and security are our priority. That's why we have LuggageHero employees review and certify all our shops in Nashville. We also seal every piece of luggage to keep them tamper-free. On top of that, we ensure every bag and what's inside it for up to . If you need to talk to someone at LuggageHero, we're here for you 24/7 through our online chat system.
Check out why KnockKnock recommends storing your baggage with LuggageHero here!
Is there a difference between left luggage and luggage storage?
Left luggage is luggage that people have left in a designated luggage storage facility. The term 'left luggage' is mostly being used in the UK. And luggage storage is a storage facility where people leave their luggage. Luggage storage is the most common term used internationally when referring to storing luggage.
In other words, left luggage and luggage storage are synonyms, hence there is no difference between the two phrases. They are both defined by people's need of storing luggage, which can be collected at a later time. So whether you are looking for left luggage or luggage storage, LugaggeHero is here to take care of your belongings.
Are you ready to store your bags?

Safety
We carefully certify and educate the operators at all our LuggageHero Nashville locations about how to safely handle your belongings.
All our shops in Nashville have been reviewed by a LuggageHero employee, who also regularly performs quality checks to make sure customers' belongings are kept in a safe and secure manner.
In addition, we provide security seals for each piece of luggage. These will be provided to you when you arrive at the shop, which ensures that no one can access your bags.
Furthermore, each piece of luggage and its contents are insured up to .
If you need someone to turn to, remember that customer online chat support is available 24/7.
Book risk-free
We believe in making your travels as smooth and easy as possible, which is why it is important to us that NO FEES are charged to you until your luggage is dropped off.
Use our online booking service to choose a luggage storage site in Nashville that is most convenient to your location and schedule. You can either book on arrival at the shop or book online in advance to secure your spot. Make an advance booking and you're guaranteed a space for your luggage in one of LuggageHero's many lockers.
But we know that sometimes plans change, especially when you're on the road. So if you don't show up, there's no charge. Nada. Zero. Zip. Zilch. Nothing! And no, you don't even have to cancel!
Luggage storage at the airport and Stow station
Another option where you can store your luggage is traditional storage at the local station – Stow Station. Although, bear in mind that you need to make a reservation beforehand and there is no luggage storage at night. Furthermore, there is luggage storage available at the airport.
How to safely store luggage in Nashville during COVID-19
It's our common responsibility to try our best, and take care of each other. Remember that every little thing counts!
Remember to follow the current measures and guidelines to avoid the spread of the virus.
Show consideration to your fellows – keep distance when possible!
If you can, wear a mask before and after dropping off your luggage.
Wash your hands before and after visiting our certified shops – or use hand sanitizer!
If you are sick – STAY HOME!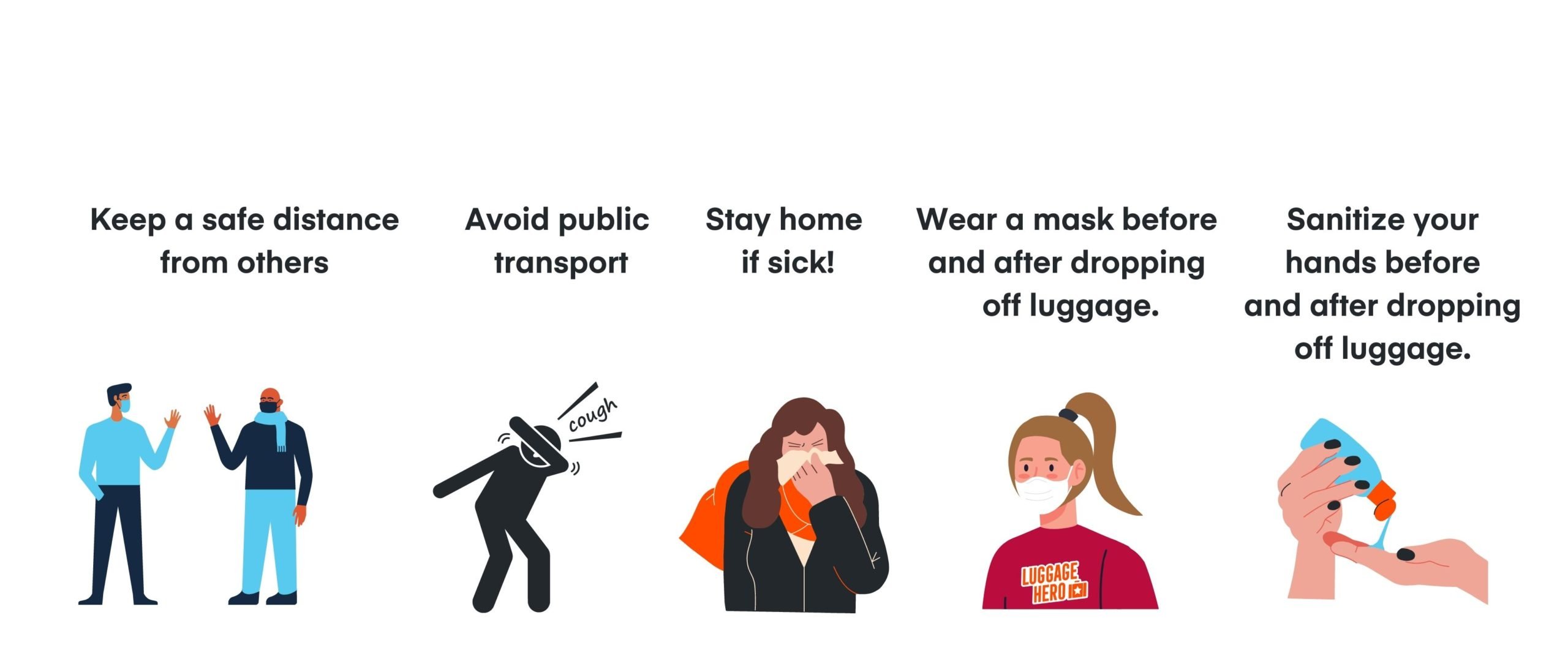 Download our free app
For even more comfort you can download our LuggageHero bag storage app where you can easily see all our locations around Nashville. With our luggage storage app, you are able to store your bags anywhere in our 1000+ locations.
Major and popular stations in Nashville
Riverfront – perched along the bank of the Cumberland River in downtown Nashville, Riverfront Park is home to some of Music City's most popular open-air concerts and events. It's also a popular spot to sit and take in the gorgeous views of the river—especially in the fall when the weather is cool. Of course, with its ideal location just steps from Broadway, this lovely urban park is close to many popular Nashville sites and attractions.
Country Music Hall of Fame and Museum – is one of the world's largest museums and research centers dedicated to the preservation and interpretation of American vernacular music.
Nissan Stadium – Located in the Music City along the banks of the Cumberland River and across from downtown Nashville, Nissan Stadium has been the home of the Titans since 1999. The stadium is also the home of the Tennessee State Tigers and hosts the annual Music City Bowl. Fans attending games at Nissan Stadium receive excellent views of the nearby Nashville skyline and the Cumberland River.
2022 Guide: Luggage Storage Nashville
You may be confused with the rules and regulations and wonder where bags and luggage are allowed in your travel destination. LuggageHero understands your pain and is happy to give you a big help. You just simply click Find Luggage Storage & Lockers in Nashville and have a quick look to find all the updated information for your amazing trip.
Check out why KnockKnock recommends storing your baggage with LuggageHero!
Luggage storage chart
Based on the chart below, LuggageHero is the best luggage storage option in Nashville. LuggageHero the only one that offers both hourly and daily prices with the possibility of insurance. Luggage storage in Nashville has never been so easy!
The chart is created based on the most popular luggage storage options.
Find the most common questions about Nashville and luggage storage
Where can I store my luggage in Nashville?
You can download LugggeHero app and see all the locations in Nashville, where you can drop your luggage. There is more than 25 of them! of them.
How much does storing of my luggage cost?
It will cost you $1/hour and $8 per day (24 hours).
Is luggage storage in Nashville safe?
Absolutely! We seal all the items with protective foil to prevent any damages and all your items are automatically insured up to $3000.
What is there to see/do in Nashville?
Nashville is first of all a music paradise! You will walk the city knowing that every bar or pub has a live music venue available every day of the week, where you can spend time with your friends while enjoying a concert. Other than that, there is a plenty of things that can be done, since Nashville is famous for its nightlife and cultural events.
How many days do I need for Nashville?
We recommend to spend 3-4 days in Nashville to fully enjoy it!