Luggage Storage Florenc
Only luggage storage to offer choice of hourly or daily rates in Florenc
Ponad 55 000 podróżników podzieliło się opiniami o LuggageHero
Luggage storage Florenc
Are you looking for lockers for your luggage near Florenc? LuggageHero have something better! With LuggageHero platform, you can find shops, cafes, and hotels, where you can store your luggage. Its employees will gladly keep an eye on your bags and you can enjoy sightseeing of Prague without any bags weighing you down.
All of LuggageHero luggage storage locations around Florenc in Prague are carefully selected by our scouting heroes and they are all certified. You can make a booking in two ways. Either you directly visit your chosen luggage storage site near Florenc or you can make a booking online through LuggageHero website or an app. However, if you decide to make your booking online, you can then secure a spot for your luggage in your chosen luggage storage site near Florenc. Furthermore, each piece of your bags will be secured with a security seal right after your arrival to the luggage storage site. The seal is protecting your bag from anyone trying to open it, as well as it insures it to up to €2500. From the moment you drop your luggage off at your location and start the storage timer on the booking page, your luggage is insured!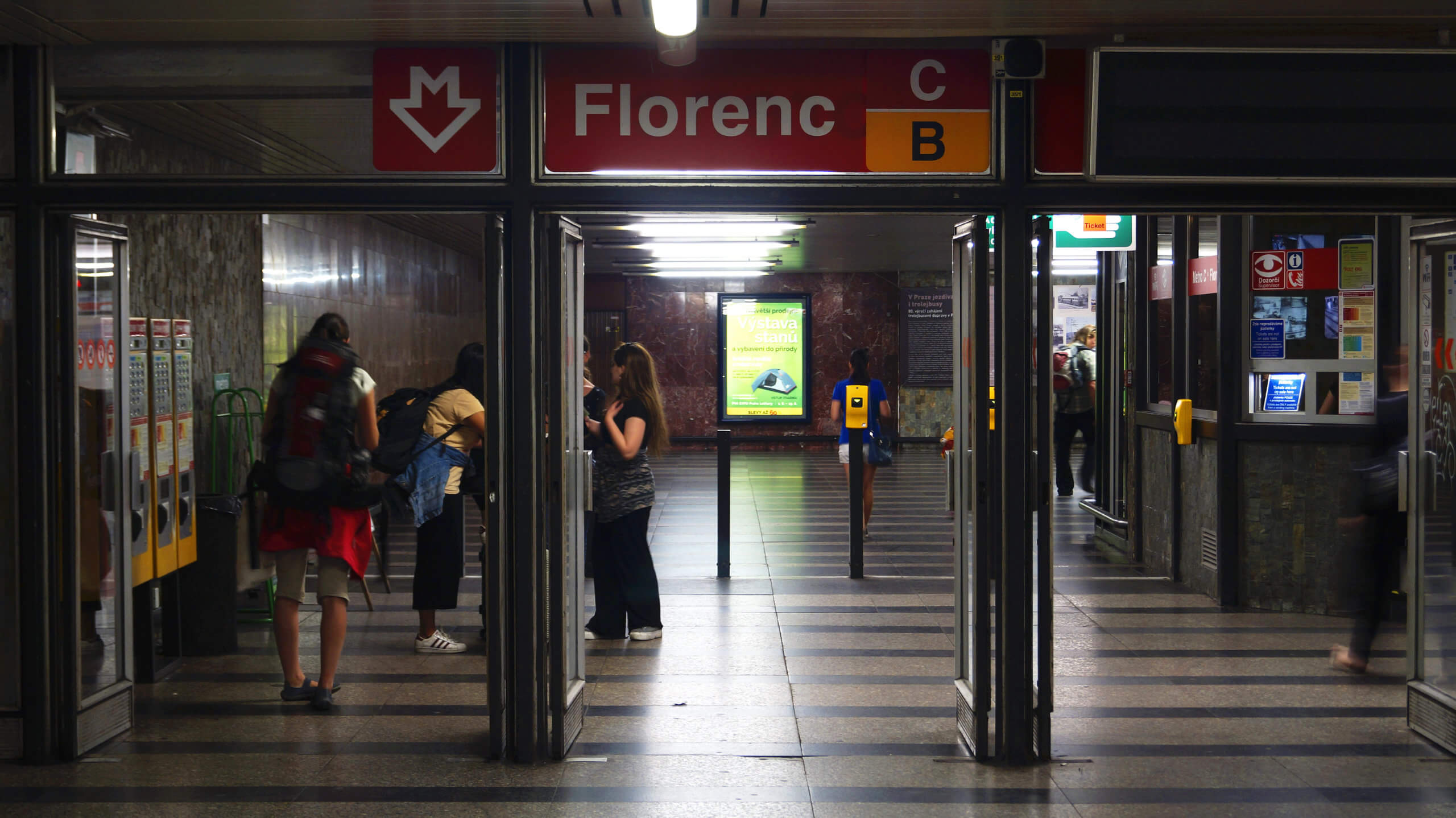 Florenc
Florenc is a Prague's metro station and an interchange of line B and line C and it is also Prague's central bus station for domestic and international connections. Line C was opened in 1974 and line B in 1985. Florenc is located between the New Town and Karlin, close to the Vltava river and 2 km from Charles Bridge.
The bus station is open from 3 AM to 0:30 AM and provides fast-food restaurants and coffee bars, 24/7 available restrooms, travel agency, ticket counter, parking and even a minimarket.
Some of the popular departures from the Florenc bust stations are for example:
Download our free luggage storage app:
For an even smoother experience from luggage storage, download our LuggageHero app and find all of the LugaggeHero luggage storage sites near Florenc, all luggage storage site in Prague, as well as other cities around the world. Don't hesitate and try LuggageHero today!
Frequently Asked Questions about Florenc
Here are some of the most frequently asked questions and answers about Florenc.
Can I store my luggage near Florenc metro station in Prague??
Yes, you can store your luggage near Florenc metro station in Prague. Check out LuggageHero website to find luggage storage site that suits you the best and go directly to the location or make an online booking in order to save a spot for your luggage.
How do I get to Florenc from the Prague airport?
You can take a bus from Vácval Havel Airport Prague Terminal 1 Platfrom D to Zličín and then switch to metro from Platform 2 towards Černý Most to get to Florenc. It takes about 54 minutes and a ticket will cost you 32 CZK.
Can I buy my ticket at Florenc bus station?
You can find about 20 ticket counters at the Florenc bus station as well as a large screen with nearest departures from the station.
What are the best hotels near Florenc in Prague?
According to the travelers rating, the best hotels near Florenc are the following: Botanique Hotel Prague, Hotel Merkur, and Motel One Prague-Florentinum.
Where is Florenc bus station located?
Pod výtopnou 13/10, 186 00 Florenc, Czech Republic