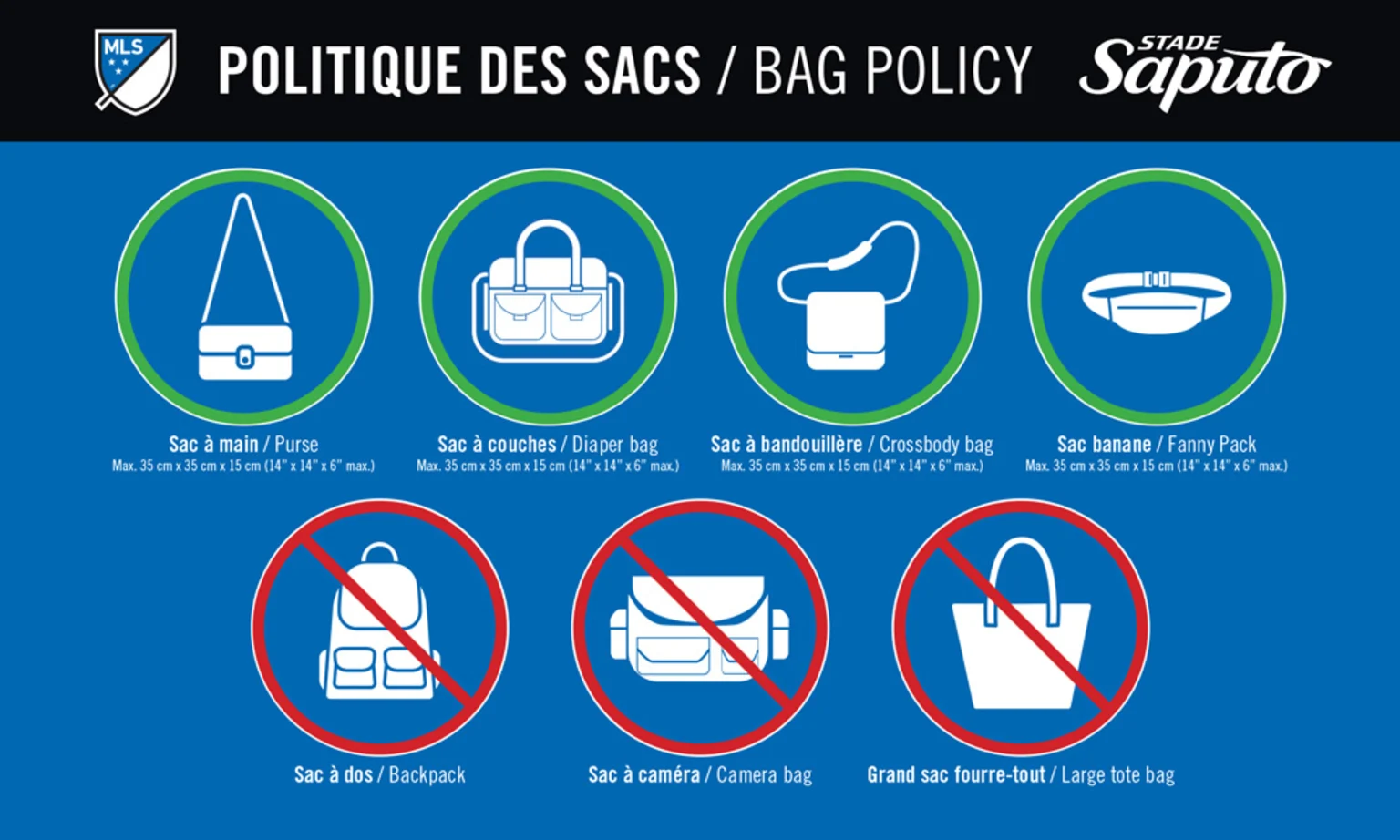 Prohibited items include:
All backpacks, camera bags, large tote bags and coolers of any size;
Any missile or projectile like object
Animals (with the exception of guide dogs for the disabled);
Weapons of any kind;
Remote-controlled airplanes or aircrafts and drones;
Balls (soccer, beach, inflatable, party balloons, etc.);
Alcoholic or non-alcoholic beverages, bottles, cans, thermoses or any other container; food coming from outside the stadium;
Aerosol cans, spray cans, corrosive, flammable substances, dyes or receptacles containing substances which are harmful to health or are highly flammable;
Professional cameras with lenses bigger than 2.5" or any other removable lens and equipment, such as tripods, batteries and commercial video cameras;
Chairs or seat cushions larger than 15"x15" or those that contain metal arms or backs (other than those approved for persons with special needs);
Hats or clothes that may impede the view of the fans;
Streamers and confetti;
Illegal drugs or toxic chemical products;
Fireworks of any kind including;
Mechanically-operated instruments which produce excessive noise such as megaphones, air or gas-powered horns;
Monopods and tripods;
Umbrellas;
Selfie sticks;
Skateboards, rollerblades and hoverboards;
Laser pointer devices;
Sticks or poles (need management's approval);
Radios or hand-held TVs larger than pocket-sized;
Any promotional or commercial materials;
Clothing with profane or abusive language, obscene graphics, or material considered to be indecent or inappropriate;
Noise-makers, including, whistles, horns, vuvuzelas.
Other objects which could compromise public safety and/or harm the reputation of the event.