2023 Guide to finding luggage storage in Glasgow

Find luggage storage in Glasgow
The complete guide for finding luggage storage all over Glasgow in 2023.
Glasgow, the most populous city in Scotland, laying on the River Clyde, has a lot to offer. Whether you find yourself admiring the Glasgow Cathedral, tasting beers in one of the many breweries, or exploring the City Centre Mural Trail, we are sure you will enjoy this Scottish city to the fullest. We also know the hassle when you have to check out of your apartment, but still have a few hours until your flight or train ride back home. Carrying your bags around can be quite annoying. That's where LuggageHero comes in with a solution! We are more than happy to help you with finding luggage storage in Glasgow. You'll have a number of different options to store your bags when visiting the beautiful city of Glasgow and this guide aims to help you find out what these options are.
You saved all the sights you want to visit on your phone, looked up all the best restaurants and pubs, and checked out nightlife hotspots. But nothing kills the excitement of a holiday than carrying your luggage through the entire city.
No worries, LuggageHero is here to help. With several locations around Glasgow, conveniently close to all the main tourist attractions, LuggageHero is a quick, safe and easy solution for storing your bags. 
Best rated in Glasgow: LuggageHero
Based on the chart below, LuggageHero is the best luggage storage option in Glasgow LuggageHero the only one that offers both hourly and daily prices with the possibility of insurance. Luggage storage in Glasgow has never been so easy!
The chart is created based on the most popular luggage storage options.
Name
Pricing models
Insurance
Flexible arrival
Reviews
Name
Pricing models
Insurance
Flexible arrival
Reviews
LuggageHero
Daily, Hourly, & multi-day
Up to £2200
Yes
+140.000
Name
Pricing models
Insurance
Flexible arrival
Reviews
NannyBag
Daily
Up to $1100
No
27,802
Name
Pricing models
Insurance
Flexible arrival
Reviews
Vertoe
Daily
Up to $5000
No
4,708
Name
Pricing models
Insurance
Flexible arrival
Reviews
Radical Storage
Daily
No
No
900
Use our map to find the nearest certified shops
Download LuggageHero's free luggage storage app:
For even more comfort and ease, you can download LuggageHero's bag storage app where you can see all our locations around Glasgow.
Why LuggageHero is your best option   :
Featured in Lonely Planet and New York Times.
LuggageHero offers storage options  which means you can stow away your belongings for hours or even days if you need to.
Easy, quick, budget-friendly
When using LuggageHero in Glasgow, you only pay £0.95, or £5 a day.
If you store your luggage for several days, you only pay a maximum of £5 on the first day and only £5 afterward
Book online and receive your directions, or simply download LuggageHero's app
Safety is our no. 1 priority
Don't leave your just bags behind, but also your worries. Each piece of luggage left in one of our LuggageHero locations in Glasgow is insured for up to £2200 per bag, the highest insurance coverage in the industry.
Quality-checked partner locations
Luggage storage sites are located inside existing businesses, including retail outlets, hotels, cafes, and more. All are vetted by LuggageHero's local employee, who performs regular quality checks. Every piece of luggage is stored away from any public access.
Insurance
Unlike storage lockers in Glasgow where no insurance is guaranteed, with LuggageHero your bags are insured for up to £2200 per bag (one of the highest insurance options in the industry).
Enjoy Glasgow with no time limit
If anything, you should be the boss of your own schedule while on vacation. This is why we have partnered up with locations that are open around the clock so that you can make the most of your visit without having to think of closing times.
Traveling with friends and family made easy 
Traveling with friends or family? Then don't pass up the chance to get a special discount for storing 10 or more pieces of luggage. Write us a quick message and you're all set to go.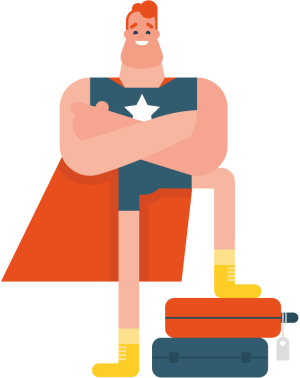 Half the price of station lockers in Glasgow and airport lockers
Luggage lockers, also called city lockers, are generally at least twice as expensive on a daily basis as LuggageHero's luggage storage service. Until relatively recently, travelers could only stow their bags in these luggage lockers, which offer very little flexibility in regard to pricing and location. where to go and luggage deposit. Today, LuggageHero offers countless stores in various cities to ensure you always have the option of dropping off your luggage in a protected environment. Unlike luggage lockers in stations and airports, LuggageHero also offers both an hourly and daily rate for maximum flexibility. LuggageHero tries to offer safe and cheap luggage storage near you at all times. 
Luggage storage facility for suitcase, baggage and odd-sized luggage
We check all our hotels and local shops in order for us to be able to offer space for whatever you need; ski equipment, photo equipment, backpacks or whatever. This is simply another method for us to give you the most flexible baggage storage, suitcase storage and luggage deposit.  
Our service is similar to hotel luggage storage
Many travelers who have been customers at hotels have asked the staff at the reception if they could store their luggage until they depart the city later in the day. For the most part, we offer the same service for everyone – no matter if they stay at a hotel, Airbnb or anywhere else. We are always ready to help you out. 
Why are you searching for luggage storage in Glasgow?
Maybe you have to check out of your Airbnb apartment, rental place, or hotel and your flight isn't until tonight?
Or… You just arrived in Glasgow, ready to explore everything the city has to offer, but your rental place isn't ready for you for 5 more hours? Most travelers have been in similar situations and experienced the struggle of luggage first hand.
Glasgow offers a range of possibilities when it comes to luggage storage and we have gathered everything into this guide to help you.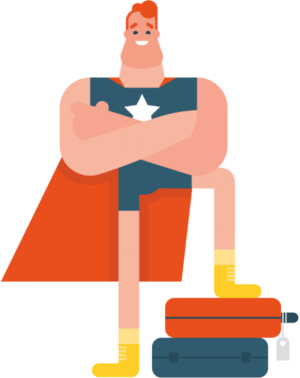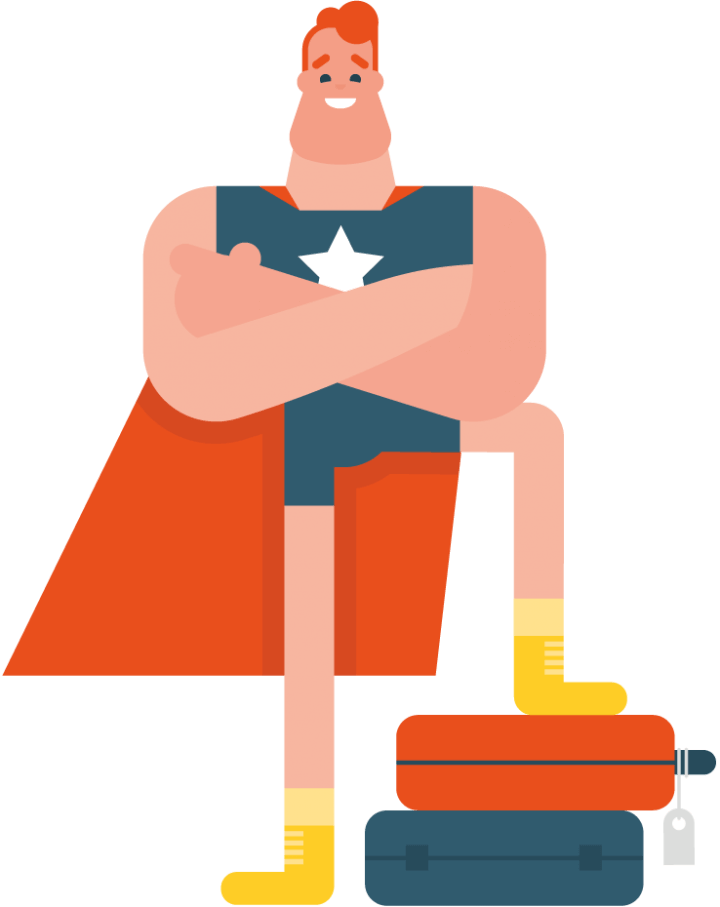 Luggage storage options in Glasgow
1. Glasgow Central Station
Glasgow Central Station is the busiest railway station in Scotland and the twelfth-busiest station in whole Britain. Whether you are arriving by train and need to store your luggage before checking-in into your accommodation, or you have already checked-out, but still have a few hours before hopping on your train back home, or you simply want to leave your large luggage in Glasgow and travel to different parts of Scotland before picking it up again, Glasgow Central Station allows you to store your bags in their Left Luggage.
Location: next to Platform 1 on the ground level of the station
Prices: 
£6.00 per item up to 3 hours
£8.00 per item for 3-24 hours
£4.00 per item for each additional 24 hours
2. Buchanan Street
One of the most famous shopping streets in Glasgow might also be a place where you would like to store your luggage. Buchanan Street Bus Station flows you to store your luggage
Opening times: 06:00-23:00
Prices:
Small (hand baggage): £5.00
Medium (backpacks): £6.00
Large (large suitcases) £7.00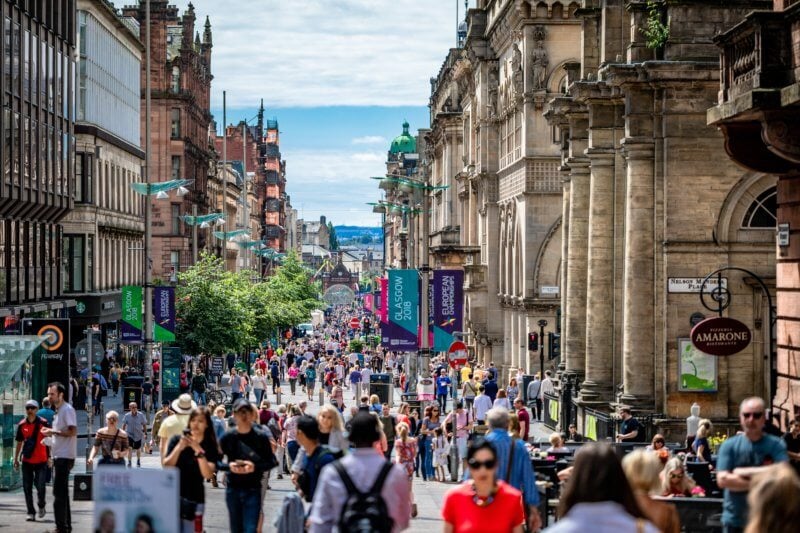 3. Queen Street
The Queen Street Railway Station is the third busiest in Scotland. Similarly to the Central Station it offers left luggage facilities. However, the station is currently under construction and the pricing info is not available.
4. St Enoch Subway Station
St Enoch Subway Station is one of the biggest subway stations in Glasgow and it is very famous for its distinctive entrance building. The former Victorian style building was replaced by a modern glass entrance, no less beautiful. While this station does not offer any luggage storage facilities, it is only 6 minutes walk away from the Glasgow Central Station, where you can comfortably store your bags.
5. Argyle Street Station
Argyle Street Station is one of the most important transportation hubs in Glasgow, connecting north of the city with the south. It only takes 8 minutes to walk to the Central Station from Argyle, in order to store your luggage.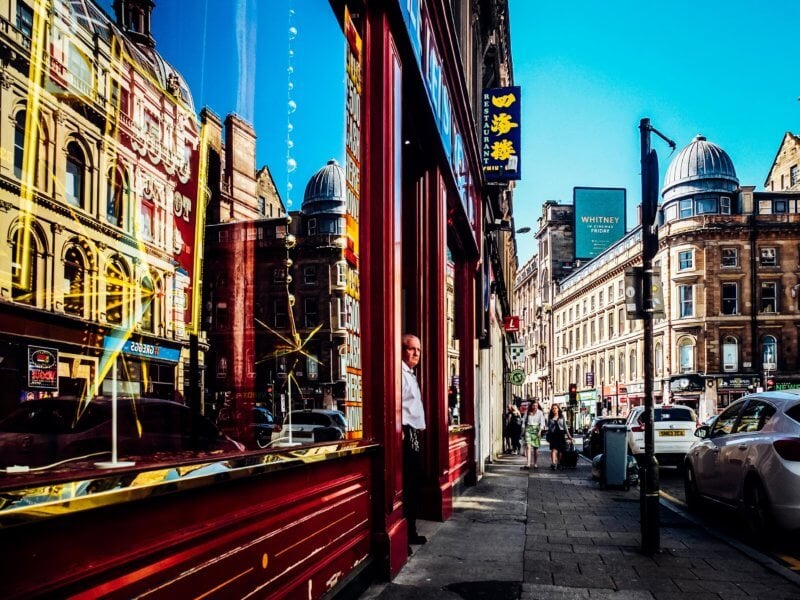 Storing your luggage at the main tourist points in Glasgow
Kelvingrove Art Gallery and Museum – luggage storage at the Lower Ground Entrance. £1 per item.
Riverside Museum – storage available with Eelway.
Glasgow Airport – luggage storage is in the main check-in hall. £12.50 per item/day, £10.00 per each additional day or £50.00 per item for a week.
+1M tassen veilig opgeslagen
FAQ about luggage storage in Glasgow
Here are some of the most often asked questions and answers on storing luggage in Glasgow.
Are there luggage lockers at Glasgow Central Station?
You can leave your luggage at a luggage facility next to platform 1. You can pre-book storage for your heavy bags.
Can you leave luggage at Glasgow Airport?
Glasgow Airport has a great service which allows you to leave items in a safe, secure storage area for up to 3 months.
Is LuggageHero safe to use?
LuggageHero is very safe to use as each time you store your luggage, you have insurance for up to £2200 on your belongings.

Luggage Storage locations around Glasgow
Store your luggage in a local shop from £1/hour