Luggage storage in Lille
From 1€/hour
A guide on how and where to find lockers and places to store your luggage in Lille as of 2023:
You saved all the sights you want to visit on your phone, looked up all the best restaurants and pubs, and checked out nightlife hotspots. But nothing kills the excitement of a holiday than carrying your luggage through the entire city.

No worries, LuggageHero is here to help. We've put together a comprehensive ad up-to-date guide on options for storing your luggage when around Lille.
Use our map to find the nearest certified shops
Best rated luggage storage in Lille: LuggageHero 
Based on the chart below, LuggageHero is the best luggage storage option in Lille. Use a local shop (coffee shops, souvenir shops, restaurants, and stores) in Lille to store your luggage for as low as . Avoid that luggage locker in Lille, where you have no guarantee for your belongings.
Luggage storage chart
The chart is created based on the most popular luggage storage options in Lille.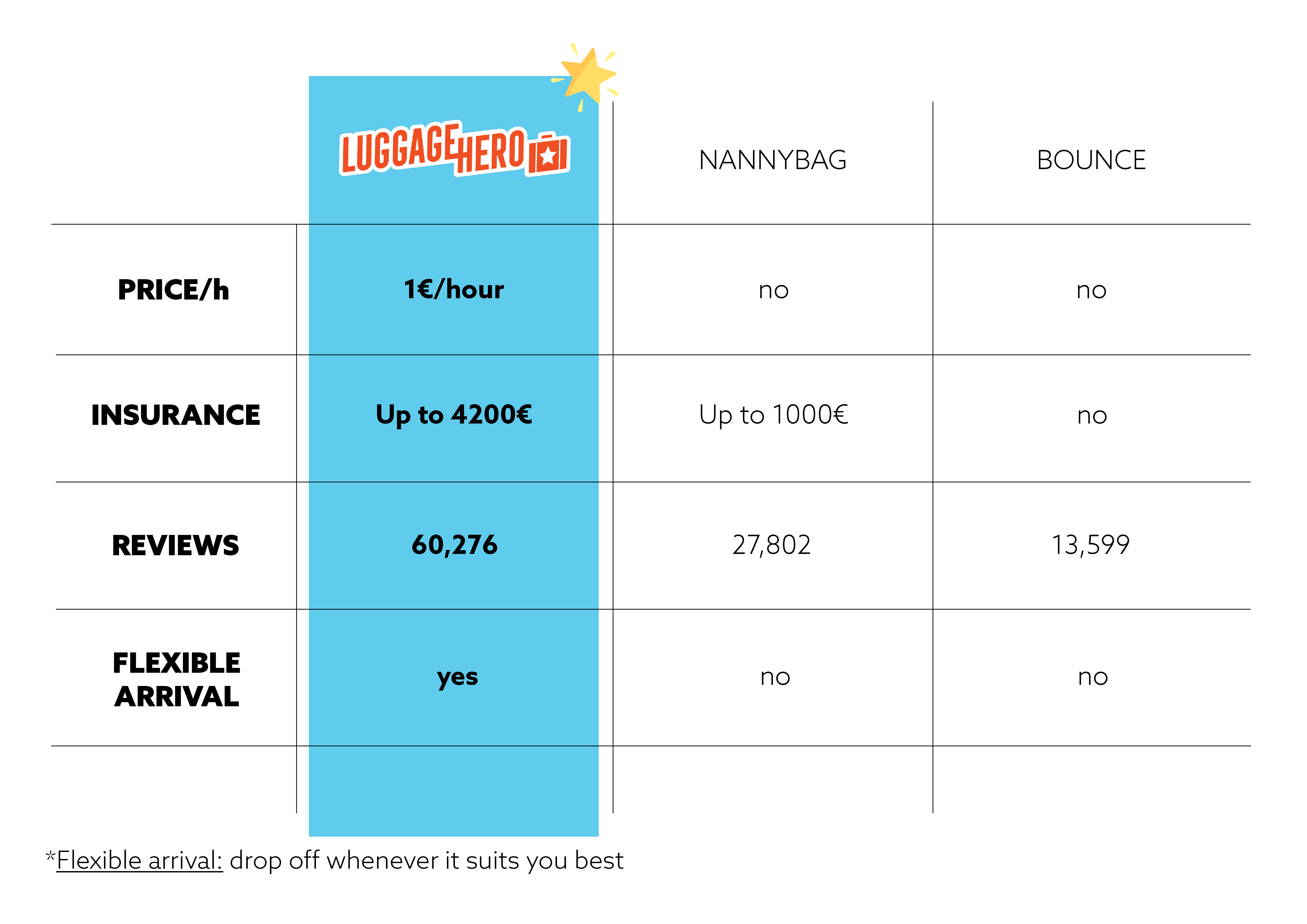 Download LuggageHero's free luggage storage app:
For even more comfort and ease, you can download LuggageHero's bag storage app where you can see all our locations around Lille.
All these companies can offer you bag storage in Lille – We've listed them below:
Transit stations
Lille Europe train station
You can find self-service lockers at the Lille Europe train station. You pay €4 for the first 2 hours, €5.50 for up to 10 hours or €9.50 for a whole day. You can keep your belongings there for a maximum of 3 days.
Opening hours: 07:30 – 19:00 (Monday – Sunday)
Address: 1 Place François Mitterrand, 59777 Euralille Open in Google Maps
Luggage storage in Lille Airport

Due to security reasons, there are is no left luggage service at the airport. There are few options in the city itself, so it might be a good idea to travel light when visiting Lille if you can.
Great Tip for how to get yourself luggage storage in Lille:
TIP: The demand for luggage storage in Lille is high and therefore it can be tricky to find places where you can store your belongings, but it is not impossible!
Travel Hack: Walk into a random hotel and act as you are staying there. Some hotels offer luggage storage for their guests and sometimes even for people who are not staying at the hotel, just ask! And remember to give a great tip in case they want to store it.
Alternative: Luggage storage at museums and galleries in Lille
With countless sights to see, Lille has a very rich and diverse cultural life. However, it might be more difficult to enjoy it, if you suddenly find yourself unable to enter a place you've been dying to visit because of your trolley.
We've made a quick list of all the main tourist attractions in Lille and their locker situation so that you're up-to-speed:
Fine Arts Museum (Palais Beaux-Arts) – you can find a cloakroom where you can leave your belongings
Lille Métropole Museum of Modern, Contemporary and Outsider Art (Lille Métropole Musée d'Art Moderne, d'Art Contemporain et d'Art Brut) – there are coin operated lockers at the museum
Lille Zoo – no luggage storage options available
Pierre Mauroy Stadium – the stadium is equipped with a cloakroom, which opens three hours prior to the event and closes one hour after
Hotels
Most hotels do offer to keep your bags for a few hours before your check-in or after checking out. Your best bet is to simply ask. If your hotel is a bit out of the way from your sightseeing itinerary or means of transportation, you'd want to consider a luggage storage service that is more conveniently located.
Why are you searching for luggage storage in Lille?
Maybe you have to check out of your Airbnb apartment, rental place, or hotel and your flight isn't until tonight?
Or… You just arrived in Lille, ready to explore everything the city has to offer, but your rental place isn't ready for you for 5 more hours? Most travelers have been in similar situations and experienced the struggle of luggage first hand.
Lille offers a range of possibilities when it comes to luggage storage and we have gathered everything into this guide to help you.
Sightseeing and attractions just aren't the same with a suitcase in each hand and a backpack on your shoulders. Free yourself from baggage to fully enjoy your time in Lille.
Most-reviewed luggage storage service