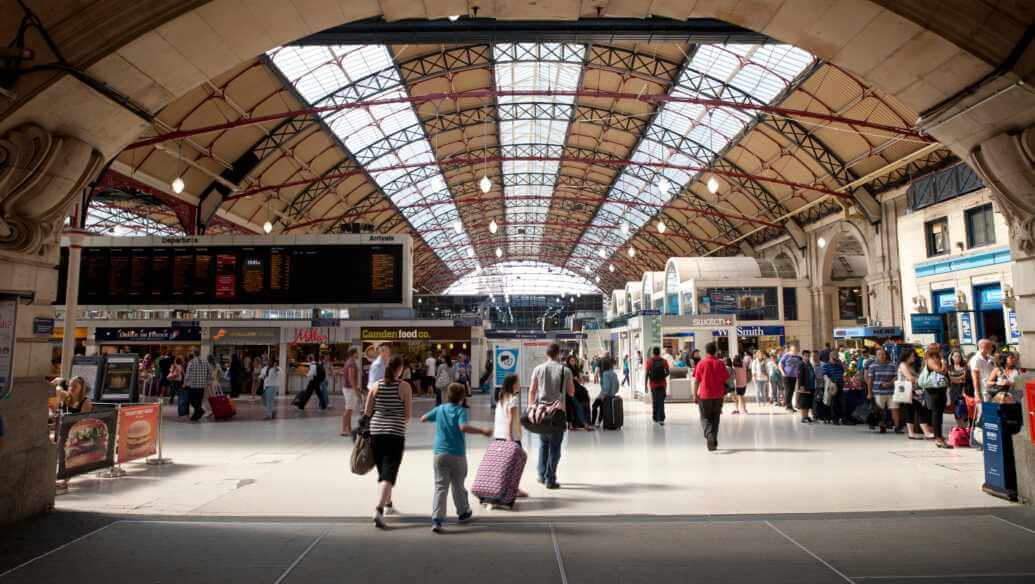 Bagageopslag Victoria Station
Bewaar je bagage op een gecertificeerde locatie vanaf £1.95 per uur
+1M tassen veilig opgeslagen
Bagageopslag Victoria Station
Loop je door Victoria Station en wil je je bagage ergens kwijt? Geen zorgen! 
Breng je spullen naar een van de dichtstbijzijnde locaties van LuggageHero.
Bij LuggageHero sla je je bagage veilig en betaalbaar op. Al onze partners zijn gecertificeerd door LuggageHero. Bovendien is LuggageHero de enige aanbieder van bagageopslag waarbij je de keuze hebt uit een uur- of dagtarief voor maximale flexibiliteit. 
We provide luggage storage 24 hours and our partner locations will take great care of your baggage while you explore London. Just drop your bags near Victoria Station and the whole city is yours to explore.
Use our map to find the nearest certified shops in Victoria Station
Our service is similar to hotel luggage storage
Many travelers who have been customers at hotels have asked the staff at the reception if they could store their luggage until they depart the city later in the day. For the most part, we offer the same service for everyone – no matter if they stay at a hotel, Airbnb, or anywhere else. We are always ready to help you out. For hassle-free travel in London, utilize the reliable luggage storage services offered by the Excess Baggage Company at T3 Heathrow and more locations.
Is there a difference between left luggage and luggage storage?
Left luggage and luggage storage are basically the same things.  The term "left luggage" is mostly used in the UK. Luggage storage is the most common name used internationally when referring to storing luggage. They are both defined by people's need of storing luggage that can be collected at a later time. So whether you are looking for "left luggage" or "luggage storage," LugaggeHero is here to take care of your belongings.
Safety
Unlike other luggage storage services, all our shops in Victoria Station have been reviewed by a LuggageHero employee. You will not find any other luggage storage providers in Victoria Station that offer the same.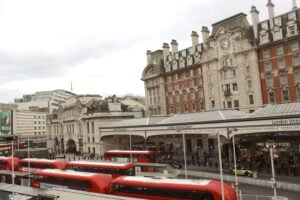 Why book luggage storage in Victoria Station with LuggageHero?
Convenience:

We are the only service that offers both hourly and daily options,  so you can choose what best fits your plans for the most affordable price!

Flexibility:

From overnight storage to just a few hours, our luggage storage options are as flexible as it gets! We even have some stores where you don't need a reservation.  Click

here

to check which stores.

Affordability:

Our luggage storage facilities offer the best value for money

Trust:

Our service has the best and the most reviews around. With

more than 75,000 reviews, we have

an average rating of 4.8
Luggage storage chart
Based on the chart below, LuggageHero is the best luggage storage option in Victoria Station. LuggageHero is the only one that offers both hourly and daily prices with the possibility of insurance. Luggage storage in Victoria Station has never been so easy!
The chart is created based on the most popular luggage storage options.
Name
Pricing models
Insurance
Flexible arrival
Reviews
Name
Pricing models
Insurance
Flexible arrival
Reviews
LuggageHero
Daily, Hourly, & multi-day
Up to £2200
Yes
+140.000
Name
Pricing models
Insurance
Flexible arrival
Reviews
NannyBag
Daily
Up to $1100
No
27,802
Name
Pricing models
Insurance
Flexible arrival
Reviews
Vertoe
Daily
Up to $5000
No
4,708
Name
Pricing models
Insurance
Flexible arrival
Reviews
Radical Storage
Daily
No
No
900
Left luggage with LuggageHero at London Victoria Station
LuggageHero's Victoria Station storage sites are certified hotels, cafes, and shops. Making an advance booking ensures space for your left luggage at Victoria Station, and should your travel plans change you can easily cancel your booking at any time. The address and directions are made available at the time of booking and are emailed to you.
LuggageHero uses a storage timer to calculate the hours spent. When arriving at our store location, you will start the timer on your booking page. Stopping the storage timer upon collection will process payment automatically.
London Victoria Station
Victoria Station, also known as London Victoria, is a major railway and underground station in London. The station is located in central London and close to Westminster. The Gatwick Express, the direct train to Gatwick Airport, runs from the rail station up to 4 times an hour. The train ride only takes you 30 minutes which leaves you with plenty of time to go explore on your arrival and departure day. All you need is to find luggage lockers in London's Victoria Station (or storage), get rid of your bags, and explore the area.
Victoria Station luggage storage
Looking for Victoria Station luggage lockers?
The Station is open 24 hours, Monday to Sunday. However, you can store your luggage any day of the week from 9 am to 22 pm. The prices vary depending on the duration of storage. Up to three hours, you can store your luggage for £5. It costs £7,5 for the duration of 3-6 hours and £10 for 24 hours. You pay an extra £6 for every 24 hours period.
You can find some at the Victoria station located between platforms 7 and 8.
When you enter the station from Hudson´s Place, you take a turn to the right and continue until you get to the end of platform 2 and then turn left between platforms 7 and 8.
If you are coming to the station from Wilton Road, walk straight and once you approach to platform 7, turn to the left around the corner and you should see the luggage storage from this point.
Continuing…
Entering from Eastern Archway means that you only need to walk straight until you reach luggage storage.
When you enter from Buckingham Palace Road, you will turn to the left and continue straight until you reach Camden Food Co and then you turn right, at the corner of WHS you turn right again and lastly you continue straight until you reach the luggage store.
Storing your bags near Victoria Station will give you access to several London tourist attractions including Buckingham Palace and St James' Park. Luggage storage is also offered around several other London Underground Stations for a price. This includes King's Cross Station, Euston Station, Liverpool Street Station and many more. If you are heading to an event near Wembley Stadium for example, we can easily hold your bags as Wembley Stadium has a strict no bag policy. When you store your luggage near Victoria Station, you also have instant access to the following popular London attractions:
St. James Theatre
The newly built London theatre complex, St. James Theatre is situated on the site of the former Westminster Theatre. It was built for John Braham, Europe's leading opera star from the 1800s.
Today, this 312-seat theatre has a brasserie and lobby bar where you can enjoy some snacks, cocktails, and fine wines before or after the show. Since there are no left luggage or lockers at the theatre, you can leave luggage near Victoria Station at one of our locations just steps away from the station and treat yourself to a hassle-free theatre-going experience.
Victoria Palace Theatre
Victoria Palace Theatre is a West End theatre on Victoria Street, just opposite London Victoria Station. Some of the most notable productions originated in this theatre including Fame – the Musical, Grease, and the most recent, Hamilton: An American Musical. This West End theatre started off as a small concert room above a small tavern of the Royal Standard Hotel, and today it's visited by theatre-lovers daily.
If you're visiting the area and wish to see a play at Victoria Palace Theatre, you can leave your bags at one our luggage storage locations just steps away from London Victoria Station. Since the theatre does not allow large bags inside, you can use our luggage storage and enjoy the show like a true theatre-goer.
Westminster Cathedral
A mother church of the Roman Catholic Church, Westminster Cathedral is located on Victoria St. just 400 meters away from Westminster Abbey.  Designed in the Byzantine style, the church has been on site since 1884 and is visited by tourists daily. While you're in the area, you can also visit many shops or relax in a cafe on the wide street. In this case, it might be useful for you to find bag storage Victoria Station and relax without your luggage.
The church itself does not have any left lockers, but since it's a walking distance from London Victoria Station, you can store your belongings at one of our shops by the station. Whether you're in it for the spiritual experience or you love architecture, visiting Westminster Cathedral is the place to visit. A no-entrance fee to enter the Church, plus a convenient luggage storage option just around the corner make for a perfect opportunity to visit the church.
Left luggage at other popular stations:
Download our free luggage storage app and leave luggage near Victoria Station: 
For even more comfort and ease, you can download our LuggageHero bag storage app where you can see all our locations for luggage storage near Victoria Station London. Victoria Station left luggage has never been so safe and varied as it is now.
Prijzen
LuggageHero is de ENIGE aanbieder van bagageopslag waarbij je kunt kiezen uit uur- en dagtarieven in Victoria Station.
Dankzij de vaste prijs van £5.95 per dag of £1.95 per uur kun je altijd kiezen voor de optie die het best bij je past. Blijf je ergens maar een paar uur, dan wil je natuurlijk niet voor een hele dag betalen – zoals je bij andere aanbieders van bagageopslag wel zou doen. 
De helft van de prijs vergeleken met kluisjes op het treinstation en vliegveld
Bagagekluisjes of stadskluisjes zijn per dag meestal twee keer zo duur als het bewaren van je bagage bij LuggageHero. Tot voor kort konden reizigers hun bagage alleen in deze kluisjes opbergen. Dat betekende dat er weinig keuze was als het aankwam op prijs en locatie.
De bij LuggageHero aangesloten winkels bevinden zich overal in de stad, zodat je altijd de mogelijkheid hebt om je bagage op een veilige locatie te bewaren. In tegenstelling tot kluisjes op het treinstation en vliegveld, heb je bij LuggageHero de keuze uit uur- en dagtarieven. De missie van LuggageHero is om flexibele en goedkope opties voor bagageopslag te bieden, waar je ook bent. 
Wij bewaren alle soorten bagage, in elke vorm en van elke grootte, op geverifieerde locaties
Gebruikers van LuggageHero kunnen alle soorten bagage bewaren bij een van onze opslaglocaties. Het maakt niet uit of het om skispullen, fotoapparatuur of rugtassen gaat. Met andere woorden: je kunt onze bagageopslag, kofferopslag, bagagedepot of hoe onze tevreden klanten het ook noemen, altijd op een veilige manier gebruiken. Klanten van LuggageHero kunnen kiezen uit uur- of dagtarieven, ongeacht hun type bagage.
We kunnen je bagage meerdere dagen bewaren
LuggageHero biedt bovendien de mogelijkheid om je bagage meerdere dagen te bewaren. We weten namelijk hoe belangrijk flexibiliteit is als je op reis bent.
Sla je je bagage voor langere tijd op, dan profiteer je van een lager dagtarief. Vanaf de tweede dag betalen klanten van LuggageHero slechts £5.95 per bagagestuk per dag.
Download de gratis app van LuggageHero:
Voor maximaal gemak download je onze LuggageHero-app. In de app vind je alle locaties bij jou in de buurt in één oogopslag.
Openingstijden
We werken met verschillende winkels met verschillende openingstijden. Kies de partner die het beste bij je past! Klik hier om de openingstijden van onze partners te zien.
Welke betaalmethodes worden geaccepteerd?
We accepteren de meest gangbare creditcards. Let op dat je onze partner niet contant betaalt voor het gebruiken van LuggageHero en dat je bagage alleen verzekerd is als je de betaling direct aan LuggageHero hebt gedaan.
Boekingen annuleren
Voor annuleringen op dezelfde dag of als je niet komt opdagen, wordt een vergoeding gerekend gelijk aan het dagtarief van £5.95 per bagagestuk.
Lees waarom KnockKnock aanraadt om bagage te bewaren met LuggageHero. Ook bekend van The New York Times, Lonely Planet en CNBC.
Frequently asked questions about London Victoria Station
Here are the answers to some of the most frequently asked questions about London Victoria Station
What are the opening hours at London Victoria Station?
The Station is open 24 hours, Monday to Sunday.
Is there available parking near London Victoria Station?
Yes there is. For pricing and general car park information please contact APCOA parking which are open every day. You can learn more by calling this number 0345 222 4224. They offer the following services: disabled space, electric car charging space and motor bike space.
Where can a person buy food in London Victoria Station?
Victoria Station has 48 stores at the location. That includes Burger King, Caffe Nero, Krispy Kreme Doughnuts, LEON Naturally Fast Food and many more options.
What are the opening hours of the ticket office at London Victoria Station?
The opening hours are Monday – Sunday 04:00 -00:45. However, advance purchase tickets are available to from the Ticket office between 07:00-21:00
Where can ticket machines be found at London Victoria Station?
Ticket machines can be found near the central concourse (run by Southern) and eastern concourse (run by Southeastern).
Is there an ATM at London Victoria Station?
There are a number of ATMs within the station.
Is there an option of hiring a car at London Victoria Station?
Yes there is - Sixt have a branch in the car park. This is located in the Raft car park, via the Victoria Place shopping centre.
Are there accessible toilets at London Victoria Station?
Victoria Station is currently working on a major upgrade of the Victoria Station facilities. Alternative facilities, including accessible toilets, are free to use in Victoria Place shopping centre or Hudson Place. Please ask a member of station staff if you require any assistance.
Where can one find a taxi near London Victoria Station?
Taxis can be found at Hudson's Place (exit by platform 1-2) and upstairs at the Plaza (exit in Victoria Place).
I wish to book mobility assistance but I am not sure which train operator I am traveling with. What should I do?
If you wish to book assistance but are not sure which train operator you are travelling with, you can call 0800 022 3720. On calling, you will be referred to the appropriate train operator.
Where in London is Victoria Station?
Victoria Station is located in the City of Westminster, west of Vauxhall Bridge Road, south of Victoria Street and east of Buckingham Palace Road.
What tube lines go to Victoria Station?
Victoria Station is a major railway hub and underground station. You can get to Victoria Station by taking a District Line, Circle Line, and the Victoria line.
Does London Victoria Station have luggage storage?
You can store your bags with one of LuggageHero's storage locations just around the corner from Victoria station.
Does Victoria station have luggage lockers?
No, there are no lockers, while you can easily store with luggage storage services as LuggageHero. Pay per hour and shops are right by the corner of Victoria station.
Insurance and safe luggage storage
In the collaboration with First Marine Insurance Ltd., we are proud to be covering each piece of luggage free of charge every time you use our luggage service. The premium insurance is optional, you can easily add it when making your booking and it will cover your bags for up to $3,000/€2500 while being stored. On the other hand, if you decide not to add insurance, there is always a guarantee of $500. Make sure you do not pay cash in a drop-off/pick-up shop, because insurance will not cover any bookings that are not paid directly through LuggageHero
How much does it cost to storage my luggage in Victoria Station?
You can store your luggage any day of the week from 9 am to 22 pm. The prices vary depending on the duration of storage. Up to three hours, you can store your luggage for 5 £. It costs 7,5 £ for the duration of 3-6 hours and 10 £ for 24 hours. You pay an extra 6 £ for every 24 hours period.
All luggage storage locations are verified for safety and carefully trained by our team before being listed on the site. To offer an extra sense of security, every bag is covered by insurance that is up to per bag if you chose if you chose to add it to your booking, but there is always a guarantee.
Can I cancel my booking with LuggageHero?
Of course! We know that plans can change, therefore our customers have the option to cancel their booking up until midnight of the day before without any charges. For same-day cancellations and no-shows, there will be a fee which equals to the daily rate of £8.
LuggageHero in de pers
"LuggageHero, which offers online booking with a credit card — thus, eliminating the need for users to have local currency on hand — is one of the most recent players to expand its services. In December the company began operating in New York, where today it has some 250 locations."

"One solution is LuggageHero, which was already on the scene in Copenhagen and London, and has now expanded into New York. Its selling point is that it lets you store your luggage in a local shop, café or hotel, which is often more convenient than having to go to a storage facility at a train station."

"LuggageHero, which Jannik Lawaetz founded in 2016, currently has more than 300 storage locations in six cities (New York, London, Copenhagen, Lisbon, Madrid and Barcelona) and plans to expand to 39 cities by January 2020."

"LuggageHero founder and chief executive Jannik Lawaetz says that the concept was inspired by that mother of invention — necessity — and Airbnb. A couple of years ago, he and his girlfriend rented an apartment in Barcelona via the home-share service. They had a later flight on their day of departure and wanted to continue exploring the city, but didn't want to lug their suitcases around. "