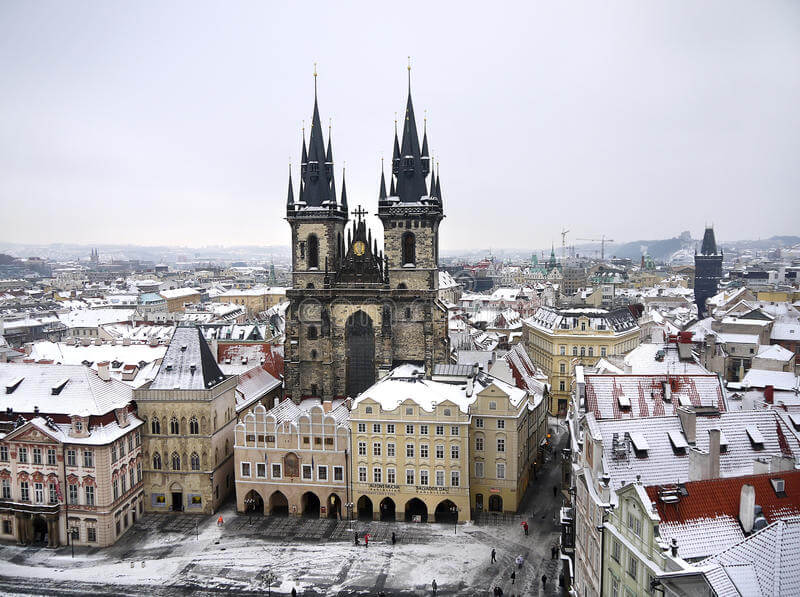 Luggage Storage Staroměstská
Only luggage storage to offer choice of hourly or daily rates in Staroměstská
Mais de 55.000 viajantes avaliaram LuggageHero
Luggage storage Staroměstská
Are you looking for lockers or a place to store your luggage near Staroměstská? LuggageHero has an easy fix! With LuggageHero, you can find cafes, shops, and hotels, where you can store your luggage. Its employees keep an eye on your belongings while you enjoy Prague's sightseeing without your luggage weighing you down.
All of LuggageHero's luggage storage locations near Staroměstská in Prague are selected by our scouting heroes and all of them are certified. The booking works in two ways. Either you go directly to your chosen LuggageHero luggage storage site near Staroměstská or you make a booking online using the LuggageHero website or an app. However, by making your booking online, you secure a spot for your bags in your chosen luggage storage location near Staroměstská since each site has its maximum capacity. On top of it, each piece of your luggage is secured with a security seal from the moment of your arrival.
Staroměstská
Staroměstská is a metro station of line A in Prague that opened in 1978. The station is conveniently located in the Old Town just two minutes walk from the Old Jewish Cemetery, Municipal Library, and Rudolfinum. The following station is Můstek where you can change to line B. There are many bars, cafes, and restaurants in the area where you can refresh yourself after a long day of exploring Prague.
There is an apartment where a famous Czech musician Jaroslav Ježek was living and composing during the period of 1906–1942, which is now a national memorial place opened for the public.
Download our free luggage storage app:
For an even smoother experience with luggage storage, download the LuggageHero app and find all of the LugaggeHero luggage storage sites near Staroměstská on your phone wherever you are, all luggage storage sites in Prague, as well as all other cities around the world. Don't wait and try LuggageHero right now!
Frequently Asked Questions about Staroměstská
Here are some of the most frequently asked questions and answers about Staroměstská.
Can I store my luggage at Staroměstská?
Yes, you can store your luggage near the area of Staroměstská. Check out LuggageHero website and find a luggage storage site which is nearest to you. You can go directly to the shop site or make an online booking to secure a spot for your bag.
How do I get to Staroměstská from the Prague airport?
Take a bus from Vácval Havel Airport Prague Terminal 1 Platfrom A to Nádraží Veleslavín and then switch to metro from Platform 1 towards Skalka to get to Staroměstská. It will take you 53 minutes and a ticket costs you 32 CZK.
What are the best hotels near Staroměstská in Prague?
Based on the travelers rating, the best hotels near Staroměstská are the following: Unitas Hotel, Four Seasons Hotel Prague, and Hotel Liberty. Enjoy your stay!
Where is Staroměstská located in Prague?
Josefov, 110 00 Prague 1, Czech Republic
Can I buy my ticket at Staroměstská?
It is not possible to buy tickets at Staroměstská but you can do so at Můstek which is the following stop.