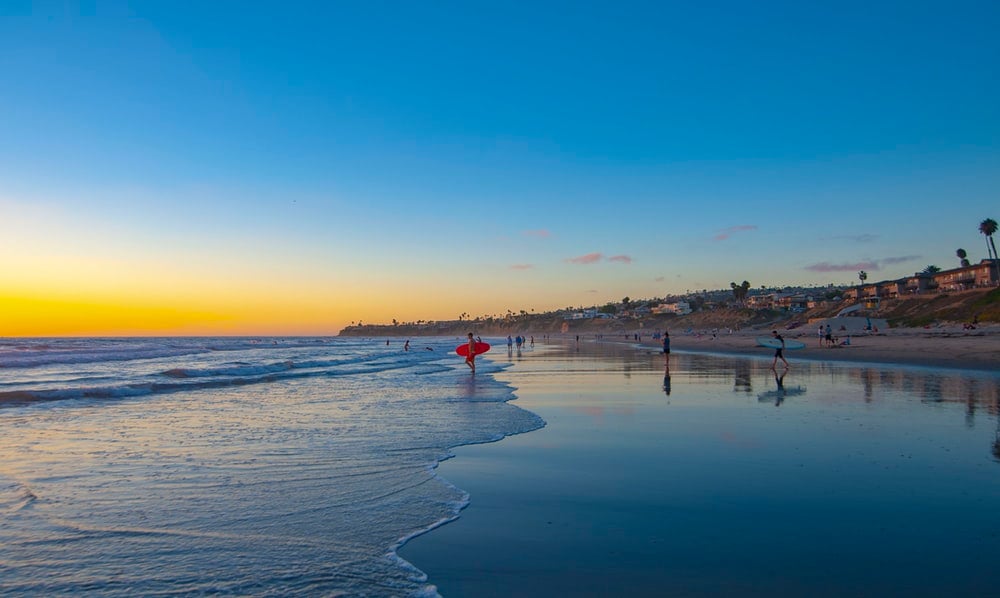 Luggage Storage Pacific Beach
Store your bags in a certified hotel or shop from $0.95/hour
Most-reviewed luggage storage service
Luggage Storage Pacific Beach
Are you walking around and need to store your luggage near Pacific Beach? Don't worry, we got you! 
Drop off your items at one of LuggageHero's luggage storage locations just around the corner.
At LuggageHero, we offer secured and cheap luggage storage. All our shops are certified by LuggageHero. And remember; LuggageHero is the only luggage storage service that offers an hourly and daily rate for maximum flexibility. 
Pricing
LuggageHero is the ONLY luggage storage service that offers you a choice of hourly or daily rates in Pacific Beach.
A flat rate starting at $0.95 per hour and from $7.95 per day allows you to pick an option that will best suit your needs. If you're only planning on staying for a few hours in a city, why pay for an entire day as you would with other luggage storage services? 
Half price compared to station lockers and airport lockers
Luggage lockers, also called city lockers, are generally at least double as expensive on a daily basis compared to LuggageHero's luggage storage service. Until recently, travelers could only stow their bags in these luggage lockers, offering very little flexibility regarding pricing, where to go, and luggage deposit.
Also, LuggageHero offers stores in countless places in order for you to always have the option of dropping off your luggage in a safe environment. Unlike luggage lockers in stations and airports, LuggageHero offers both hourly and daily rates. LuggageHero strives to offer flexible and cheap luggage storage nearby you at all times. 
We store all kinds of luggage – any size and any shape in verified stores
LuggageHero's users can store luggage of any size and/or shape in any of our storage locations. It doesn't matter if it is ski equipment, photo equipment, or backpacks. In other words, you can get baggage storage, suitcase storage, luggage deposit, or whatever our satisfied customers call it in a safe way as we accommodate it all. LuggageHero's customers can choose to be charged by the hour or choose our daily rate, regardless of what they store.
We can stow your bags luggage for several days
LuggageHero also provides multi-day storage, because we know flexibility is essential when you travel.
LuggageHero offers a lower daily rate when you store your luggage for longer. From the second day onwards, our customers pay from only $5.95 per bag per day.
Download LuggageHero's free luggage storage app
For greater convenience, you can download LuggageHero's app to see all our locations near you.
Opening hours
We have a variety of stores with different opening hours, so choose what fits you best! Go and pick the store here to see the opening hours.
Which payment methods are accepted?
All major credit cards are accepted. Be aware that the shops do not receive cash when using LuggageHero, and remember that the insurance on your luggage is valid only if the payment has been made directly to LuggageHero.
Cancellation of booking
For same-day cancellations and no-shows, there will be a fee equal to the daily rate at the selected storage location starting at $7.95 per bag.
Also been featured in The New York Times, Lonely Planet, and CNBC.
Frequently Asked Questions about the Pacific Beach and Luggage Storage
Is Pacific Beach a pleasant neighborhood in San Diego?
Yes, it is. Young adults, college students, and surfers flock to the Pacific Beach district, which is a cool and laid-back beach town.
Can you swim at Pacific Beach?
Swimming and surfing are the two most popular sports at Pacific Beach beaches. Swim and surf areas off each of the major beaches are divided by black and yellow checkered flags put between the zones for everyone's safety.
Where can I store my luggage at Pacific Beach?
LuggageHero provides a number of baggage storage sites around Pacific Beach, where you can store your belongings with complete security and up to $3000 insurance coverage. To find the nearest location to you, you can visit the LuggageHero website and click book now. Apart from that, you can download LuggageHero's app for even more convenience when booking your luggage storage on the go.
How much does it cost to store luggage with LuggageHero at Pacific Beach?
Most luggage services charge their customers for an entire day. However, LuggageHero provides its customers another pricing system - we charge by the hour, $1 per bag.
Where is the luggage stored?
LuggageHero storage sites are certified hotels, cafes, and shops. Advance bookings ensure space for your bags. The address and directions to our storage locations are available at the time of booking. All bags are sealed off with our security seals, ensuring each piece of luggage up to $3000 once you have dropped off your bags and started our storage timer on your booking page.
Is it safe to store luggage during COVID-19?
Storing luggage near Pacific Beach during COVID-19 is safe if you are careful and keep up with the current rules and regulations in the area. We consider the health and safety of everyone to be our top priority, which is why we are offering contactless booking and luggage storage.
Will my luggage in Seattle be safe with LuggageHero?
All luggage storage locations are verified for safety and carefully trained by our team before being listed on the site. Aside from that, we provide you with individually tagged tamper-proof seals for your baggage when you arrive. To offer an extra sense of security, every bag is covered by a $3000 insurance.
Insurance and safe luggage storage
In the collaboration with First Marine Insurance Ltd., we are proud to be covering each piece of luggage free of charge every time you use our luggage service. The premium insurance is optional, you can easily add it when making your booking and it will cover your bags for up to $3,000/€2500 while being stored. On the other hand, if you decide not to add insurance, there is always a guarantee of $500. Make sure you do not pay cash in a drop-off/pick-up shop, because insurance will not cover any bookings that are not paid directly through LuggageHero