Luggage Storage Brooklyn
Only luggage storage to offer choice of hourly or daily rates in Brooklyn
Det siger vores kunder om os
Bagageopbevaring Brooklyn
Need luggage storage in Brooklyn? Drop off your bags at one of our luggage storage locations just around the corner. When storing with LuggageHero, local shops around Brooklyn will take good care of your luggage. All bags are sealed with our tamper proof luggage tags and insured for up to .
Brooklyn, one of New York City's 5 boroughs, sits on the western end of Long Island. Why not leave your luggage and take a stroll over the iconic Brooklyn Bridge.
Luggage storage in local shops will give you the convenience to explore Brooklyn without dragging around your luggage. Don't plan your travel days on the terms of your luggage but turn your travel days into extra holidays.
With more than 140 LuggageHeroes around NYC and Brooklyn, you have more than enough reasons to leave your luggage behind while you are on adventures. Overnight storage can easily be handled.
All our shops are certified by LuggageHero and all bags are sealed off with our security seals ensuring each piece of luggage up to .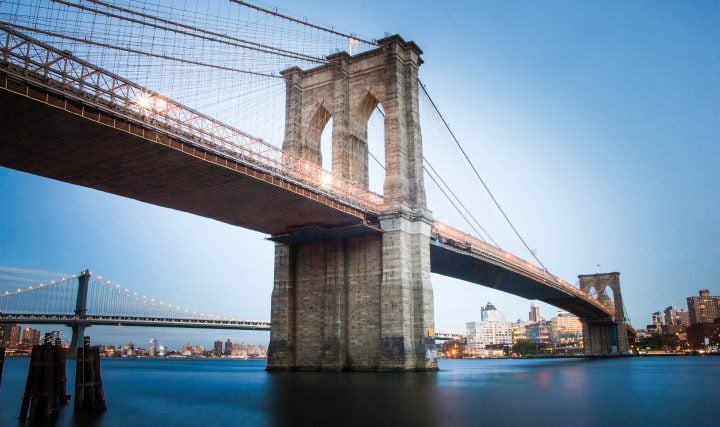 Brooklyn
Brooklyn offers attractions for every type of traveler. Want to be on the cutting edge? Head for Williamsburg, where you can hear live music every night and shop for vintage threads. If you want to root for the home team, there's pro hockey and basketball at Barclays Center in Downtown Brooklyn.
Spending your day in Brooklyn should be hassle-free. With LuggageHero that can easily be achieved.
We use local shops all around Brooklyn and New York City. They offer to store your luggage, by using leftover space in their shop while you explore the surrounding neighborhood without the weight of your luggage.
Luggage storage in Brooklyn just got easier, cheaper and more convenient. By using a counter clock you only pay for the hours spent on luggage storage. Once you have made a booking, head to the shop and start the storage timer, at pick-up simply stop the storage timer and payment will be processed.
Easy steps to an extra holiday.
Lastly, if you want to read more about LuggageHero, how luggage is stored and the luggage storage business, then you can read the following article written by the New York Times here.