Luggage Storage SoHo
Only luggage storage to offer choice of hourly or daily rates in SoHo
Det siger vores kunder om os
Bagageopbevaring SoHo
Need to store your luggage near SoHo in NYC? Drop off your items at one of our luggage storage locations just around the corner.
Luggage storage in local shops will give you the convenience to explore New York City without dragging around your luggage. Don't plan your travel days on the terms of your luggage but turn your travel days into extra holidays.
With more than 140 LuggageHeroes around NYC, you have more than enough reasons to leave your luggage behind while you are on adventures. Overnight storage can easily be handled.
All our shops are certified by LuggageHero and all bags are sealed off with our security seals ensuring each piece of luggage up to .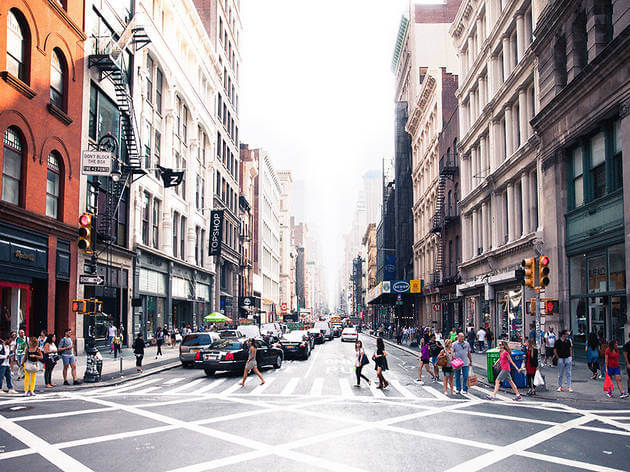 SoHo
SoHo, New York, is a prime shopping and dining territory located on lower Manhattan south of Houston Street. In recent history, SoHo came to the public's attention for being the location of many artists' lofts and art galleries but is now better known for its variety of shops ranging from trendy upscale boutiques to national and international chain store outlets.
Industrial facades showcase the wares of Chanel, Prada, and numerous less exalted brands. The area south of Housten Street is a far cry from hardscrabble manufacturing zone that once earned the derisive nickname Hell's Hundred Acres. Don't write off SoHo as a mere urban shopping mall; though many of the art galleries that made SoHo New York's contemporary-art hot spot in the 1970s and '80s decamped to Chelsea and Lower East Side, some excellent spaces remain.
Walk along cobblestone streets and find great New York Restaurants, bars and things to do in the Downtown Neighborhood.
Dragging your luggage through SoHo doesn't sound fun. Let one of our LuggageHeros take that luggage off of your back and enjoy SoHo hassle free.
Luggage storage in local shops is the most convenient, cheapest and easiest luggage storage solution you'll find. All luggage is ensured for up to and sealed with our tamper-proof security seals.